Images. One of the most important things to consider when putting together a website. In year's past, you either needed to provide your own, or pay money to websites to be able to use quality images. This is no longer the case, as Pixabay for WordPress has made it very easy to download free, high-quality pictures to your website.
There are still a number of websites you can pay a fee to be able to access quality images for use. However, as time goes by, more and more free images become available on websites like Pixabay.
Let's take a look at what Pixabay is and talk about how you can easily download Pixabay images in WordPress and use them for free.
What is PixaBay?
Founded in 2010 in Germany, Pixabay is an international, free-to-use website for sharing photos, illustrations, vector graphics, film footage, and music. It was formed under the idea of "copyleft." Copyleft is essentially a way to offer people the right to freely distribute copies and modified versions of a piece of work with the stipulation that the same rights be preserved in derivative works created later.
Basically, you can go to Pixabay and download any of the above types of files totally free. You can then use them how you want on your website. You can't resell them for your own gain, but everything on the website is, indeed, free to use.
There are some stipulations when using certain files like video, but as long as you give attribution, you are good to go. Basically, Pixabay has made it much easier for website owners and designers to gain access to high-quality images without having to pay an arm and a leg for them.
Why Use Pixabay in WordPress?
As we touched on a little above, quality images can be hard to find. Adding Pixabay to WordPress makes it much easier because you have access to millions of high-quality images that you can use. The main downside of this is that you may see the same pictures being used on multiple sites.
That being said, it is a small price to pay for being able to access an image library of this size with just about any type of image you can imagine. You can use the main Pixabay website to download pics and get them into your website.
However, there is a faster and easier way to add WordPress images for free. You can also easily optimize your images as well.
Let's take a look at the plugin that makes this possible and then we will go over installation and use together.
Pixabay Free Images
Pixabay Free Images gives you the ability to easily download royalty-free images/photos under CC0 public domain for your own blog. The plugin is built to save developers and website owners time because once it is installed you have the option of simply accessing the images right from your website and downloading them instantly.
The plugin is lightweight and powerful. It was created to take free photo downloads to the next level, and it does just that. Even though the plugin is straight to the point and does not require you to configure any settings, it still comes packed with a ton of great features.
Some of the main features of  this WP Pixabay plugin include:
Ability to Search over 1.4 Million Photos
Direct Downloads into Media Library
Set Image Titles and ALT Tag for SEO
Automatically Create SEO Ready Image Names
Choose Different Size Images to Download
Lightbox Navigation to See Multiple Images
Basically, everything you need to access over a million free to use images is available at your fingertips once you install the plugin. Let's take a look at how to get the tool installed and activate. Once that is done, we will go over how to use it together.
Install and Activate Plugin
In order to start downloading free images using Pixabay in WordPress, you first need to install and activate the plugin. You can do this by going to the Plugins page in your WordPress admin dashboard. Simply search the plugin name and install it right from there.
Once the plugin has been installed and activated, it is easy to use. No configuration page or settings are available. Once the plugin has been activated, it automatically adds a "download library" to the media section of your WordPress website.
Click on Media > Download Images. This is located in the left menu area of your dashboard. Once you do this, you will be taken to the download library and you can easily search and download images from there.
Let's go over how to easily download images from PixaBay into WordPress.
Download Free Images into WordPress
At this point, you should be inside the download library. You will see that the look mimics your regular media library. The difference is that this is the Pixabay image library now attached to your WordPress site.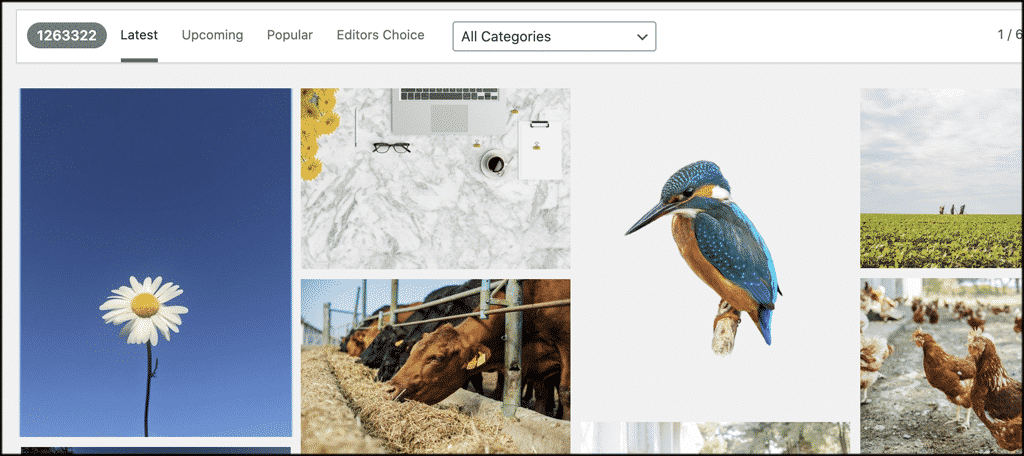 You see that you can search for images using whatever text you want. You can also use the category tabs to search images by specific categories.
Type in a search term and bring up the images that your search terms bounces to you. In this case, I am using the search term "flowers."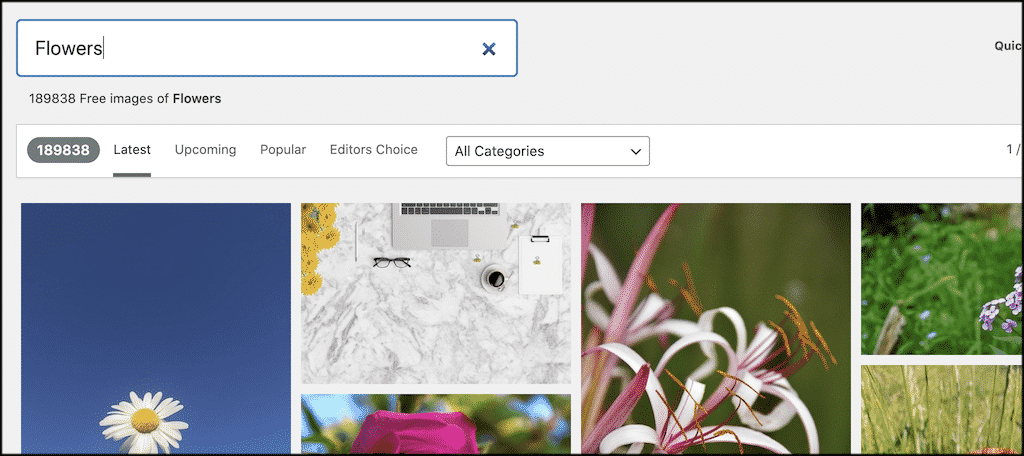 Click on the image you want to download and bring it up in the lightbox.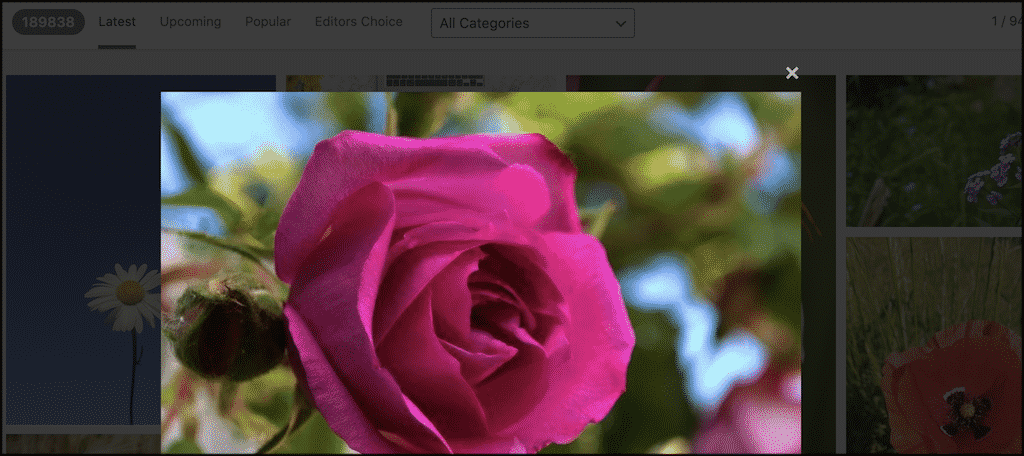 You see now that you can click on the download button to automatically download the image into your WordPress site. Or, if you want to download different sizes, look to the bottom right and see the other image sizes available. If you prefer a different image size, click on the one you want to download that size of the image.
You will get a message that says "Download Successful" once the download is complete. It will only take a second or two.
That's it! You have successfully downloaded a free image from Pixabay in WordPress. The file has been automatically added to your library. To view it, simply go to your website media library and the file will be there, ready to use.
Final Thoughts
Having the ability to download free high-quality images is a huge deal. Not only does it make website design somewhat easier, but it also allows you to have access to files to use on posts and pages when you write.
Remember, you may see someone else using the same picture. However, that is a small price to pay in order to have access to over a million photos that are licensed to use for free. Furthermore, you now have the ability to access all this straight from your WordPress website.
With so many websites now offering free photos and other files, it is a great idea to get on board with one and have it as a resource. The Pixabay library is vast, and the plugin for automatic download into the media library on your website is a fantastic tool to have at your disposal.
I hope this tutorial showed you how easy it is to download free pictures from Pixabay into WordPress. Make sure and let me know what you think of the plugin we went over today.
How have you been finding free photos to use? Do you use a different website to access free files?