Managing a blog or site with multiple authors and contributors requires you to be more proactive when things are available. In this instance, it's convenient to have WordPress email you when a post is pending review. This way, you can stay on top of productivity and keep the site flowing well for visitors.
The faster you're able to respond to instances like this, the faster posts are published.
Why Send WordPress Email Notifications?
Email notifications are a good way to keep tabs on your site, whether it's user interaction or updates. This is ideal because you need to be aware of any posts that are done and need to be reviewed.
This will allow you to get a notification right away, which means you can keep your content schedule flowing properly and helps to make sure you don't fall behind.
Keeping up with content is important. If something is off or goes wrong, it can really put a wrench into the flow of your site. From writing to editing to publishing, content flow (especially on content-heavy sites) is very important.
In this tutorial, I'm going to show you how to set up a WordPress email when a post is pending a review. As soon as one of your authors clicks the "Submit for Review" button, you'll be notified.
Using Pending Submission Notifications
Today, I'm demonstrating the Pending Submission Notifications plugin. It's a very simple tool that is easy to install and set up. Once it goes live, you'll receive updates any time someone submits an article to be published.
Note: While the plugin has not been updated recently, it still works perfectly and it is an effective way to make sure you receive notifications when posts are pending.
Step 1: Install and Activate the Plugin
In order to start receiving a notification from WordPress for a pending review when posts are ready, you first need to install and activate the plugin. You can do this by heading over to the plugins page in the WordPress admin dashboard.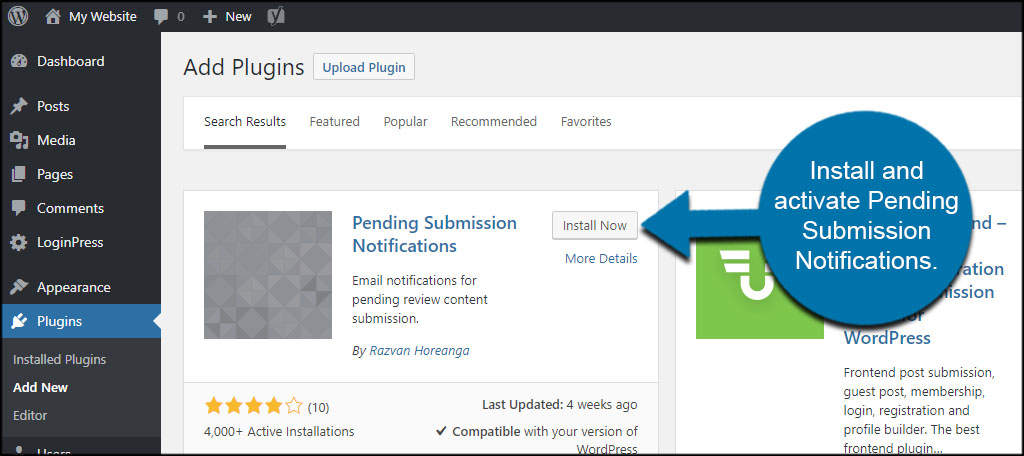 Once you are on the page, you will notice that there is an available search field. Use this search field to search for the plugin by name. Once you see it come up, install and activate it right from there.
Step 2: Access the Main Settings Page
Now that the plugin is installed and activated, you need to go access the main settings page for it. This is where you will do some configurations and get it going.
To get there, click on Settings > Pending Submission Notifications, located on the left side menu area of the WordPress dashboard.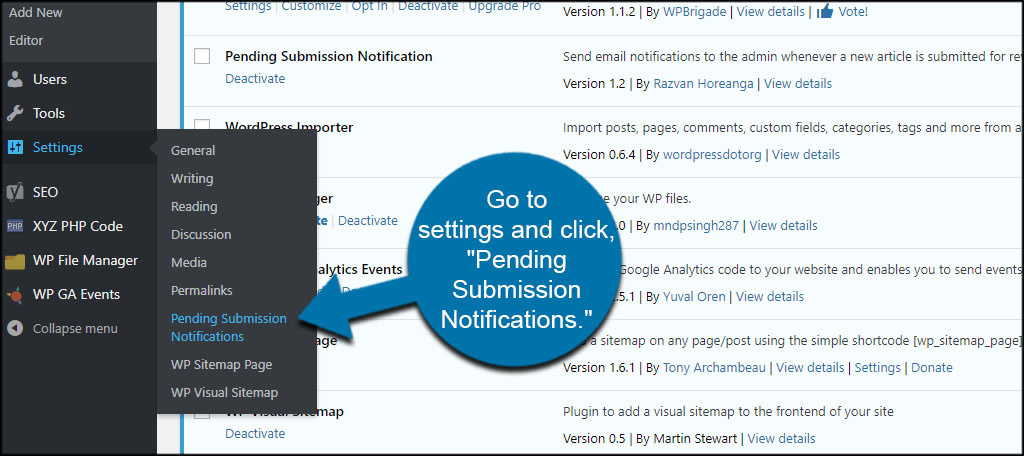 You can see that this option is now available because you installed the plugin successfully.
Step 3: Input Email Address
All you have to do when you get to the main settings page is input your email address. Go ahead and put your email in the available field.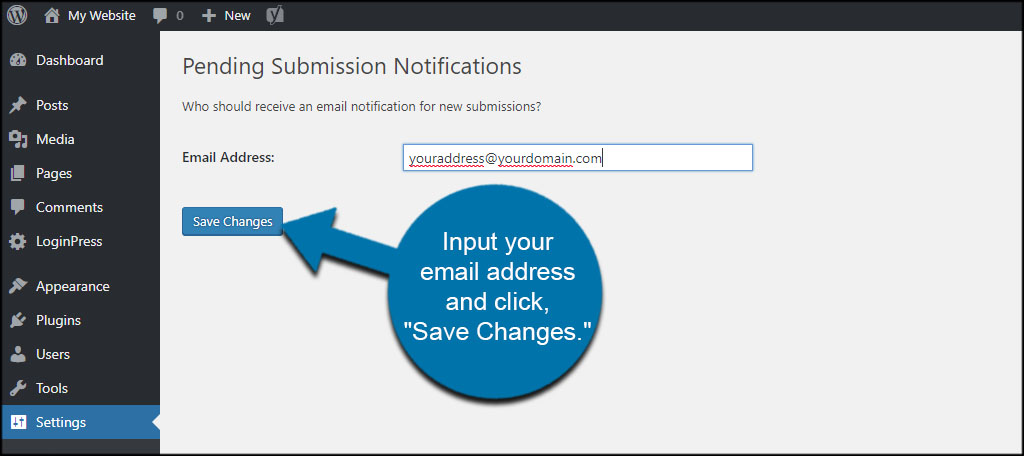 Don't forget to click on the "Save Changes" button when you are done. This ensures the email you entered is applied so that you will receive notifications properly.
Once you save the address, you'll receive an email notification for a pending review from WordPress.
Other Plugins to Consider
WordPress is full of plugins that make development much easier. From post status notifications to user control, having a handle of what your authors contribute keeps the site safe and efficient.
Here are a few other plugins you may want to consider installing.
User Submitted Posts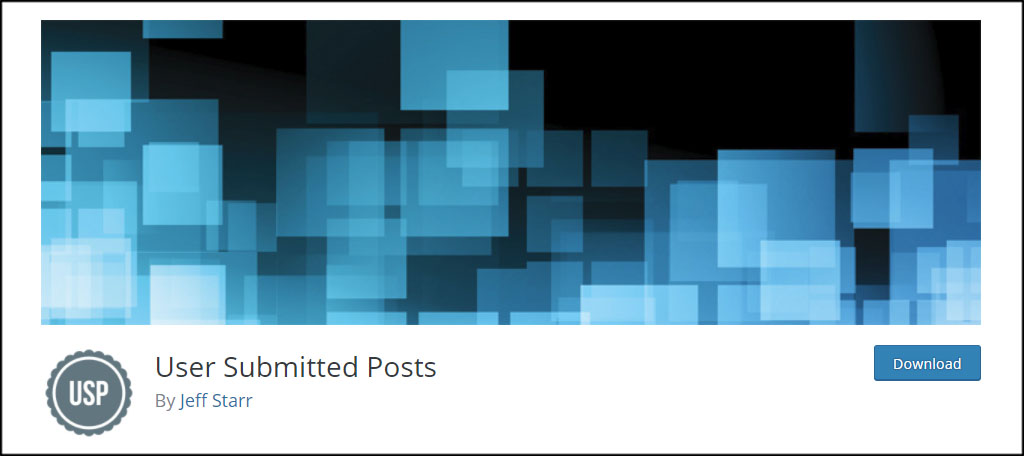 Perhaps you don't have a team of authors but want visitors to contribute? User Submitted Posts has a lot of features available to publish content. It has built-in reCAPTCHA, challenge questions, and a variety of other tools. Among them is the ability to send emails for posts pending review.
HeyPublisher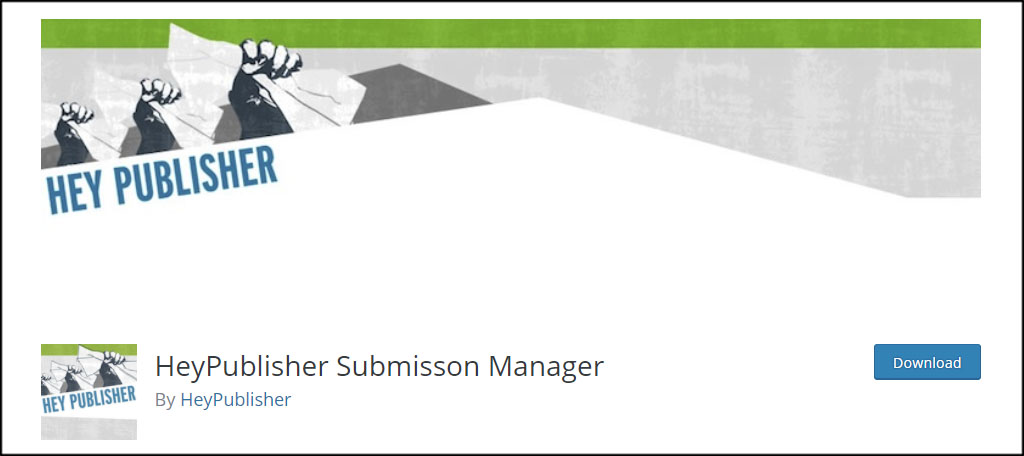 HeyPublisher is another plugin that focuses on user-created content. It allows submissions and holds them for review until you have a chance to read through the posts. It comes with the ability to create custom emails for the authors regarding their submissions. In this instance, it sends a post notification email to the creator.
Better Notifications
Better Notifications is a great tool for maintaining a site. One of the highlights of this tool is using the WordPress editor and shortcodes to customize the email messages. It's also flexible enough to allow notifications for multiple users or those who belong to a specific custom user role in WordPress.
Exploring Possibilities with WordPress
WordPress hosting opens the door to a variety of opportunities. From pending review emails to redacting text in a post, the system is quite flexible. Find the right tools to accentuate your site and make development easier on yourself.
All of the plugins above work great if you want to receive a WordPress message pending a review notification when a post is ready for inspection.
What kind of tools have you added to WordPress to make being the admin easier? Would you consider allowing users to submit content, and why?