If you've ever traveled anywhere, you have a story to tell. If you've been lucky enough to travel often, your accounts can make for a successful travel website. Wherever you've gone, whatever you've done, there are people out there who want to know about it. Tell them your stories. Even better, show them your stories.
Have you been thinking about building a website to keep friends and family up to date? Maybe you want to turn your travel into a business. Whichever runway you're approaching, the building blocks are the same. You can create your own destination in less than an hour using the tools we'll talk about today.
The Ticket to a Great Travel Blog
I say travel website; some say travel blog. The idea is the same, a site to showcase your travel experiences. Putting a little thought into the foundation of your site can go a long way. Prime yourself for success from the start.
Here are some things you need.
An Identity
What's unique about you or your travels? Can you think of a niche you might fit into? If you know something well, a region, a mode of travel, specific activities, focus on that. If you can provide information or a point of view that people can't find elsewhere, you'll have an audience.
Visual Appeal
Your words are essential in describing what you've seen. But what will draw most visitors to your site are images or videos. No one ever said, "This travel site is terrible, there are too many pictures!"
Sometimes when you're traveling, you have to put down the camera and bask in the experience. Which you should; it's the reason we travel. Just don't forget to pick the camera up at some point and document some of the experiences.
Enthusiasm
What the heck do I mean by enthusiasm? If you have the desire or willingness to build something wonderful, you've got what it takes. Equally important is the ability to stick it out…to stay in for the long haul. Think about how expansive your site can be in a few years rather than a few months.
How to Build a Travel Blog
The title of this article promises that you can have your website up in an hour, and that's no exaggeration. Here's what you need.
Every Website Journey Begins With a Web Host and a Domain Name
I don't generally go too deep into domain name selection. There are so many variables, and in the end, it all comes down to finding something that resonates with you. But for a travel website, I do have a couple of tips.
First, don't limit yourself. Don't name your website "My Year in Budapest," even if that's the inspiration for starting the site. Go with something more universal that doesn't pin you down to a location or a time frame.
Second, check the social media sites you plan to use. Make sure your name (or a reasonable variation of your name) is available as a username. A close tie to your site or domain name is ideal.
Now for hosting, I'd be remiss if I didn't point out all of the things that GreenGeeks can offer. First, the platform is optimized for WordPress, and that's what I'm going to recommend that you use. GreenGeeks will also pay for the first year of your domain registration when you set up a hosting account.
That's one less cost to consider.
Last, but not least, GreenGeeks is the most eco-friendly web hosting company in the world. If you're an eco-tourist or someone concerned about the resources your website uses, GreenGeeks was made for you.
We match every kilowatt of power we take from the electrical grid with three times the amount in the form of renewable energy via the Bonneville Environmental Foundation.
Now that's green.
Why It Makes Sense to Use WordPress
When thinking about what's involved in building a travel website, you may be tempted just to start a blog. It would be easy to pop over to Blogger or Tumblr and open an account, right? But if you want to build something attractive and memorable, a traditional blog is not enough. The format is limiting, and sooner or later, you'll want to do something you can't do.
WordPress began as simple blog software, but it's become much more. It's a website engine, and through the use of themes and plugins, you can build pretty much anything you can imagine.
And the best part? It's easy, and many of the tools are free. You can do it yourself, and you can do it today.
Once you've got your WordPress installation humming, the first thing you'll want to find is a theme. The theme controls much of the appearance, and some of the functionality, of your site.
Choosing a WordPress Travel Theme
You can adapt pretty much any WordPress theme to work for a travel site. But here are a few with features that make them solid choices.
Numinous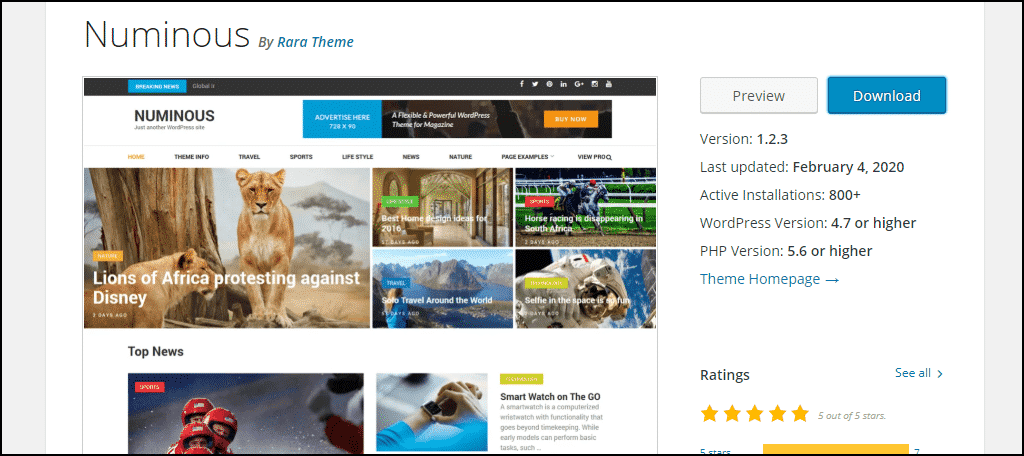 Numinous is a magazine theme that will show off your travel site at its best. Clean layout and typography create a beautiful website on top of excellent user experience. Several custom widgets are included, as are color scheme options for categories.
VW Travel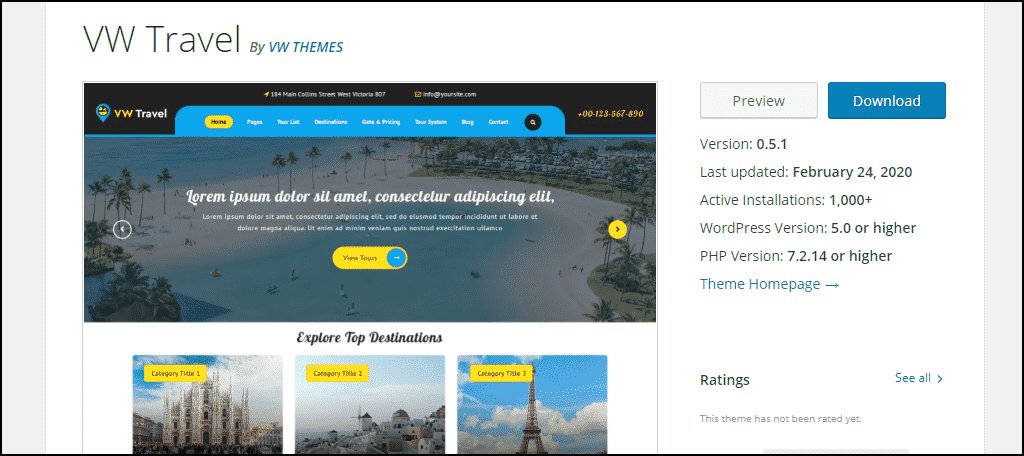 VW Travel is a free theme primarily meant for travel agencies, but it works for a traveler's site as well. It's retina-ready so your high-res images will look great, it's user-friendly, and is loaded with customization options that are optimized for speedy page load time.
Travel Notes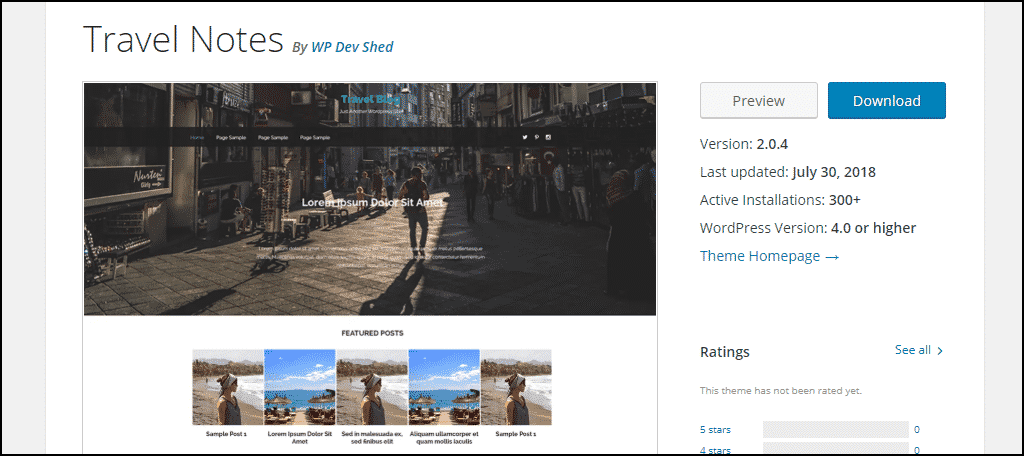 Travel Notes is a lovely minimalist theme. It includes featured post images and optional Instagram integration. One of the coolest things about the theme is it integrates a geo-tagging plugin so you can display posts on a map by category. We'll talk more about geo-tagging in the plugins section.
Travel Diaries

Travel Diaries is another nice travel theme. Includes a cool widget that displays the number of countries you've visited along with the location of your previous and next trips.
The Voux

The Voux advertises itself as a magazine theme, but it's perfect for a travel site that relies heavily on images. It has an infinite scrolling option that loads the next article as the reader scrolls down the page. The URL is automatically updated as your visitor scrolls. It also includes full-screen galleries to showcase your photos.
WordPress Plugins for Your Travel Website
Your new travel web site can stand out in the crowd if you add some functionality. That's what plugins are for. Let's take a look at a few that can differentiate you from the typical travel blogger.
GEO my WordPress

GEO my WordPress lets you add location details to posts, both individuals and groups. With geo-tagging, visitors will be able to search your content by location. This lets you engage an audience looking for specific locales.
Site Kit by Google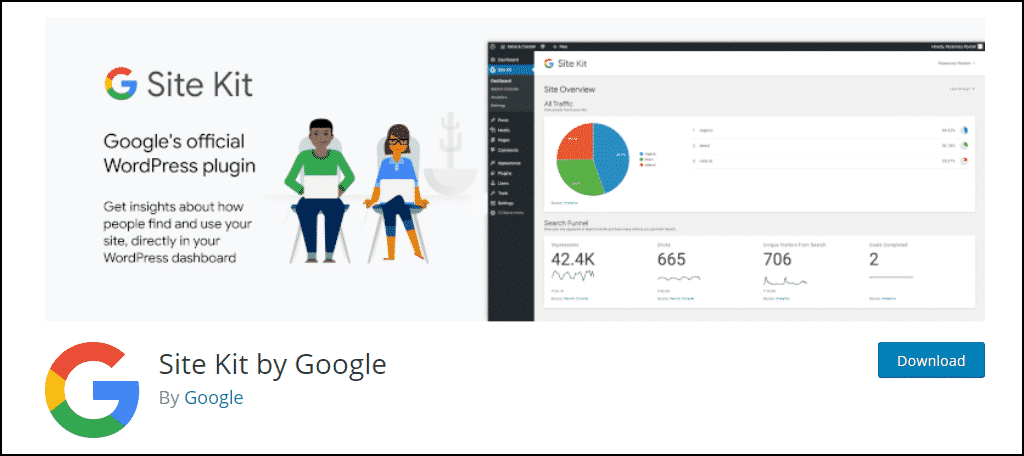 Site Kit by Google connects your site to several Google tools. Including Console, Analytics, AdSense, PageSpeed Insights, Tag Manager, and Optimize. Search engine optimization is critical for your website promotion. So it's in your interest to link up with the most popular search engine.
Revive Old Posts

Revive Old Posts is a powerful social media tool for scheduling your old or existing articles for social posting. As your site grows, it's easy for older articles to become forgotten. But most travel writing ages very well, so don't ignore your older content.
Yoast SEO

What? More search engine optimization? Yes. But this tool, Yoast SEO, has a different focus than the Google plugin. Yoast guides you through the items necessary for an SEO-friendly article.
It includes a snippet editor, SEO, keyword, and writing analysis. It can even add images titles and meta descriptions (and more) to your sitemap. Color indicators let you know when your writing and SEO are optimized.
Review Disclaimer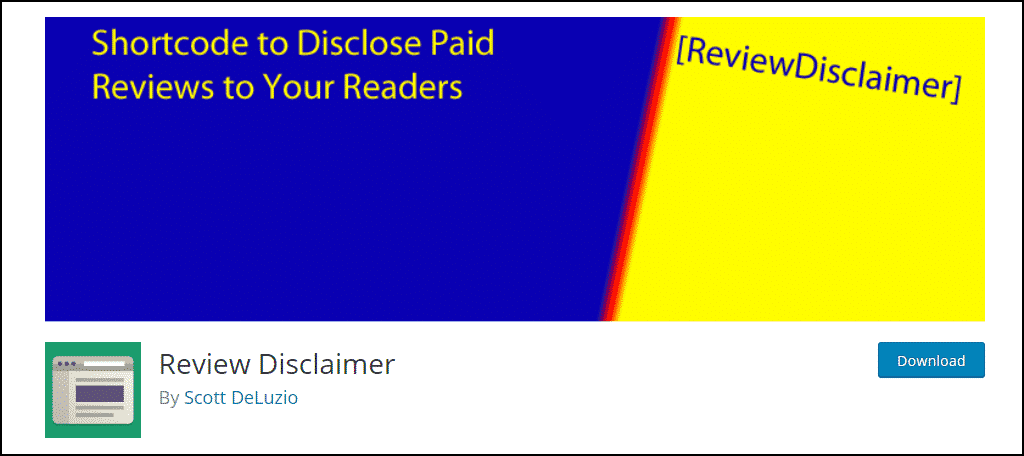 You probably won't need this the day you launch. But if your site becomes popular, advertisers will come calling. Federal Trade Commission rules say that you must post a notice when you're using affiliate links, or making paid promotional posts. Review Disclaimer does just that, automatically.
Share Your New Travel Blog With the World
Social Media
We talked about making sure the name you choose for your site is available on social media. That's because they'll be your most potent promotional tool. Image-centric sites like Instagram, Pinterest, Ello, even Flickr, should be your focus. Use hashtags to draw attention to your posts. They are one of the keystones of social media success.
Make Google Work for You
When you're trying to get a new site off the ground, traffic matters. The key to increasing your traffic is search engine optimization. Research what people are looking for when they search for travel-related content. If you can optimize your posts and pages to rank in those searches, you've got it made.
YouTube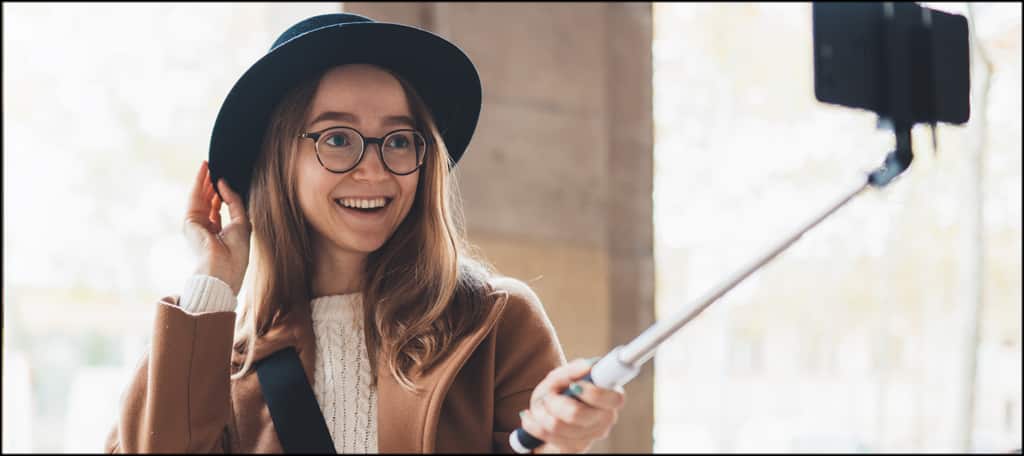 If you have amassed a good deal of video on your travels, YouTube is a great place to become active. Building a successful YouTube channel is a subject unto itself, but you don't have to rule YouTube, just use it as a tool to get people to your site.
Don't forget about keywords when you're using YouTube. Like other social media sites, much of your traffic can be acquired through clever keyword tag use. And keep in mind that Google itself will pull video results from YouTube during searches.
Guest Blogging
Your site is your focus, naturally, but you can benefit from blogging for others as well. A link back to your website from a more prominent or popular site is worth the effort. If you make a name for yourself, guest blogging can even be a moneymaking opportunity. More on that in a minute.
What Can You Do With a Travel Blog?
Share With Family and Friends
When I was a kid, people would come back from vacations and invite everyone over for a slide show. If you've never seen one for yourself, plenty of movies and television shows have built scenes around them. Using the sometimes awkward gatherings to make fun of the people who take themselves too seriously.
But what is a travel website but an elaborate slide show? You can't serve drinks or lay out an appetizer spread, but it's essentially the same thing. You're inviting people to share in your travels. And who better to do that with than friends and family?
Earn Money
Build a successful travel website, and a world of income opportunity can open up to you. Affiliate partnerships, brand ambassadorship, social media promotion, press trips – all of that and more can become available when you create your online world associated with travel.
You can also earn fees being a freelance travel writer or guest blogger. Establish enough relevance in your niche, and you can even do consulting and travel planning.
Create a Record
I don't know about you, but without photographs and written records, I wouldn't remember half of my life. A diary and a box of photos are cool to have, but a website is better. A travel site is a representation of you, who you are, and what you've done. If that sounds corny, it isn't. It's valuable.
The Road Best Traveled
If you love to keep on the move, express that love with your website for travel information and education. Bringing passion and enthusiasm to anything you do is going to give you a natural advantage.
Now you know how and why you should start your travel site, and are armed with some useful tools and information.
Get out there and show us all how it should be done.