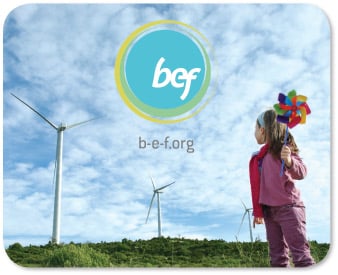 As you know, GreenGeeks offers 300% Green Energy web hosting. So what does that really mean? It means that for every kilowatt that we draw from the power grid, we replace back 3 times in the form of wind energy. So not only are we offsetting what we're using but we're actually putting back MORE clean wind energy into the power system. This includes all of our infrastructure and work stations for our telecommuting staff.
We've been investing in renewable energy since opening our doors by partnering with the Bonneville Environmental Foundation. In the past 13 years, the BEF has been working hard to put renewable energy investments such as those we and other partners purchase. I wanted to share with you some of what the BEF has done:
Generated more than 5.1 million megawatt hours of clean, renewable energy through the purchase of Renewable Energy Certificates. That's the equivalent of powering over 404,000 homes with clean, renewable electricity.

Kept more than 1.9 million metric tons of harmful carbon dioxide from the atmosphere through the purchase of Carbon Offsets. That's the equivalent of taking more than 405,000 cars off the road for one year.

Kept a combined total of more than 4.7 million metric tons of carbon dioxide equivalent from the atmosphere through out partners' combined purchases of Renewable Energy Certificates and Carbon Offsets. That's the equivalent of taking more than 991,000 cars off the road for one year.

Restored over 7.6 billion gallons of water to critically de-watered rivers and streams through out partners' purchases of Water Restoration Certificates. That's the same volume of water that would fill 11,543 Olympic sized swimming pools.

Reached over 400,000 students with hands-on renewable energy education through out Solar 4R Schools program. That includes students from more than 200 schools in 20 states across the nation.

Have been a driving force in revitalizing 14 watershed ecosystems in 6 western states through our Model Watershed program.
… and this is only the beginning. Remember when you purchase web hosting with GreenGeeks, you're automatically making a difference by making a deciding to host green. If we're not your choice, then make sure the host is green.
Go Green 🙂
TJ, GreenGeeks