PageRank Status is a really great SEO extension for Google Chrome, it's developed by Chrome fans. This free extension supports over 35 languages and there are over 170,000 webmaster users as of February 25, 2013. Unlike most similar extensions that limit to showing the basic PageRank or Alexa Rank information, PageRank Status does that and more. It can show Google PageRank (PR), Alexa Rank, Compete Rank, Quantcast Rank, Pages indexed, Backlinks, Cached pages, Facebook likes, Tweets, Whois, DNS, Geolocation IP Information, Page Meta, Page Speed and much much more.
After you install PageRank Status on your Google Chrome browser, an icon will be displayed near to the address bar. This icon shows the Google PageRank value of current web page that you're on. When you click on this icon, PageRank Status shows data in five tabs:
SEO Stats
Site Information
Page Information
Page Speed
Tools
I'll now go through each of the sections with you…
SEO Stats page of PageRank Status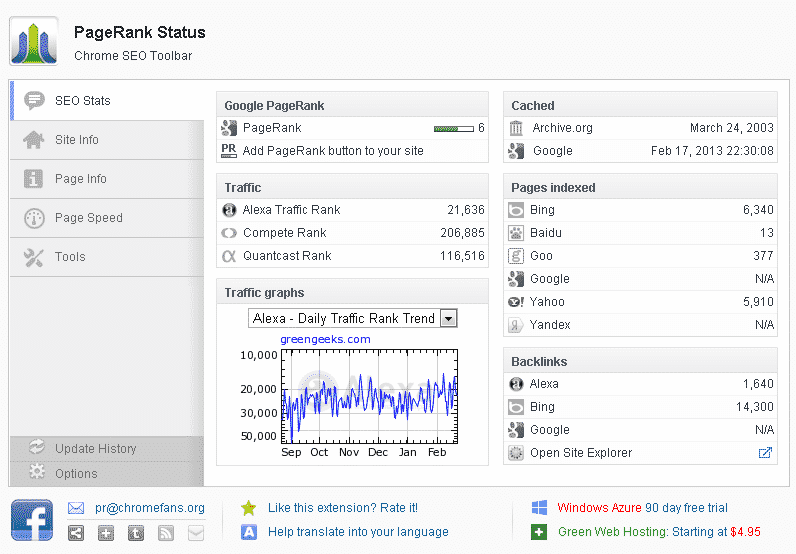 SEO Stats is the first page of PageRank Status. In this page, you're provided with snapshot like  SEO data:
Google PageRank: This section shows the Google PageRank of the current web page that you're on.
Traffic: This section shows the Alexa Rank, Compete Rank and Quantcast Rank of current web site.
Traffic graphs: This section shows Alexa Daily Rank Trend, Alexa Daily Pageviews per user, Alexa Daily Traffic Rank Trend, Compete Traffic Rank and Compete Unique Vistors.
Cached: This section shows the first cached date in Archive.org and the last cache date in Google.
Pages indexed: This section shows the number of pages indexed in search engines, such as Bing, Baidu, Goo, Google, Yahoo, Yandex, etc.
Backlinks: This section shows the backlinks number in Alexa, Bing, Google, Open Site Explore, etc.
Site Info page of PageRank Status
When you click to Site Info page, you will see four sections, it includes:
Domain information: This section shows the Whois lookup and DNS lookup information.
Geolocation information: This section shows the IP address, city and country.
Social (SNS): This section shows the Facebook likes, Google +1 likes and Tweets.
On-site: This section shows the robots.txt and sitemap.xml status, and places a link to BuiltWith.com
Page Info page of PageRank Status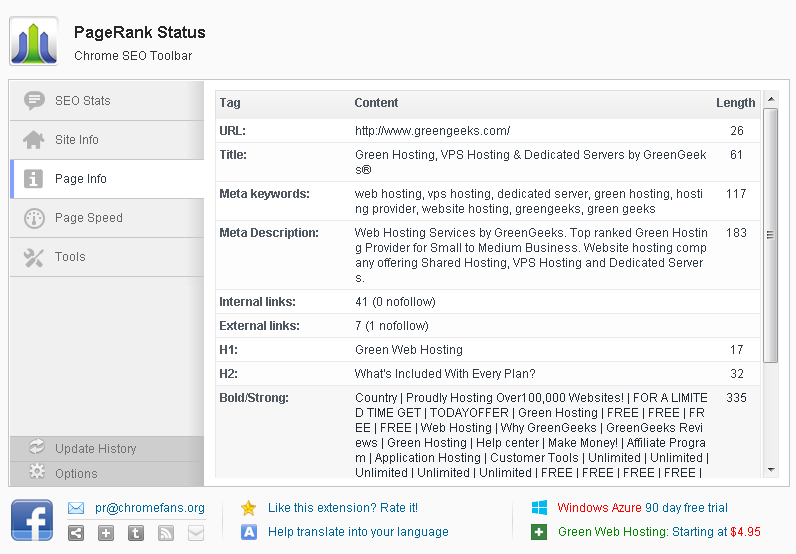 Meta tags always goes inside the <HEAD> area and will not be displayed on the actual web page. Meta elements provide information about a given web page, most often to help search engines categorize them correctly. In PageRank Status extension, you can check these SEO releated Meta elements and other tags by clicking Page Info tab, it will show page URL, Title, Meta keywords, Meta Description, Internal links, External links, H1, H2, Bold/Strong, Italic/em, IMG alt text, Body text and more.
Page Speed page of PageRank Status
Page load time is a very important part of web user experience, it's also becoming a more important factor when it comes to search engine rankings. PageRanks Status shows the page load time of the current web page and rates it, and also provides the timing-related information, there is a screenshot: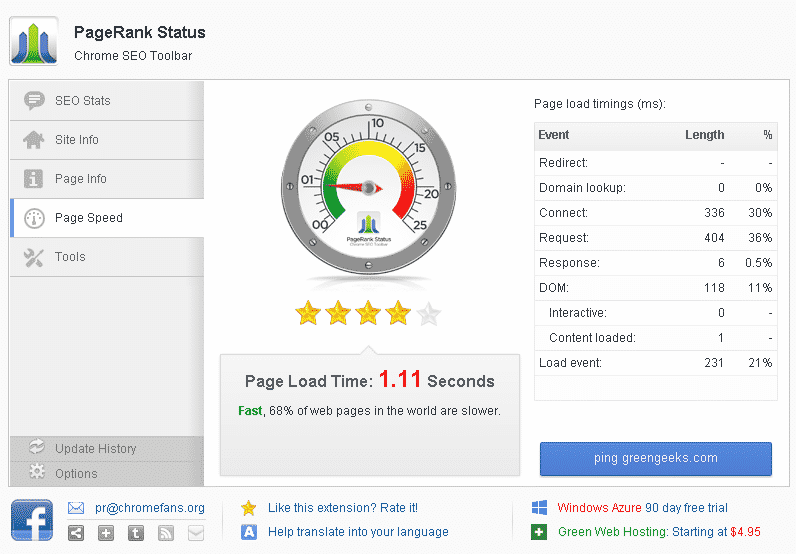 If your site is too slow, perhaps you need to optimize the web site or migrate to a faster server like GreenGeeks perhaps 🙂
Tools page of PageRank Status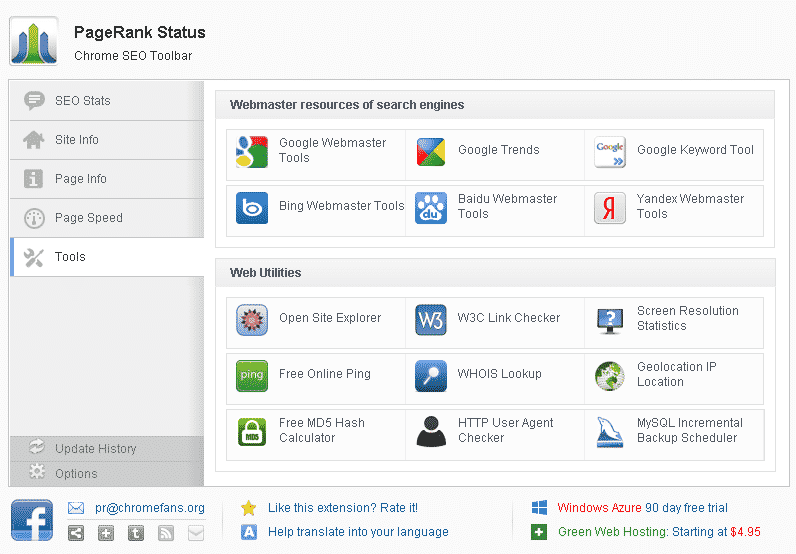 This page shows links to webmaster resources such as Google Webmaster Tools, Google Trends, Google Keyword Tools, Bing Webmaster Tools, Baidu Webmaster Tools, Open Site Explorer, W3C Link Checker, Screen Resolution Statistics, etc.
To get this powerful SEO tool, you can free install it from Google Chrome Web Store.
The support site of PageRank Status: http://pagerank.chromefans.org.