Imagine a solar panel small enough to fit in your palm, with the power to charge your phone every night. This concept might not be too far away.
Designed by Kyuho Song & Boa Oh, the Window Socket captures the power of the sun within its battery, and allows you to plug a device in the back to give you up to 10 hours of 100W electricity.
This concept really appeals to us because we can see our staff placing these on their window during the day, and using them at night to charge their smartphones or tablets. Every bit of energy we can take off the power grid and replace with clean energy is a huge win in our books.
The window socket is designed to be as small and intuitive as possible. Pull it off of your window and throw it in your bag or purse to have clean energy whenever you need it.
The device would have a 1000mAh battery which would be enough to power a mobile phone or other portable devices.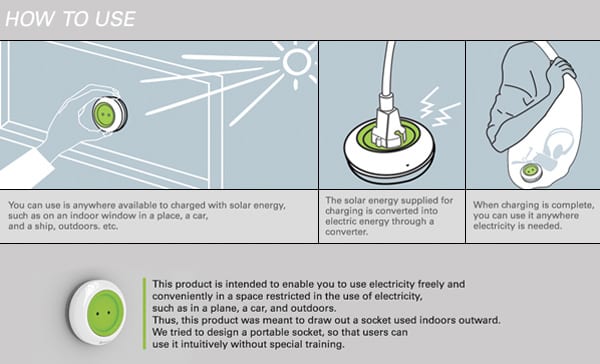 You can read more about this product by visiting Yanka Design.