Moderating comments and interacting with visitors helps deliver an engaging atmosphere on a website. However, the comment section can be a mess at times. For instance, what if you want to view the parent comments in the moderation screen of WordPress?
By default, WordPress does not show the parent comment in the moderation screen. All you'll see is to whom the message is in response.
Without knowing the context of the parent, you might have a harder time understanding how to handle a comment.
In this tutorial, I'll show you an easy way to show parent comments in the WordPress moderation screen. This will help you by showing how the comment thread began in the first place and whether you want to approve a response.
Using Show Parent Comments
Today, I'm using the Show Parent Comments plugin. It's a bit of an older tool, but I verified it to work with WordPress 5.0.3. It's a simple add-on which requires no adjustment or setting control.
Install and activate, "Show Parent Comment."
Once activated, this plugin adds a new feature to the comment section itself. There is nothing to change and no settings regarding its ability.
Click the "Comments" option from the left admin toolbar.
In the moderation screen, you can view parent comments above replies. This way, you can determine if the response is relevant to the topic.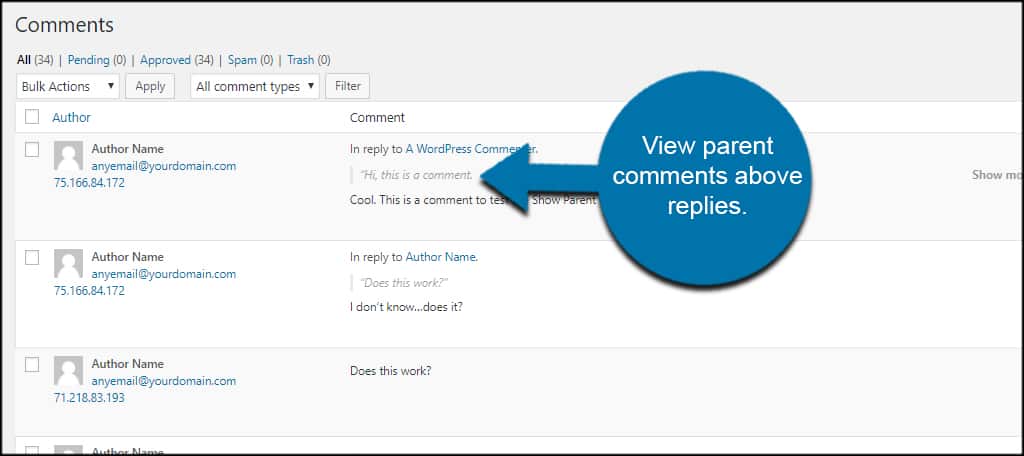 These "parents" are are a lighter grey than the rest of the test making it easier for you to identify.
But what if the comment is much larger than the viewable space? For longer comments, this plugin adds a function that will expand the comment so you can see the message in its entirety.
Click the "Show more" option on the message. This feature will only show if the message is larger than the default viewable space in WordPress Comments.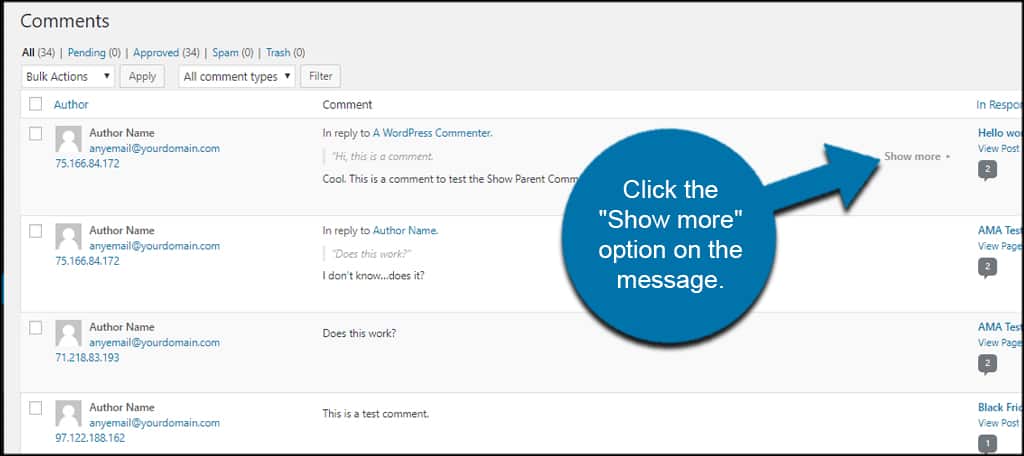 You will see the expanded version of the message in its entirety.
Does this work with other comment plugins?
This plugin works with a variety of comment plugins for WordPress. For instance, I found it to work perfectly alongside wpDiscuz.
Of course, this might depend on the comment system itself. Anything that uses an external method to manage comments or otherwise does not use the WordPress commenting system might not be affected.
Does this plugin do anything for spam?
Unfortunately, Show Parent Comments does not offer protection against spam. However, WordPress is full of great tools to help make your site spam free.
And many of them don't cost a single dime to help reduce the clutter of messages.
Manage Your Comment Section
The ability to view parent comments in the moderation screen of WordPress only helps to streamline your workflow. It gives you insight into the original post as well as whether a response is relevant.
Keep your comment section clean and ensure your visitors are having a spam-free experience. It could impact the reputation of the site and how new visitors view your content.
What kind of comment plugins do you like to use? How often does spam clutter your comment section or other areas of your site?