Managing file downloads in WordPress can be tricky. Of course, you can simply upload a file and add a download link in your post, but that isn't very scalable. There are a couple of ways to manage file downloads in WooCommerce, one of which I will cover below.
In this article, I will show you how to use WooCommerce file management in a way that will allow you to easily manage your file downloads. If you are trying to sell digital products, then combining WooCommerce with WordPress is a great way to accomplish this and one of the best ways to scale up and possibly make some money.
What Are Digital Downloads?
On the level, we all know what a digital download is. However, if you put it into more technical terms, a digital download actually refers to the process of copying data to a computer from an external source.
This type of digital distribution has become very popular over the last couple of decades. Matter of fact, we download just about everything digitally these days. The method of downloading software or audio-visual media as opposed to buying it at a traditional point of sale is very popular.
Even if you buy something in a traditional point of sale standard, a digital copy of the product is usually including so that you can have that as well.
Let's take a look at how to manage file downloads using WooCommerce and WordPress together. First, we will look at the WooCommerce plugin real quick so you can see exactly what it is.
WooCommerce
WooCommerce is the most popular open-source eCommerce plugin in the world. It provides you everything you need to get an online store up and running in just a few minutes. One of the best things about WooCommerce is that the core platform is free for all to use.
Now, there is a massive library of paid extensions that you can access to further your storefront look, feel, and functionality. However, everything you need to sell physical and digital products from your WordPress site is included in the free core version of the plugin.
You won't find a better way to sell digital downloads or physical products than WooCommerce. If you are running a WordPress website, then this is a must-have plugin for eCommerce.
How to Use WooCommerce to Manage File Downloads
Step 1: Install and Activate the Plugin
The first thing you want to do is install and activate the WooCommerce plugin. You can do this by going to the Plugins page of the WordPress admin dashboard. Once you are there, simply use the search field and search the plugin by name.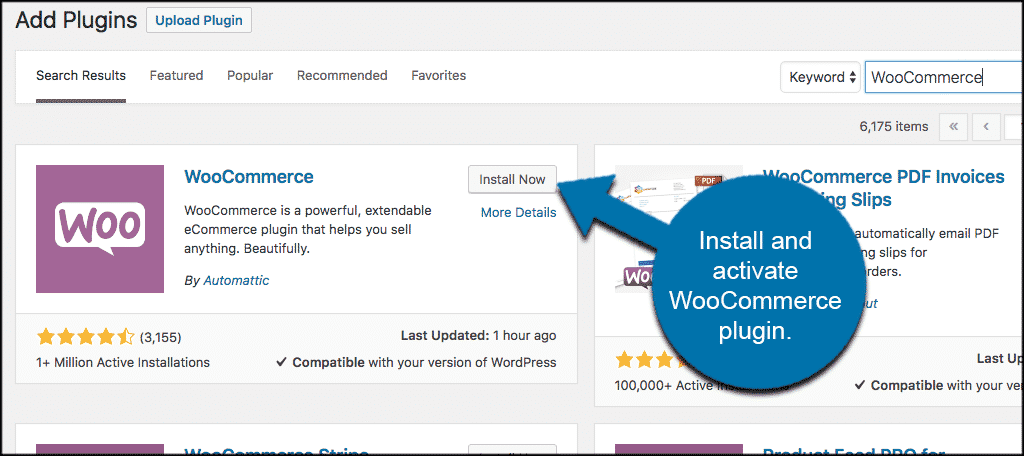 When it pops u, go ahead and install and activate it from there.
Step 2: Use the WooCommerce Set Up Wizard
Once the plugin has been installed and activated, you will be presented with a Setup Wizard from WooCommerce. Go ahead and quickly fill this out, as this is their way of getting you up and running quickly.
Follow those on-screen instructions and finish the wizard setup.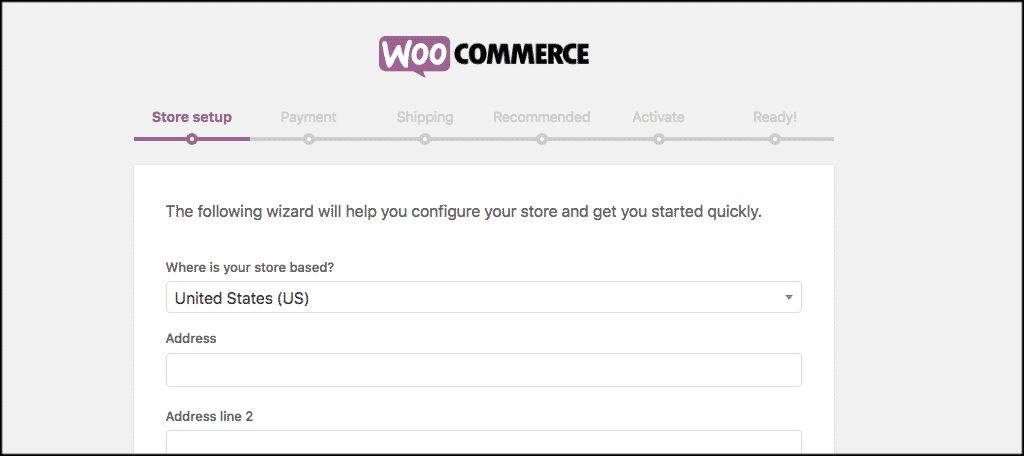 Step 3: Add a New Downloadable Product
When you are done with the WooCommerce Wizard Setup, click on Products > Add New and you can go create your first file download as a product. You can refer to this as your first WooCommerce download.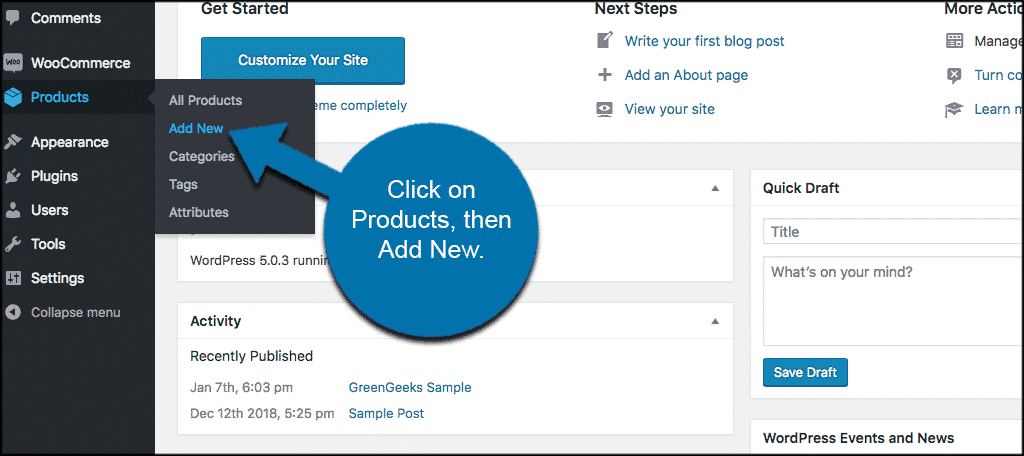 First, you will need to provide a title for your product and its description. After that, scroll down to the "Product data" section.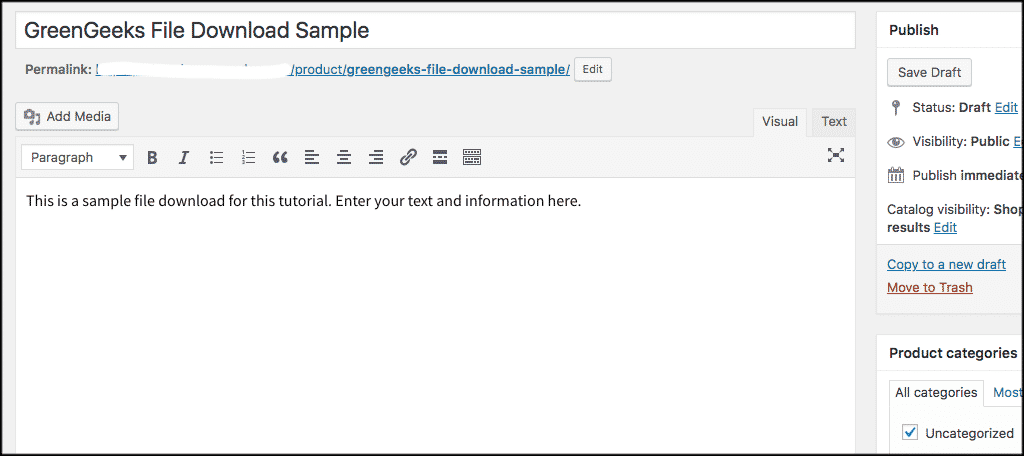 From here you need to check the 'Virtual' and 'Downloadable' checkboxes to indicate that the product is a digital download. Go ahead and fill out the rest of the information to your liking as well. You can add a price, add variables regarding download limits and download expiration dates, etc.
If you want the download to be free, then you need to set the price to 0. Lastly, don't forget to add the actual file in the space provided.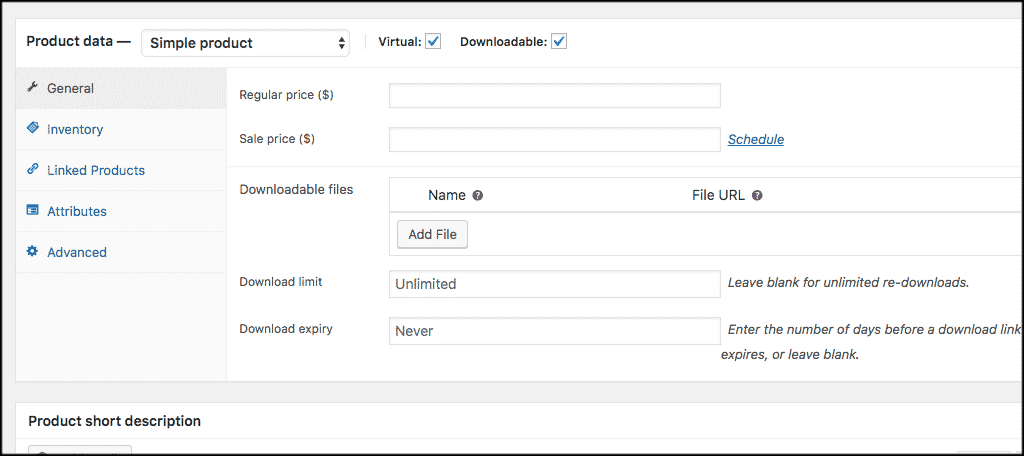 You can also review the other options for the page if you need to. For example, you can add some product image files, add a short description, add a product category, and more.
Step 4: Publish and View Product
When you are satisfied with the overall setup, go ahead and click the "Publish" button to make it live and available for download. Now go to your shop page and take a look at the setup. You will see that your WooCommerce digital download is on the page, ready to be purchased and downloaded.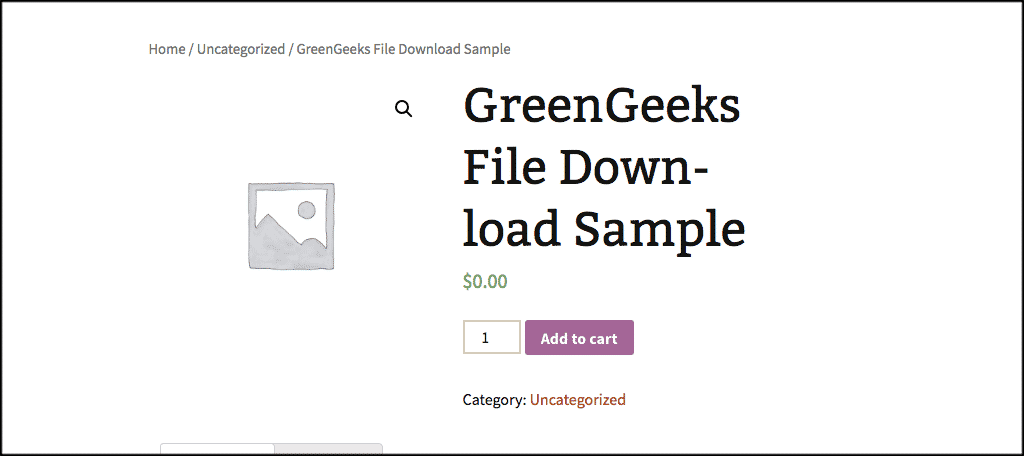 Remember, if the download is free, users will be able to checkout without adding payment information. Otherwise, they will check out by making a payment. For this demo, we are going the free route.
After checkout has been completed the file will be made available in the user's browser.
Step 5: Manage and Track File Downloads
Now, here is the main way to track and manage your file downloads using WooCommerce and WordPress. To view how each file is doing click on WooCommerce > Reports and that will take you to the main report's page.
From here you can see your sales by date, products, and categories.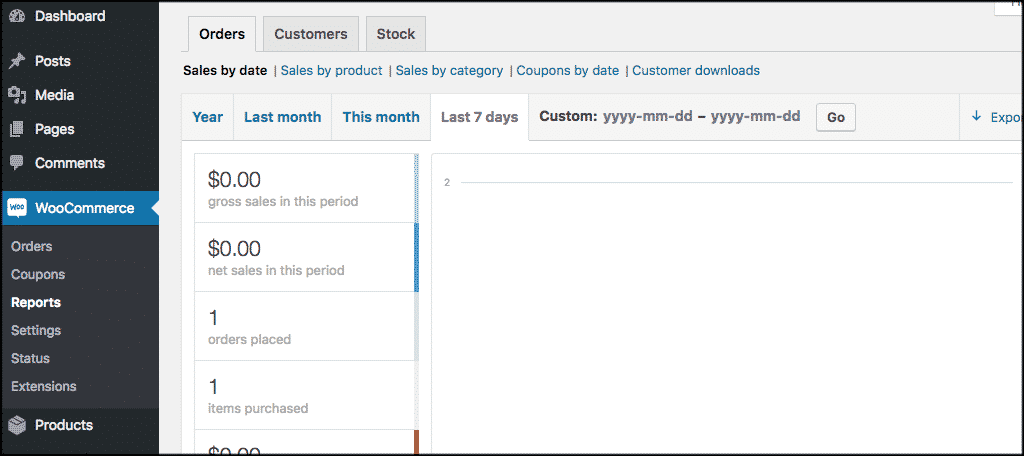 You can also click on "Customer downloads" to view a report that will show you a log of file downloads by customers.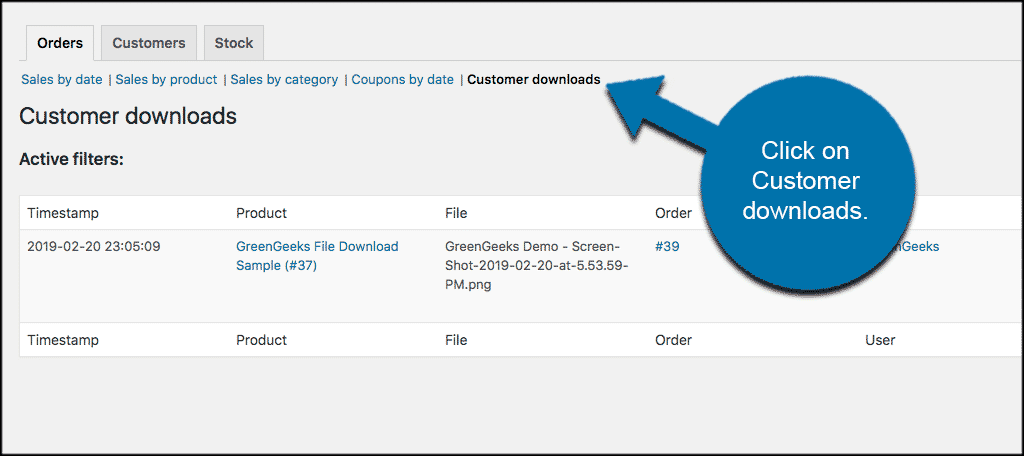 As you can see, WooCommerce and WordPress have combined to give you a quick and easy way to manage your file downloads. Try this out and let me know how it works for you. This method is a great way to learn how to sell digital downloads quickly and easily from your website.
FAQs
Why WooCommerce and WordPress Together?
WordPress file management can be handled in a very easy manner if you use WooCommerce and WordPress together. WooCommerce file management is perfect for users who want to sell file downloads or users who want to make an online store.
Note: This is not the same as using WordPress as a file management system.
WooCommerce is a great solution for selling digital and physical goods. In this case, we will focus on the digital. You can use WooCommerce as your WordPress download manager to offer free downloads. WooCommerce also allows you to easily track users, manage downloads, and view stats.
Can You Print Digital Downloads?
Yes, many digital downloads are things like PDFs and other related documents, images, and graphics. Once you have downloaded the product, you can then select a printer and print all the items you want to have in a more tangible way.
Do Digital Copies of Items Expire?
If you buy something like a movie or music in a physical form (CD or DVD) they both usually come with digital copy codes that you can use to download the product in digital form.
These codes usually do have an exploration date, so you want to make sure you get the digital file downloaded before it expires.
Conversely, oftentimes you may purchase a digital product and product download links do have an expiration on them. In this case, make sure to go download the product you purchased before that expiration date comes up.
Final Thoughts
Managing file downloads from any program or plugin can be time-consuming and difficult, especially if you don't know where to start. Luckily, if you are using WooCommerce, they make the process fairly simple and easy. All you need to know is where to start and how to manage them.
I hope this tutorial was able to show you how easy it is to manage file downloads in WooCommerce. This eCommerce platform offers so much, that sometimes a function may get lost in the mix. Now you know exactly how to manage them.
Have you ever used WooCommerce and WordPress to manage your file downloads? Have you found a different method that was easier for you to handle or easier to set up and manage?