According to the numbers, Facebook has an active daily user average of over 1.13 billion. This is approximately 15.5% of the entire population of Earth. It's no wonder why so many businesses and other professionals use the site for marketing.
Facebook is one of the most utilized websites on the Internet. Learning how to use Facebook advertising tools will help you stay ahead of the competition when marketing to these users.
However, a successful campaign requires more than just setting up a pay-per-click ad in the social media giant.
Below are 15 Facebook advertising tools I've come across that have potential to vastly improve campaign performance.
Of course, this greatly depends on how you go about using them. Remember, a tool is only as effective as the person wielding it.
Any one of these can make a great addition to other website marketing tools for your business.
1. Google Analytics
One of the most common tools for collecting data on the Internet is that of Google Analytics. This app does more than just track how many visitors your website receives. It can delve into just where those people are coming from as well.
Using Analytics, you can monitor how many of your visitors are coming from social media sites. This means you can see the progress of your Facebook ads by comparing visits today versus the visits you received before.
And because Google can break the data down even further, you can also monitor how much time those specific users spend on the site.
Because this service is free, any website owner should have their own account regardless of the kind of site or ad campaign they use. Since it can be easily added to any kind of web hosting platform, it's also versatile.
2. Moat
Moat uses a large number of analytic metrics to provide insights to several key points of any ad. It's also one of the few that offers mobile heatmaps to monitor how people are interacting with the campaign.
Whether it's video content or text-based marketing, Moat can keep track of everything from a single portal.
Using a proprietary method for detecting traffic, Moat helps users differentiate between human and non-human visitors. This is a key element when running any kind of a campaign as non-human clicks and visits can easily skew data. This feature alone may be worth investing in Moat.
This system uses real-time data allowing marketers to make adjustments immediately. Because every second counts when engaging an audience, this instant data is a valuable asset to consider.
3. Facebook Text Overlay Tool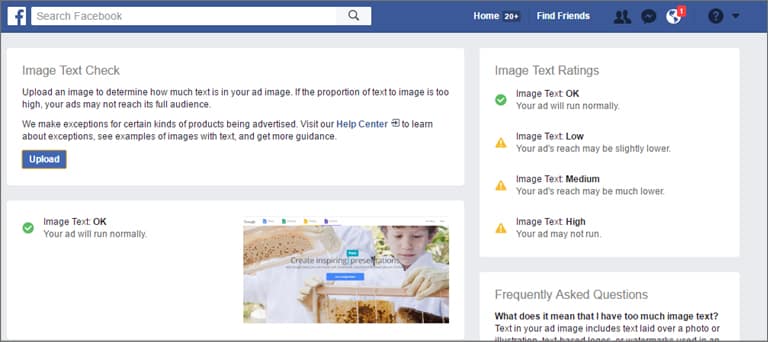 It's common for many marketers to place text within an image. However, this text can be quite intrusive to the product. It's also a way to circumvent various filters, which is one of the driving reasons behind developing the tool.
Using the Facebook Text Overlay Tool gives you an idea of how much text is detected and how it will perform within the site.
The fewer words that are detected in the advertisement, the better. Because Facebook will reduce how often it is shown depending on this detection, it's important to know where your graphic stands.
Simply upload the image you want to use and Facebook will scan it. You'll then receive a rating based on what the system detects within your graphic.
4. Mockup Generator by AdParlor
If you want to get a sense of what your Facebook ads will look like, AdParlor's Mockup Generator is a nice tool to try. It's an easy system to use and provides an outlook as to how viewers will perceive the ad.
AdParlor's most engaging feature is the instant preview you get when designing. You can get a feel for what it looks like for both desktop and mobile devices. This helps you create an advertisement that looks good no matter what a person is using to browse the Internet.
Since this is a free tool, you lose nothing by spending a few moments and giving it a try.
5. CoSchedule Headline Analyzer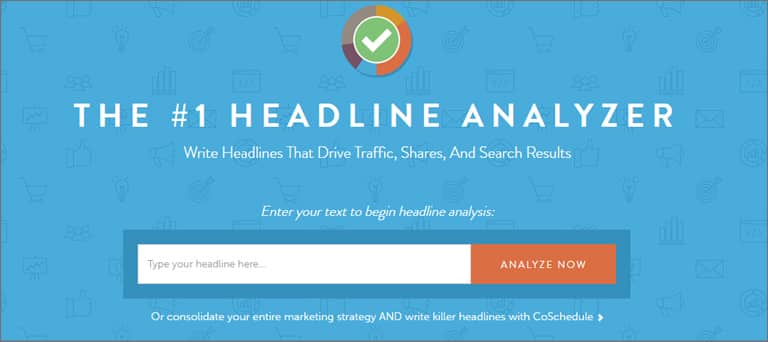 Approximately 90% of people reading your headline will also read your call to action. It's vital that this area be ready to engage the audience.
Perhaps one of my favorite tools, CoSchedule Headline Analyzer can do wonders for helping you develop engaging titles. However, it can also be used to create engaging headings for your advertisements as well.
The same metrics and processes that fuel website content empower ads in social media.
This is another free tool that is worth the time exploring. The system will give you a rating based on various components of the content. It will also give you insights regarding how to improve including whether or not the headline has a positive sentiment.
CoSchedule will keep track of the headlines you try in each session so you can go back to one that had a higher score.
6. AdEspresso
Finding that perfect ad that works on Facebook can be a painstaking process. However, AdEspresso makes this process much easier. The system allows you to track many variations of your Facebook ads to find which one works the best.
This means you can save money on running particular ads that are not performing as well as you'd hope.
The dashboard of AdEspresso is customizable so that you can decide which metrics you want to see first. But if you want heavy data details, those numbers are available as well. Sometimes a good data-filled spreadsheet can be quite enlightening for many.
AdEspresso doesn't just track your performance, though. It can also give you suggestions about how to fix your campaigns. The system will go through your previous results and provide ideas about how to optimize the campaign even further.
7. Facebook Audience Insights
Facebook Audience Insights is an incredibly valuable tool when determining specific demographics for the social site. It's a free service offered and is based on continuous data accrued by Facebook and other sources. You can access this through your Facebook Page for the business.
Just by plugging in a few data points you're focusing on, you can see how many people on the system would be receptive to your ads.
You can sort by demographics, the kinds of pages people like, specific locations, age ranges and even particular interests. This helps you focus Facebook ads on those who are more likely to interact with the campaign whether it's buying goods or visiting the website.
8. Pablo

Posts in Facebook with images are over two times more likely for engagement over plain text.
Paying for ads isn't the only way to market on social media. Pablo by Buffer is an exceptional part of Facebook advertising tools. Because images are so important to engage an audience, Pablo makes it easy to promote visuals while providing text and link content to those who see the post.
Users can add their own logos, in-image texts, optimize for different sizes in various social platforms and even add a random historical quote to an uploaded image.
In mere minutes, any business can create a potentially viral meme or share a new product with fans and followers.
Pablo has potential to be added among various other actionable ways to increase website conversion rates. Because you can reach several social channels at once, you can easily widen the marketing scope of your audience.
9. AdStage
AdStage lets you tracks advertisements across all networks from a single location. This gives you the ability to see just what campaigns are the most successful for the business.
If you want to fine-tune the tracking process, you can import conversion data of your campaigns from various file types. This includes Google Analytics, various spreadsheet applications and Customer Relationship Management software.
Do you like visual reports? AdStage offers easy-to-read layouts while condensing the data into information you can use to streamline your ads.
10. Perfect Audience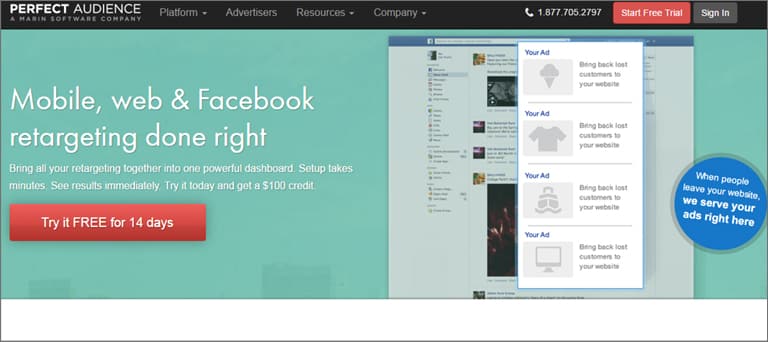 Perfect Audience is a platform that keeps your website on the minds of your visitors when they access Facebook. Using anonymous cookies, ads for your site are displayed to Facebook users who previously visited your webpages.
It's kind of like creating a reminder advertisement for those people when accessing the popular social hub.
The retargeting platform of Perfect Audience does not interfere with other methods you may be using. Ads are served by Facebook and will show in the right-hand locations as well as the news feed.
This system does not apply to sponsored stories as those are developed in a completely different way.
Perfect Audience also delivers an easy to use dashboard as it tracks various metrics of your campaigns.
11. Hootsuite Ads
Hootsuite is a social sharing app that allows users to create a single post and delivery it to several social media sites simultaneously. However, this isn't the system's only feature.
Hootsuite Social Ads gives you a method in which to optimize your campaigns. Users can run tests for many Facebook ads quickly and find the perfect time, placement and audience to get the most out of the experience.
One of the more important features to this platform is its ability to integrate with other systems. For instance, you can link various CRM and hot social marketing tools to Hootsuite such as HubSpot and Mailchimp. You can also manage who can access these tools in a team environment.
12. Qwaya
A popular tool among many is that of Qwaya. This system is an advertisement management tool that comes with scheduling, user defined rules and ad rotations. In essence, you could spend one day setting up how ads behave over the next week and let the system do the rest.
Qwaya is one of the ad management tools that integrates well with Google Analytics. Because Google can track everything from click performance to return-on-investment, the feature is quite beneficial when building future strategies.
For those who love to process their own data, reports can be downloaded in a spreadsheet in .xlsx or .csv formats. This means programs such as Excel, Open Office and Libre Office are able to open the files.
13. Facebook Campaign Planner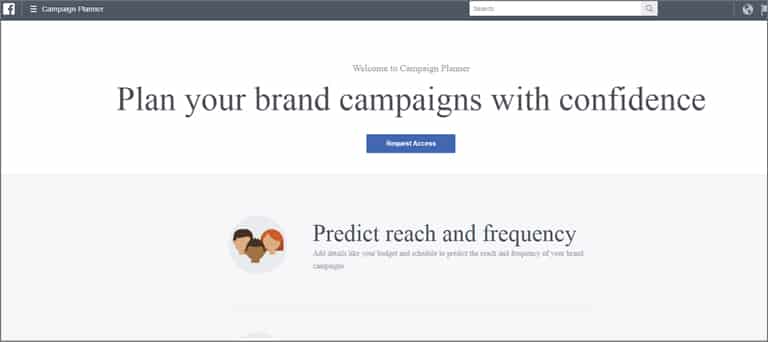 The Facebook Campaign Planner has potential to be a useful tool, but it has a bit of a convoluted process that goes with it. When signing up, the process can take up to five or six business days before you're able to begin. This is because you have to request access to this feature of Facebook.
However, the tool provides just about everything you'll need to get the most out of running your ad campaigns. For instance, you'll have access to predictability tools, compare different versions of ads and share the creations with other members of your team.
Prediction tools will use a graphic to demonstrate whether the status is up to date or if it needs to be updated. Ads created in this platform can be purchased by re-entering the details into the reach and frequency buying tool within Facebook.
14. Facebook Ads Manager
The Facebook Ads Manager tool is the platform that will control your advertising campaign. It is here where you can add new pages, create objectives and pull data regarding conversions.
While fine-tuning the campaign, Facebook will use a meter to demonstrate the audience size and estimated daily results based on your selections.
Like other systems, the Facebook Ads Manager will show a preview of how others will see the advertisement. You also have access to a wide range of settings from your daily budget to the layout of images you want to use.
15. Facebook Ads Manager App
No collection of Facebook marketing tools would be complete without a mobile version for the Facebook Ads Manager. This app gives you the tools to create your ads while on the move. You have access to all of the pertinent settings to govern over your campaign in an easy-to-use mobile interface. Reports for engagement and billing are also available within the app.
This app is available for Android mobile devices and iOS products. Whether you're on a smartphone or a tablet, control over your ads is at your fingertips. The display is touch-friendly meaning that you will have less of a struggle when tapping the various tools.
This is an incredible addition to have when running your Facebook campaigns as it will give you access to your account regardless if you're on vacation or sitting in the park on your lunch break.
Get More From Your Ads
I'm not saying that you'll fail with Facebook ads if you don't use the above tools. I am saying that the above apps have potential to improve your efficiency.
Whether it's through tracking progress of visitors or designing an engaging graphic to share, it's all about creating something memorable. The Facebook marketing tools above may help you do just that.
Of course you there are other, less obvious Facebook marketing tactics to consider. for instance, adding a Facebook login to WordPress can help make people think about your website and Facebook. They might just be inclined enough to search for it.
Consider any Facebook integration as beneficial to marketing efforts.