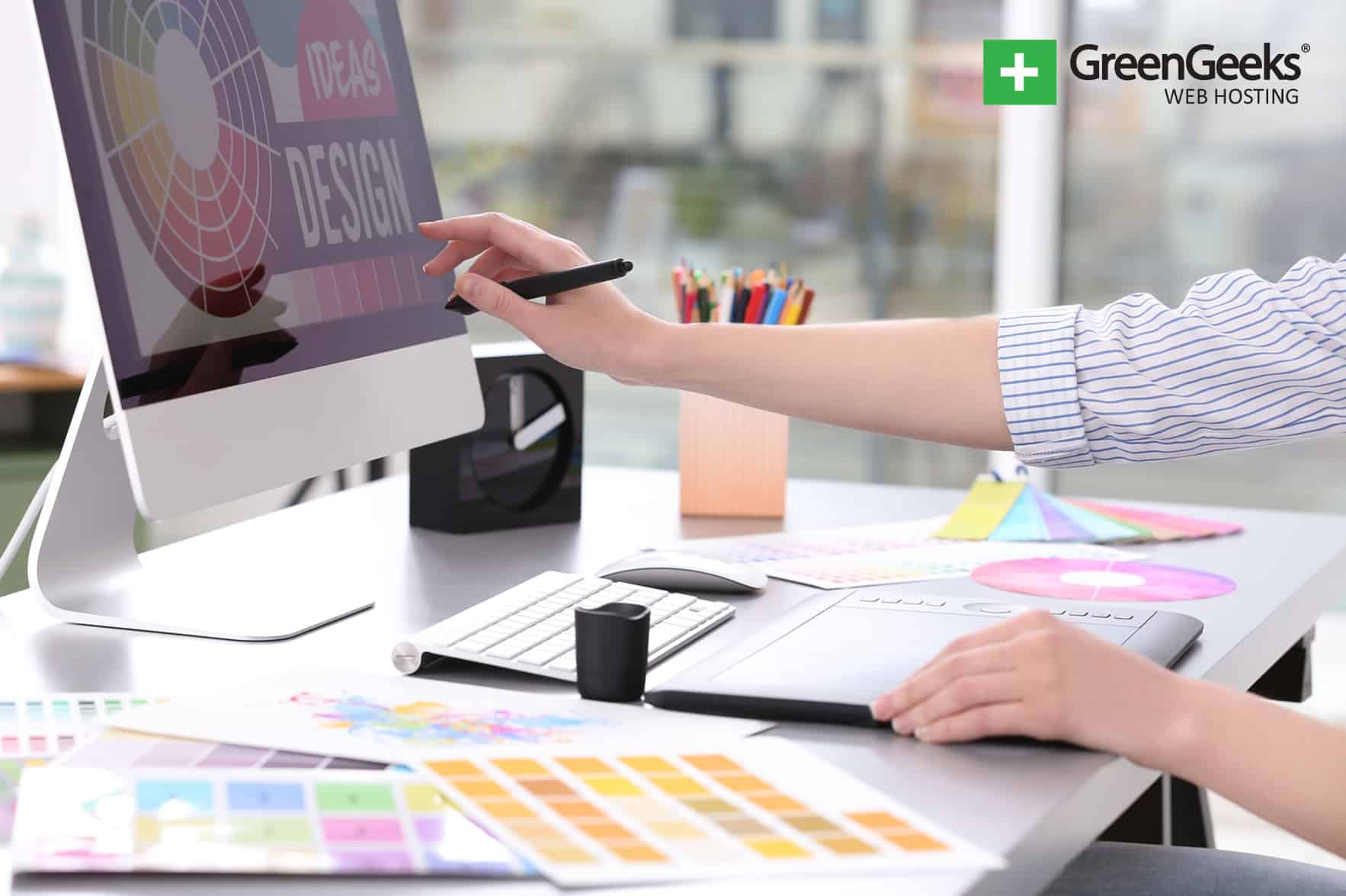 Social media has become an essential marketing tool. Your target audience now expects to have a personal engagement with the companies they buy from and the individuals they follow. The use of images in posts can help jumpstart that engagement and make your brand, corporate or personal, more inviting.
With that in mind, it may not surprise you to learn that social media posts consisting of images are more than two times more likely to engage people on Facebook.
What Are Social Media Graphics?
Social media graphics differ slightly from typical website graphics. They can't simply be illustrative, they have to quickly tell a story or get your message across.
They should also be tailored for each social media platform. You'll need multiple versions of your social media images in different dimensions to best fit the different platforms.
A strong message displayed correctly will increase clicks and shares.
Social Media Graphics Tools We Can All Use
Unlike desktop graphic editing programs, these online tools can be mastered relatively quickly. With most of them, you'll be creating images in minutes. They have the potential to become an integral marketing tool in your arsenal, driving traffic to your website.
Here are 25 free online tools you can use to edit social media imagery.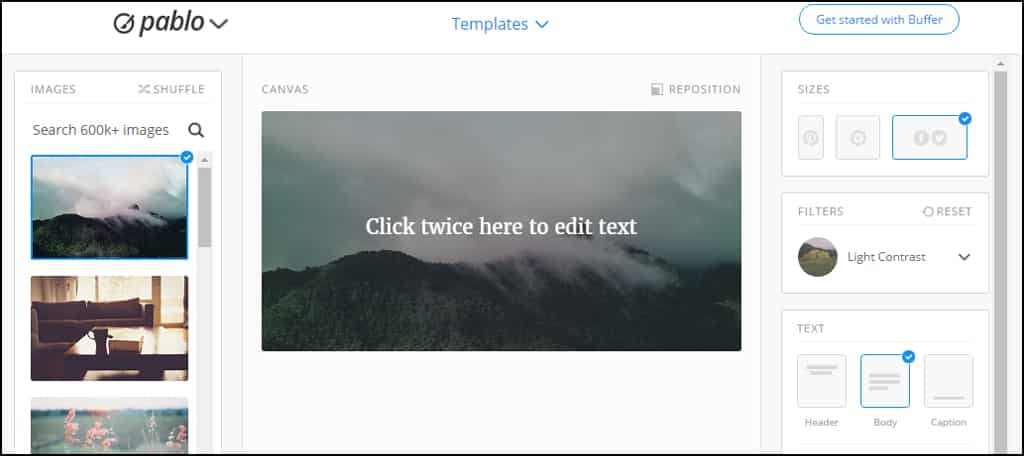 Developed by the social sharing app Buffer, Pablo gives marketers the tools necessary to engage an audience. Create images to share immediately, or schedule them to post any time.
The tool boasts a wide selection of royalty-free images, and you can also upload your own. A text editor lets you overlay your messages or company logo.
With layouts optimized for Pinterest, Facebook, Twitter, and Instagram, Pablo can start working for you right now.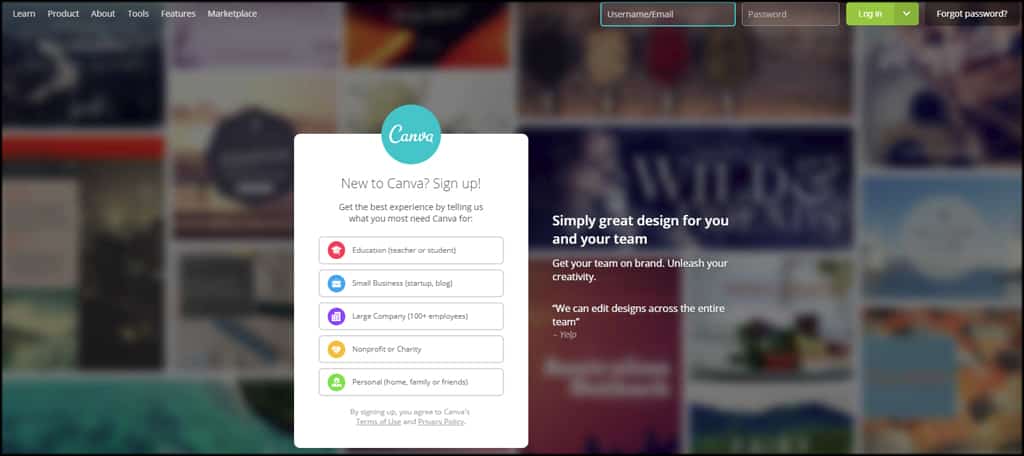 Canva is one of the most versatile free tools you can use for almost any digital project. It provides templates for perfect image sizing on all the major social sites (and many others). There are also sample layouts of text and imagery to give you an inspirational boost when you need one.
You can access a library of free graphics for your image, along with a wide variety of text editing tools. You can use Canva's free images, pay a small fee for others, or upload your own.
We like Canva so much that we wrote an article about using it.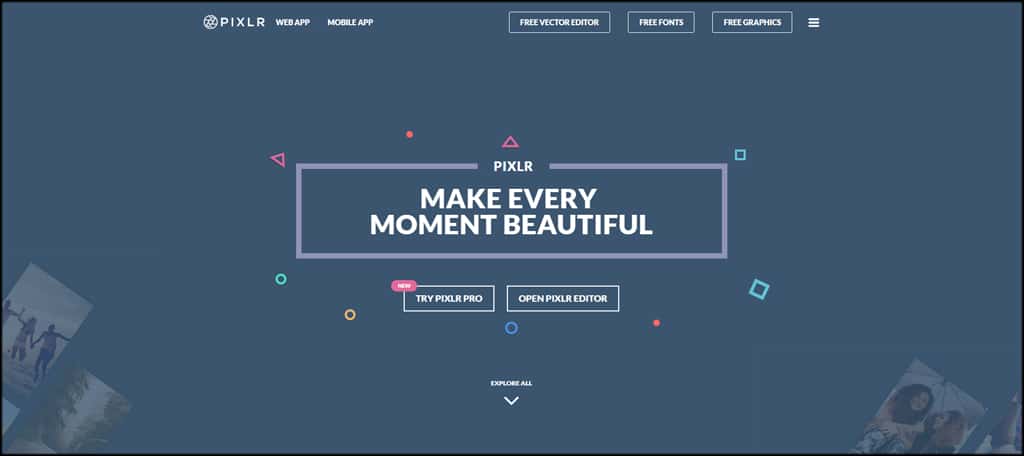 Pixlr boasts Artificial Intelligence-powered tools and different versions of the software ("Advanced," "Playful," and legacy versions). It has the look and feel of powerful graphics programs like Photoshop. But there's also an Express app for creating and editing social images quickly.
There are a wide variety of borders, layouts, overlays, effects, and more to choose from. You can upload images or create an image using your webcam.
On the downside, Pixlr is Adobe Flash-based. So you may have to adjust your web browser configuration to get it to work properly.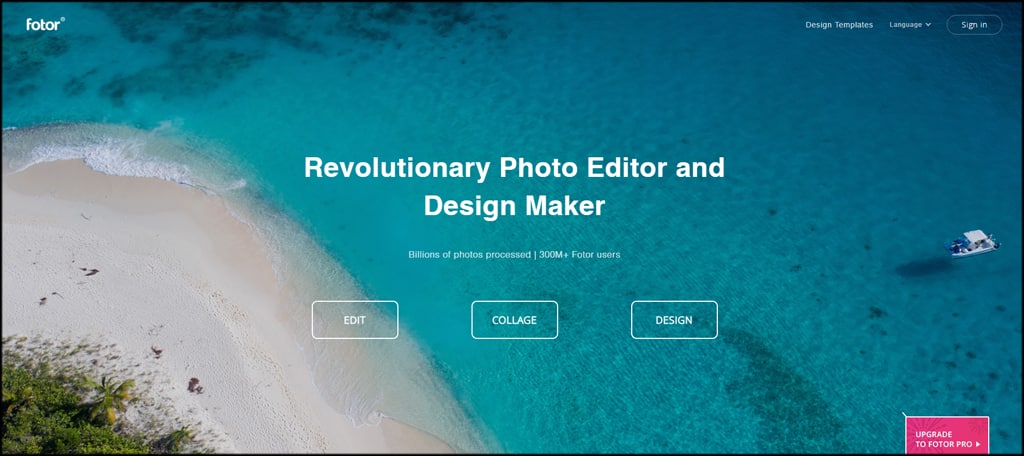 Fotor is primarily a collage-maker, but it does provide tools to create social media graphics. There are templates for social site cover art that use the proper dimensions for sharing in your posts.
Fotor will also create thumbnails for YouTube videos. After selecting a template (or uploading your own image), you have access to other graphics and text options.
When your image is complete, you can click a share button to send the graphic to your favorite social site.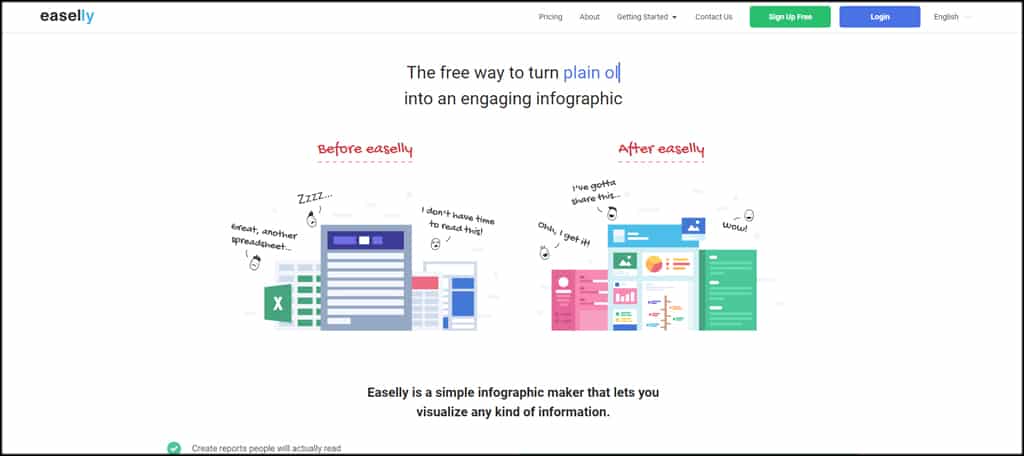 Easel.ly specializes in the creation of infographics. Infographics are liked and shared three times more than other visual material on social media.
Easel.ly takes all the guesswork out of creating infographics. Just select a template and start adding your text and data. You can share the finished product as a link, or use an embed code to add it to your website.
Piktochart is another infographic creation tool. But it doesn't stop there. You can use it to enhance reports and presentations, create social media graphics, and even prints.
The free account gives you access to over 4,000 icons, the editor system, and the ability to share. It does a lot, but the free version is somewhat limited when compared to others on this list. But the paid premium version does greatly expand its capabilities. If you like how it works, it could be a good buy.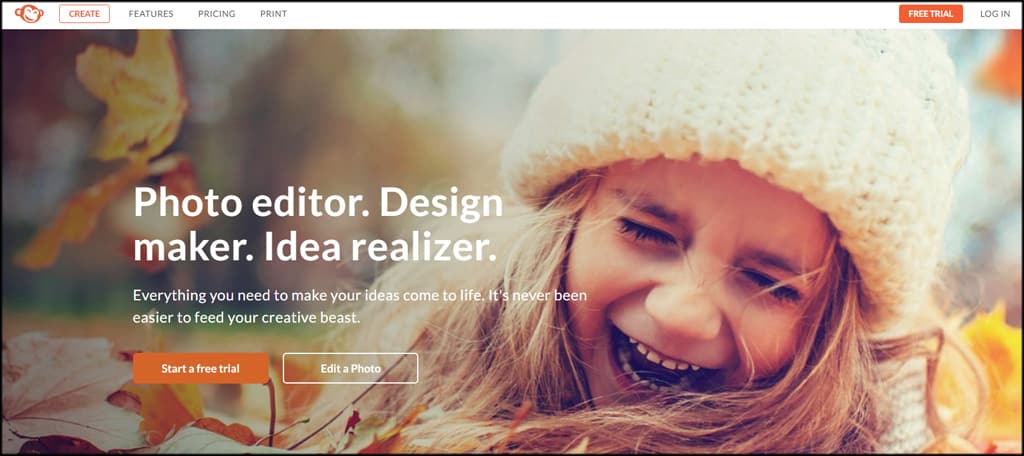 With a library of millions of stock images, PicMonkey has something for everyone. It includes all the usual borders, typefaces, textures, and other graphic-enhancement methods.
You can share images from the site directly to the most popular social sites, including Facebook, Twitter, and Pinterest.
PicMonkey isn't free, but they offer a seven-day free trial. If you like what you see, it will cost a minimum of $6 a month.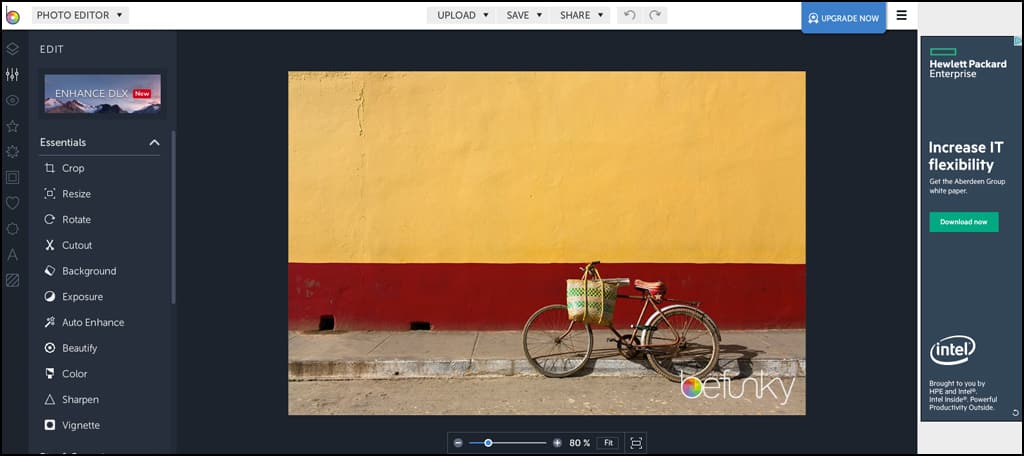 I know, you're already funky. You don't need any help to be funky. But BeFunky offers up a good number of free image editing tools. It's a slick implementation of the usual image editing functions, borders, and various overlays.
When you've created an image, it's easy to share on sites like Facebook and Twitter. The only drawback is many of the more attractive features are only available in the paid version of the service.
The Inforgr.am app helps organize your data into charts and graphs, ideal for anyone presenting infographics on social media.
The free account allows up to 10 image uploads, the creation of two maps, and a 10 file library. One of the coolest features is the ability to import spreadsheet data. That makes creating charts and graphs a breeze.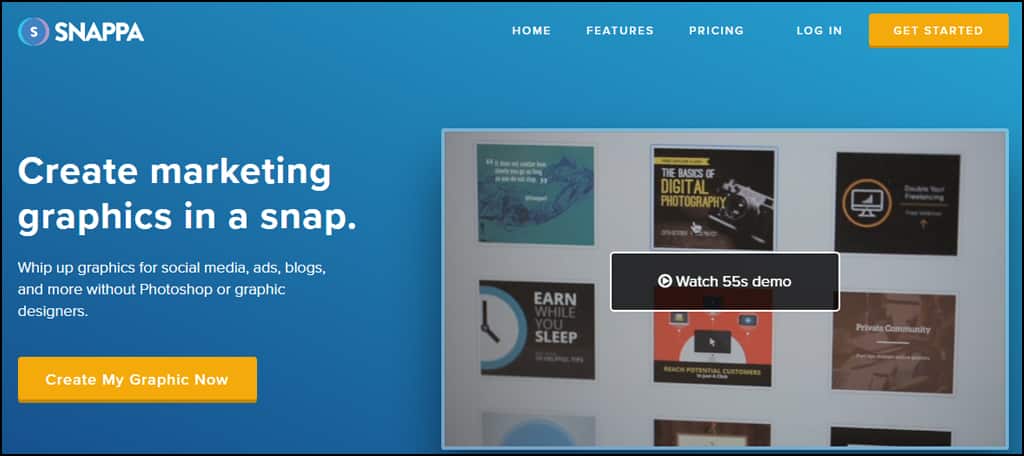 Snappa comes with a ton of stock photos options, graphics, text, and scheduling capabilities. The free version only supports two social accounts, but you can still get a lot out of it.
One cool trick Snappa can perform is removing the background from your uploaded image with a click. It's worth a look.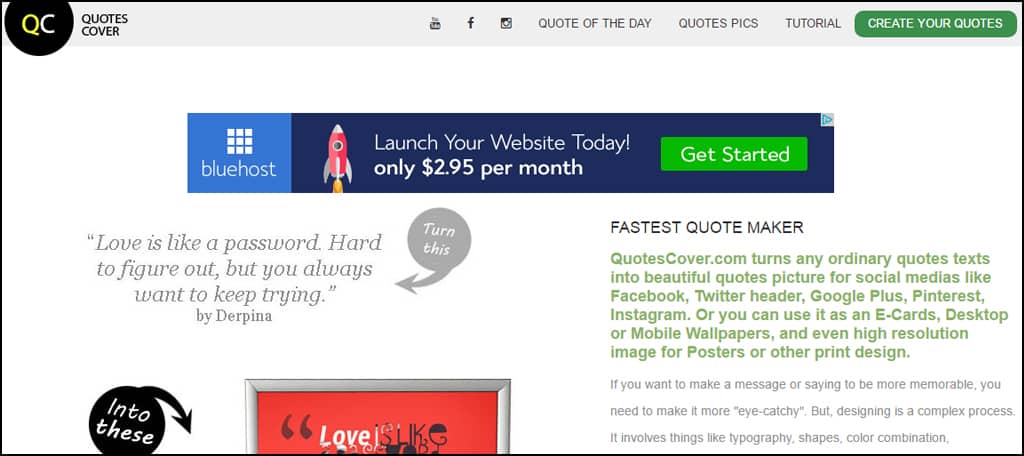 Quotes Cover is a quick and easy tool to create art for your social media profiles. You can enter your own quotes or choose from a host of popular inspirational messages. Simply choose which social media platform you're targeting, and use the editor to make final adjustments.
You can't force something to go viral, but quote images often do just that. Quotes Cover comes with a wide selection of options to make your images unique.
It's said that online video uses more than 80% of the internet's bandwidth. Whether you need an infographic or an interactive image, Genially can do the job.
Presentations, Infographics, Quizzes, and a lot more can be created using free templates. You can edit, add backgrounds and animation, then share your work in a variety of ways. Genially is unique in its ability to include YouTube videos into the images. You can even animate your own elements.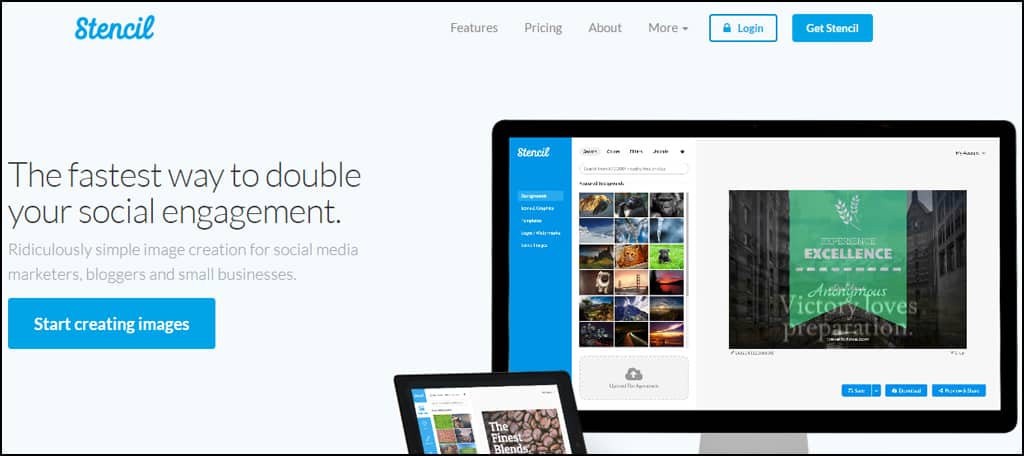 For the quick development of social media images, Stencil can't be beaten. It's designed for speed and comes fully loaded. How loaded? Four million stock photos, 1,000 templates, 3,150 Google web fonts, and more than two million icons and graphics.
If that's not enough, you can also upload your own media. The free account is somewhat limited, allowing for the creation of only ten images a month. You can upgrade to a paid version for more.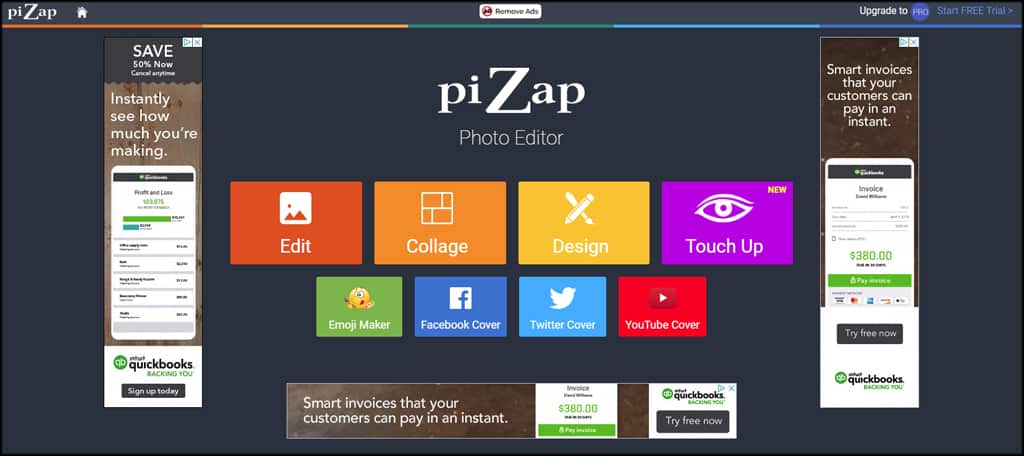 The piZap editor is similar to Pixlr in its emulation of a Photoshop-like workspace. It offers up various tools that can help you craft just about anything you want to share on social media. It even has a meme function that lets you quickly add text to images.
The free version has quite a few options. But like most online tools, there are even more features available in a paid account.
The ability to create vector illustrations in an online tool? Yes, Gravit can do that. It's also a great image editor for optimizing social media graphics.
Gravit offers cloud storage so you can save your creations online. Its feature-rich interface gives you access to several pre-defined layouts. It's easy to make things like Facebook cover art with the correct dimensions automatically applied.
Venngage specializes in creating infographics (do you see a pattern here?) and other shareable content. The free account gives you access to a variety of media to help build your data-driven content.
Pinterest, Facebook, Twitter, and LinkedIn templates are available in the app. And technical support is available from actual living, breathing humans. Not something most free online image editors can offer.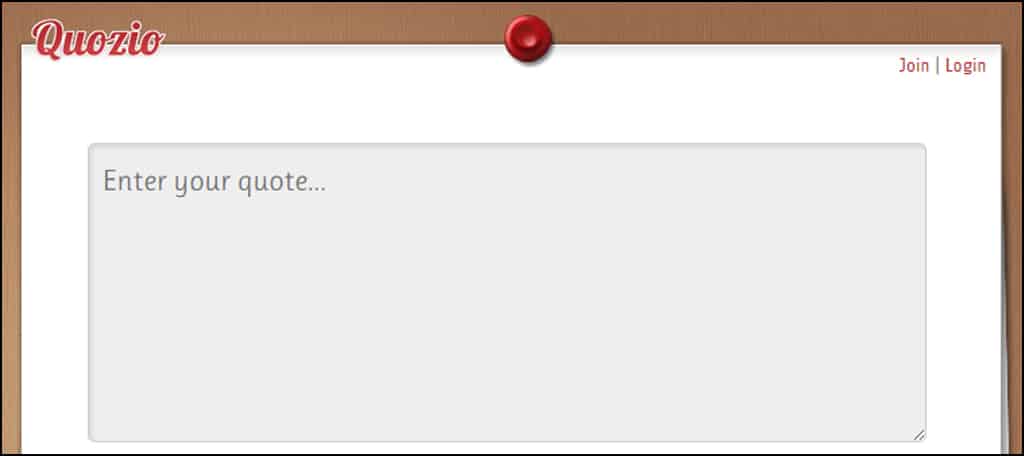 Quozio is another quote-producing app that is fast and easy to use. Just enter a quote, the name of the person who said it, then select from an array of backgrounds.
It's a simple, limited system, but you don't have to hand over your email address to use it. A unique feature is a "bookmarklet" web browser extension. Highlight text on any page, click the "Quote with Quozio" button, and the selected text is turned into an image.
Although this tool is pretty cool, it is using an older "http" connection. This means it's not secure with an SSL. However, it does still work exceptionally well. Hopefully, the developer will add the SSL in the near future.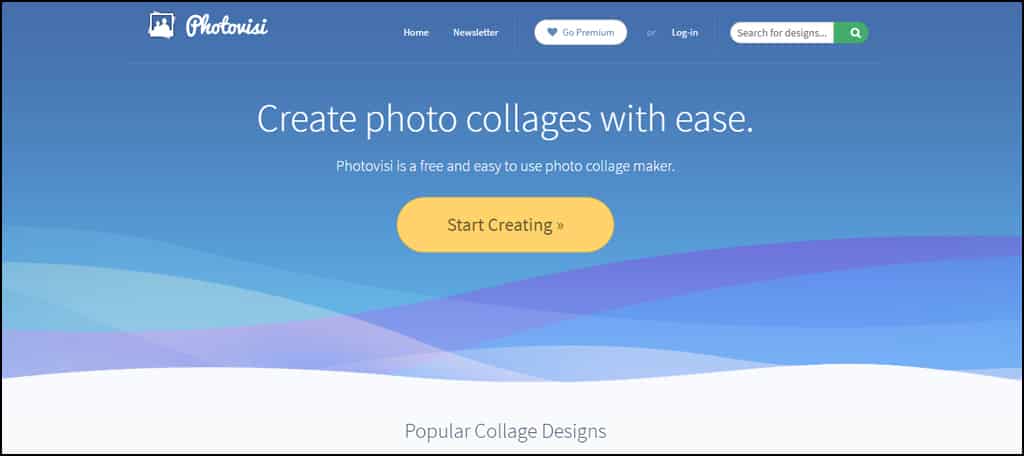 Looking for a tool for making a photo collage to post Twitter or Facebook? Photovisi is for you. The tool provides the usual variety of backgrounds, shapes, and a basic text editor. When you're finished, you can save the project or share it.
Sharing includes text crediting the creator of the graphic in your post (credit where credit is due, right?). You can upgrade to a paid account to remove watermarks. But even without the upgrade, it's still an effective way to create images for social media.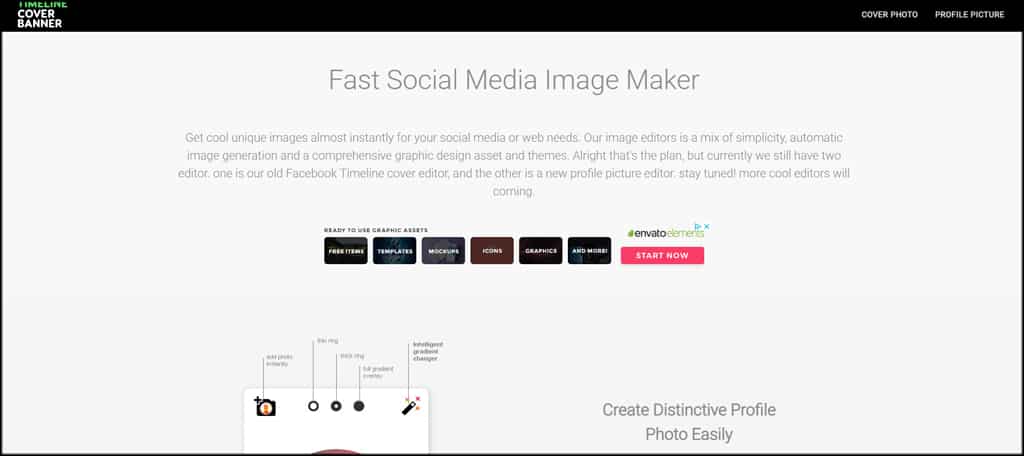 From the makers of Quotes Cover, Timeline Cover Banner is a tool for amping up your social media profile images. You can create a cool circular image for your social accounts and use the photo editor to create backgrounds.
It's a basic tool that is free to use. It doesn't have flashy additions (or flashy complexity). It's a quick and easy way to accentuate your profile images without breaking the bank.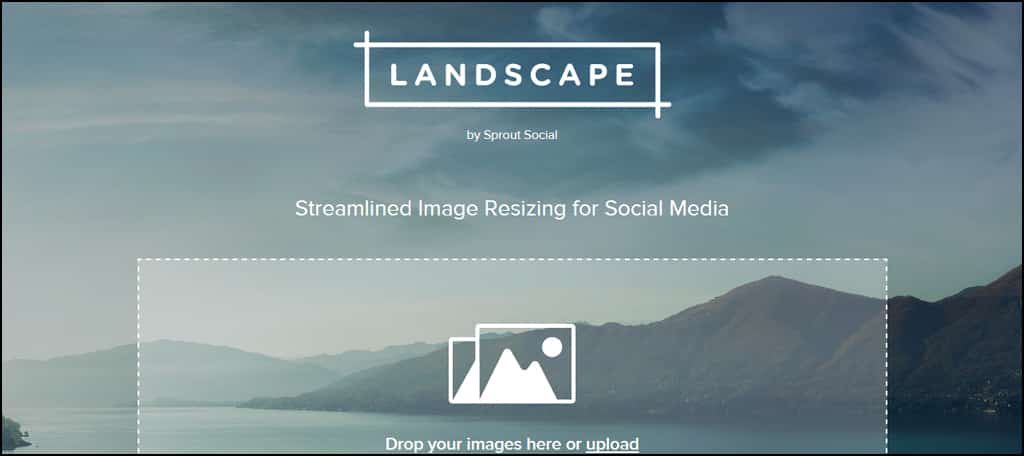 Sprout Social brings you the excellent social media graphics tool Landscape. Upload any graphic, and Landscape will crop it for specific social sites to create a perfect fit.
Use the images in linked posts, profile pictures, and as background elements. Landscape supports the most popular social media sites: Twitter, Facebook, Instagram, and YouTube.
You can't directly share the images it creates. But it's still one of the best, easiest tools to get the perfect size for any social image.
21. MemeCenter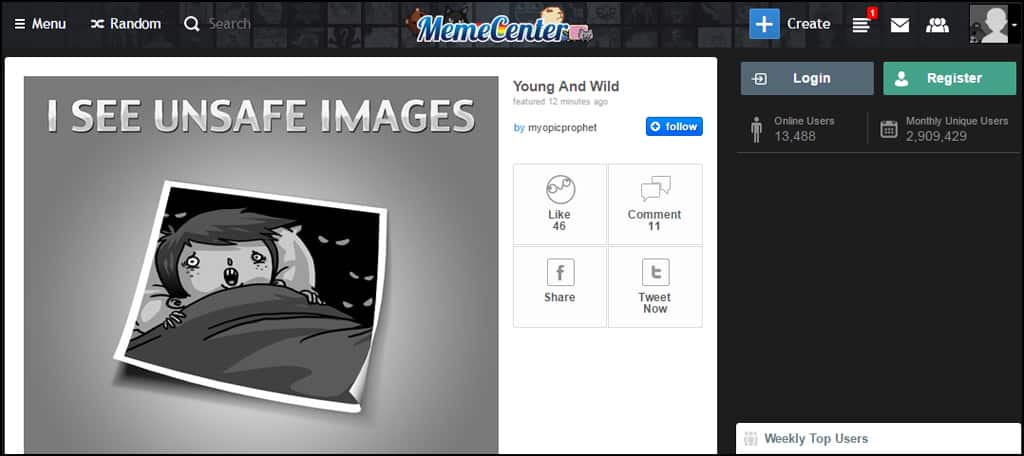 Memes. Will they ever go away? I sure hope not. MemeCenter is a one-stop-shop for creating all kinds of graphics for social media. From graphic memes to custom animated GIFs, the tool does just what you want it to do.
There's a selection of can't-miss meme imagery available, or you can upload your own to make it unique. The memes you create can be saved or shared on the MemeCenter site, a social presence all its own.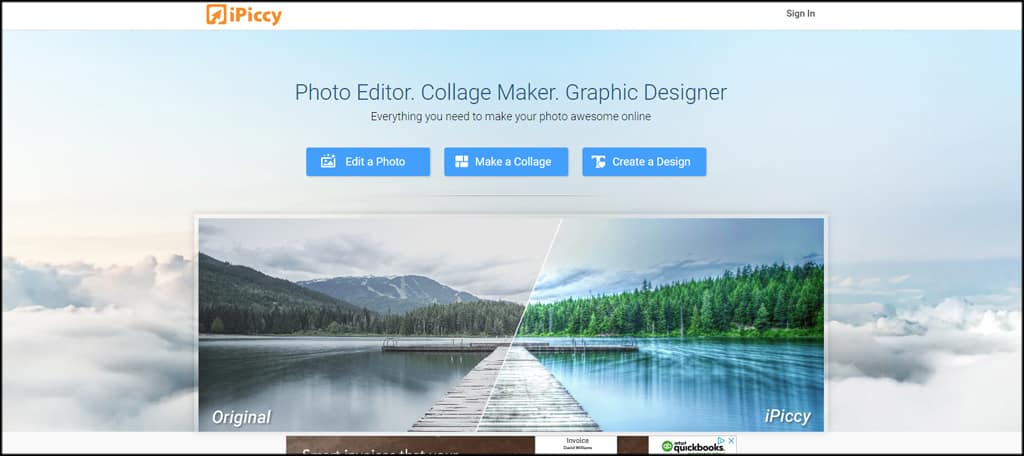 The iPiccy photo editor delivers a wide range of tools to spruce up any social media image. It does that sprucing using deceptively simple tools. I say deceptively simple because, in addition to the basic functions you'd expect, you also get auto-fix and object cloning. Those are advanced features in an easy to use package.
You can also use the iPiccy Collage Maker to create a collection of images for social media or portfolio use. And you can add text, overlays, vector masks, and more when using the iPiccy graphic designer.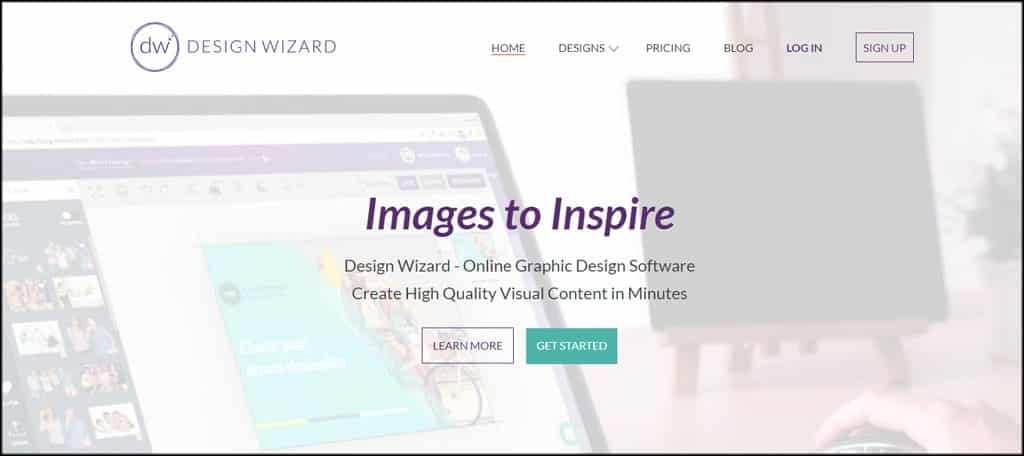 Design Wizard is a comprehensive tool that allows you to create graphic design and images in seconds. With over a million images and thousands of templates to choose from, everyone will be able to find something they like.
It's host to some unique features as well. Including a "magic resize" button that allows you to change the size of the template with a single click. At the same time you are editing or creating!
Design Wizard also integrates with Hubspot, Buffer, and Intercom. You can use Design Wizard for free, and there are also paid plans that give you even more.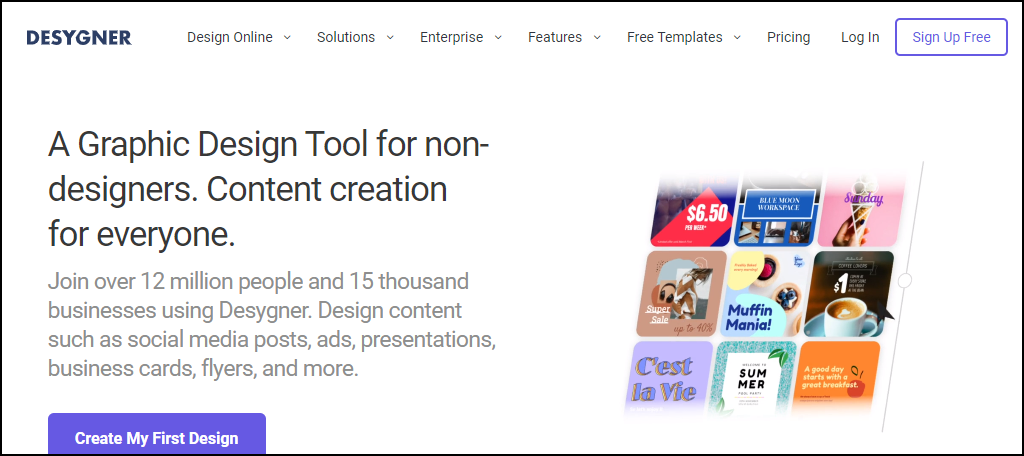 Templates for social media networks, royalty-free images, design elements, shapes, and icons. Hmm, Desygner sounds like ever other social media graphics site.
Only it isn't.
Desygner is a mobile social media graphics generation site/app. Many of the sites on this list will function (more or less) on mobile. But Desygner is the only one optimized for a smooth mobile experience.
Why you would want to design social media graphics on your phone is another question. A question that I can't answer. But if you can, Desygner is just what you ordered.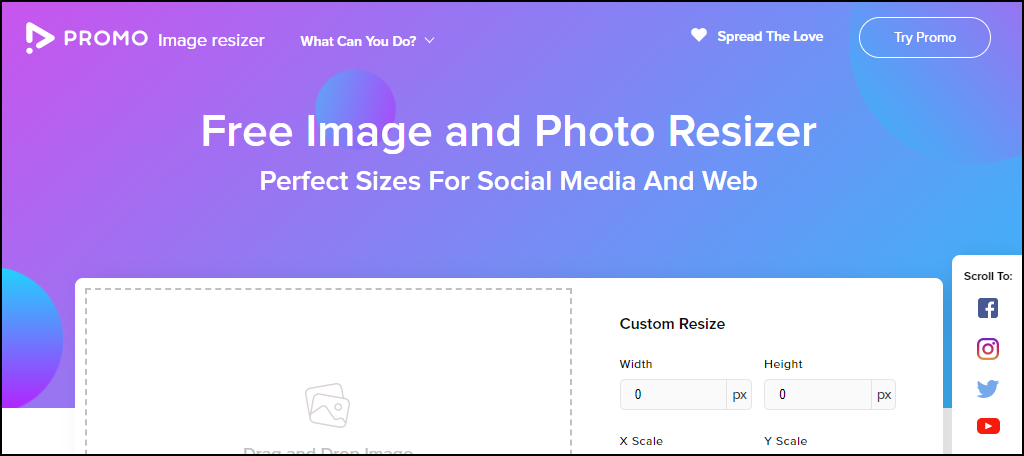 Last but not least, allow me to present the Promo Image Resizer. It has zero templates, no stock images, no fonts, no image editing. Essentially none of what most of the other sites on this list have.
But if you like to open Photoshop or Gimp and do everything yourself, you need Promo Image Resizer. The only thing Promo Image Resizer does is resize images to social site specifications. But that in itself is an extremely valuable service for the do-it-yourselfer.
Upload your image, and the resizer gives you the properly sized version. Beautiful simplicity.
Engage Your Audience to Keep Them Coming Back
It takes more than a pretty picture to attract and retain an audience. Creating social media graphics that are optimized in size and function is one of the fundamentals of creating "sticky" imaging. The tools we've talked about here have you covered as far as the technical details are concerned.
Can you create something with the potential to go viral? That's up to your creativity and ingenuity.
Don't forget that visual marketing on social sites like Facebook can be used to draw visitors to your own website. Your engagement doesn't have to stop at the walls of the social sites.
I hope you find one or two of the tools in this list useful.