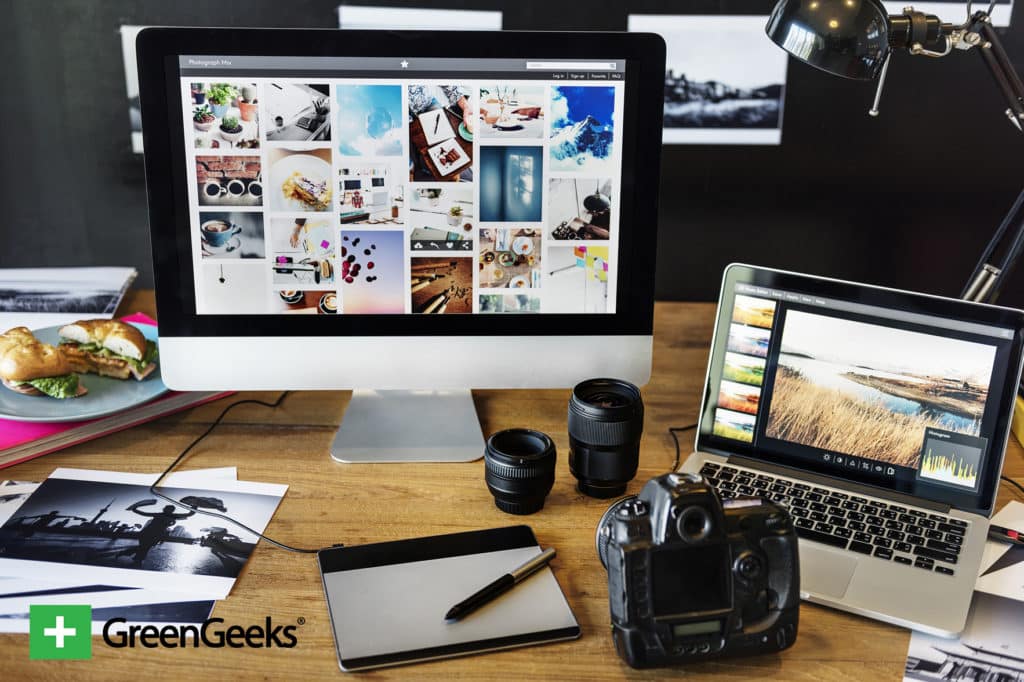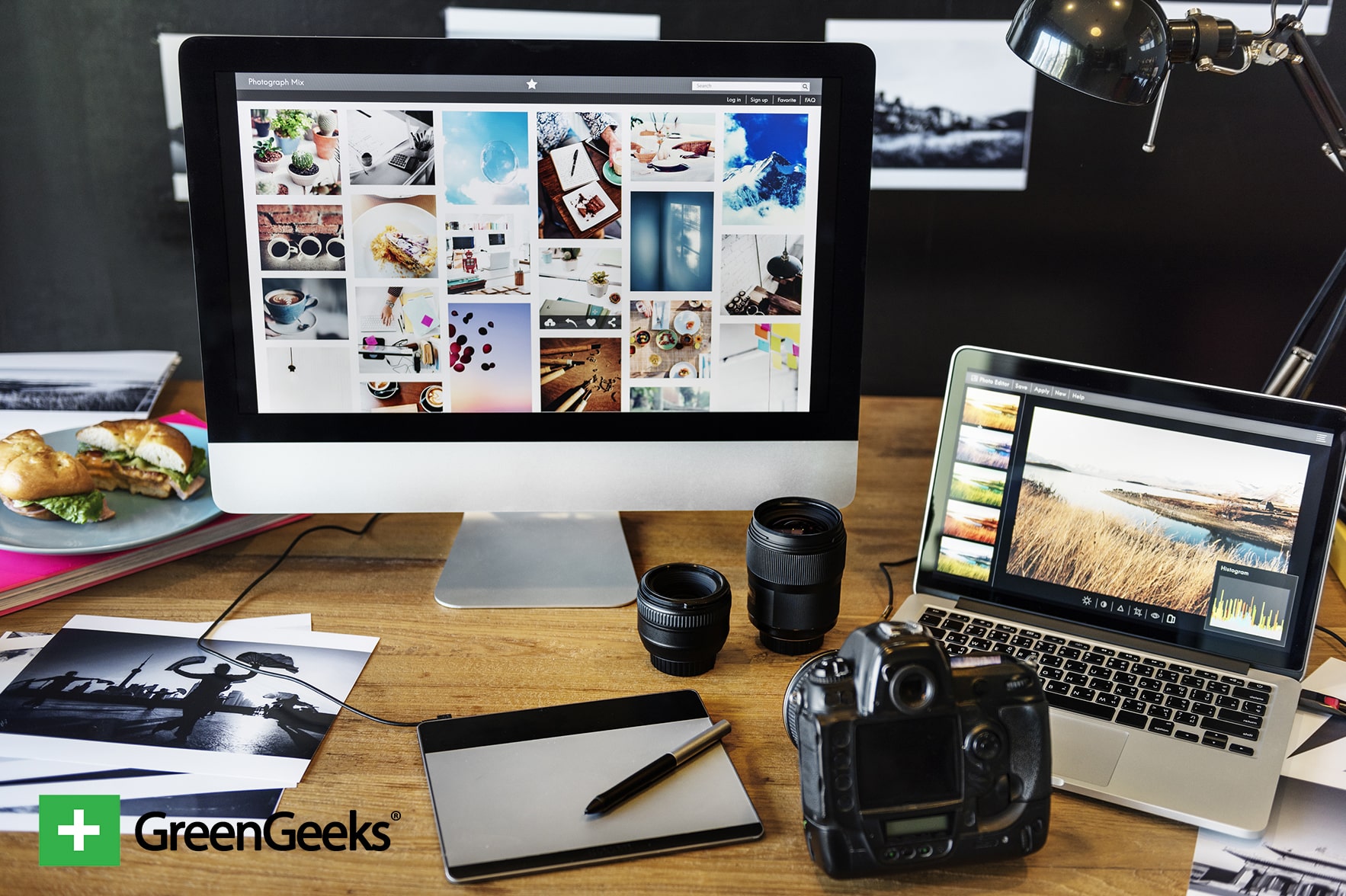 Images are some of the most engaging media on the Internet. From social media to websites, it's the graphics that wind up engaging a larger audience.
Unfortunately, finding the right image to go with your content can be quite costly sometimes. What can you do when you have little money but want to accentuate your content?
That's when royalty-free images come into play.
By definition, images that are royalty-free are those that do not have additional licensing or fees later on. You buy them, and then they are yours to do with as you please.
And many sites will offer these kinds of images free of charge.
Paying royalties after making a purchase can cost quite a bit of money in the long-term. However, you need to find images to make your content more attractive. After all, content with images receive nearly twice the views as those without.
Here are 19 amazing websites I've found for high-quality images you can use without paying a recurring fee or continual usage license. Any of these images can be used in most free website builders with ease.
1. Pixabay
Pixabay has a vast array of images that are usable with private or commercial websites. These are free to use for virtually any purpose.
Because it is such a popular site and people continuously upload their photos and artwork, there are literally thousands of graphics to choose from.
Everything from vector images to photographs are available on Pixabay. Sizes can range from small to very large desktop backgrounds. Some may also come with the actual .SVG file for vector graphic editing.
One of the more alluring features is that you don't need an account in order to download any of these images. However, you will be faced with a CAPTCHA authorization each time unless you sign up for the free service.
2. Libreshot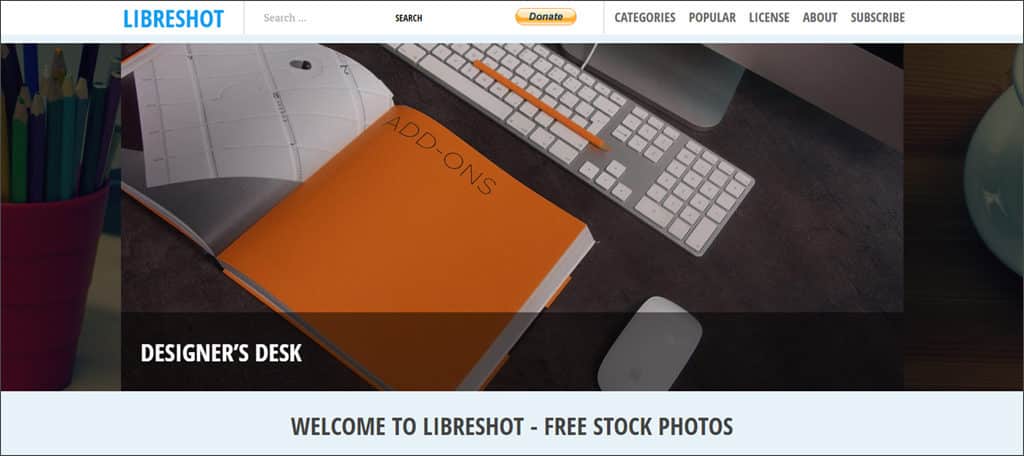 When you need a quick photograph for your site, perhaps Libreshot may be worth exploring. While it may not have an extensively long category list, there are quite a few graphics to choose from.
Some of the more enticing of these images are located in, "Macro Photography."
Unfortunately, the searching ability of this site is less than desirable. While you may find a few images related to your term, it's somewhat haphazard to find precise photos.
If you have time to explore the graphics that are available, though, you may find a few ideas based on just the images themselves. After all, they are very well developed.
3. WikiMedia Commons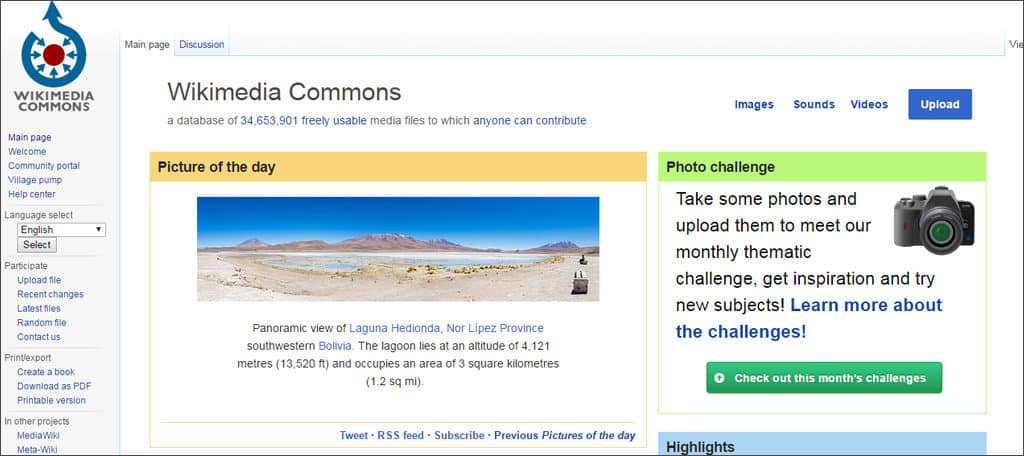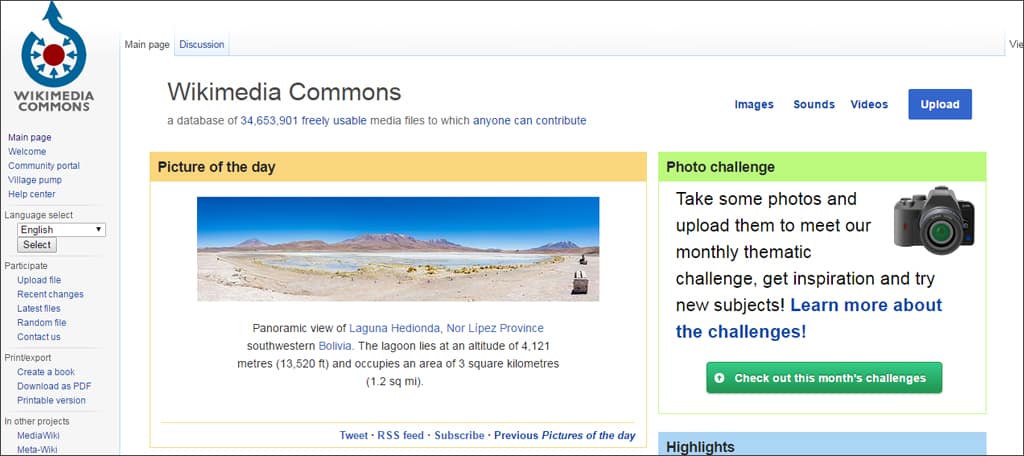 If you want a huge database of imagery created by many people around the world, WikiMedia Commons is where you may want to go. Although the breakdowns of categories and subcategories is quite annoying for some to sift through, the site can fine-tune your searches for specific photos.
Using the search bar is probably your best chance of finding that perfect image.
This site is perhaps one of the largest repositories of photos on the Internet. Currently, there are more than 49 million media files anyone can choose from to use for virtually any purpose.
Virtually anyone can contribute, which means this site is constantly growing. Many of the downloads come with specific HTML coding you can copy and paste for attribution, although it's not legally necessary.
4. Pexels
Pexels is one of the largest free stock photo locations on the Internet. You have access to quite an extensive database of photos, varying sizes and the ability to customize size dimensions of the image you're downloading.
This is another website that has many contributors. Its sleek design makes it easy to find what you're looking for. One feature that can be of use is looking at the leader board of contributors.
If you find a photographer you really enjoy, you can easily peruse his or her works.
Another fun feature of Pexels is the ability to sort images by color. With an extensive pallet available, you can find tones to match everything from emotions to the design of your site.
5. Flickr: Creative Commons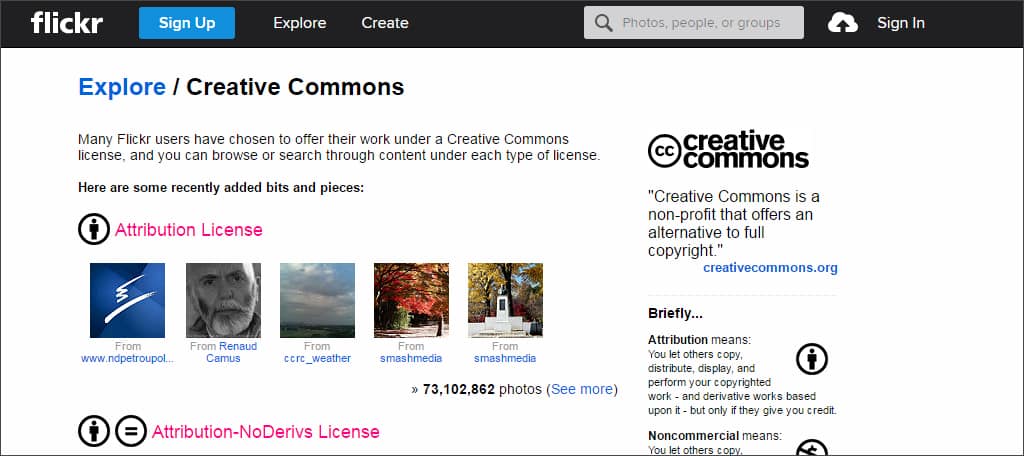 Flickr is a Yahoo-sponsored platform that allows anyone to share images. It also has a Creative Commons area that allows you to sift through tens of millions of pictures to find ones that fit your purposes.
The system is set up so you can choose between different kinds of licenses that allow you to use them on your page. While there is actually only just over one million creative commons images, you can expand your results.
This is especially true if you don't mind giving credit on your site to the photographer or other types of licenses.
Flickr has a very large tag cloud to fine-tune your image searching. In fact, it has more than 53 million tags to choose from.
6. SplitShire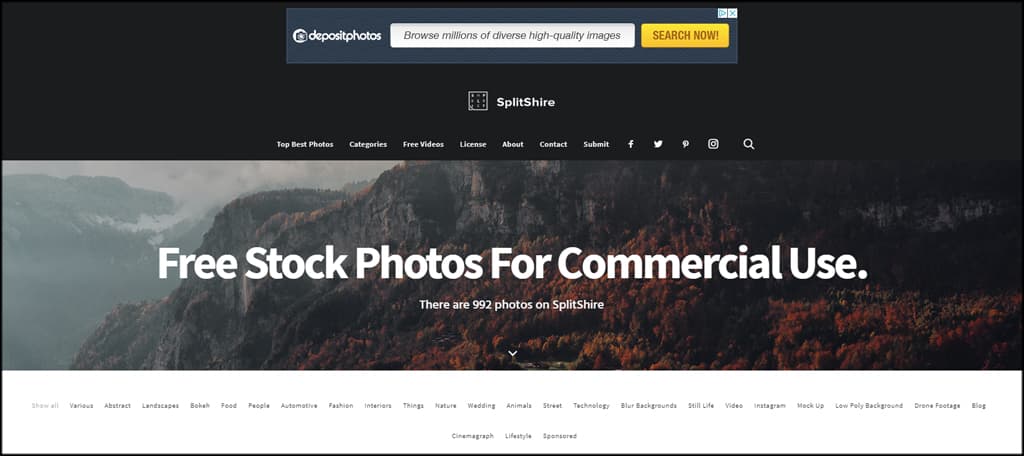 Although it seems more like a collection of random photographs, SplitShire does offer incredible photos for websites. The layout of the site may be less than ideal, but you can easily search through the available categories to find what you're looking for.
You don't really have the option to switch between different resolutions of the same image. However, most are a large file that you can easily shrink down in size with the right photo editing software.
7. Pickup Image
Looking for photos or do you need some clipart? Pickup Image has a great deal to choose from. This site is nice as it will let you search by certain photographers, most popular images or even the most recent photographs.
The site itself is developed well, but it doesn't have a lot of graphics to choose from. However, it does have some stunning free photos to use from some of the most amazing natural locations around the world.
You do have to create an account to download the image size you'd like, but it's a free service and may be worth the time.
8. DreamsTime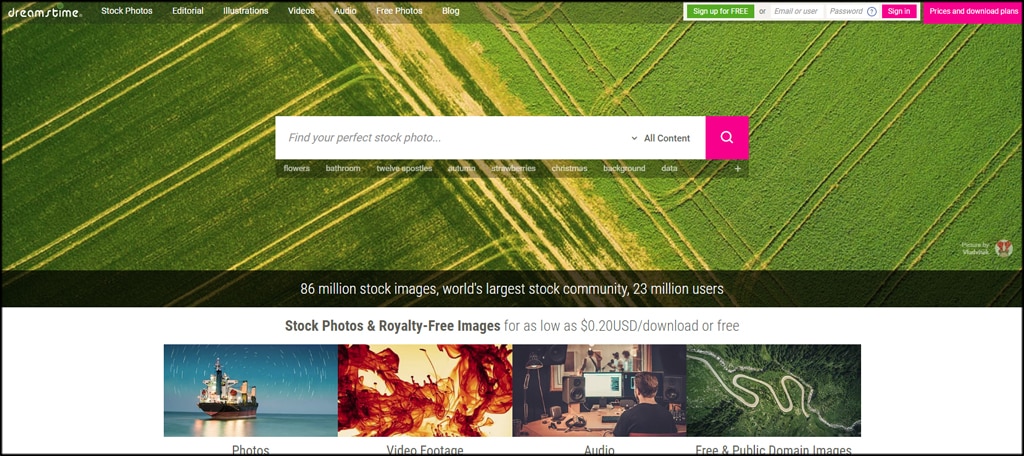 Another extensive list of royalty-free stock images comes from DreamsTime. It has a very wide assortment of material that can fit virtually any kind of website dynamic. From abstract art to web design graphics, it may be easy to find what you're looking for.
However, the system does require that you create a free account.
One of the reasons why so many people like DreamsTime is because it hosts more than 50 million free stock images with hundreds of thousands added each week. If you are looking for a particular photo, give it seven days…you may just find it later.
There are more than 30 million registered on DreamsTime. This means you'll have access to a wide collection of materials from a diverse set of individuals.
9. Free Digital Photos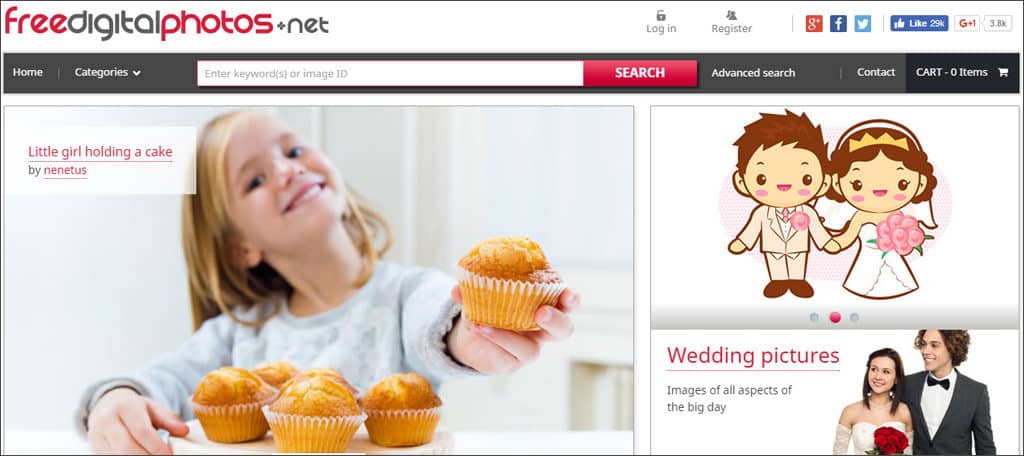 A great collection of digital photography can be found at Free Digital Photos. This system uses a mix of free images as well as premium materials from other sites to build its database.
For instance, if you searched for "depression," you will be provided with a list of free materials in between rows of premium pictures from the iStock purchasing platforms displaying photos related to depression.
One of the biggest issues with using Free Digital Photos is that many of them require an attribution on your website. Otherwise, you can purchase the graphic outright for varying prices depending on the size.
10. Unsplash
Unsplash has a great collection of high-definition photos that can be used in any way. Although the website is a bit clunky to operate, it does have an impressive assortment of royalty-free images that may be worth exploring.
This is another site that you do not need an account to download the images you find.
A point of interest on Unsplash is perhaps the "Collections" area of the site. From here, you can discover an assortment of graphics based on things like transportation, signs of the times or the fall season.
11. Free Images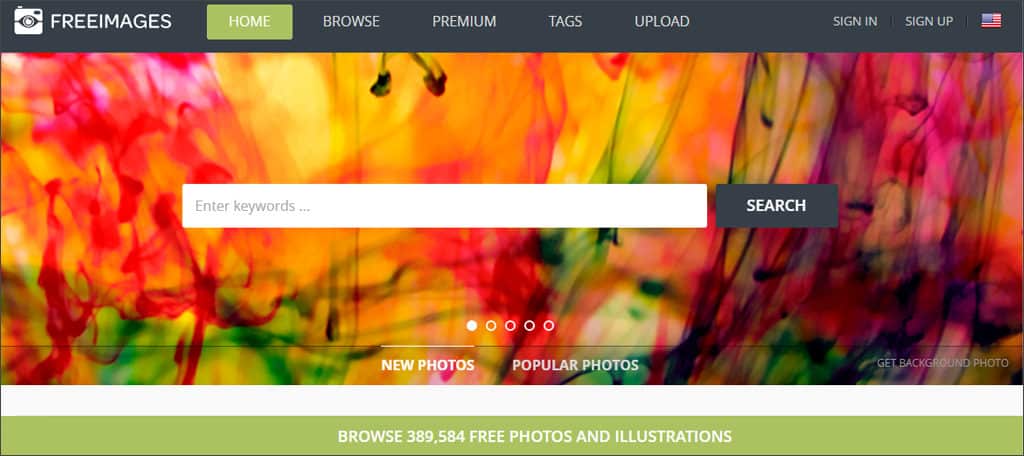 With more than 380,000 images available, it's easy to find quick web graphics at Free Images. This is also a community platform as anyone can upload their photos.
Over time, the database can continue to grow adding more to the search capabilities of the website.
If you want to search specific terms, the site has an exceptionally large tag cloud you can use. From abstract to young model, you might be amazed by what you can find within this cloud of text.
It may be a good option if you're looking for specific topics, such as "retro design" or "old paper."
12. Free Range
While this one may not have hundreds of millions of files to choose from, Free Range does offer a large number of quality images.
Unfortunately, you have to create a free account in order to download any pictures you find.
One of the most noteworthy aspects of Free Range is the ability to send images directly to Pixlr for editing. This means you can automatically import the graphic into the popular editor and start working right away.
This is convenient if you don't want to spend the time to download and then upload the photo if you need editing software.
13. RGBStock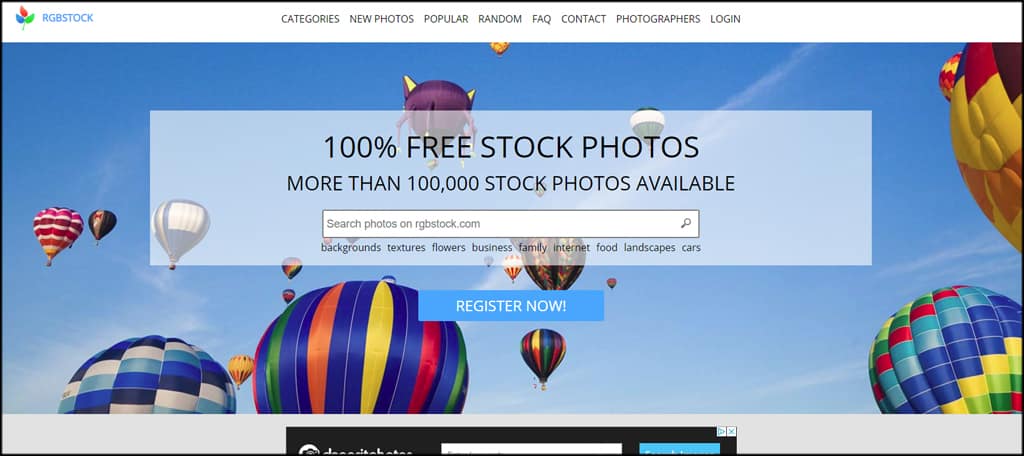 If you need a vast array of images at your disposal, check out RGBStock. You have to make a free account to download the graphics, but the sheer number of free images for websites is nothing short of amazing.
Many of these pictures are very large in size, which makes them easy to modify specifically for your purposes. Because of this, it can also provide you with high-quality background images.
The license agreement between you and RGBStock ensures that you can use any image in its database for developing your website.
14. PhotoGen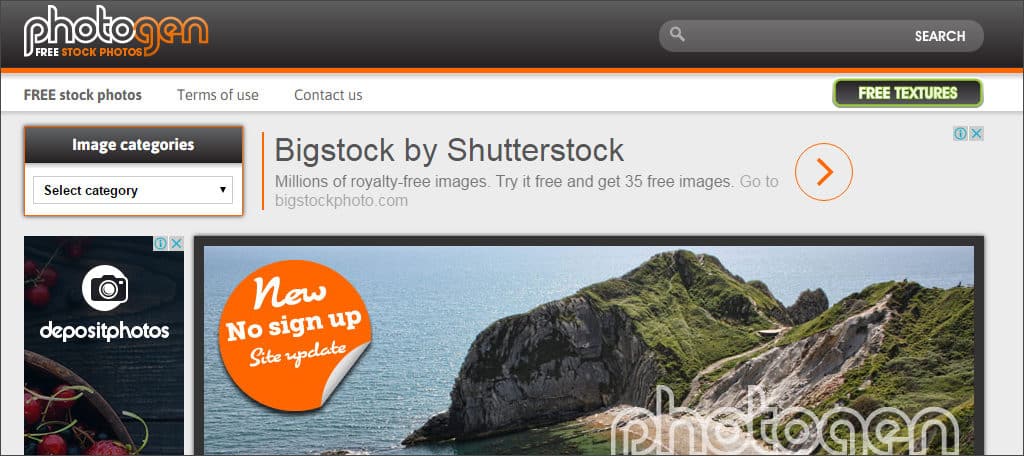 PhotoGen is a small site with limited imagery. However, it does have a lot of graphics that can be easily edited or turned into something else.
The site has nearly 2,000 images ranging from animals to transport. If you need small clips to put into your content, you may find a few gems awaiting.
This website is easy to use and doesn't require a login to download the images. It's a basic site offering high-resolution JPEG imagery to be used in any project.
Although the base image sizes are relatively small in relation to other sites on this list, it may still be worth a glance if you're looking for website imagery.
15. SkitterPhoto
Although there are just over 800 photos within the SkitterPhoto website, they are all high quality and stunning to look at. This is a relatively small site with images ranging from fauna to urban shots.
Unfortunately, this database is lacking when it comes to popular categories such as technology or Internet.
Images on this site can be shared through social media or simply downloaded. They are very high resolution, and some can take up to 14MB of hard drive space.
This is relatively large for an image, but it can be reduced easily using online apps or design software such as Photoshop.
Many of these can make incredible memes for social media. This could play well into marketing strategies as posts with images are the most shared on sites like Facebook by more than 20 times.
16. PhotoPin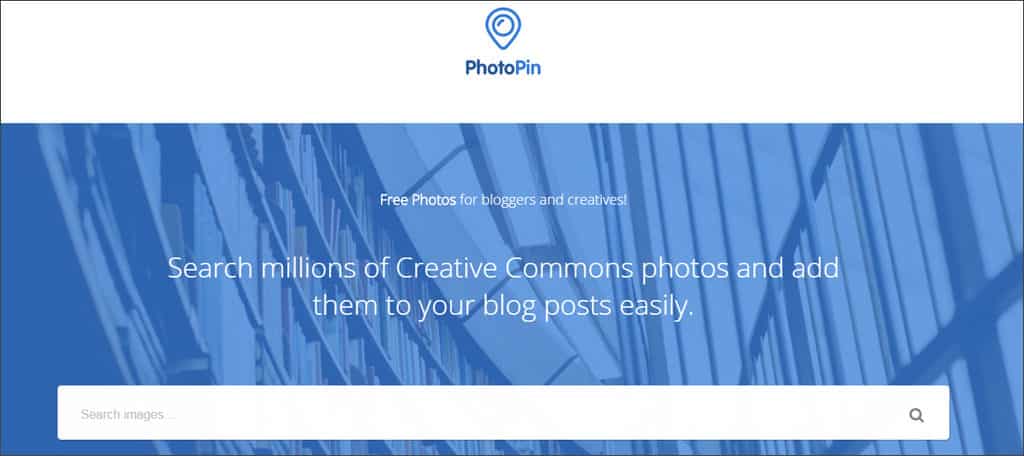 PhotoPin has a collection of creative commons images you can use on virtually any website. However, most of these will require attribution. This means you need to place a credit to the creator on the bottom of the website.
This often creates a link back to the photographer.
Although you have to hand out credit for the image, PhotoPin usually has quite an assortment of image sizes available. Some will have options for small 75 pixel square graphics up to larger 1024 by 768 backgrounds for desktop computers.
One of the major downsides to this platform is working the search. You don't always get what you're looking for and it can be a bit of pain to operate.
17. Pikwizard
Pikwizard is the latest addition to the stock photography family. It holds over 100,000 high-quality images with 20,000 completely exclusive to Pikwizard. The system doesn't use attribution requirements on any of the images, which means that you don't have to worry about licensing issues.
What makes Pikwizard stand out is its high-quality images of people. It offers great detail with elegant photos for a variety of situations. It also features an excellent graphic design tool called Design Wizard. This lets you take an image from Pikwizard directly and edit as much as you'd like.
When you need a graphic, though, this website can help engage your target audience. In fact, you could increase your engagement by as much as 650 percent when you use an image as opposed to simply typing text.
18. Magdeleine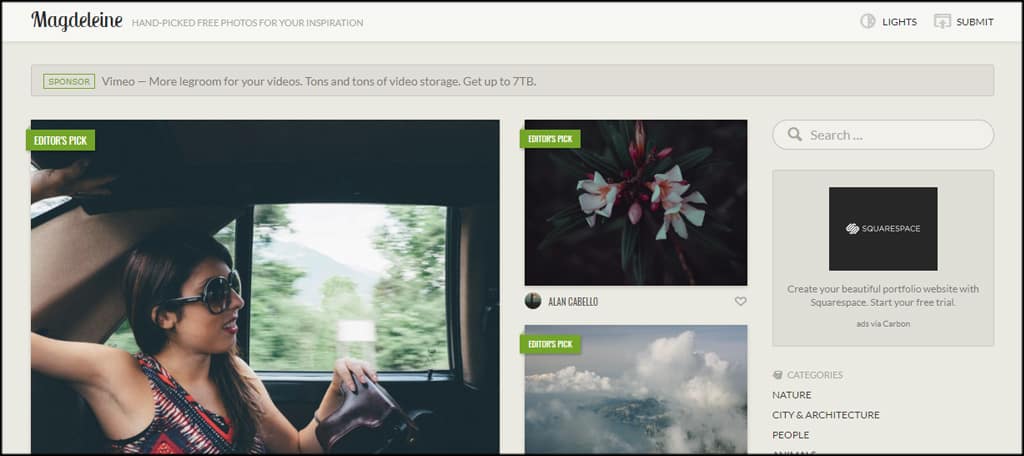 For more of an artistic appearance, Magdeleine has a great collection of creative commons and attribution-required photos to choose from. Although the number of images is small when compared to some of the others on the list, it's worth mentioning.
The system is easy to use and you can explore from a short list of eight categories from abstracts to technology. However, don't expect an overly large collection of photos in some of these sections.
One feature worth noting is how you are able to select the photos you want to use based on dominant colors. By selecting something similar to a website background, you can find an image that can be quite complimentary in terms of visual appeal.
19. New Old Stock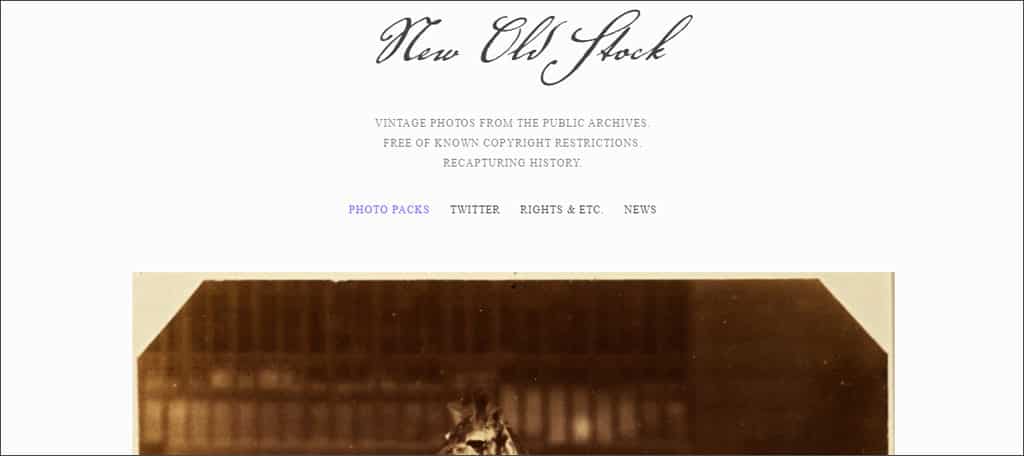 If you need old black and white photos from yesteryear, New Old Stock may be a good choice. This site has images that are free from known copyright restrictions covering everything from towns to old bridges.
Many people love the idea of using old black and white photos as an artistic view of current events. They can be great for memes, social posts or simply just to add a header to that one amazing blog post you want to write.
Royalty-free images are nice when you want to add engaging material to your site or social posts. However, bear in mind that many other people are using those graphics as well. Although this takes away from the absolute unique experience, it can still be a good method for engaging an audience when you're on a strict budget.