Photography is often taken for granted. This is especially true in the world we live in today, as photo apps like Instagram make it easy for users to post and share photos. Website owners still need a selection of photography themes to choose from, though, when building a website.
Some of the more advanced photography themes will offer things like a client backend. This allows your clients to view their images, proof, and submit them back to you quickly and easily. Basically, something like this is a more professional standard that someone may need.
That being said, other photographers may just be looking to build an online presence with their portfolios. There are all kinds of things that you can do with a photography website. So, whether you are a professional photographer looking to build a full-blown business website, or a freelance artist looking to get your name out, the photography themes below will all be ideal.
Picking the Right Photography Theme
Choosing from different WordPress photography themes can be exhausting for a photographer. There are so many out there that it can be somewhat overwhelming.
However, if you are trying to build a WordPress photography website, then it is important to pick the right theme. You want one that represents you and your work in the specific way you need.
Furthermore, if you want to add a blog to your site, then you want to find a solid WordPress photo blogging theme. There are also a few other things you want to consider when looking at different layouts.
A blog can be a crucial part of a website. Blogs drive traffic, and it is one of the very best ways to gain attention without having to pay for advertising.
Certain things like design, typography, sliders, customization options and SEO structure are all things to consider when looking at different WordPress photography themes.
Remember, first impressions are important. And if visitors have a hard time with your site's layout, there's a good chance they won't come back.
Best WordPress Photography Themes
Below you will find a nice selection of different WordPress themes for a photographer. They will all have some great features and all of them are new or are continually updated.
All the photography themes below will also be mobile friendly and responsive. This means that they will show correctly on all screen sizes and mobile devices. Enjoy the list!
1. Uncode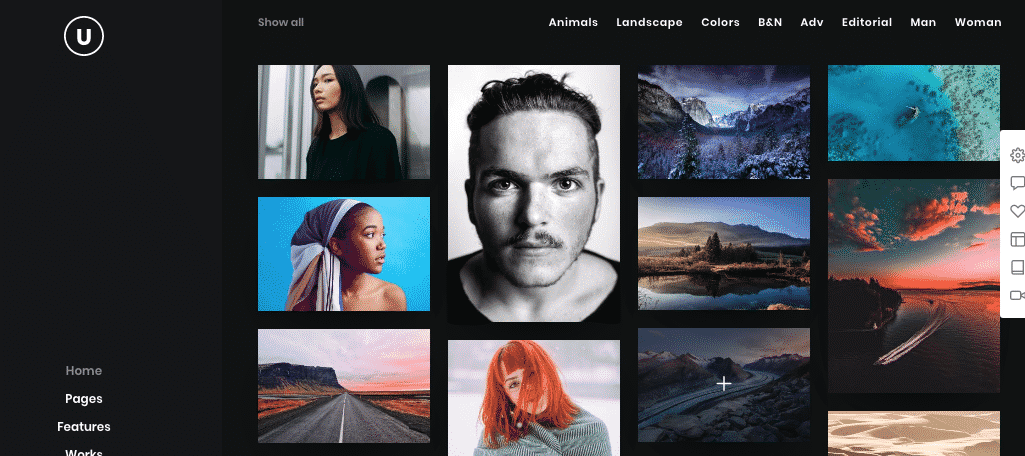 Uncode is actually a multi=purpose theme for WordPress. It gives you the ability to design any type of website. In this case, Uncode comes with several pre-built photography style layouts. It provides users several different photo designs and gives you almost unlimited styling options to build around. Uncode is definitely worth a look.
2. Oshine
We keep our list moving with another amazing multi-purpose theme. Oshine comes with 42 pre-built templates to choose from. This means you will have several different ways to build your WordPress photography website. Furthermore, Oshine comes with an integrated page builder. This will allow you to build and design almost anything you want using drag and drop functionality.
3. Photosy
Photosy is one of the best WordPress photography themes available today. The theme comes with 19 pre-built templates, all of which are designed to help you build a stunning photo website. With a number of sliders, widget areas, and drag and drop integrations, the Photosy theme is definitely one to look at for your photo portfolio.
4. Kalium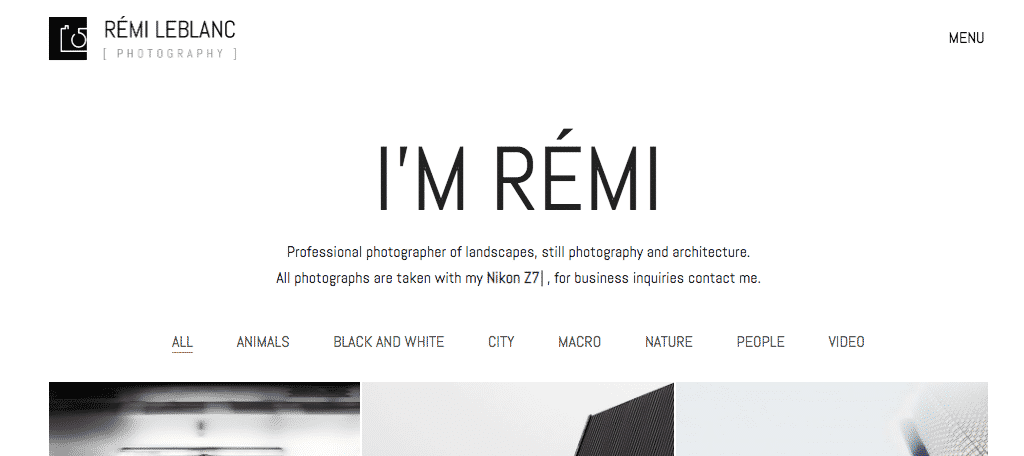 Kalium is a portfolio based theme that is perfect for building a photography website. It is a creative theme for serious professionals looking to get their work online in a unique and interesting way. It provides high-resolution images that you can work with to build and design the type of WordPress photography website you have always wanted.
5. Kallyas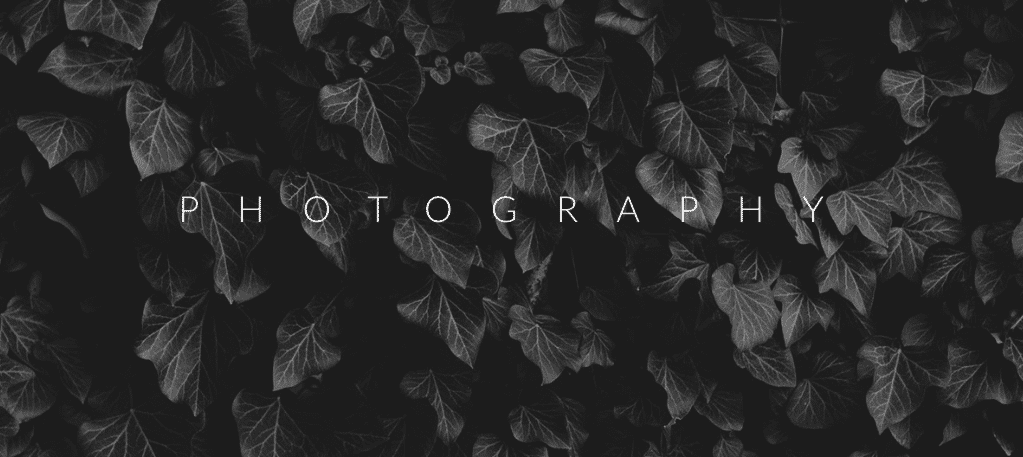 The Kallyas photography theme has won a lot of awards and is continually updated. It provides some pretty advanced photography layouts that you can use to build your site. Perhaps the most well-known thing about Kallyas is the fact that it comes with the Zion page builder already integrated within. Give it a look if you are looking for a more advanced photography website build.
6. Gallery Pro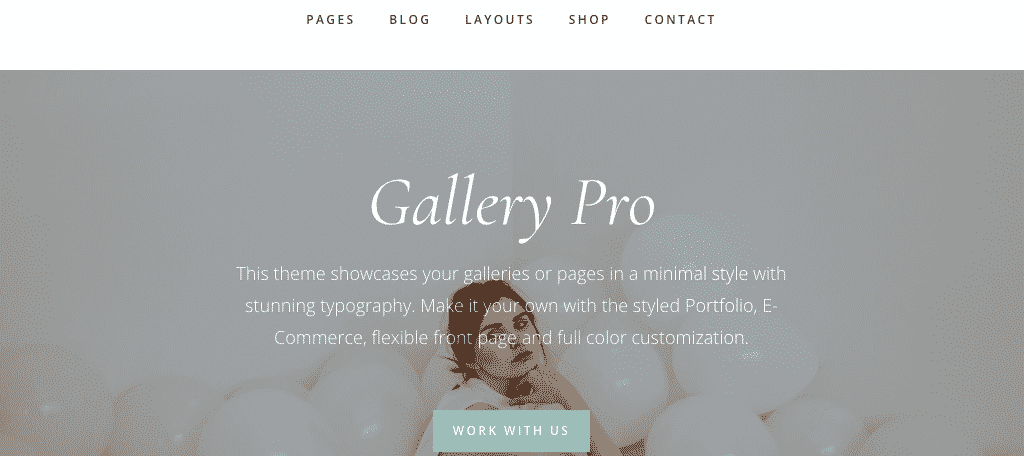 Gallery Pro will provide you with a more minimalist type of design. The theme has a full-stretch appearance and gives you the ability to post really amazing photo galleries. It does not come with all the bells and whistles that some of the other themes on this list do. However, it is advanced in design, mobile-ready, and has an advanced SEO core structure. The theme is easy on the eyes while at the same time beautiful to look at.
7. Photographer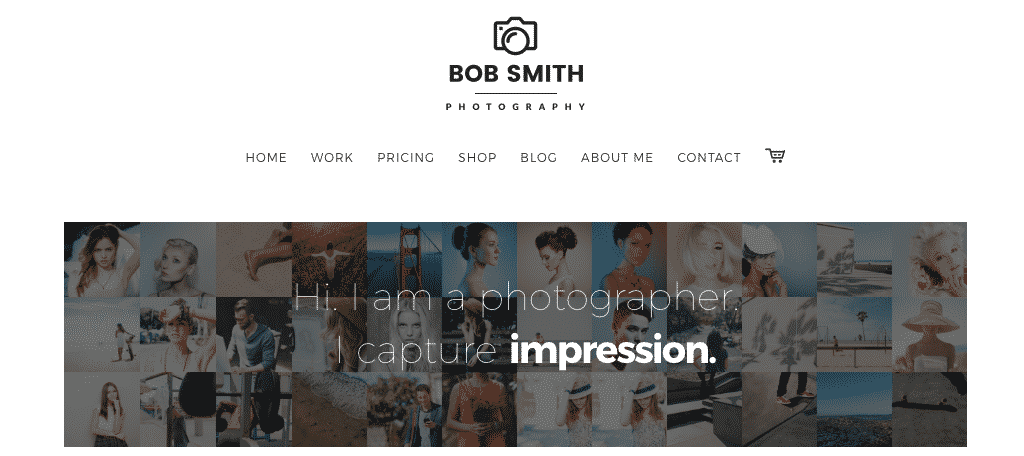 Photographer is another amazing photography theme that tries to focus on minimalism. It is responsive and mobile-ready and again, puts the focus on your images instead of relying on outside things. With tons of shortcode options and built-in Google Fonts, this is the type of WordPress photography theme that every photographer should take a look at.
8. Exposure
The Exposure WordPress photography theme combines a visual page builder, shortcodes, and tons of customization options that will allow you to build and create. The theme also comes complete with a lot of things built-in that other themes don't have. With a built-in event calendar, fonts, mega menu, and eCommerce ready, the Exposure theme is one of the best photography themes available today.
9. Modern Studio Pro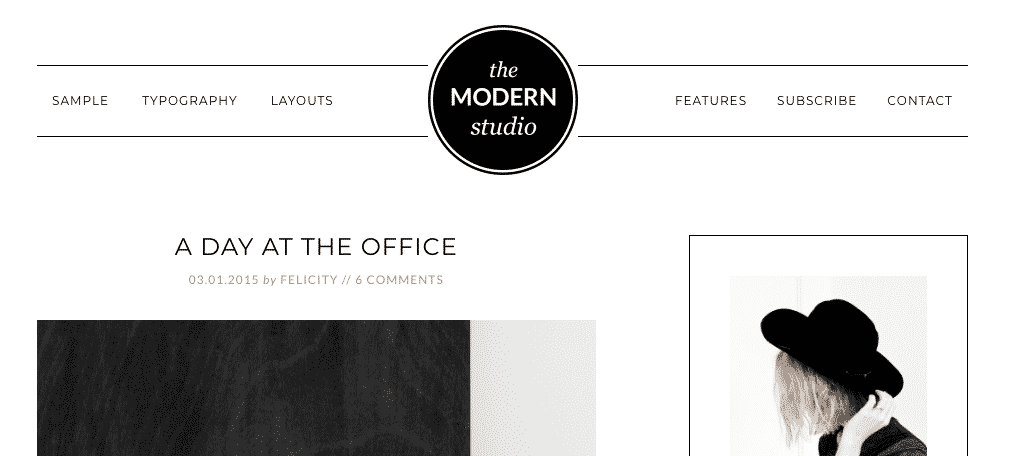 Modern Studio Pro is the perfect photography theme for those of you who are trying to focus on the display of your photos only. This theme cuts back on the clutter of colors that can be integrated into some themes. This leaves you with a beautiful canvas to display your images. Basically, this photography theme will put the focus directly on your images.
10. Photocrati
The Photocrati theme comes with over 60 pre-built photography templates that you can use to build the website of your dreams. There is almost a limitless design possibility with them. The same developers that make Photocrati also created the NextGEN Gallery plugin, so you know they know their way around photography themes and plugins.
11. Azalea
Azalea is a WordPress photography theme that comes with 12 different front page layout styles that you can build around. The idea is to give you different options based on the type of photography site you are building. So whether you are a freelancer, a wedding photographer, or trying to publish full portfolios, the Azalea theme has you covered.
It also provides some nice back-end business-related items. One of them is the ability to give your clients proofs, so they can see their photos, proof them, and re-submit them to you for the final design.
12. Coastline
The Coastline theme is one of the better WordPress photography themes available. It comes with portfolio content type posts, Jetpack support, and a lot of other bells and whistles that enable you to design and create to the fullest. The theme is also SEO ready and has a lot of widget options for you to use. Check this one out if you are looking for a solid portfolio theme.
13. Fargo
Fargo is actually a wedding photography theme. The theme aims to be unique by offering stunning front-end transitions and block style movements. It allows you to show your photos in a number of unique sizes and layouts. It is also very appealing to look at and navigate, which will work to your benefit. With amazing text, video, portrait, and landscape layouts, Fargo is definitely worth a look.
14. Objektive
Objektive is a clean, lightweight, minimal theme that still packs a punch. It is a photography theme that gives you everything you need to create the website you have always wanted. The theme comes complete with several pre-built templates, tons of plugins, a full portfolio system, and a blog styling page. This is a great WordPress photo blogging theme as well, which is incredible for those who want to create a travel blog.
15. PhotoMe
With extended functionality and a set of bundled plugins, the PhotoMe theme can help take your photography website to the next level. This theme offers the best of both worlds.
Looking for a more modern and minimalistic look? No problem, PhotoMe has you covered. The theme also comes with 4 pre-built layouts that you can use. If that isn't enough, build all your pages exactly how you want using the built-in page builder. Just drag and drop your way to an amazing WordPress photography website.
16. Stellar
The Stellar theme is one of those photography themes that you have to see. Even if you end up not using it, the theme is worth a look. The theme has tons of pre-designed skins, and also comes packed with all sorts of portfolio functionality. You can build slideshows, experiment with unique layout style and go all-in with the Stellar theme. It also has an advanced WordPress admin panel that will help you take full control of your site.
17. Foto
As far as WordPress photography themes go, you will be hard-pressed to find one as good as Foto (unless you are reading this list). With 15 layout options and 33 different gallery spreads, the Foto theme is packed full of originality. Bring your images and art to life when you use this theme. Fully responsive, mobile-friendly, and most of all, unique. Set yourself apart by trying out Foto.
18. Ztudio X
If you are looking for a more sophisticated and high-performing WordPress photography theme, then Ztudio X is worth a look. This photography theme is packed with features that will help bring your work to life. A drag and drop page builder, premium plugins at no extra cost, and SEO optimized, the Ztudio X theme will give you everything you need and more to create an amazing layout.
19. Pinhole
Pinhole is a professional WordPress gallery theme that is driven by portfolio styles. The strength of the theme is that it gives you the ability to create a wide variety of unique portfolio layouts and styles. Pinhole also offers a number of great built-in features that will drive your WordPress photography website to the next level. If you are a professional photographer, the theme also gives you a restricted client area, right-click image protection, image download ability and photo proofing.
20. Kreativa
The Kreativa theme is for those of you looking to scale your website. With different menu styles, full-screen imagery, and tons of portfolio style, the Kreativa theme makes building a photography presence online simple and fun. They also have a drag and drop page builder that comes integrated into the theme. This will make it even easier for you to design your dream site.
21. Grand Photography
Rounding out this list is the Grand Photography theme. The theme comes complete with a one-click demo import. This will allow you to use the demo content to build around and match the pre-defined layout that you like. Grand Photography also comes complete with over 144 pre-defined layout styles and page building options. That alone makes it one of the most versatile WordPress photography themes on this list.
Final Thoughts
Building a photography site will take a few different steps. You have to get certain things in place and make sure you have the domain name you want and a fantastic hosting provider.
That being said, one of the most important parts of the process is finding a photography theme that fits your style and what you are trying to accomplish. Above is a list of 21 of the best WordPress photography themes available today.
Yes, there are more, many more. However, this list will give you an excellent place to start a theme search, as all of those listed above are lightweight, responsive, packed with functionality and SEO friendly.
Put all of these things together and you have the makings of a great website. I hope this list was helpful. If you are working with a photography theme you love, feel free to comment on it so we can take a look. We are always looking for amazing themes for WordPress that may have been missed on the list above.
Until then, happy hunting!