Running a successful eCommerce website involves a lot of work, but you can mitigate it by choosing the right tools. And one of the most important tools you need is a Point-of-Sale (POS) system for WooCommerce.
In the old days, a POS system would just be the cash register in your store. But like everything else, these systems are entirely digital in 2022. This is expected in an online environment, but it's equally true for stores with a physical location.
And with every type of software, there are always choices, but not all of them are equal.
Let's see what the best POS systems for WooCommerce are in 2022.
What Is A POS System?
A POS system is responsible for calculating the amount a customer must pay, displaying that amount to the customer, generating a receipt or invoice, and displaying all of the payment options that are available.
If this sounds familiar, it's because every store, online or physical, uses one.
For example, if you go to a grocery store and ring up your cart, the system will tell you what you owe and your cashier will read out how you can pay (cash, credit/debit, etc.). And finally, it will print out the receipt.
However, this is just what the customer will interact with. In truth, these systems have become a lot more complicated over the years and do so much more. Other key features include inventory management, product catalogs, sales analysis, and more.
It really depends on the tool you choose and the needs you have. But with the right POS plugins, you can increase sales for your WooCommerce store.
The Best POS Plugins for WooCommerce
There's no shortage of quality POS systems that integrate with WooCommerce. The order of this list does not reflect the quality of the tool, though. Instead, each system has its own unique traits that may fit one business better than another.
What's most important is how easy the tool is to use and how easy it is to teach your staff. If the tool is hard to use, then that will slow down your entire business operation, which could make customers avoid you for faster service.
Without any further ado, let's get right into it.
1. wePOS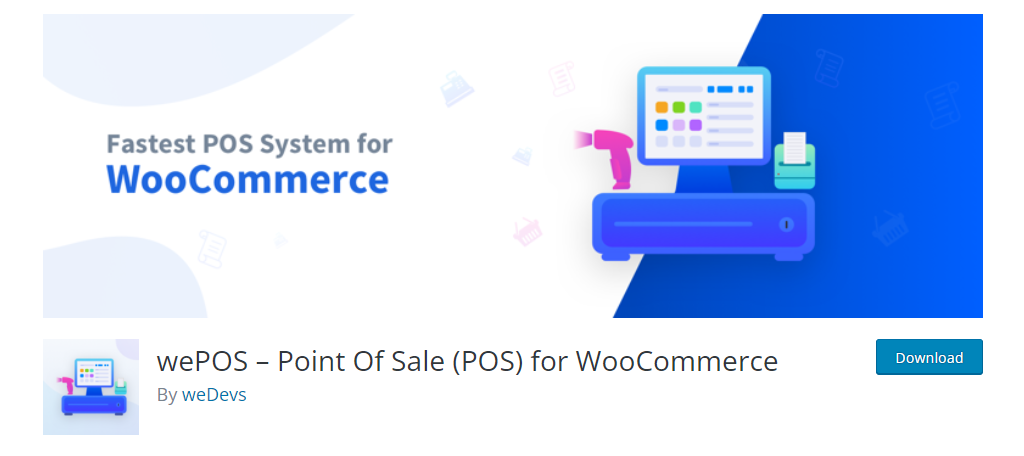 When it comes to POS systems for WooCommerce, there are very few that can compare to wePOS. This tool is responsive, easy to use, and most importantly fast.
Combine that with a host of other features, and you have one of the best POS systems around. And it even has a free version available (although it is limited).
This is pretty rare as far as POS systems go.
Since the free version only lets you accept cash payments for some orders, it won't really be enough. However, it does let you test out the excellent UI. And that's really where this system shines.
webPOS allows cashiers to select variations of a product (i.e the color of a shirt), and even manage multiple carts at the same time. It is one of the easiest POS systems to learn from scratch, thus it's the perfect choice for first-time store owners.
2. Point of Sale System for WooCommerce (POS Plugin)
Are you looking to transform your computer or tablet into a cash register? If so, the Point of Sale System for WooCommerce plugin is the perfect tool for the job. You can also see it in action on multiple devices by checking out their demo site.
This plugin is ideal for any retail store, restaurant, food vendor, or just about any small business.
In simple terms, this plugin will change your web browser into a cashier interface using WooCommerce. On it, you can select the items you are selling, calculate the final price, and generate a receipt that you can print on another device.
It even allows you to create your own coupons and discount codes. This can help encourage customers to come out to the store or just buy more in general.
Most importantly, by supporting tablets, it is perfect for outdoor businesses that are mobile, such as food trucks or market stalls.
3. Square
Regardless of what type of business you run, Square for WooCommerce can help you run it better. This POS system is rare because it does not have an initial cost associated with it. Instead, you only pay when you make a sale.
While this does sound good on paper when starting a business, it can quickly become more expensive in more active stores.
Square gives you access to all major credit and debit card types and it even supports digital wallets. These include the likes of Google Pay or Apple Pay. The more ways a customer can pay, the better your chances of making a sale.
The plugin is feature-rich and includes everything a business needs including inventory management that syncs your square account with WooCommerce and vice versa.
Combine this with amazing support and you have one of the best POS systems for WooCommerce.
4. YITH Point Of Sale For WooCommerce (POS)
YITH Point of Sale for WooCommerce is another excellent tool that can transform your WooCommerce installation into a ready-to-use cash register. Thus making it a perfect addition to any business type.
And yes, you can even use YITH on your mobile device! Talk about a mobile business.
Due to how accessible your virtual cash register is, you can actually set up an unlimited amount of them. Thus for small businesses like food trucks, you can have multiple trucks with a separate but connected cash register.
You can also expect all of the staples of a POS system. Product management, receipt printing, access to most payment gateways, and much more. It's worth noting that you can use the free version of YITH, but are limited to cash payments.
5. Lightspeed POS Integration
If you already use the Lightspeed Retail Point of Sale System, then integrating it with WooCommerce is a no-brainer. And with the Lightspeed POS Integration plugin, you can do just that in a few easy steps.
The best part is that thanks to account sync, you can easily add your store info to Woocommerce.
Some of the key features include inventory management, customer relationship data, sales analytics, the basics every POS system includes, and much more. It is important to note that this integration is only available for Lightspeed Retail and not Lightspeed eComm.
One of the best aspects of this system is how friendly it is to beginners. Not only does it provide live support through phone, email, and chat, but it has an excellent FAQ section and even an introductory webinar to help you get started.
6. FooSales
FooSales is another excellent POS system for WooCommerce. Like most, it allows you to access a virtual cash register using a web or a tablet app, which makes it very accessible to use for most businesses.
And they even offer a 30-day free trial you can use to test out the system before picking a plan.
One of the highlights of this POS system is the interface. It allows cashiers to easily create, cancel, and submit new orders on the device. All of this data is then accessible through the system, thus making analytics easy to view.
Outside of the main POS features, FooSales offers a unique feature for setting up a customer profile. With it, you can see what each customer is buying, how much they buy, and how frequently they make purchases.
This can help you make sure the right stock is available and even figure out similar products they may be interested in.
7. Hike POS
Last, but not least, is the Hike POS System. This is a retail POS solution that can be integrated into WooCommerce. It offers account sync which allows any products entered into WooCommerce to appear on your Hike account and vice versa.
There is a 14-day free trial you can take advantage of to see if the platform is right for you.
One of the more unique features is that it can operate when the internet is down. Many stores can get crippled without access to online resources at any point during business hours.
This isn't a problem with Hike.
And once the outage is over, all of that data can be uploaded to your account. As a result, it is one of the most reliable POS systems a store can use and it provides all of the robust features you would expect from a POS system.
Does Every WooCommerce Store Need A POS System?
While it is possible to run a store without a POS system, almost none actually do.
That's because most store owners understand the importance of a POS system. These tools help your business run smoothly by streamlining the checkout process. However, most will also help with things behind the scenes.
For example, POS systems also help you keep track of inventory. If we go back in time, this was actually something you had to manually count out (or hire someone to count).
Instead, with a POS system, every time that item is purchased, it is subtracted from the total amount you have in possession. Thus, you never sell an item you don't have.
Another important point of consideration is if you have staff. Most cashiers are part-time workers, which means they come and go. Every time you have to hire a new worker, you need to teach them the system.
It's a lot of work and can cost you quite a bit of time, which then translates to a loss of annual profits.
A POS system mitigates this by streamlining the process while making it easy to operate. It also helps to ensure that the same system connects to your online store keeping all of the data in one location.
Do You Actually Need WooCommerce?
You may have realized that most of these POS Systems work without WooCommerce and instead just offer integration into WooCommerce. And that's because they all work without it or can work with another eCommerce tool.
The real advantage of using WooCommerce is that it reduces the hardware you need. Instead of buying expensive equipment, you can just use a tablet or computer. This eliminates a high initial cost when starting out.
It can also help eliminate or reduce monthly fees and charges.
Save Time With A Point of Sale Plugin For WooCommerce
At the end of the day, your Woocommerce store will run better with a POS plugin for WordPress. It will help you save time managing your store while also streamlining the checkout process for customers.
And equally important, the interface is simple so your staff can use it without issue. There's no denying that customers get impatient when a cashier cannot complete their order. This makes the process of hiring new help much easier.
The end result can not only make your life easier but also increase your sales.
Which POS plugin do you use in WooCommerce? Do you think WordPress has a good selection of point-of-sale plugins?