Looking to make social media easier to manage? Sites like Facebook and Twitter boost the business in a variety of ways, and you need to keep vigilant to remain relevant in today's market. So, what are some of the most popular social media apps for business?
That really depends on your needs and what you wish to accomplish.
Today, I've compiled a list of some of the best social media apps you can use right now to engage your target consumer. All it takes is finding the perfect layout for your needs and you can immediately start reaping the benefits.
Why is Social Media Marketing Important Today?
Approximately 4.2 billion people across the planet use the Internet. To put this into perspective that's roughly 55% of the entire population of Earth. Of those users, about 72% of them are active on social media.
This means you have access to literally billions of consumers through sites like Facebook, Twitter and Instagram.
In some markets, social media is more influential than traditional forms of advertising like TV ads or radio spots. Part of this is because of the interaction factor.
TV commercials don't single a person out among many and have a conversation.
What else can social media marketing influence?
Boosting Customer Experience
The customer experience is more than just good custome service. It's how a consumer feels overall about interacting with your business. For example, providing many ways to contact the business influences how people feel about making a purchase.
In fact, around 90% of consumers state how they communicate with a brand on social media in some fashion. This delivers a positive experience for the customers.
Enhancing Branding and Reputation
The online reputation of any business is just as vital as one in real-life. The actions you take on the Internet will have an impact on how people perceive your business.
In reality, about 71% of people who have a positive experience with a brand on social media are more likely to recommend it to friends and family.
Never underestimate the value of word-of-mouth advertising, especially in today's online world.
Increasing Sales
Around 30% of consumers state how they are likely to buy products directly from social media sites. And this is aside from ads, content posts and influencer marketing.
For any business, a 30% increase for just a bit of extra time during the day is worth the investment.
Using the Most Popular Social Media Apps
With the sheer number of social sites on the Internet, managing them has potential to be quite time consuming. However, there are plenty of apps out there to help streamline and simplify the process.
Here are 15 of the best social media management apps out there and what they can do for you.
1. Sprout Social
Sprout Social is a very popular platform that is full of tools for social engagement and management. It comes with a variety of tracking and data tools as well as detailed reports for monitoring progress.
This system comes with a hashtag analyzer that will help you find topics that are more relevant to your audience. This will help you fine-tune marketing campaigns to get the most out of sites like Twitter and Instagram.
For those who like customizing reports, Sprout Social can also help you monitor things like the return-on-investment of your campaigns. Using customizable widgets, you can see what you want when you want it.
2. Hootsuite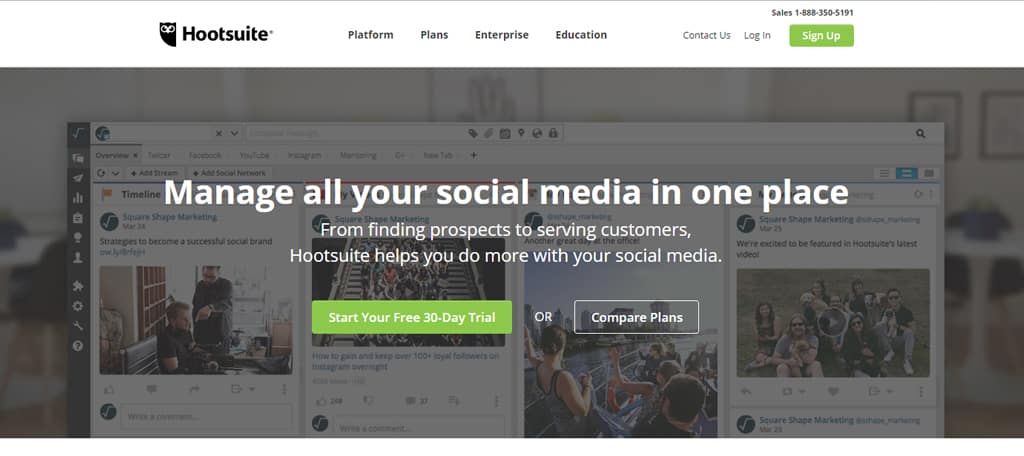 Hootsuite is a great system for scheduling social posts and curating content. Combined with its reporting system, it's easy to identify whether social campaigns are proving their worth or just exhausting your funds.
The app provides an unlimited number of customizable reports to show you the data you want to see. This is in addition to the ability to download your reports as PDF, XLSX or CSV file types.
You can also receive reports of how your team performs during responses and resolutions.
While the system is more effective when you pay for a premium service, the free version is great for those just starting out. You can manage up to three social profiles and receive basic analytics.
3. Agorapulse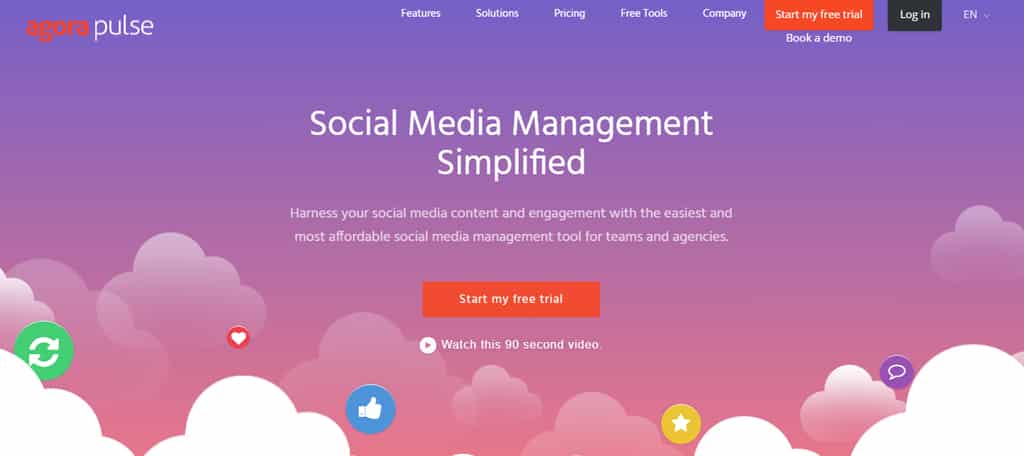 Agorapulse helps by giving you a platform to reply to fans and followers from all your social networks from one dashboard. The system pulls comments from platforms like Facebook and Instagram in real-time.
This lets you approach comments and concerns quickly.
Agorapluse comes with a range of reporting tools including the ability to pull information regarding specific hashtags or content tags. In doing so, you're able to devise a better strategy regarding which terms are more effective.
Curious about your competition? This app can help you with that as well. One of the reports will show how your engagement measures up to any competitor across many social media hubs.
4. Hubspot
Hubspot comes with a lot of free tools for marketing and sales. While it might not have some of the more elaborate social reporting tools of other apps, it does come with content optimization functions and social sharing across many channels.
From this app, you can monitor mentions and conversations relevant to your brand. You can also track engagement after scheduling posts to see what content is the most effective for generating sales and leads.
One of the more attractive features of Hubspot is its ability to integrate with other online tools. MailChimp, WordPress, Zendesk and even Shopify are only a few of the many systems that connect to Hubspot.
5. Social Report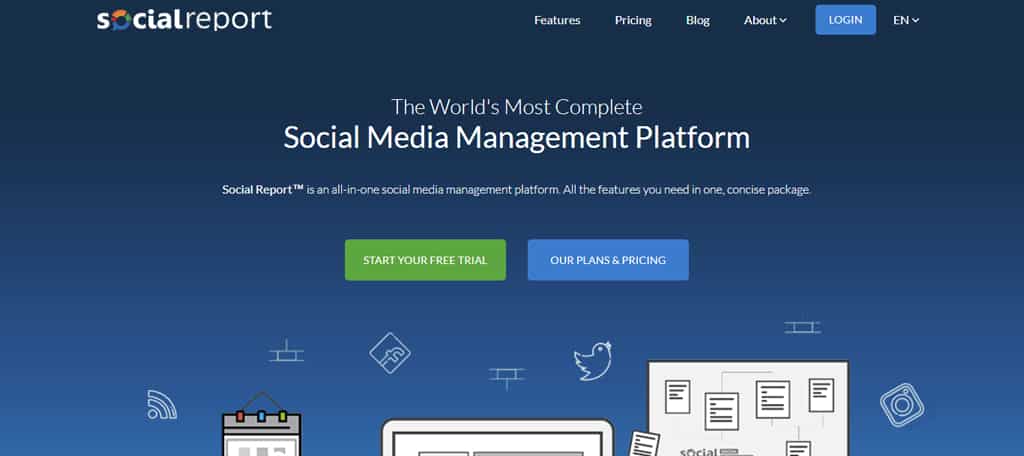 Social Report delivers a great deal of data regarding a wide range of social media from Facebook to YouTube. You can even get reports regarding WordPress, eBay and Shopify. All of it feeds into the system for extensive details about your campaigns.
Want to monitor a certain topic based on keyword? Social Report can do that while providing a variety of options to control how content is delivered to you. You can also search topics based on worldwide events or specific to certain social sites.
One of the highlights to Social Report is the ability to automate certain responses. For instance, you can tell the system to follow people who follow your business based on things like number of followers or the frequency in which he or she posts on social media.
6. Meet Edgar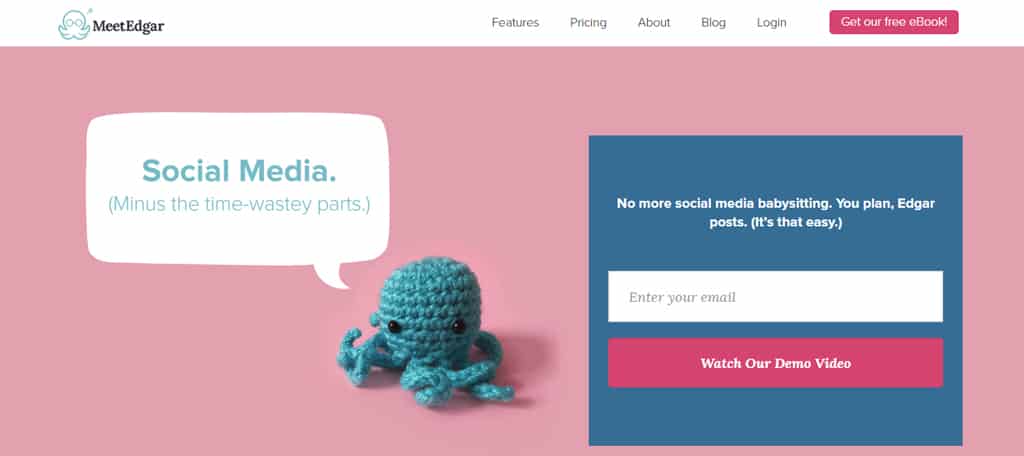 Meet Edgar is similar to many other social apps by sharing your content in regards to scheduling. However, it has the added bonus of saving your content for later automatically.
This means you can repost evergreen content later with ease without having to dig through your website for links.
When sharing posts to social media, you can color code certain categories, upload in bulk and include video content. The system also works in unison with Bitly to shorten URLs when space is a premium, as in using Twitter.
The only real downside is the current limitation on supported social sites. At this moment, you can only share and track five of the most prominent social hubs. However, some would argue that's all you really need.
7. TweetDeck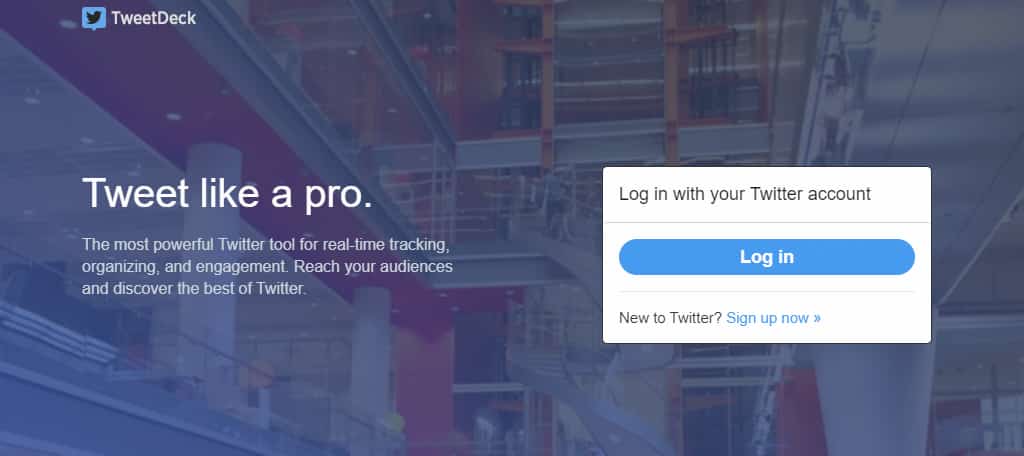 While it only supports Twitter, TweetDeck is still among one of the better tools for managing the social media site. Not only is it free to use and connected directly to your Twitter account, but it's full of useful tools.
TweetDeck will keep an eye on any mentions of your brand while displaying your content feed as well as direct messages. All of this is arranged on a single-page layout complete with showing the most current trending hashtags.
It doesn't really have a good analytic system for tracking engagement. However, I wanted to mention the platform as it's free to use, can schedule posts and gives you everything you need for engagement from a single screen.
8. Buffer
Buffer is a simple tool for sharing content with social sites en mass. While the free account limits to the number of scheduled posts you can create, it does offer a bit of insight to how your content performs.
One feature you might like is Buffer's ability to shorten URLs using its one "buffly" shortener. This helps keeps within character limits of systems like Twitter. You can also create separate posts for each social network you connect.
Unfortunately, Buffer only allows three social profiles to connect to a free account. And there are no analytics outside of the Pro and Business upgrades. On the other hand, the fees for the premium services are much lower than other platforms in this list.
9. Raven
Raven is more of a collaboration of many tools rolled into one system. From backlink data to automatic social reports, you get it all with this app.
From a social perspective, Raven only accesses Facebook, Twitter, LinkedIn and Google Analytics to deliver a detailed report. The best part is that you can set this report to generate automatically based on how frequent you want it.
Unfortunately, Raven doesn't have a free user account outside of the trial. And while it may seem costly to some, consider the sheer number of reports and features that come with the software ranging from social media to on-site SEO.
It's an all-in-one platform to streamline the online business. Even though it's a bit limited in what it provides for social engagement, it might still be worth a look.
10. Sendible
A worthwhile platform for keeping up on social comments is Sendible. It pulls interactions from your social accounts and displays them in one page layout. This helps address fans, followers and commentors quickly.
The Reports Hub is full of useful information regarding how each social profile performs. You can set up customized reports whether you're monitoring social media for yourself or clients.
You can even pull Google Analytics information to see what posts are the most effective for driving website traffic.
Sendible is capable of being used by a single person or set up for social collaborations. Create teams, and assign tasks while having complete control over what content is associated with your brand.
11. Sprinklr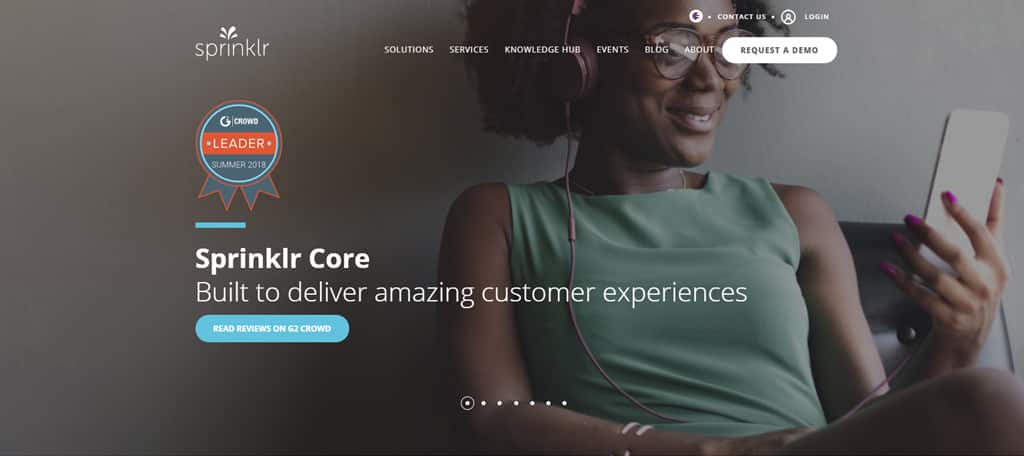 Sprinklr is more than just a social monitoring app. It comes with a slew of tools and features for running an online business. And the Social Cloud aspect is very well put together for premium access.
This tool will monitor both inbound and outbound campaigns to give you reports on success in real-time. You'll have access to features such as digging to the heart of trends, industry details and more to help you devise a good marketing strategy.
The data the system collects is massive. It pulls from more than 400 metrics with 200 different dimensions across various channels. It's perhaps one of the most expansive reporting systems for social engagement on the Internet.
12. CoSchedule
I use CoSchedule quite often to create catchy headlines and titles. However, it does more than just give good content ideas. It provides a flexible system for sharing and managing content on social media.
CoSchedule gives you a way to schedule and share your content across the most popular social media channels while storing your more popular posts for later. This means you can automatically re-use the best social campaigns at a later date.
It also comes with a wide range of reports for tracking content, social stats and performance of your promotions through social hubs.
13. Iconosquare
Iconosquare is more for monitoring and managing Instagram and a few aspects of Facebook. While it's limited in this manner, it does provide some in-depth details about those two platforms.
One of the features which stands out is being able to monitor competitors. The number of brands you can watch vary upon the type of premium account you pay for, but it gives you a chance to keep an eye on the important brands.
The system also comes with downloadable XLS and PDF reports, a feed for hashtags and an easy way to schedule and share posts on Instagram. You can even use the preview feature to see how those posts will show on mobile devices.
14. SocialFlow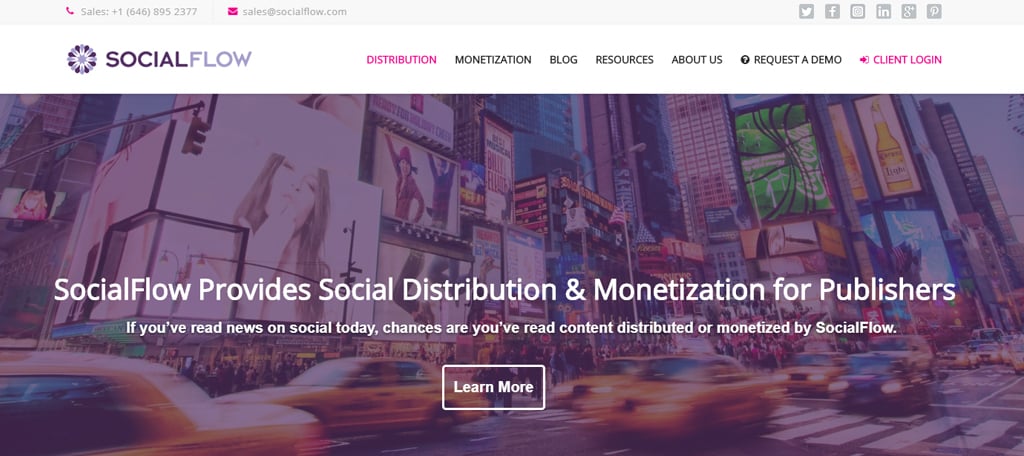 SocialFlow has a variety of tools that are uncommon in the social-sharing sphere. For one thing, you can integrate RSS feeds with the system to make sharing even faster. It even comes with editorial tools to customize content.
The system gives you access to a campaign dashboard where you can monitor Facebook, Twitter and Instagram in real-time. This contributes to the campaign tracking feature which covers various networks, audiences and even demographics.
In other words, it's a great tool for making sure your marketing expenses are optimized.
Unfortunately, SocialFlow only supports Facebook, Twitter, Pinterest and Instagram. While these are some of the more popular social hubs online, other apps for social media have far more versatility.
15. SocialOomph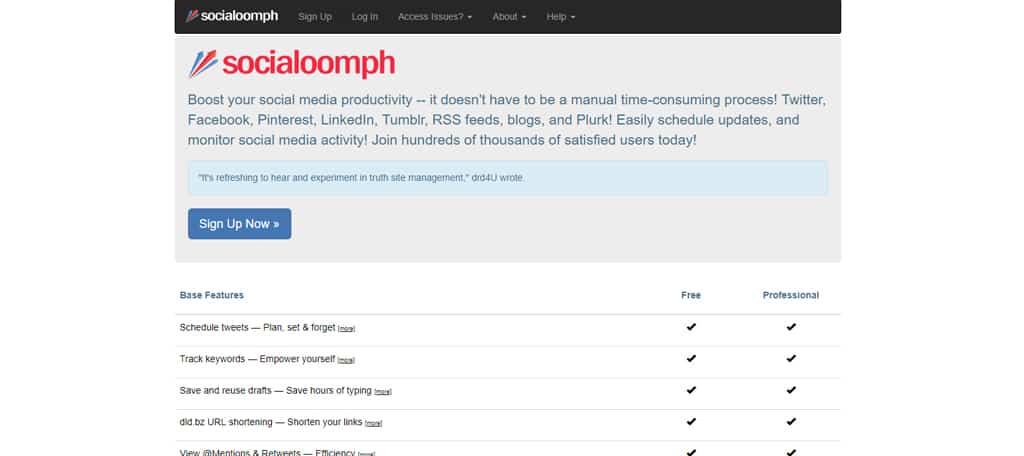 Many people love SocialOomph as it supports a variety of free features. For instance, you can manage up to five Twitter accounts, track keywords, schedule Tweets and take advantage of the URL shortener.
Although the free version has good support for Twitter, the system is far more versatile with the premium account in terms of social sites. You'll have access to update and manage others like Facebook, Pinterest and LinkedIn.
SocialOomph also supports RSS feed updates, posts via email and an easy to use WYSIWYG editor. This gives you several avenues to create content to drive your social engagement.
Engage Your Customers
Although the best social media apps for business are influential in success, it's up to you to promote the organization. Don't forget the key component of social media is, "social."
This means you need to interact regularly with those who are interested in your business. Engage your customers and improve upon the relationship between them and yourself.