Ever get the feeling the world is changing around you? As I write this, most of the world is in isolation, and day-to-day business has been turned on its head. We're no longer meeting face to face. Every day more of us are tuning into virtual events online. They may be brief video chats between a few people, or full-on seminars, or webinars.
If your business regularly has face-to-face customer interaction, you've probably already thought about how to move that contact online. But even if you don't have a lot of in-person customer interaction, you might consider hosting an online event.
In unusual circumstances such as we're experiencing, a little reassurance can go a long way. Showing your customers that you're still on the job and communicating with them can be valuable.
You may even find that virtual events have a value you weren't previously taking advantage of. It could grow into a new customer communication avenue for you, well beyond our current situation.
Virtual Gatherings Do Not Organize Themselves
Remember Google+? Odds are you didn't use it, but a lot of people did. It was largely a tech-oriented crowd.
The hosting company I was with at the time got a lot of traction on Google+. Within weeks, we had thousands of people in our "circles," and the daily interaction was high. It was working quite well for us.
So in early 2012, about six months after Google+ launched, we scheduled an open Google Hangout that anyone could attend. We spent days preparing.
We bought a bunch of high-quality webcams. I wired everyone up with lavalier microphones (so we wouldn't sound like we were in tunnels). We did a test run via private Hangout a couple of days before the event. We were ready.
When it was time for the Hangout to begin, we were wired up, connected, and ready for the masses. We flipped the switch and…
Three people showed up.
And two of the three left after a few minutes.
What had we done wrong? We thought we were prepared. We were prepared. Technically. Being a tech company, you'd expect that. What we hadn't done was prepare socially. We hadn't laid the proper groundwork for a successful webinar.
How to Make a Virtual Event a Success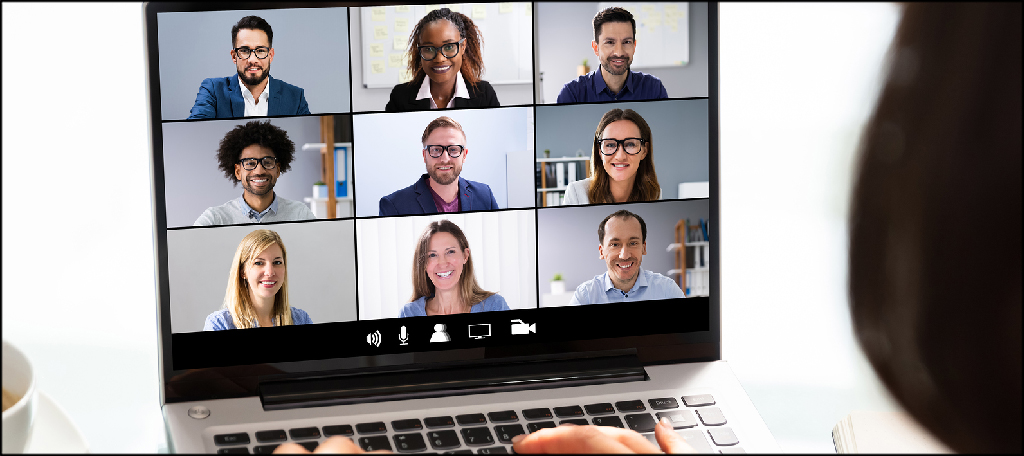 The failed Hangout was a lesson learned. Luckily, we learned it on Google+ and not, say, Facebook, where a lot more people could have seen us fail. But the point is, there's a lot that goes into a successful online presentation before the cameras are turned on.
That's what we're going to talk about here. The elements that all successful virtual events share.
We're all meeting on Zoom these days, so let's talk about how to take those meetings to the next level.
Lights, Camera, Action
I mentioned that we were prepared technically for the Hangout, and that was an important step. So to start, let's talk about the technical side of virtual events.
Camera
While you can video conference or present a webinar using the camera in your phone, you probably shouldn't. That's fine for a quick chat among colleagues, but for customers or the public, you should present a better picture.
Show a better face.
If your presentation is professional, your viewers or attendees will get a professional impression of your business.
For the best results, you can connect a high-quality camera to your computer. But that can be time-consuming and expensive. So for most purposes, a decent webcam will do the trick. If you can, invest in a separate camera that you can position anywhere you'd like.
The camera built into your laptop or desktop monitor only offers one angle, and it's not always flattering. Ideally, your camera should be at eye level or above.
Microphone
Those lavalier (or lapel) microphones I talked about are an inexpensive way to vastly improve the quality of your sound. That's something that is often overlooked since webcams and phones have built-in microphones.
But even the least expensive wired lavalier microphone will make you sound much better than one that's built-in. You'll be easier to hear and understand, and no one will hear the chair squeaking or the air conditioner.
There's no need to spend hundreds of dollars on a microphone. Lavaliers can be found on Amazon for $20 or $30. But if you do have an expensive microphone, say for podcasting, by all means, use it.
Some people find the appearance of a large professional vocal microphone in their video to be distracting. To me, it shows the person on the other end of the pictures cares about how they sound, and I appreciate that.
Lighting
Finally, lighting. It's something most of us don't have a lot of control over when it comes to our workspace. But there are still some things you can do to make your lighting more pleasant. Use as much natural light as possible.
If your office or workspace has windows, open up the shades and let the light in. Whenever possible, the light source should be in front of you, slightly off to one side. Always avoid having a light source behind you.
Again, it isn't always possible to control your environment as much as you'd like. But if moving your workstation to another part of the room, or changing the angle of your desk to catch better light is possible, consider taking the time to do it.
And on a related note, be aware of your background. No one wants to look at a half-eaten bagel or a dusty pile of old magazines while you're speaking.
Virtual Event Software
A virtual event differs from everyday online streaming or meetings. Generally, they are done on a larger scale and are geared more toward marketing. Webinars can be purely informational, but in most cases, you want attendees to purchase a product or service.
So virtual event software offers things that regular video conferencing may not. Such as branding, audience analytics, surveys or polls, and Q&A.
That's not to say you can't use a video conferencing platform like Zoom or Skype for your virtual events. You can. But you will have much less ability to gain information, feedback, and leads from your audience.
If you're doing a social chat, they're fine. If you're doing a one-way talk with little audience participation, YouTube or Facebook live streaming can even work. There are even webinar plugins for WordPress.
But if you're selling, you want to use software that's geared toward gathering audience data.
Here are a few options to consider.
Whova
You may not have heard of most of these online event platforms, but let me introduce you to Whova. It received the Best Event App award and People's Choice Award from the Event Technology Awards for four years in a row.
So you know it's the top choice for a lot of event organizers.
They focus on making virtual events interactive and productive. Not only during the event but before and after as well. There's a virtual exhibitor hall, live Q&A, attendee networking, meeting-matches, a discussion board, and virtual meet-ups.
If you provide your attendees access to Whova before your event, they socialize and have discussions one-on-one or in groups. Just like they would at a live conference or seminar.
Every attendee can set up a professional profile, so they can find other attendees with common interests. An "ice breaker" function and live chat make it possible for strangers to get to know each other. Something common at live shows but not as common for virtual events.
Hopin
Hopin is another well-liked platform for virtual conferences. It boasts features like a virtual reception area and breakout sessions, as well as the main stage and networking events.
The networking tool is unique, using a timer that lets attendees mingle with each other for a minute or two. When the timer runs out, they move on to the next conversation. Kind of like speed dating, only on a virtual event platform.
If a timed conversation goes well, the attendee can click "Connect" to trade contact information for a later follow-up.
Events can include both webinars and live streams, with a live chat that lets attendees ask questions during live presentations. You can even allow attendees to set up virtual booths to promote their products or services.
AccelEvents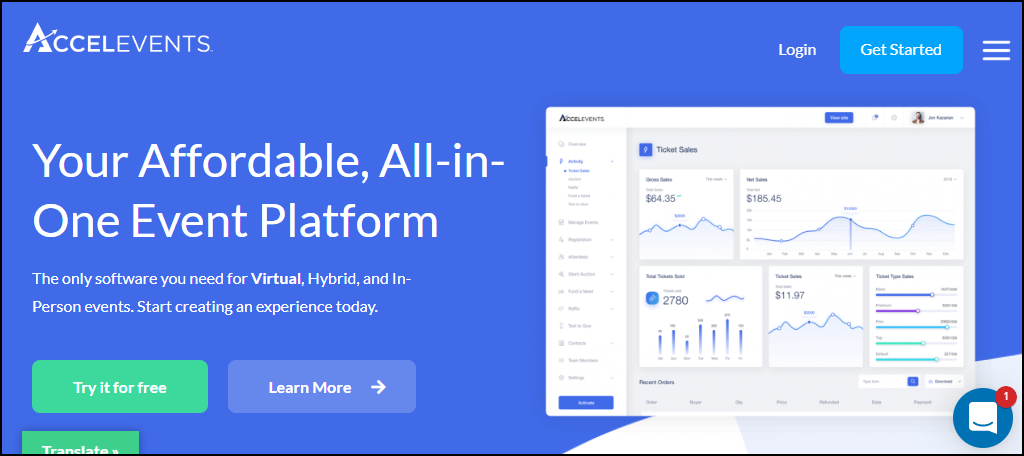 AccelEvents has a reputation for being easy to use. And if you do run into a problem, there's live support around the clock. The virtual event hosting includes ticket sales, live streaming, live chat & polling, breakout sessions, AI networking, and virtual exhibitor booths.
The AI networking I mentioned lets attendees create professional relationships using the "speed dating" like Hopin. They can also create discussion groups, parties, chats, even AMAs (Ask Me Anything).
Detailed analytics tools identify which speakers or sessions performed best and can measure the ROI on virtual exhibitor booths. You can sell those exhibitor booths for live demos, meetings, chats, and marketing.
If that kind of set up dovetails with your offering, this is a good system to try.
BigMarker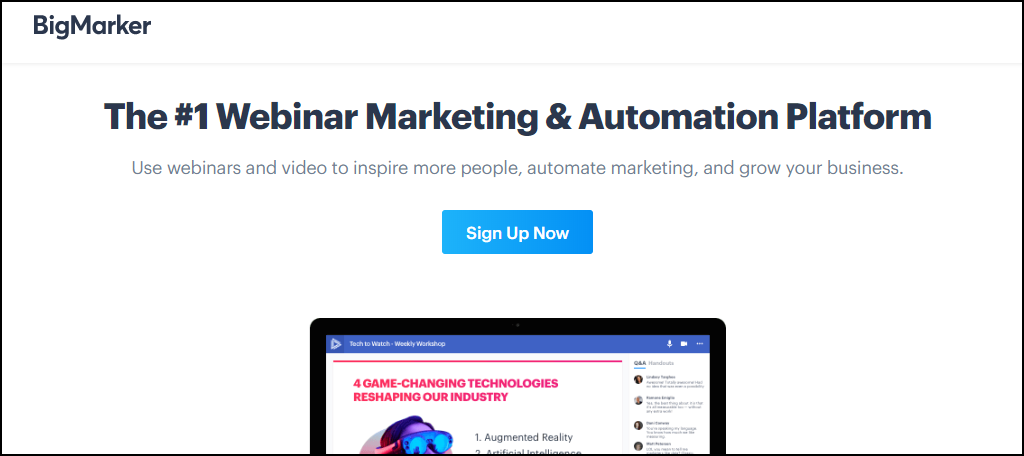 BigMarker allows you to present both pre-recorded and live-streamed sessions. You can even schedule automated sessions for the pre-recorded portions. They also offer a wider range of pricing options than some of the other platforms.
All of these virtual event platforms come at a price. But don't let that dissuade you. Many of them are quite affordable for what they offer.
Run The World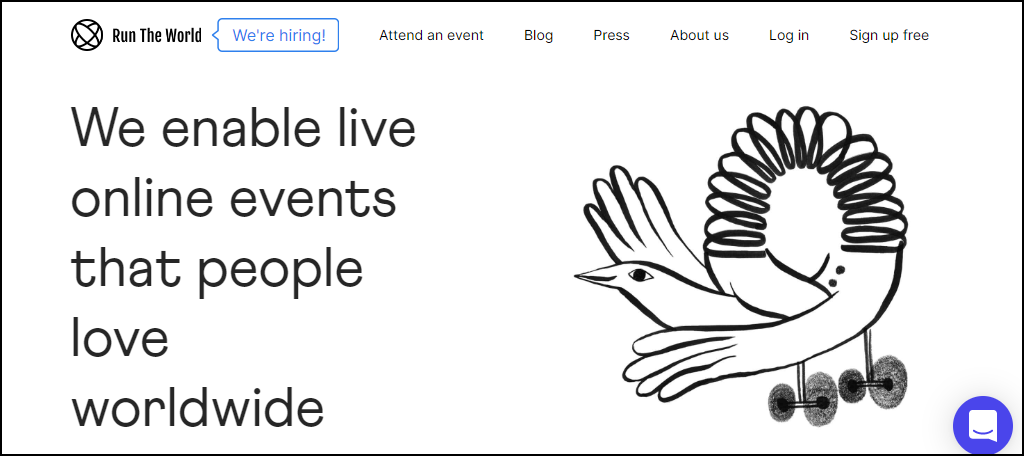 You will feel like you Run The World when you use this virtual conference platform. Of course, you can live stream panels, talks, and break out discussions. But there's also a virtual cocktail party option.
Attendees complete a questionnaire before the event, then an algorithm matches them with other like-minded attendees.
Run The World has pricing that makes it accessible for small organizations like startups or non-profits. But that doesn't mean it isn't appropriate for a larger company or event.
Drawing a Crowd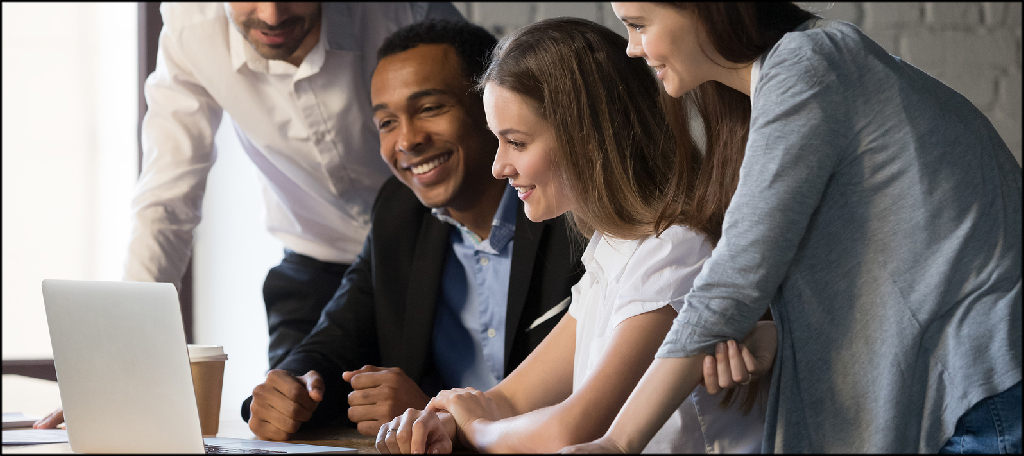 Remember the Google Hangout I talked about at the beginning of this article? This is where we dropped the ball. Communicating that the event was coming. It wasn't enough to make a blog post and a couple of Google+ posts.
What we needed was some event content marketing.
Who Do You Want in the Audience?
It's impossible to target or promote to a customer you don't know. For content marketing to be successful, you have to know who your audience is.
Do you have talks scheduled that might appeal to a specific segment of your customer (or potential customer) base? Are there people you'd rather exclude?
Take some time to define your ideal audience and focus your event promotion and marketing on them. Connecting and engaging with them before the event will increase attendance.
Spill the Beans
When you write a description of the event or sessions that are available, don't skimp on the details. Provide more information than you think is necessary. The more detailed your description(s), the better your audience.
You'll attract those with a genuine interest in the topic, and weed out those without it.
Of course, you always want to include the names of the presenters, links to websites, and session times.
Stretch Your Social Reach
You're going to want to work your regular social channels hard. Create unique graphics for the event, and post them often, along with teasers and descriptions. It's okay to go a little overboard when promoting an event.
Post more frequently than you might normally. Do you use an editorial calendar? If not, now is a good time to start.
But in addition to your typical channels, also do everything you can to go beyond your normal reach. Try a new social network. Or better yet, a few new social networks. Research appropriate hashtags and work them into every post.
The idea is to get your message in front of people who don't know you. To bring new members into the fold.
Timing
This isn't necessarily part of event marketing, but I wanted to be sure to mention it somewhere. And it does play into the potential success of your live event.
It's timing. And by that I mean when will your virtual event take place? What day of the week? What time of day?
Proper scheduling can be tough to determine for an online business with customers all over the world. A convenient time for your North American customers could be very inconvenient for those in Europe or Asia.
The perfect time to schedule your event will depend on who you want your attendees to be. We talked about identifying and defining the attendees a minute ago. Use that knowledge to help steer you to the best possible scheduling.
Your Presentation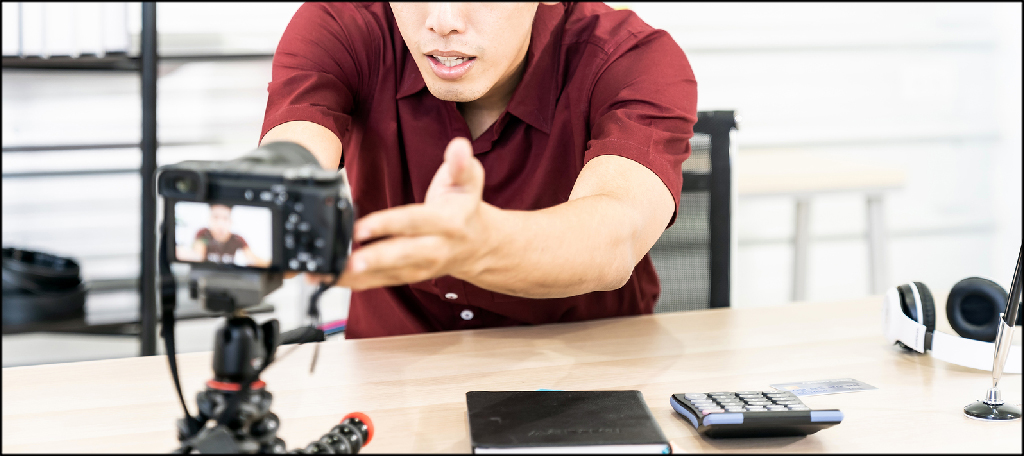 Okay, so you have your technical ducks in a row, and you've chosen a platform for your event. You've done a masterful job of event content marketing. You're halfway home.
But what about the event itself? The content?
If you ever went to the circus back in the last century, you know that the ringmaster runs the show. They introduce and hype the acts, direct your attention where it needs to be, and generally keep things running smoothly.
If your event will have multiple speakers, you need a ringmaster. Also known as a host. You'll want to choose the person in your group who is an organizer and has a good awareness of time.
A well-run virtual event is similar to a well-run meeting. It has to be properly sequenced and paced, and the host or the leader has to know when to move along to the next topic.
And those topics and presentations? Make sure you come across as interesting and interested. Be awake and as animated as your personality allows. You're presenting important business information, yes, but you're also putting on a show.
You have an audience, and you need to keep their attention.
You don't have to wave your arms and shout, but be aware of how you're coming across. Don't mumble, don't speak in a monotone. Remember, it's not reality. It's virtual reality.
In the real world, very few people will stand up and walk out of a meeting in progress. But if your virtual event is lagging or uninteresting, attendees won't hesitate to find their way to the (virtual) door.
Virtual Events Will Never Replace Face to Face Events
But they can come close.
And in times when we can't meet up in person, mastering the virtual event will give you a leg up. Pay attention to planning and execution, and you can gain almost as much from virtual events as live ones.
Events, seminars, conferences, boot camps – they're about sharing information and knowledge, yes. But they are also about connecting. Either with customers or each other. Remember that and you'll come out ahead of the competition every time.