Your website's "bounce rate" is an important signal to pay attention to as you browse your traffic and statistical data. Many of us don't understand exactly how to reduce bounce rates, but we should.
Let's talk about bounce rates and look at some ways to reduce those numbers on your WordPress website.
What is Bounce Rate?
The bounce rate is the percentage of visitors who leave your website from the same page they came in on. If someone comes in on your homepage and leaves without clicking through any other pages, they've bounced. The bounce rate formula is displayed as a percentage of single-page sessions on your website.
It's a good indicator of your site's ability to engage visitors and the relevance of its content.
The bounce rate formula is simple. It's the total number of single-page visits to a website, divided by the total number of visits. So let's say the homepage of your website receives 5,000 visitors over the course of a month. But 2,500 of those visitors leave your site after viewing the homepage – they don't click through to another page. That would make the bounce rate for your homepage 50%.
High bounce rates are not necessarily a bad thing for a single-page site where single-page sessions are expected. But if you have a news, content, or e-commerce blog, you want to keep bounce rates as low as possible.
What is a Good Bounce Rate?
The answer depends on who you ask and what type of sites are being researched. You also need a baseline for evaluating bounce rates. So with that in mind, general baselines for what is considered an acceptable bounce rate are:
E-commerce and retail websites: 20% – 45%
Business to business (B2B) websites: 25% – 55%
Lead generation websites: 30% – 55%
Websites with no e-commerce content: 35% – 60%
Landing pages: 60% – 90%
Dictionaries, blogs, and other portals: 65% – 90%
Let's take a look at some easy things you can do to help reduce the bounce rate on your WordPress website.
9 Ways to Improve Bounce Rate in WordPress
1. Optimize Your Loading Times
Many visitors will not stay on a website that takes more than a few seconds to load. Too many things going on – images, widgets, data pulled from other sites, advertising – can slow down the page load times. And slow loading can result in a lot of visitors going elsewhere to find what they're looking for.
A solid WordPress website hosting provider will give your site the ability to load fast and run smoothly. Using tools like Google's PageSpeed Insights can show areas that need improvements, such as image use and minifying JavaScript.
If you want to know how to reduce your bounce rate WordPress, page speed is the first thing you should look at.
2. Compress Images
Image compression and optimization on a WordPress website can cut page load times dramatically. Any kind of image optimization should help reduce bounce rates. Reducing image file sizes before uploading them will reduce the strain you place on your server. Which can also help your pages load faster.
There's no shortage of excellent WordPress image and compression tools available. Find one you like, install and activate it, and get those images properly optimized.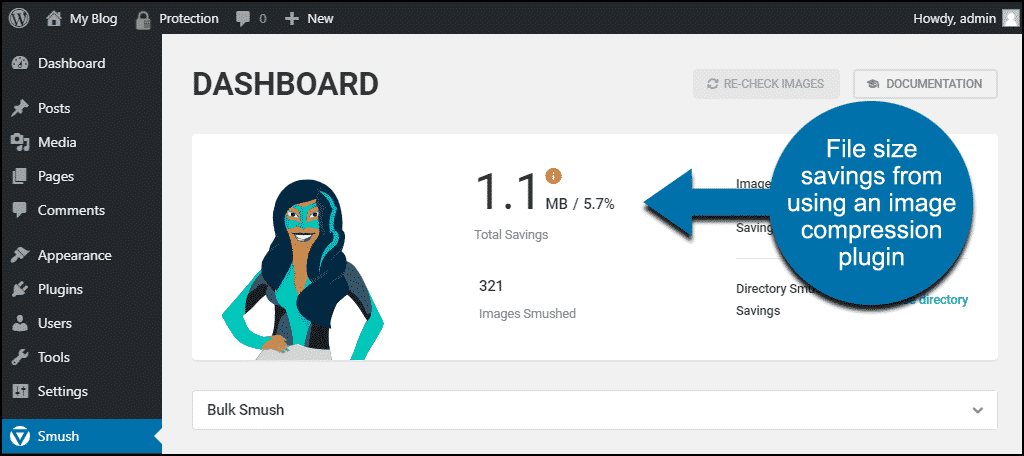 3. Tease Visitors with Excerpts
Try to avoid showing full blog posts on your main WordPress blog page. Instead, use excerpts (to do that, check out the "more" tag in the WordPress editor).
That will accomplish a few things: first, it will make the homepage of your blog look more neat and concise. It will also cause visitors to click to read more about the topic, lowering bounce rates.
Finally, it will speed up the load time of your blog homepage.
You can also keep people on the website by providing links or even a popup to spotlight related content. That increases the likelihood of visitors reading additional content rather than exiting the site immediately. Which, in turn, helps reduce your bounce rates.
4. Write Content with "What's Next" in Mind
Every time someone searches for something, hopefully, they're finding one of your articles. They may click through to read it, and then they are usually done. When they've finished what they came for, it's up to you to give them a reason to stick around. Craft your content so that it gives people something else to do on your website when they finish an article.
As I mentioned, that can be done by linking to other related articles you have posted.
You can also encourage commenting or suggest that they sign up for your newsletter if they enjoy the content. It's up to you to make the additional content—that they weren't necessarily looking for—compelling. If you don't do that, you risk losing their attention, which usually means and losing them to another website.
5. Start Using Meta Descriptions
For some reason, WordPress doesn't give you the ability to add meta descriptions to posts and pages. So if you aren't using meta descriptions yet, it's understandable. There are those who consider meta tags a waste of time since Google generally ignores them. Maybe that's why WordPress doesn't provide a meta descriptions tool.
Regardless of whether meta tags have any effect on ranking (evidence suggests some do), a meta description is still important. Why? If you provide one, Google uses the meta description in search results. And of course, any time you can control something in search results, you should.
But what does that have to do with bounce rates?
A well-written meta description will let searchers know whether the link to your site will be of interest to them. Good meta descriptions prevent a lot of visits from people who may not be interested and who would otherwise bounce.
You can force WordPress to expose meta description editing, but it requires adding code to your theme files. It's much easier to use an SEO plugin like SEOPress or Yoast. You'll also benefit from the many other things those plugins can do.
6. Create High-Quality Content
Obviously, content is available everywhere online, so it's important to create high-quality content. Substantial, well-written articles will receive traffic from Google, engage your audience, and demonstrate your authority on a subject.
High-quality content is the foundation, build on that foundation with the following things in mind:
Use appropriate keywords.
Be relatable to your audience.
Have a clear "call to action."
Pay attention to SEO.
The best content keeps readers on your site and compels them to click through to your other articles. And when they continue reading on your site, your bounce rate falls.
7. Test Your Layout on a Mobile Device
One sure way of improving your bounce rate is to accommodate mobile users. These days, traffic coming from mobile phones, notebooks, or tablets can easily be half of your traffic. It is critical that you have a mobile-friendly website.
Most WordPress themes claim that they're mobile-friendly. But it's still best to test your blog on multiple devices to make sure it adapts to many screen sizes. Remember, there are a lot of internet-browsing devices out there.
A great way to check is with Google's Mobile-Friendly Test page. The test will even give you suggestions for improving elements that may not render well (or quickly) on mobile devices.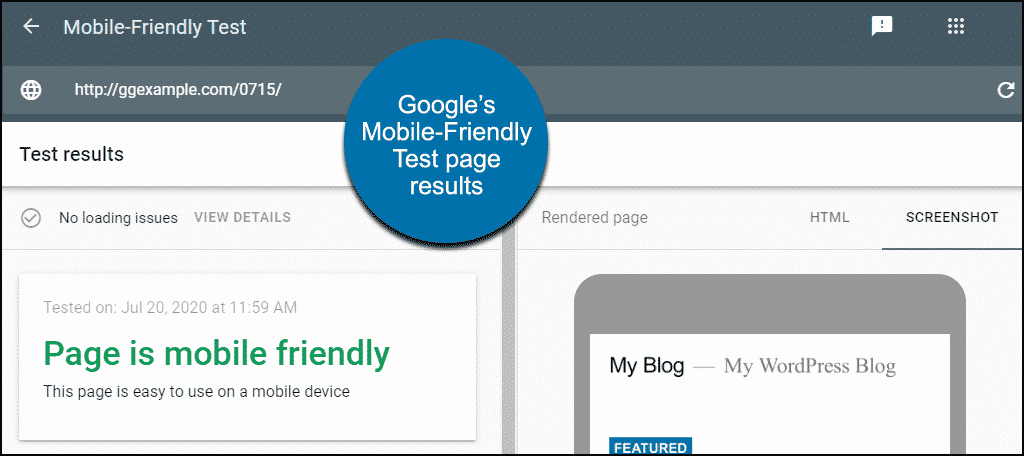 8. Avoid Pop-ups When A Page is Loaded
One surefire way to make people leave your website is to immediately bombard them with a pop-up. Trust me, when someone clicks on an article to read, they do not want to subscribe to your email subscription before actually reading the content.
In most cases, the visitor will leave immediately instead of closing the pop-up.
Keep in mind, some websites will choose to put certain popups when a page is loaded for good reason. For instance, a lot of visitors choose to use some type of ad-blocking extension on their browsers. This can cripple the money a website earns through advertisements.
Thus, it's normal to ask someone to turn off the ad blocker.
However, these types of tactics are not going to help reduce bounce rates. But it is a fair argument to not want visitors to view your content for free.
9. Don't Use Click Bait or Misleading Titles
This should go without saying, but if you try to mislead visitors to click on an article, the majority of them will leave your page the moment they realize it. And this can do some serious damage to your website's bounce rate.
Of course, there are some advantages of increasing your traffic by using such methods.
For instance, one of the main advantages of using clickbait is its sharing potential. On social media platforms, there are a lot of users that simply read the title as fact. That's right, they won't even bother reading the article or fact-checking it.
That can help them grow at an exponential rate, at least until they get called out on it, which can really hurt their reputation.
Just make sure you understand that clickbait does not reduce your bounce rates.
Final Thoughts
I hope you've found some options in this article that will be useful in reducing your website's bounce rate.
No single "fix" is going to show results overnight. You may have to tweak, adjust, and measure results using website analytical tools. But the tips I've presented here to reduce your bounce rate should help get the process started.
Now that you know a little more about this key metric, you can start implementing some of the practices. Each issue you address will go toward reducing the bounce rate on your site. Show that you care for your website, provide excellent content, and have built your WordPress site to ensure success.