You need a better, faster web host.
Free Site Migration, Amazingly Fast, Secure & Eco-Friendly WordPress Hosting with 24/7 Support.
Check Out Our Hosting Plans
Are you looking for a way to speed up your WordPress website? Speed is a very important factor for websites to look out for. Nobody wants to use a slow website and slow websites actually scare away first-time visitors. A slow website hurts your SEO because speed is one of the many factors that determine your website's search engine ranking.
Ranking higher helps you get more traffic to your site. One of the main reasons why your website slows down are the plugins you use. Optimizing your plugin usage is one way to speed up your website. Today, I will demonstrate how to speed up WordPress by using the Plugin Organizer to manage your website's plugin usage.
How Can the Plugin Organizer Help Your Website
Plugins are great tools for web developers to use to add functionality to their websites. One of the biggest appeals of WordPress is being able to create a website without writing a single line of code and plugins help web developers accomplish this. Unfortunately, they also slow down your website. WordPress plugins are usually only loaded when they are needed to reduce any slowdown visitors will see.
This is great, but the Plugin Organizer can do an even better job. Plugins' developers cannot accurately predict when your website will need to use the plugin, but the Plugin Organizer can help. You can tell WordPress which plugins to run and when they should run.
You can separate your website from its mobile counterpart. Mobile devices are not as powerful as computers and some pages will take longer to load, but they also account for half of your website's total traffic. You can help reduce load times by removing plugins from your mobile site and help create a more mobile-friendly experience, without affecting your regular website.
How to Speed Up Your Website With the Plugin Organizer
Today, I will demonstrate how to speed up WordPress by using the Plugin Organizer to manage your website's plugin usage. The plugin is very powerful and can drastically alter how your website's pages are loaded. To get the most out of this plugin, you should have a good understanding of what each of your active plugins is doing on your website. The last thing you want to do is to disable an essential plugin from running.
Since this plugin is so powerful, you should create a backup of your website. This will ensure that if you make any mistakes while setting this plugin up that you cannot fix, you can revert your website to before the mistake was made.
Installing Plugin Organizer
Begin by clicking on Plugins and selecting the Add New option on the left-hand admin panel.
Search for Plugin Organizer in the available search box. This will pull up additional plugins that you may find helpful.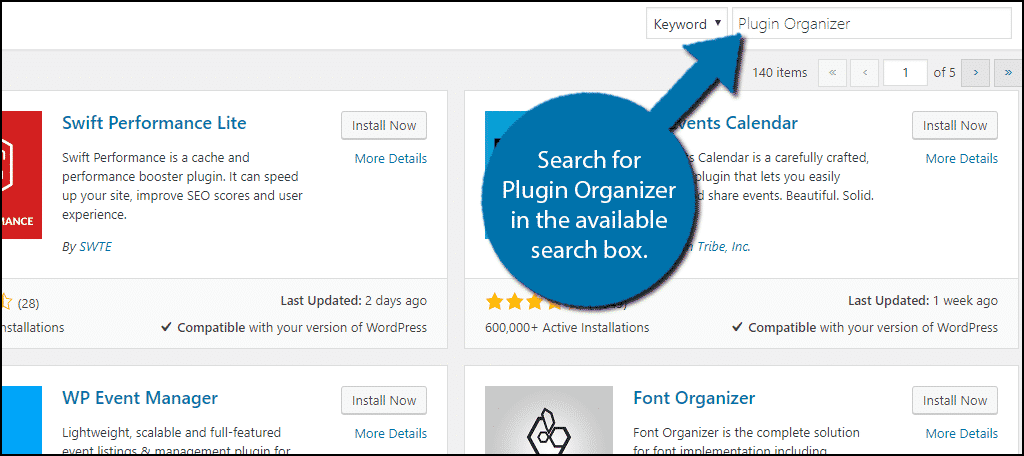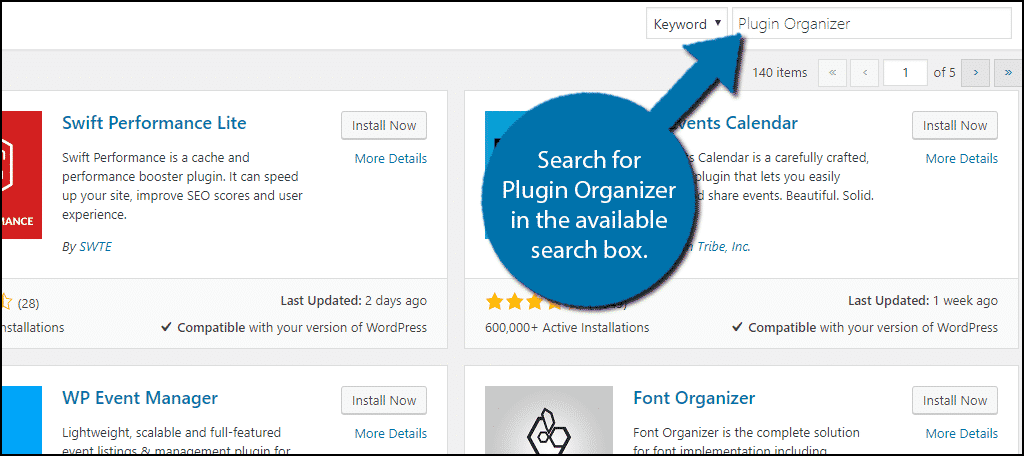 Scroll down until you find the Plugin Organizer plugin and click on the "Install Now" button and activate the plugin for use.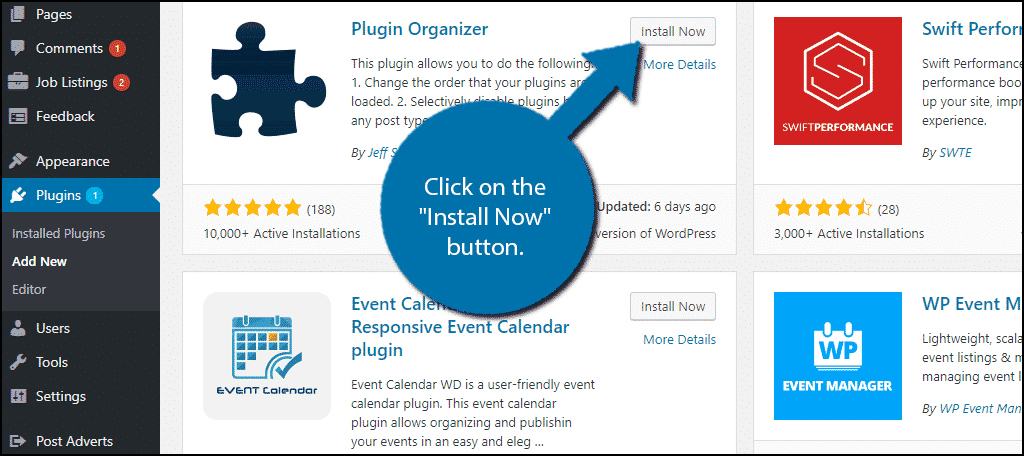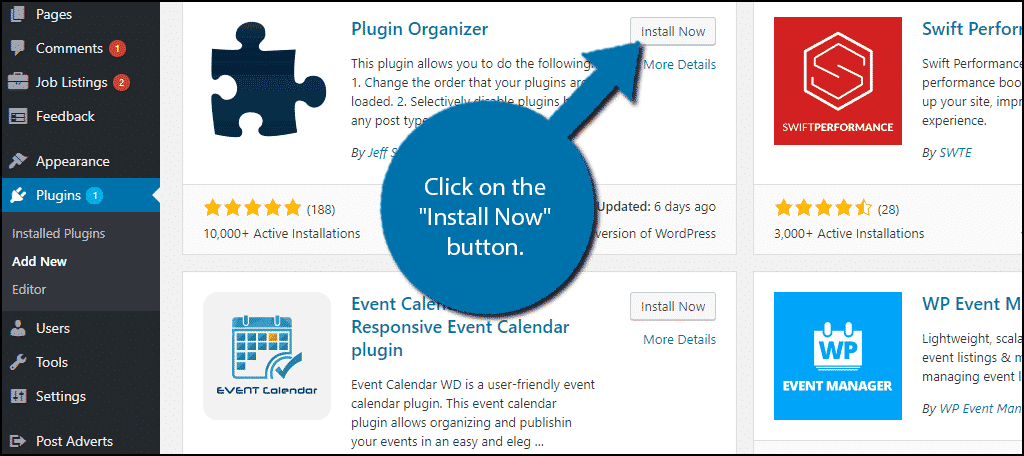 On the left-hand admin panel click on Plugin Organizer and select the Settings option. This will pull up the main settings page.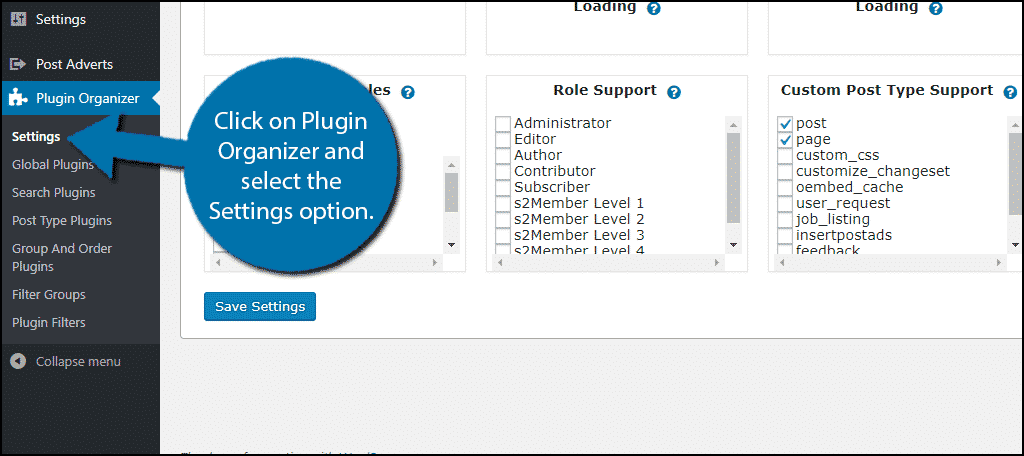 Plugin Organizer Settings
This plugin has an enormous amount of customization available. How you use it is completely dependent on your website's needs. I will give a short explanation of how each of the various settings works but will leave how you use them up to you.
It is very important to make a backup of your website now before you go any further. This plugin controls how all of the plugins work on your website and can really mess up your website if used the wrong way.
The default settings will look like this:
I will explain them.
Fuzzy URL Matching: This option is on by default. It allows for you to enable/disable plugins on child URLs.
Ignore URL Protocol: This option is off by default. It is only helpful if your website has SSL enabled. Turning it on will allow for the Plugin Organizer to ignore the http and https in plugin URLs.
Ignore URL Arguments: This option is off by default. It will allow the Plugin Organizer to ignore URLs with arguments inside of them. If you do not have any arguments in your URLs, I recommend leaving it off.
Only allow network admins to change plugin load order: This option is off by default. It is only useful if you have a multisite network set up. This will only allow the network administrator to change anything plugin related on your website. Leave it off if you do not use a multisite network, but if you do, this setting can be very useful.
Auto Trailing Slash: This option is on by default. This will simply add or remove a trailing slash on plugin URLs. It is based on how your permalink structure is setup. I would leave this setting on, but that is up to you.
Selective Plugin Loading: This option is off by default. This is the setting that will be the most important, so I recommend turning it on. This will allow you to choose which plugins are allowed to run on which pages of your website. I will go over how to do this later on in detail.
Selective Mobile Plugin Loading: This plugin is off by default. Very similar to the last option, turn it on. The difference is this is exclusively for the mobile version of your website. This can help make your website more mobile-friendly.
Selective Admin Plugin Loading: This option is off by default. This will allow you to enable plugins to run only inside of the admin area. If this sounds like something you would like, turn it on.
Display Plugin by Role: This option is on by default. This will allow you to disable plugins by user roles. Even if you are not going to use the feature leaving it on will not impact you.
Display Debug Messages: This option is on by default. This will show you any debug messages that need to be displayed. I strongly recommend leaving this on.
You will also see Debugging Roles, Role Support, and Custom Post Type Support on the bottom. You can use these checkboxes to select the appropriate options for your website.
Make sure to save your settings before leaving this page. The rest of the tabs on this page can also be changed, but these are not major settings, but you may want to change a few things around to improve your experience with the plugin.
How to Disable Plugins
Now it is time to start disabling plugins on your website. If you did not turn on the Selective Plugin Loading option, this will not work.
Click on the Global Plugins option on the left-hand admin panel.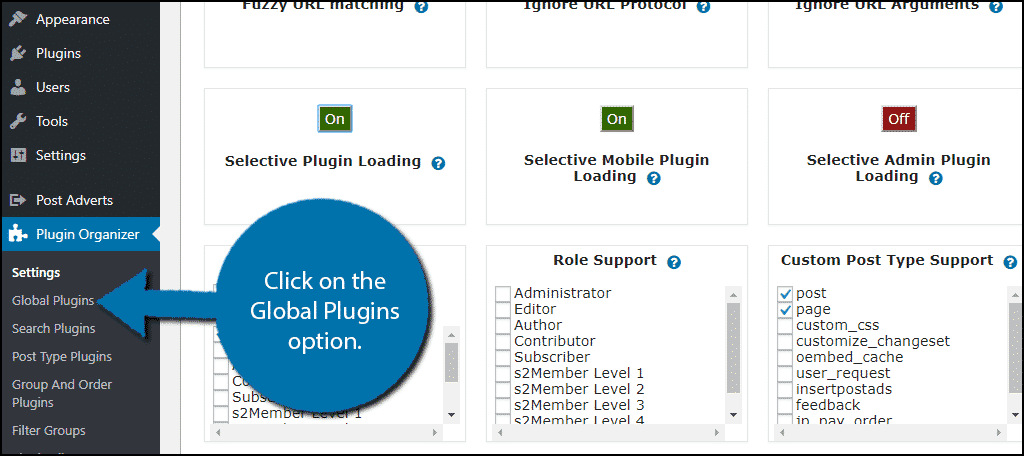 Depending on what options you turned on, you should see and Available Items box on the left-hand side. This box contains all of the plugins on your website. On the right-hand side, you should see a Disabled Standard box (empty) and a Disabled Mobile box (empty). These boxes will only appear if the settings were turned on.
Carefully review what plugins are necessary for your website and mobile website. Click on the box to expand it and place the plugins you feel are not needed into the boxes. These boxes do not affect each other. You can put the same plugin in both boxes. Simply drag the plugins into the appropriate boxes to disable them.
Once, you have chosen which plugins to disable, click on the "Save" button. Make sure your website is working correctly on the appropriate platform. For example, if you disable plugins on the standard website, check with a computer and if it was mobile, check with a mobile device.
If something is not working correctly, double check the settings and plugins you have disabled. You can also use your backup if you are completely lost, but this should be a last resort.
Get the Best Performance Out of Your Website
Speeding up your website is important. It directly affects your SEO ranking and every visitor likes a fast website. The longer a page takes to load, the more likely a visitor will leave. An extra second may not seem like a lot, but when you load multiple pages, it adds up fast.  While optimizing your plugin usage is great, you should also consider reducing the number of plugins you use. Many plugins can be replicated with very simple code to reduce the number of plugins needed.
How easy did you find the plugin to use? Did you notice a significant speed boost on your website?