Are you trying to rank higher on Google? There are a ton of variables that go into SEO, but the most important factor is the keyword you are trying to rank for. And luckily, there are plenty of tools that can help you pick a keyword, like WP AutoKeyword.
In this case, the plugin will scan your content and suggest the keywords you should use based on the frequency of their usage. You can then add those keywords to your metatags automatically.
Today, I will demonstrate how you can improve your SEO with the WP AutoKeyword plugin.
This plugin is for:
WordPress 5.9
Plugin: WP AutoKeyword v1.0
What Are Keywords?
Simply put, keywords are the ideas or topics your content focuses on, which visitors can search.
For example, let's say you want to search for a blog post about the finer details of burrito wrapping. Well, you would probably search for something like "how to wrap a burrito" on Google. So what would be the keyword here?
Well, odds are the top result would try to rank for "burrito wrapping" or "wrap burrito."
This would ensure the blog post will pop up in searches related to wrapping a burrito. And that's really the essence of a keyword. It's the phrase a visitor will type into a search engine that relates to your content.
Of course, this is just basic information. There are entire books dedicated to the art of picking and choosing keywords.
How to Use WP AutoKeyword
Step 1: Install WP AutoKeyword
WP AutoKeyword is a keyword selector tool that will suggest keywords based on the content you have written. As a result, it will help you find the best keyword to rank for an individual piece.
This can help you boost your SEO rankings and just make life easier when creating content. Let's get started!
Click on Plugins and select the Add New option on the left-hand admin panel.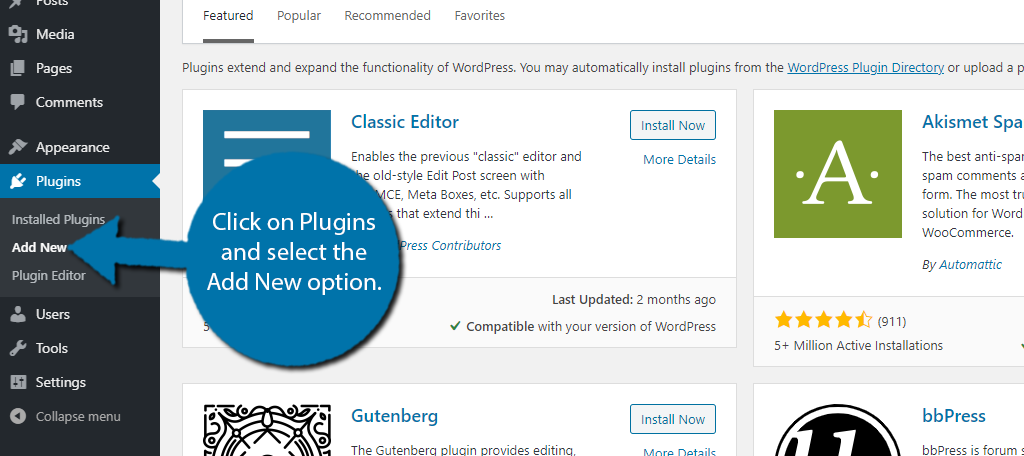 Search for WP AutoKeyword in the available search box.
Find the WP AutoKeyword plugin and click on the "Install Now" button and activate the plugin for use.
Step 2: Use the Keyword Selector Tool
Unlike most plugins, there isn't anything to customize or configure. The plugin works immediately upon activation. Essentially, you just need to enter the content and it will suggest a keyword. It has several tools to use, so let's begin.
Click on Tools and select the WP AutoKeyword option.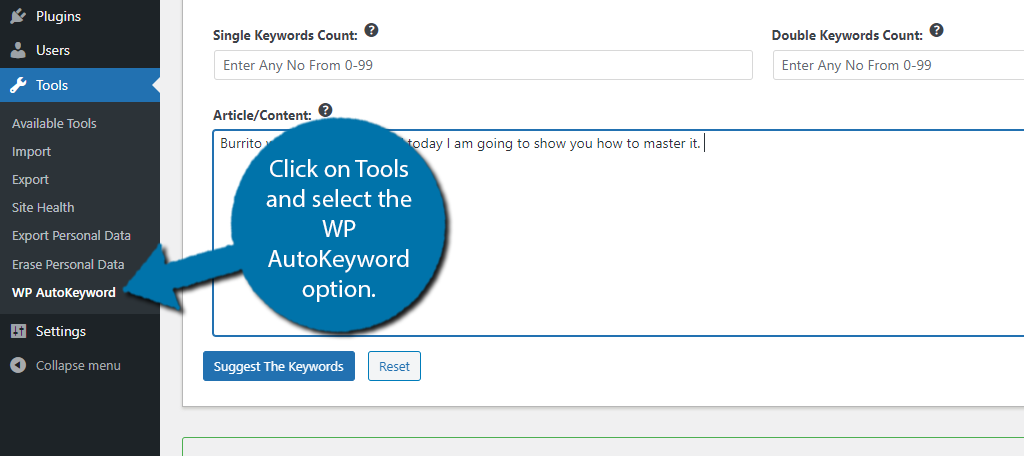 The first tool is the Keyword Selector. Simply enter the number of keywords you want the plugin to search for at the top. You can search for single, double, or triple keywords. There's no limit, but the broader the range, the less specific they get.
Then just enter the content you want a suggestion for into the content box and click on the "Suggest The Keywords" button.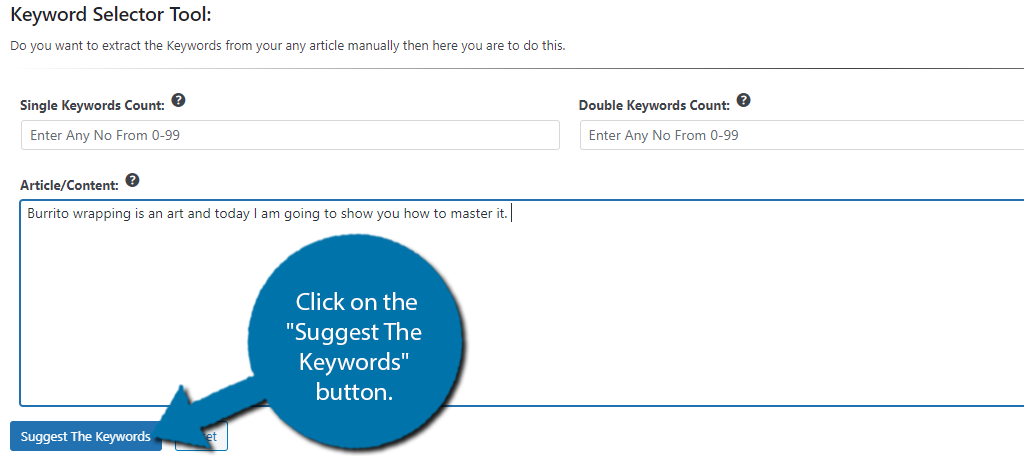 The plugin will then analyze the content and display the results. Now, it is simple to use, but there are a few catches.
First, you actually need to give the plugin something to work with, and what I mean by that is there needs to be a good amount of content for it to search. Simply entering a paragraph or two is not going to cut it.
If there isn't enough content entered, the plugin will not list any keywords for you. If everything goes right, then you should be able to use this as a bulk keyword generator.
Step 3: Bulk Post Keyword Adder
The next tool we should take a look at is the Bulk Post Keyword Adder. As the name implies, it will search your post content, suggest keywords, and add them in one fell swoop.
It's very efficient, but there is a risk of potential slowdown when this is running.
For this reason, even the plugin recommends only doing a small batch of posts at a time. This will ensure that the plugin doesn't impact your website's performance.
The good news is that this tool is pretty easy to use. Once again, enter a number into the single, double, and triple keyword count to select how many keywords of each type to look for. Then, simply enter the start and endpoint for the posts to search.
Then just click on the "Suggest And Add The Keywords" button.
Note: There is a "Reset" button as well. This just clears all of the fields and has no impact on anything important.
Step 4: Finishing Up
You may be wondering how some of those keywords you were suggested perform. Well, you can do that with the Keyword Database. Here you can enter a keyword and examine various factors about it.
There is also a section called Save New Keywords which will act as a notepad to store keywords in. The keywords entered here can be viewed in the Keyword Database to help you find an article that fits them.
Finally, there is a Help section that answers a few questions and helps you understand the plugin.
And with that, you know how to use the WP AutoKeyword plugin in its entirety. Congratulations!
Should I Only Use One Keyword Tool In WordPress?
Absolutely Not.
Most experts use multiple keyword suggestion tools to get the best results. The truth is that each tool is built differently, which means you'll get different recommendations. This can help you identify the best keywords to rank for.
It's also worth noting that some tools fill different needs.
For example, you may have a keyword in mind, but have no idea how to incorporate it naturally into a sentence. In these cases, you can use a phrase generator to help create sentences from the keyword.
And the good news is the free keyword selector tool is the norm and not the exception. Thus, you don't have to waste money buying multiple tools.
Improve Your SEO To Get More Traffic
Your website's SEO has a direct impact on the amount of traffic your website will receive. The better your website ranks on Google, the more traffic you get. It's really that simple, yet, SEO is anything but simple.
Truth be told, keywords are one factor that will determine your website's ranking. You also need to make sure the content is using that keyword correctly, that your website has a sitemap, and that your URL structure is SEO-friendly.
Not to mention your website needs to load fast on both desktop and mobile devices. It takes a lot of work to perfect, but the payoff is huge.
What other keyword tools do you use in WordPress? Have you noticed a better ranking since using WP AutoKeyword?