With over 2.7 billion monthly users, Facebook has become too big for anyone to ignore. Thus, it is only natural to look for ways to incorporate it into WordPress. Luckily, the Showeblogin Social Plugin gives you a variety of tools to do the job.
The plugin is simple, offers a variety of features, and is completely free to use. As such, it's exactly what most websites are looking for in WordPress. Today, I will demonstrate how to use the Showeblogin plugin to add a variety of Facebook features.
Why Is Facebook Integration So Important?
Facebook is the world's most popular social media platform, and any successful business has a presence. It provides businesses of any size an opportunity to reach out to their target audience and promote their brand.
The term Facebook integration refers to any type of feature related to Facebook being added to your website. For example, it's quite common to ask visitors to "like and share our page on Facebook" but they can't do that easily unless we actually add a Facebook like button.
Of course, there are more complex ways to integrate Facebook and WordPress. For instance, if you have a need for a chatbox, you can use Facebook Messenger to do it. In fact, you can even create a bot to greet customers and collect general information.
Some of the more common integrations for WordPress include a Facebook login, using Facebook Pixel, or auto-posting to Facebook when a new post is published. The options are there for those interested.
The point is Facebook is popular, and there are a lot of ways to take advantage of that popularity for website owners.
How to Use Showeblogin in WordPress
Step 1: Install Showeblogin
The Showeblogin plugin offers a variety of tools which include showing a Facebook-like button for any page, embed a Facebook post or page, use a Facebook comment box (allows users to comment with their Facebook account), and much more.
All of this is done via shortcodes, which is why it's so easy to use. And most importantly, it gives you the control you need to add it in any location, including a text widget.
Let's start by clicking on Plugins and selecting the Add New option on the left-hand admin panel.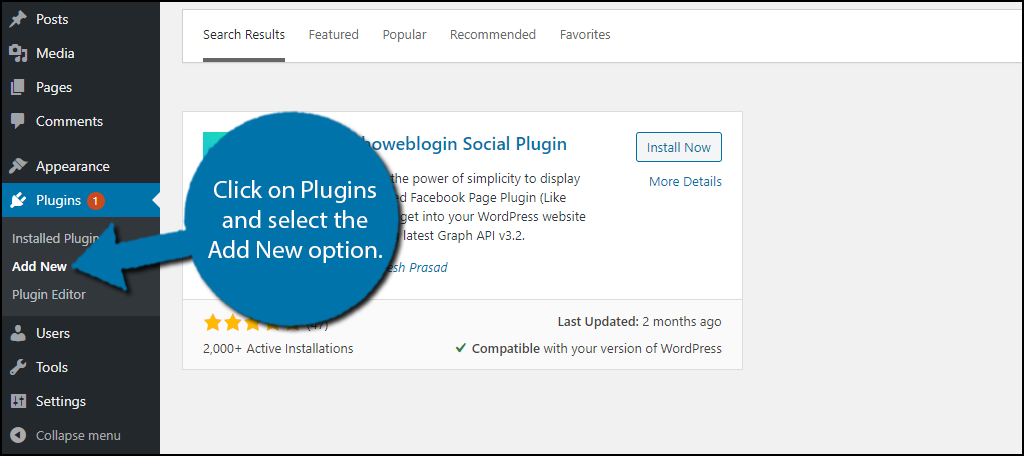 Search for Showeblogin Social Plugin in the available search box. This will pull up additional plugins that you may find helpful.
Scroll down until you find the Showeblogin Social Plugin and click on the "Install Now" button and activate the plugin for use.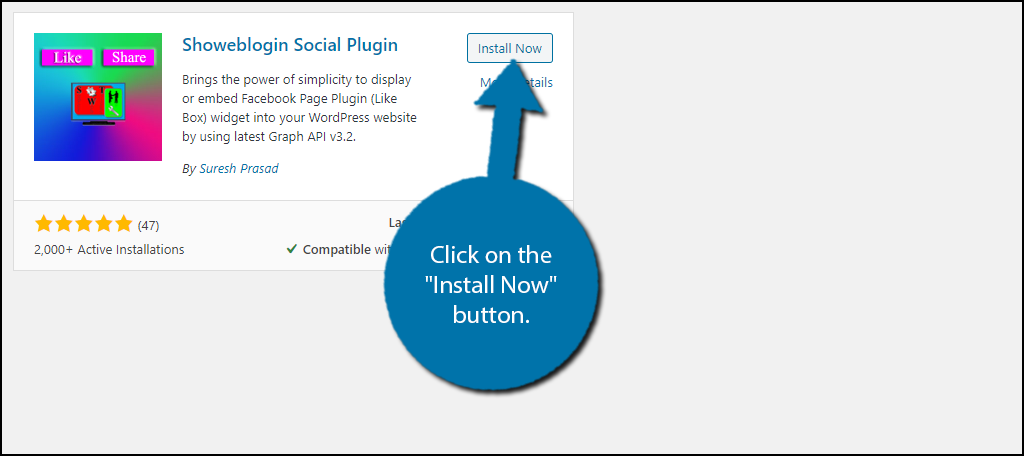 Step 2: Add the Facebook Widget
There is one oddity in this plugin. Even though the plugin uses shortcodes, you must have the widget on your website to use it. Even if you just add the widget to your sidebar and do not customize it, that will allow the plugin to work.
Thus, there is no way around adding the widget, it must be done.
However, you can also use the widget to integrate WordPress with your Facebook page. And this might be a good thing if you are not a fan of shortcodes.
On the left-hand admin panel, click on Appearance and select the Widgets option.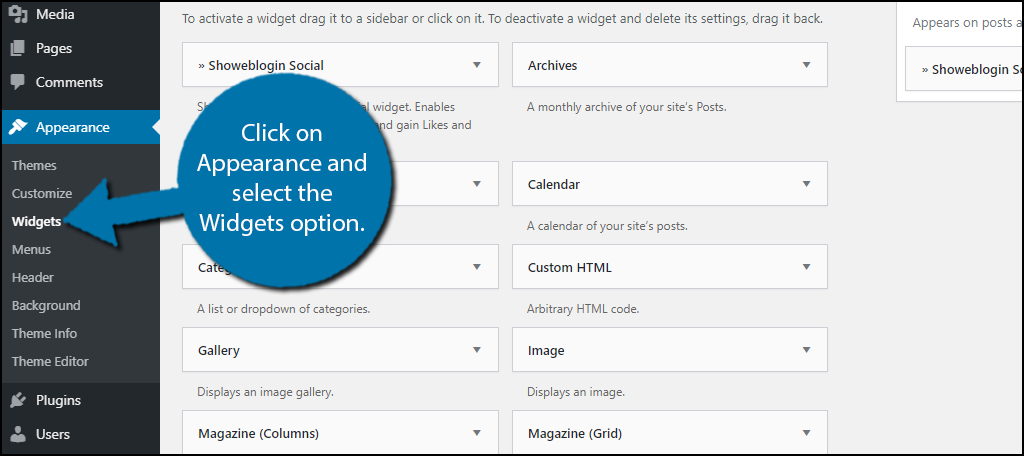 Locate the Showeblogin Social widget and add it to the desired widget area.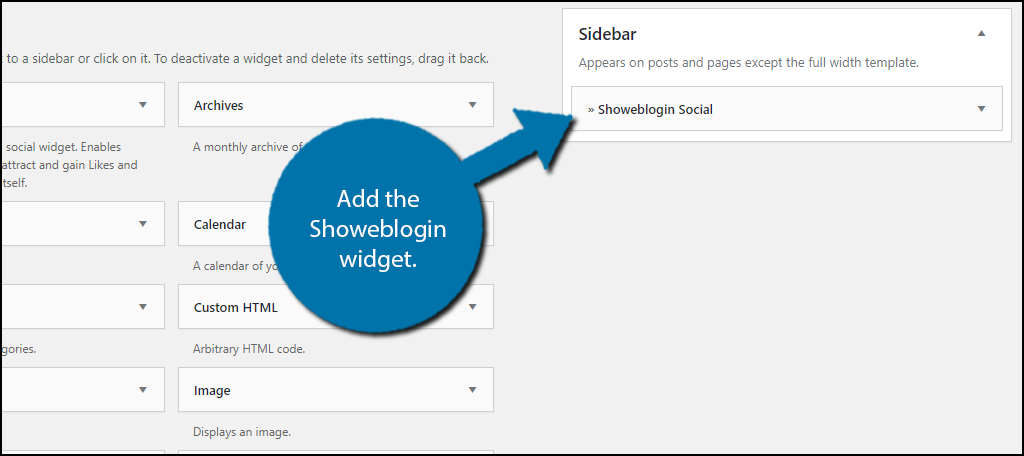 At this point, you just wanted to use shortcodes, you are done with the widget. All that is required is that the widget is in a widget area. If you do not enter any information into the fields it will not do anything to that widget area.
However, the widget is a good addition, so I will cover how to use it for those interested.
You can add a title, I recommend something like "Check Out Facebook Page" or something similar. Enter your Facebook URL, the sizes you want to use (340 width and 500 height is a good choice), select a specific tab to display (for example you can display upcoming events), and fill out the rest of the widget.
Note: You can add any Facebook URL into the widget. This can be useful if you are doing a collaboration event and want to help promote someone else.
Click on the "Save" button and you can view it on your website.
Shortcodes provide another way to add your Facebook page in WordPress, so let's take a look.
Step 3: Use the Shortcodes
The shortcodes are quite easy to use, and if you have used a shortcode before, you will not have any trouble with these. Note that, if you skipped the last section, adding a widget is a requirement.
If you don't do it, the shortcodes will not work.
The plugin has two shortcodes, but only one of them is actually going to be used.
The first one is very basic and cannot be altered in any way, and probably not practical for what you want to do:
[swt-fb-likebox]
Adding this will simply connect you to the Showeblogin Facebook page, thus, it is useless to an actual website. Although, it can give you an idea of what the plugin can do, so check it out on a private post or draft.
Instead, the second shortcode is what you are going to use, and it can be customized in a variety of ways:
[swt-fb-likebox url="https://www.facebook.com/SuperWebTricks" width="340″ height="500″ tabs="timeline,events,messages" hide_cover="false" show_faces="true" hide_call_action="true" small_header="false" adapt_container_width="true" data_lazy="true"]
The only change you need to make is switching the Facebook URL to the one you want to display. Doing so will result in a Facebook like page box with your most recent posts like so: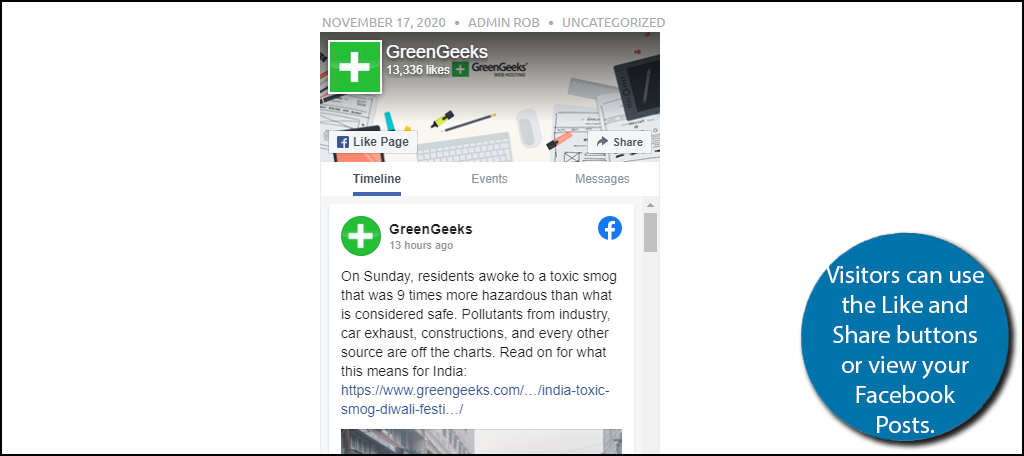 On it, visitors, can click the like button to like the page, click on the Share button to share it with friends, or simply scroll through your posts. It's very compact but shows all of the important information.
Remember, the shortcode can be added to any post, page, or even a text widget.
Congratulations on learning how to use the Showeblogin plugin to integrate your Facebook page in WordPress. If you decide to delete the plugin, remember to manually remove all of the shortcodes you added.
Make It Easy to Interact With Social Media
One of the biggest mistakes new web developers do is overestimate how far visitors will go to support a website. If you think just asking for someone to visit your Facebook page is enough, let me assure you, it isn't.
Instead, you need to provide a link or a direct way to send the visitor there.
If you want them to like a page, subscribe to a channel, or some other social media following system, you need to provide that social button to the visitor. And the good news is that WordPress supports every social media platform thanks to the large library of plugins.
As a result, it only takes a few minutes to provide visitors with the direction they need. And it can seriously help you grow your following on the said platform.
Facebook is Big, But There Are Other Options
Facebook is definitely the leader of the pack when it comes to audience size, but don't think that is your only option. Twitter, YouTube, Instagram, and many other platforms also have well over a billion monthly users.
As a website owner, you should try to have a presence on as many social media platforms as you can to help you grow faster.
How easy did you find the Showeblogin Social Plugin to use? Do you think WordPress should have more social media options baked into it?