Sharing on social media is an important element when it comes to creating something that goes viral. After all if visitors can't share, how will it reach the masses? This is one of the reasons why you want to use the best WordPress social media plugins.
With a simple click of the mouse, that perfect article you wrote has potential to reach thousands upon thousands of readers. This is especially true if you create viral content that connects with people on a deep level.
Today, I want to share 15 of the best social plugins for WordPress. They are easy to set up and have potential to make a profound difference in website traffic.
Keep in mind, I am only listing plugins that have been updated recently and show signs of constant support.
There's really no sense in adding something that is outdated or obsolete, right?
1. AddToAny
If you're looking for a floating WordPress element that is responsive and customizable, AddToAny is a good choice. It's one of the most popular social sharing plugins for WordPress and has an exceptionally high rating.
AddToAny uses vector graphics and a universal share button menu. This means visitors can quickly share content with social media, email systems, apps and a long list of online web systems.
One of the things that makes this plugin stand out is the capacity to integrate with Google Analytics. You can get visitor traffic data any time the button is used even if the shared links have been processed using a link shortener.
If you need something for WooCommerce, this plugin also supports it as well as multilingual and multisite networks.
2. Sassy Social Share
Sassy Social Share comes with over 100 social platforms you can add to your website's posts. Using a checkbox selection method, you can pick and choose which icons are visible for users to click.
This plugin uses vector images as they are much faster to load and are easier to scale than JPG. This means the plugin focuses well on speed and performance while providing a multitude of sharing options.
Sassy is compliant with AMP processes making it valuable for those targeting a mobile audience. And as an added bonus, it provides widgets for the sidebar as well as shortcodes to place sharing buttons in most areas of WordPress.
The best of all is this plugin is completely free.
3. Better Click to Tweet
About 74% of people who follow small businesses on Twitter do so for product updates. If you offer those updates in your content and make them clickable, visitors can help spread the word. This is where Better Click to Tweet comes in.
You've probably seen other "click-to-tweet" applications on sites you visit. This plugin makes it simple by giving you a shortcode that can turn any text into something people can share on Twitter.
If you know your way around CSS, this plugin is completely customizable with your own elements. You can also disable URLs and make links nofollow in the advanced options of the tool.
You don't really need to know how shortcodes work as this plugin adds a button to the WordPress visual editor to walk you through the process of quickly building the shortcode.
4. Social Warfare
Social Warfare is a flexible sharing platform that includes a wide range of tools. Although some of the more powerful tools are locked behind the "pro" version, it's still a great WordPress social media sharing plugin.
It comes with the capacity to include Twitter cards, social authorship, app links and even tracking short links and analytic campaigns.
If you like Google Event Tracking, you can use Social Warfare in conjunction so you can track button-click behaviors directly in Google Analytics.
This plugin also provides shortcodes to place sharing buttons virtually anywhere in WordPress that supports text. You can also quickly create click-to-tweet elements within your content thanks to these shortcodes.
5. Shared Counts
Shared Counts is relatively new compared to some of the other tools in this list. It has an exceptionally high rating currently, and is focused on delivering high performance.
When you consider how the bounce rate of a website vastly increases if the site takes longer than three seconds to load, performance is very important.
Another highlight of Shared Counts is the fact that it tracks values for both HTTP and HTTPS. This means you don't lose the number of shares displayed next to each social media button when you upgrade your site with SSL.
This plugin also comes with several layouts to choose from while protecting email sharing with Google reCAPTCHA support.
6. Social Icons Widget by WPZOOM
Social Icons Widget is more of a system to share your social profiles with visitors. Although many themes today come with built-in icons, this plugin has a lot of features many layouts simply don't have.
This tool is ready with over 80 social networks, four sets of icons, a color picker and searchable database. If you use WhatsApp, Skype or Viber, you can easily connect your numbers and profiles so visitors are capable of contacting you directly.
For those who like to be unique, it's not much trouble to change icons to your own designs. This gives your website a sense of individuality and helps it stand out.
7. Microblog Poster
Visitors are not the only ones who can share your WordPress posts to social media. Tools like Microblog Poster will update your social accounts as soon as you create a new piece of content. The tool supports the most popular of social sites including publishing to other WordPress websites.
This plugin comes with the ability to filter certain content for publishing on social sites as well as generating logs of anything it sends to those platforms. Looking for something that is compatible with multisite networks? It can do that too.
One thing I like regarding this tool is being able to re-publish older articles. This keeps the content appearing fresh while possibly driving new traffic.
8. MashShare
MashShare is a popular and high-rated plugin that does more than merely add social sharing buttons. It supports AMP, short URLs and delivers a widget to show the most shared content. And this doesn't include the add-ons you can buy for this tool.
If you like customization, MashShare has several options whether it's in the settings screen or customizing shortcodes you place in your content. The share buttons are large enough for people to click or tap regardless of what device they use to view your content.
As I mentioned a bit earlier, the developer has several add-ons available to expand what MashShare can offer. These are both free and premium and have potential to deliver greater engagement of your visitors.
It's all about finding something that fits well with your site and design ideas.
9. Social Login
The social element doesn't merely have to stick to share buttons or profile links. Many will add plugins like Social Login to further engage the visitors and build a fan base.
Perhaps a notable feature of Social Login is the ability to eliminate spam registrations on the site from things like bots. This is due to the permission-based registration that comes along when visitors use social sites like Facebook to create an account on your site.
The system comes with more than 35 of the most popular social networks ranging from Amazon to YouTube. It makes logins much faster as users can simply click a button from the page to connect using their social accounts.
As an added bonus, Social Login can also be used to limit comment spam as well.
10. WordPress Social Stream
WordPress Social Stream is a premium plugin that brings content from sources to your website. This is perfect for those building a page to display new posts from across the Internet.
The plugin handles multiple sources, which means you don't need to show just your own content. For example, this is great if you have something like a gaming website and you want to include the RSS feeds of industry news.
This tool gives you a range of options for customization such as ignoring certain types of content, user controls, social network filters and much more.
And yes, it also comes with sharing buttons for your visitors.
11. Social Media Flying Icons
Social Media Flying Icons is a plugin that adds your social profiles to the website as floating images. As users scroll up or down, the icons follow them encouraging follows and sharing for you brand on select social platforms.
You can choose from a wide range of themes for the social buttons whether you want basic icons or highly-detailed graphics. Then, choose which section you want the social buttons to float across whether you want them displayed in the top right or bottom left of the screen.
The tool also comes with shortcode and widget support in case you don't really need the floating social bar.
12. Easy Social Share Buttons
Easy Social Share Buttons is a premium plugin that offers a bit more than just a simple way for users to share your content on sites like Facebook. It comes equipped with everything you'll need to engage your audience.
The plugin supports 50 of the most prominent social hubs while offering a wide range of colorful templates. Variable design positions, animations and customizable features give you a great deal of control for building something perfect for your site.
One thing that stands out to me about this plugin is the ability to integrate live chat services through Facebook Messenger or Skype. With a click of the mouse, customers can get in touch with you directly from the website.
For those who like data, Easy Social Share Buttons comes with analytical tools to help you build a winning strategy for social sharing.
13. ShareThis Share Buttons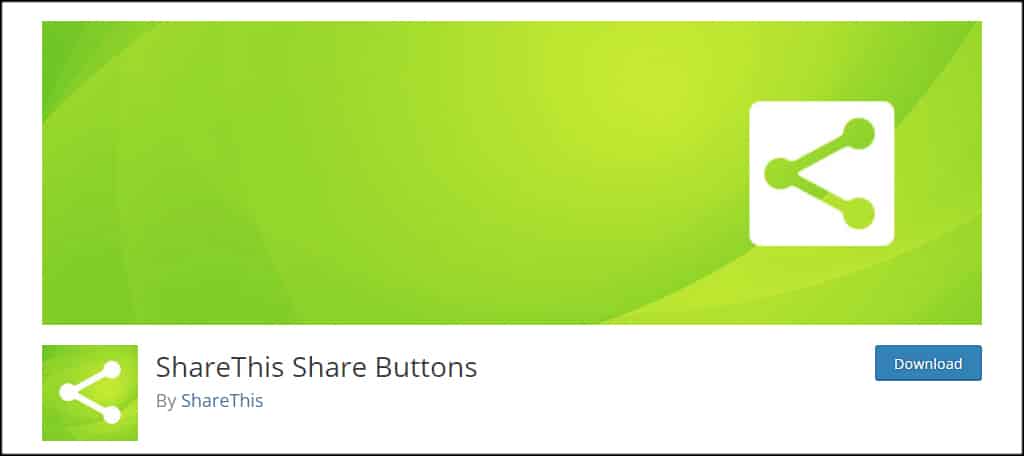 ShareThis Share Buttons comes with a variety of ways users can share your posts in WordPress. You can enable inline content using the default top or bottom placement, using shortcodes or placing PHP snippets.
If you want sticky share buttons that follow a user as he or she scrolls, this plugin does that as well. It's also possible to customize the layout so you can ignore sticky buttons on specific posts or pages.
The plugin comes with several options to help you fit it perfectly to your content. For instance, you have access to the alignment of the buttons, size, labels and whether to show the share count or not.
14. Instagram Feed
Sharing from social media to your site has potential to be just as effective as allowing others to share your site's content. Instagram Feed brings images from your Instagram profile to help you create more engagement for your website.
Instagram Feed pulls your pictures into your website while giving you several options for customization. You can show various sizes of the images, infinite scrolling, custom headers and offer a follow button for the account.
You can easily set this up as a sidebar widget or use the shortcode to create a separate page specifically for your image gallery. Instagram Feed is responsive and keeps the website appearing fresh and regularly updated…as long as you use Instagram more than once per month.
15. Jetpack
Jetpack is a simple plugin that comes with a lot of useful modules, including a social sharing element. It's not as flashy or as expansive as some of the others in this list, but it does the job well and covers the most important social media channels.
The biggest reason Jetpack is in this list of the best WordPress social media plugins is because of its additions. It's more than just a sharing tool as it comes with proofreading, traffic analytics, social publication and much more.
Although you need a WordPress.com account to use this plugin, it's a free service and offers a wide range of free tools. It even comes with a way to accept payments through a simple button if you wanted to monetize or sell from your site.
Share with WordPress Social Media Plugins
Most of these plugins are essentially set-and-forget, meaning you don't really need to do anything after installing the feature. The only thing you'll need to worry about is creating content people will want to share.
Increase your site's potential and use the best WordPress social media plugins to add engagement and interaction to your website.