Email is one of the most efficient and cheapest forms of marketing on the Internet. It's often an inexpensive way to engage a vast audience in a very short amount of time. However, building a WordPress users email list is not easy to do.
Today, we're going to show you several ways to create a WordPress email list and how to get the most out of the experience.
Why Email Lists Are Important
Email is one of the most common forms of communication on the Internet. Thanks to integrating apps in smartphones, these messages can be sent to virtually anyone regardless of where they are. This means you have greater potential to keep users informed regarding any aspect of the website or business.
Sending people email does more than just give you a way to inform others. It also can play a role in marketing products and increasing revenues. For example, it wouldn't take much to offer a 20 percent discount on select items from those who opt into an eCommerce mailing list.
A single message can be sent in mass to thousands of recipients. Of course, this is dependent on how many people are actually on the list, but the point is you can engage them all with just one email.
How to Build WordPress Users Email List
Method 1: Using WordPress User Registrations
Step 1: Install Profile Builder
Perhaps one of the easiest methods to build a WordPress email list is to make it part of the registration process. Using plugins such as Profile Builder, users must activate their profiles through email confirmation. This helps verify the address is correct and active.
But first, we need to install it:
Click on Plugins and select the Add New option.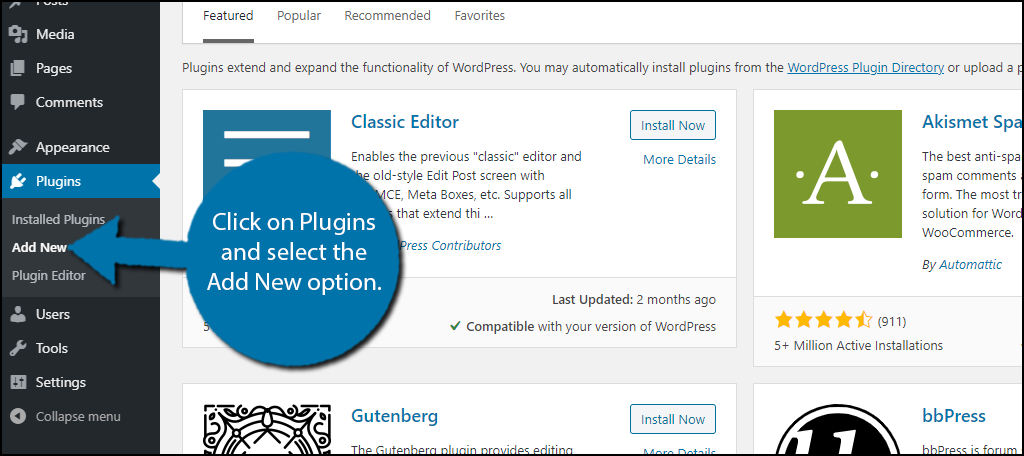 Search for, install, and activate Profile Builder.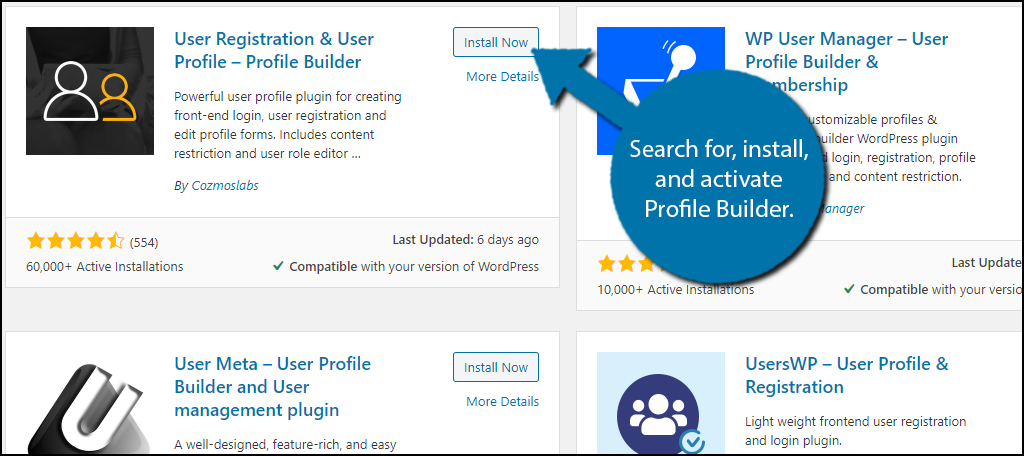 Step 2: Add Email to Registration Process
Luckily, adding email as part of the registration process is really simple and only takes a few clicks of the mouse.
Click on Profile Builder and select the Settings option.
You will see multiple tabs in this section, but for the purpose of this tutorial, there's only one option we need to worry about, General Settings.
Locate the Email Confirmation Activated option. It is a drop-down box that will allow you to select "Yes" or "No" and select the "Yes" option.
Click on the "Save Changes" button at the bottom of the screen.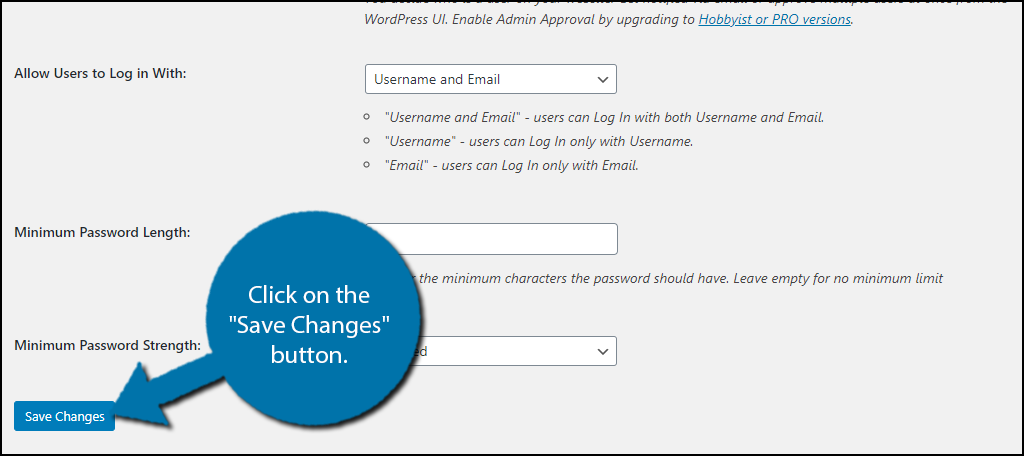 You now can start creating a list of addresses based on those who register with your website. It's a good idea to inform people prior to registering that the email address may be used to send messages. This will help reduce the risk of being seen as spam.
Profile Builder also comes with a WordPress widget that is placed in the sidebar for user logins.
Method 2: Use Jetpack for Follower Subscriptions
Step 1: Install Jetpack
Jetpack is an amazing plugin, especially for beginners. It comes with more than 20 common tools to help any website developer. These tools include the module called, "Subscriptions." This allows visitors to subscribe to the website or comment section of any post.
It will also help develop an email list accessible through the WordPress.com interface.
To enable Subscriptions in Jetpack:
Install and activate the plugin, "Jetpack" if it's not already in your WordPress tools.
Step 2: Enable Email Subscription
The first thing we need to do is actually enable the email subscription option.
Note: You will need to set up Jetpack for use before continuing. The setup process is extremely short, and you simply need to create an account and pick a plan, and yes, the free plan is fine.
To dos so, click on the Jetpack and select the Settings option.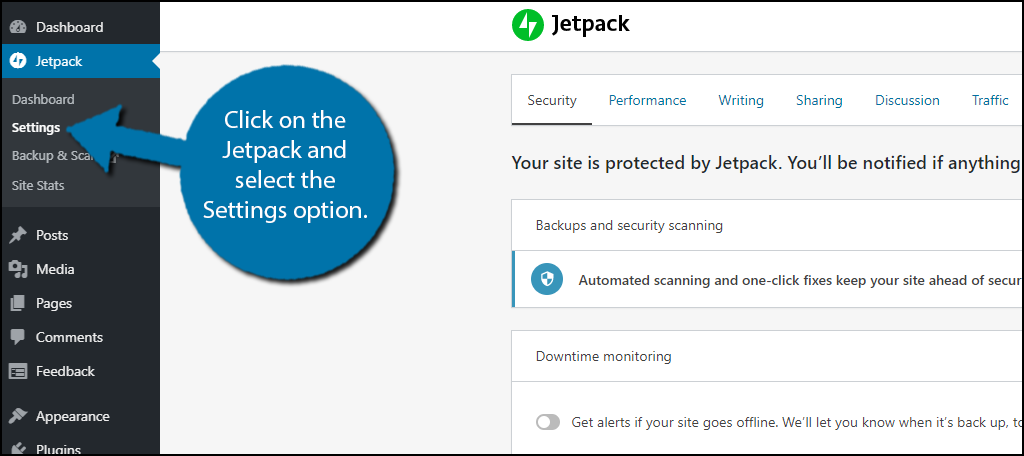 In the settings screen, you'll see an area with five sections: Security, Performance, Writing, Sharing, Discussion, and Traffic
Click on the Discussion tab.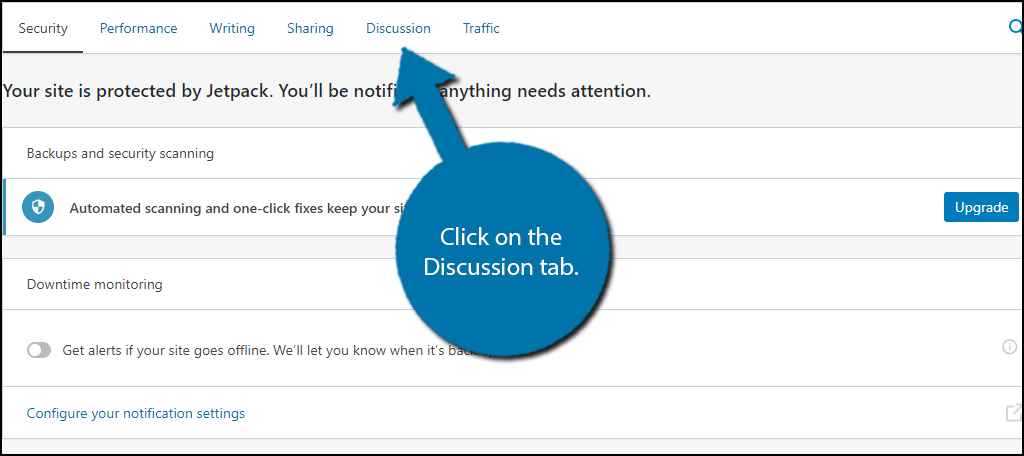 At the bottom, you should notice a Subscriptions section. It has a series of sliding switches that you can interact with. By default, this feature is off, so first, you must activate it by sliding the first switch.
Once this is activated, you can adjust the other two sliders. These allow for visitors to subscribe to your website and to specific comments for email notifications. By default, these should both be on and you should leave them this way.
Thus the end result should be all three switches on.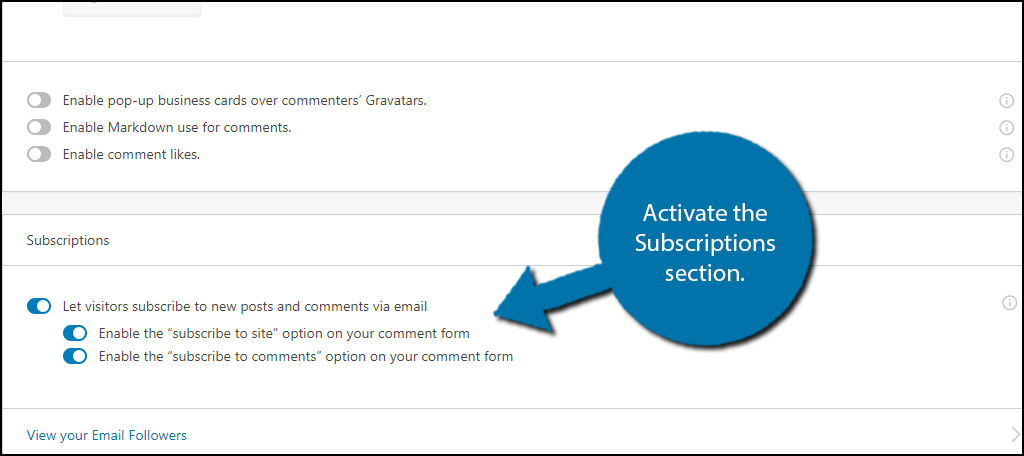 These settings are saved automatically, so you can safely exit this section.
Step 3: Add the Subscription Widget
You should now take the time to add the subscriptions widget to your sidebar. This will make it easy for visitors to subscribe, thus accelerating your growth.
Click on Appearance and select the Widgets option.
Locate the widget "Blog Subscriptions (Jetpack)" and drag it to your sidebar or the appropriate widget area.
You can customize this widget to your liking and if you do, click on the "Save" button at the bottom when you are done.
Step 4: Customize the Email Message
And finally, since you are going to be sending out emails, it is a smart decision to review the email messages.
Click on Settings and select the Reading option.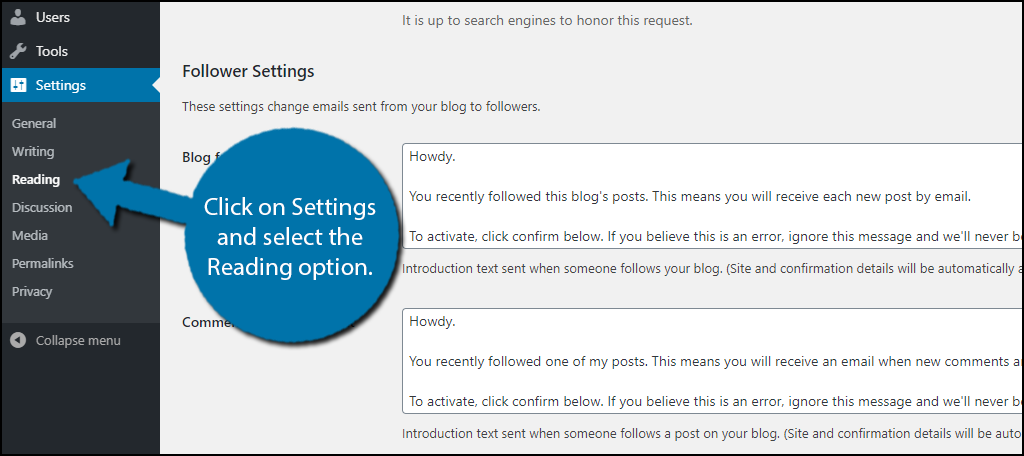 Scroll down until you see the Follower Settings section and you will see the default email messages. I highly recommend customizing these messages to match the tone and personality of your blog. And there is a very good reason to do this.
People will start ignoring your emails if they sound generic or look very basic. The world of email marketing has grown significantly and basic emails can no longer survive in the current climate. Instead, everything needs to meet certain quality standards.
When you are done editing the messages, click on the "Save Changes" button at the bottom.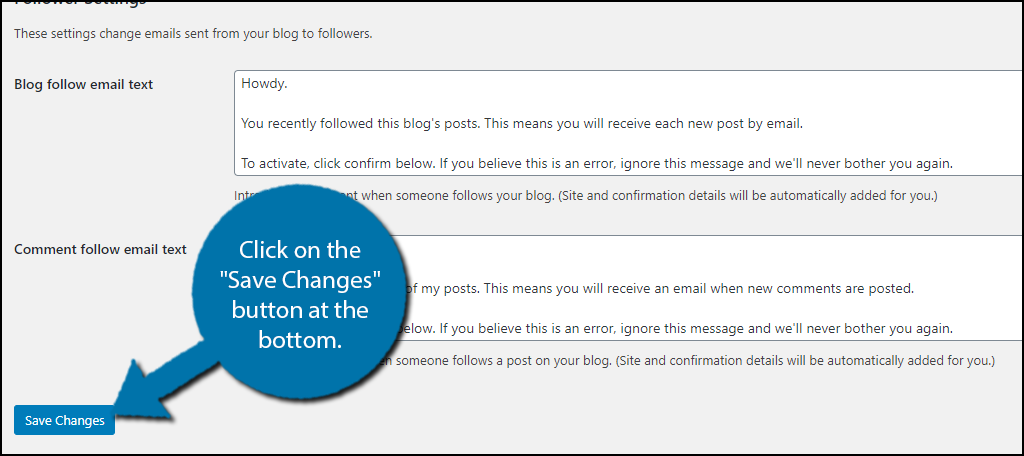 Your website will now collect subscribers whether they choose to do so from the sidebar or while leaving a comment. Jetpack will automatically inform these users when new comments are added or any time a new post is created.
The email list for Jetpack can be accessed by going into the modules settings and clicking the link. This will take you to WordPress.com and show you the list of registered accounts.
Benefits of Using Email Campaign Applications
WordPress isn't the only platform that can help distribute your messages. In fact, there are a number of email marketing campaign services available that offer incredible incentives beyond the power of your website. These are methods that can bolster any business marketing campaign.
Most of these will include easy-to-use message builders and in-depth reports based on user actions. They offer information regarding various aspects such as how often messages are opened and whether a recipient has clicked on any links within the text.
One of the more engaging features of these systems is that the entire process is capable of being automated. This means all you need is a list of addresses and the system will do the rest. Some may also include personalization templates so that each recipient reads his or her name in the message.
Start Emailing Visitors Today
Sending email has been an activity millions of people have used before the Internet developed into the platform we know and love today. It's a cost-efficient platform that will help you engage customers on a grand scale. Start building your email lists today.
With so many options available that are free to use, you have nothing to lose but a bit of time.
What kind of additions do you use on your site to engage your visitors after they leave? How many visitors have subscribed to your website?