A good way to engage visitors and keep them coming back for more is to personalize the website. It's a way to connect the individual to your site while offering them an incentive to be interactive.
You could spend a lot of time creating a good experience by using user info in WordPress through coding. But what if you're not all that capable with PHP and CSS?
That's when the right plugins come into play by offering the tools you need to really connect with your audience.
Today, I'm going to show you a handful of key plugins that will help you engage your visitors. It all really depends on what kind of a site you want to build and how you plan on personalizing user info in WordPress.
4 Ways to Personalize the Website in WordPress
WordPress has several high-quality plugins to help you create a stunning social media site. But what if you simply want to enhance the interaction between your content and the visitor?
Blow, I've found several methods that are simply good for engagement outside of creating a social network of your own. While there's nothing wrong with developing a social hub for your brand, it may not be what you have in mind.
1. If>So Dynamic Content
If>So Dynamic Content gives you the ability to show certain texts above your content based on various user data. For instance, you can show a certain message for those from a specific state, the kind of device he or she is using or if the visitor is logged in.
The plugin provides a shortcode once you create the trigger that you can add to any post or page. You can choose to show a specific message when the trigger is met while displaying a default text if not.
If you buy the "pro" version, you can also set up triggers for repeat visitors, specific times of the day and if the the person's browser is using a specific language.
This has a lot of possibility as you can add call to actions, buttons and more to the full visual editor of If>So. The text appears anywhere you place the generated shortcode.
2. Personalization by Flowcraft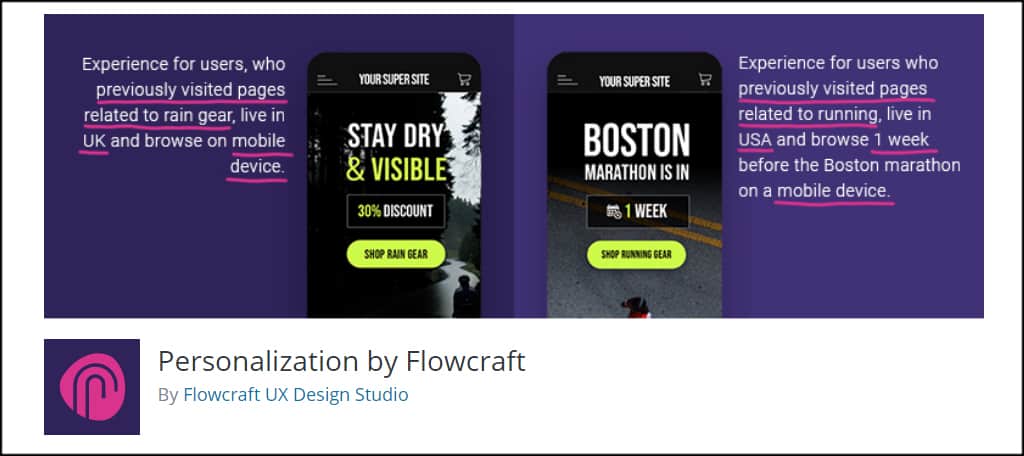 Personalization by Flowcraft offers a limited version to utilize user info in WordPress. You can show content based on country, first-time access or day of the week. However, the pro version comes with far more tools.
You can set specific dates, base posts on visited URLs, the user's device and much more. For instance, you can show specific content if the user scrolls down a certain percent of the screen.
This is similar to how some triggers work for popups and tracking elements. The difference is being able to show certain content when those users scroll.
Because the plugin uses shortcodes, you can use them in a variety of places in WordPress. This means you can personalize the website in pages, posts and even sidebar widgets.
3. WordPress Content Personalization Plugin
WordPress Content Personalization is a bit different when compared to other plugins. Instead of the system "detecting" what a user would like to see, it will ask questions and deliver content based on answers.
According to the developers, giving users a question to base content delivery has potential to decrease a bounce rate by 9.9%. Of course this is based on their experiment of using the tool on an email marketing post.
Your experience will differ depending on the content you provide. However, there is something to be said about giving people a choice regarding what to read next on your site.
WordPress Content Personalization uses shortcodes to display the questions, which means you can use it almost anywhere on the website. You can also place a variety of material in a content block, such as videos and images.
4. Logic Hop
The Logic Hop plugin itself is free, but you do need to sign up with an account from the developer. This is because the tool uses a third-party database to help control what content is delivered to guests.
This plugin controls a variety of aspects within the website. Not only can you show specific posts and pages, but you can also show certain widgets based on user information.
Logic Hop uses over 40 different points of data to fine-tune the experience for personalizing WordPress visitors. Location, technology, date and time, referring websites and much more are available to enhance the user's interaction.
One of the features that stand out for many is the integrations. You can use a wide range of other plugins with Logic Hop to take the user experience even further.
Gravity Forms, WooCommerce and Google Analytics are just a handful of these connections.
Give Users the Option to Personalize the Website
Using visitor info in WordPress adds a layer of engagement. It gives people the sense of control over what is delivered. And because the site is more interactive, it has great potential to increase on-page time.
What plugins do you use to engage users on the website? What's your favorite tool for creating content, and why?