Do you want to insert an audio music player on your WordPress website? Music is popular everywhere in the world and many websites utilize it to gain popularity. It is not easy to become a famous musician and the Internet is a great way get famous. Your website will be able to share your music using an audio player widget.
Audio players are not just for music. Many bloggers will also host a podcast on a weekly basis. This allows you to share your opinion on multiple topics and let you tell everyone about your new content. Today, I will demonstrate how to insert an audio music player widget in WordPress using the Simple Music Widget plugin.
Why Use an Audio Player in WordPress
WordPress is best associated with blogging websites but has branched out a lot over the years. In fact, WordPress websites make up over 25% of all websites on the Internet. This makes it the perfect platform for any type of content. Audio players specialize in sharing songs, musical notes, sound effects, podcasts, and more. Of course, this can all be done by embedding or uploading a video, but some content creators may prefer using only the audio player.
Avoid Copyrighted Sounds, Tracks, and Content
Copyright is a very serious topic on the Internet. Any website that hosts copyrighted material may incur a hefty fine. These fines can just ruin your website's future, but also bankrupt you depending on the severity of the claim. Take some time and understand the difference between fair use and copyright because it could save you a lot of trouble.
How to Insert an Audio Music Player Widget in WordPress
Today, I will demonstrate how to insert an audio music player widget in WordPress using the Simple Music Widget plugin. This plugin is extremely easy and will just add a new widget to your website. Unlike most plugins, there is no settings page, instead, you can edit everything in the Widgets area. If you would like to have different tracks on different bars, simply use multiple widgets.
To start, click on Plugins and select the Add New option on the left-hand admin panel.
Search for Simple Music Widget in the available search box. This will pull up additional plugins that you may find helpful.
Scroll down until you find the Simple Music Widget plugin and click the "Install Now" button and activate the plugin for use.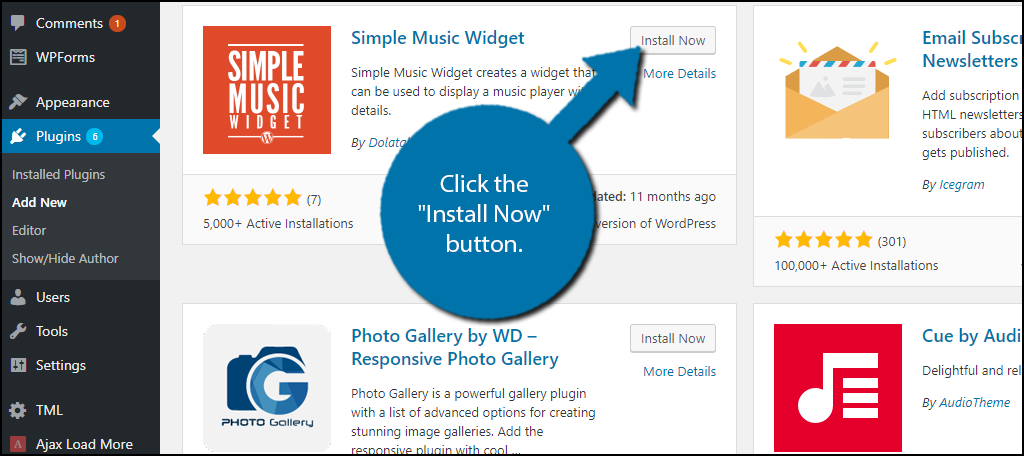 On the left-hand admin panel click on Appearance and select the Widgets option. This will pull up the widgets page.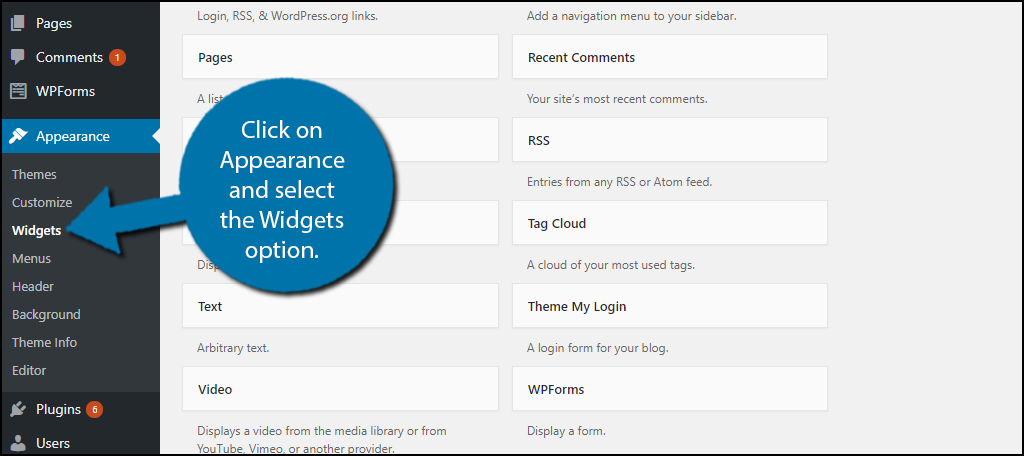 The widgets page allows you to customize your pages sidebars, footers, and many other features. To move a widget, simply click on it and drag it to the desired location. Locate the Simple Music Widget and place it where you would like the audio player to be.
Once you place the widget, you will see all of its settings. You can enter the title of the widget, artist of the song or podcast, song or podcast name, a cover image, the song or podcast itself, and a description. The last checkbox determines if you will embed method or the HTML5 method. Both will work and it is up to you which you pick.
The music or audio file must be in the MP3 or Ogg Vorbis format to work correctly. The music and image are added by using the media library. Once you have inserted all of the information and audio track, click on the "Save" button.
Congratulations, you have successfully added an audio player widget to your WordPress website. Remember to avoid copyrighted content because it can ruin your website. Be creative with your placement. Widgets can be placed almost anywhere on a page. Test it in different locations and see what has the best results.
Set the Tone for Your Website
Audio is a great addition to any website when it is used correctly, however unfortunately, it is not always used correctly. I always remember the websites I visit that have extra loud audio playing when you load the page. It is extremely annoying and sometimes this is coming from advertisement. This experience will immediately make someone want to leave the page and look elsewhere. Don't let this happen on your website.
Also make sure the audio you are providing to your visitors is appropriate for your audience. For example, if you have a younger audience, mature language or content is not appropriate. It is also very important you get feedback from your visitors and change the audio track at different times.
What are you using your audio player for? Do you have your own podcast to host?