So you have a salon and your website is up and running smoothly. All that's missing is for you to give customers the ability to book a haircut online. You can easily add a salon booking function to your WordPress site.
Giving your hair salon website the ability to book online appointments will help drive more customers. Face it, we live in a "do it all online" world, and this is why allowing customers to easily book appointments online is ideal.
Reasons to Have Online Salon Booking
Even today, many salon owners and other small business owners have a hard time understanding the importance of having an online booking system. So, with that being said, let's take a look at a few reasons why allowing someone to book a hair appointment online is important.
Accessibility
Simply put, are you making it easier for your clients and potential new clients to make an appointment and visit you?
Think of it outside the box.
If a potential customer is looking at two options (your salon being one of them), and the other option offers the ability to book a hair appointment online, then chances are, that person is going to go with the easier option.
Not only have you lost a potential client, but many of these salon booking tools have client retention options built into the already existing software.
Cost
If you are running a WordPress website, then it stands to reason that there is already a free version of a salon booking plugin available for you to try out. This is very cost-effective and will allow you to literally make money while away from your shop.
You don't have to take phone calls after hours, or only rely on walk-ins to get business. These plugins (like the one we are going to demonstrate) integrate quickly and easily with WordPress. It is worth the effort just to see if it works.
Your Brand
Your brand is important. You want it to stand out from the others that work in the same niche as you. There are several aspects to building a solid and memorable brand.
One way you can do this is by giving customers the tools they need to make things easiest on them. Out of all the tools you are looking into, having a booking system on your salon website is one of the more important ones in terms of solidifying a successful business.
Local SEO
People relate your brand to the ease of use they find on your website. Plus, having something like this will help build your local SEO from an overall standpoint.
Yes, you need to optimize the rest of your website for SEO purposes, but having a booking system integrated into your website will definitely help. This is because people will search for the infamous, "near me" term.
And in many cases, this is better than any paid advertising you can do online.
Let's take a look at a solid plugin I have found to accomplish this. You don't need to worry about code or building from scratch. We will look at the plugin together, and then demonstrate how to install it and set it up.
Salon Booking System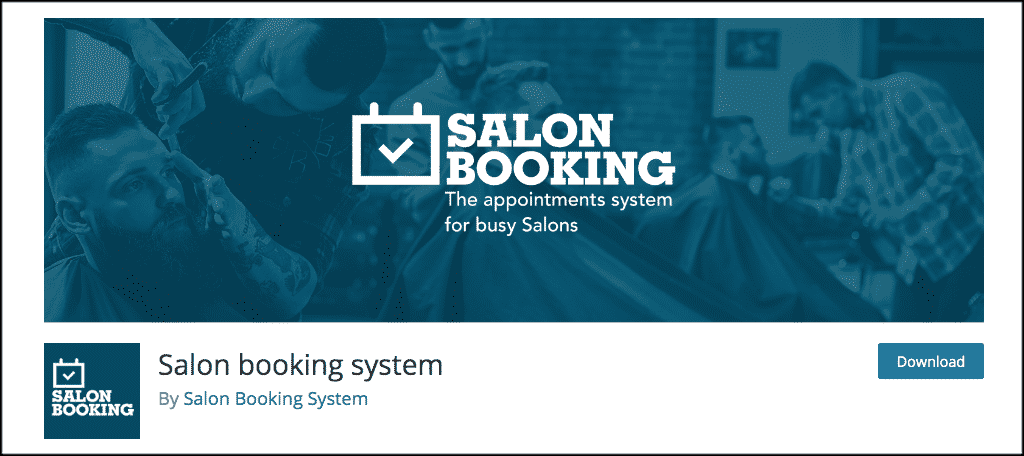 The Salon Booking System plugin is a lightweight plugin that will allow you to easily manage online booking from people. It is specifically built to help save you time and money by allowing online bookings while you accomplish other tasks.
This salon booking plugin provides you with everything you need to set up a fully integrated online booking system on your WordPress website. Once installed and activated, the system gives you a ton of options and will make it easier than ever for clients to book a haircut online from your website.
This plugin also comes with a mobile app that is available on both the iOS and Android systems. This allows you to easily manage everything from the app once you are set up and connected.
The plugin has almost endless options for setup. That being said, integration is not difficult at all. Some of the highlighted aspects of this salon booking plugin include:
A Full Back-End-Calendar
Reports
Booking Views
Email Configuration and Settings
Booking Rules
Payment Options
Checkout Options
Google Calendar Integration and Sync
Front-End Form Styling
Assistant Settings
Service Settings
Discount System
Front-End Pages
Tools
Restful API
Basically, you get everything you need to get your salon booking system up and running in no time. Let's take a look at how to install the plugin and then set it up for use.
Install and Activate Salon Booking System
Before you can allow someone to book a hair appointment online, you first need to install and activate the plugin. You can do this from the plugins page in the back-end of your WordPress admin dashboard.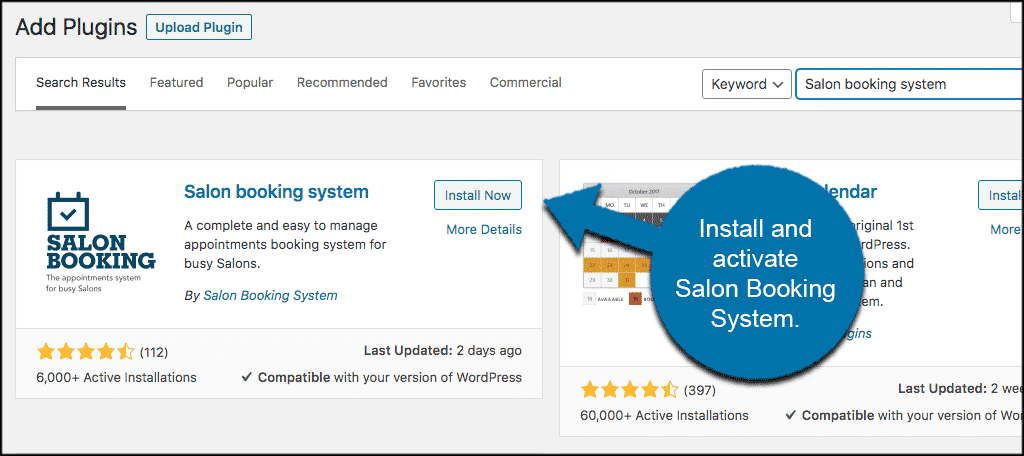 Once the plugin has been installed and activated, you will be taken to a welcome page. From here, you can click on the let's get started button.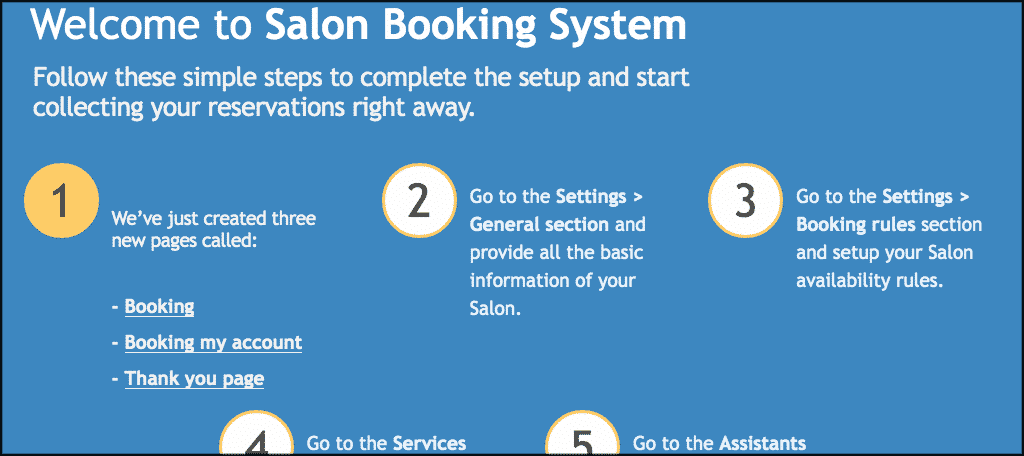 If you are not defaulted to the welcome page. Simply click on Salon > Settings. This is located in the left menu of your WordPress admin dashboard.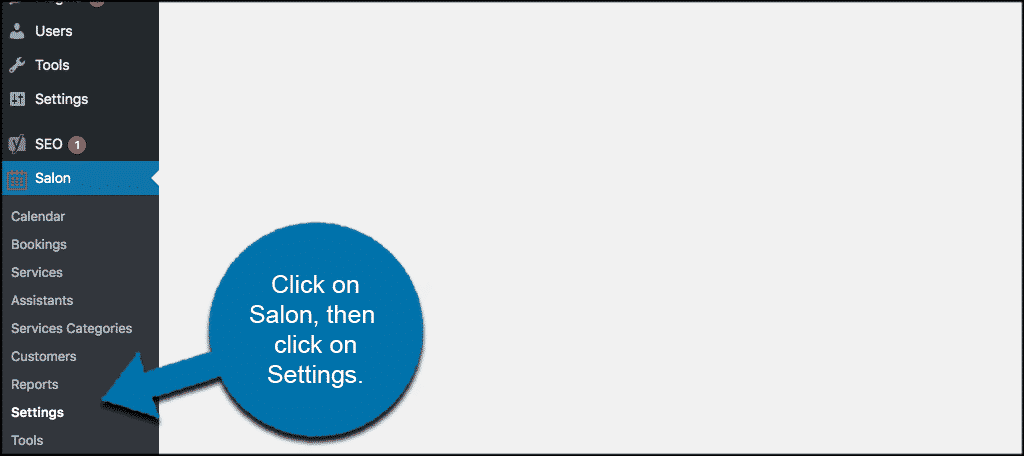 This will take you to the main settings page where you can configure the plugin to your liking.
Setup Your Salon Booking System
When you get to the main settings page, you will see 8 main tabs. These are all part of the setup process. They include:
Home
General
Booking Rules
Checkout
Payments
Style
Google Calendar
Support
Let's go over these together.
Home
The home tab simply gives you the option of restoring all factory settings of the plugin and resetting it if you need to.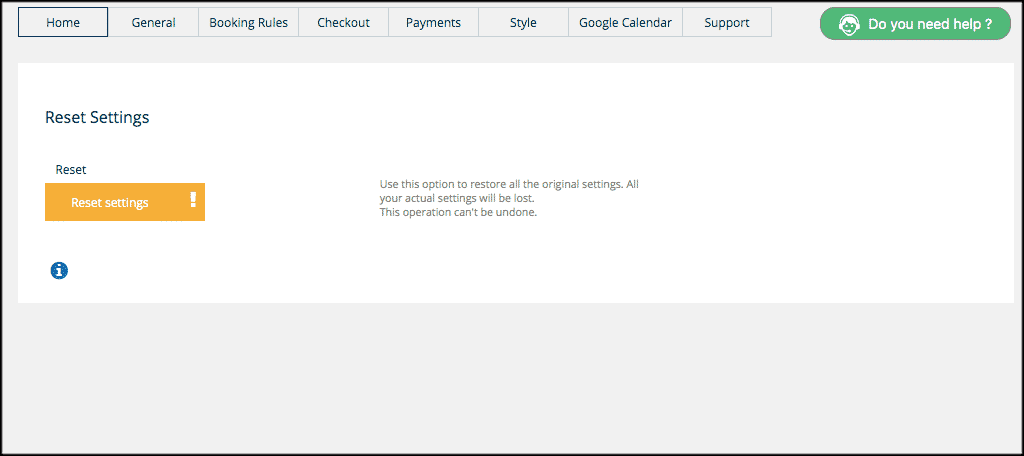 General
This is all the general setup information needed to actively get the salon booking tool running smoothly. You can change the business name, contact information, location, booking notes, template layouts, services, and more.
Think of this as setting up a WooCommerce shop. The process is exactly the same. In this section, you provide all the main details for the salon booking system setup.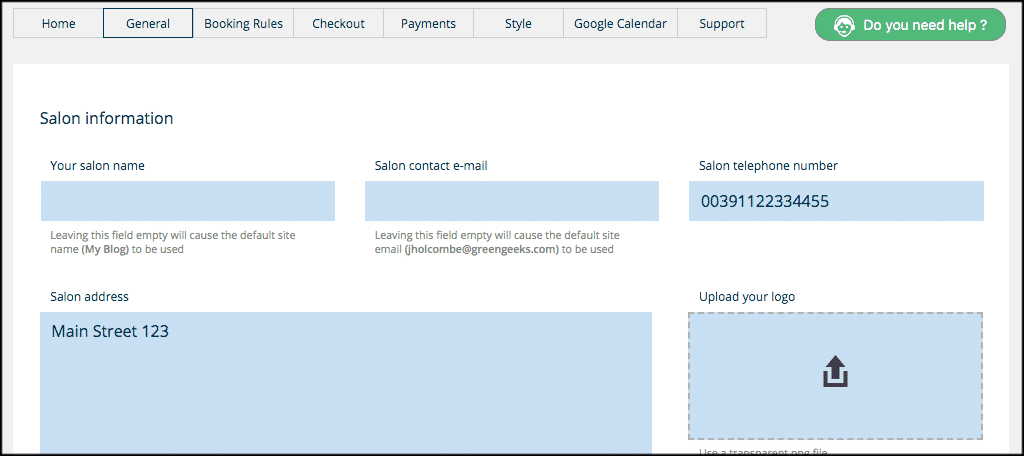 Booking Rules
This is where you will set up all of your booking rules. This will include times of availability, closed options, calendar setup, and reservation rules. Basically, you are setting up the booking system from this tab and configuring it how you want.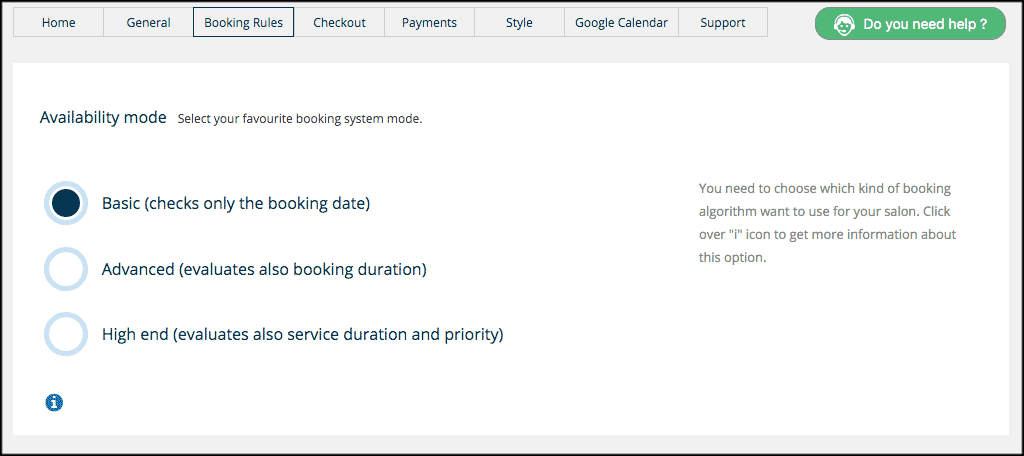 Checkout
Setup all the checkout and customer login information from here. You can give customers the ability to login with Facebook, as well as set other checkout options to your liking.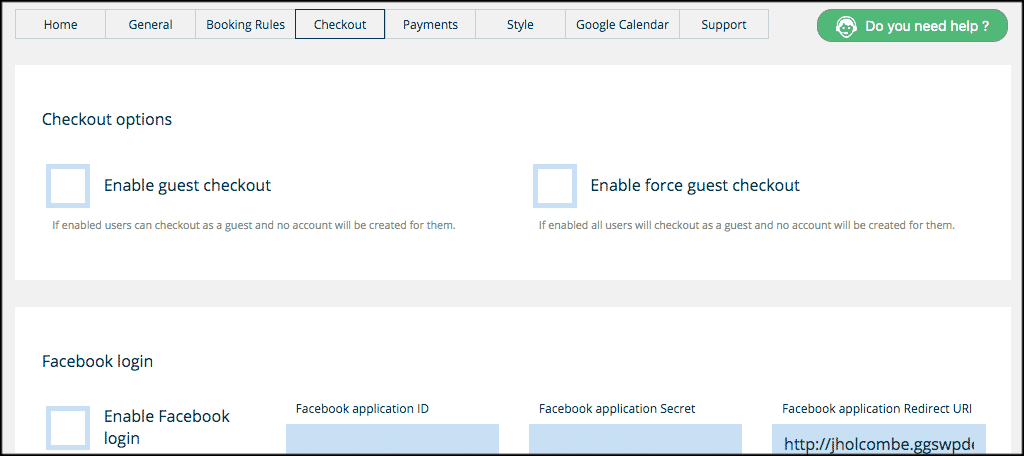 Payments
Setup payment options, currency, and some other pricing rules for your salon booking tool.
Style
These are all your configuration options for the style settings. You can configure layouts, and also turn on the "custom colors" option so that it displays the colors of your website.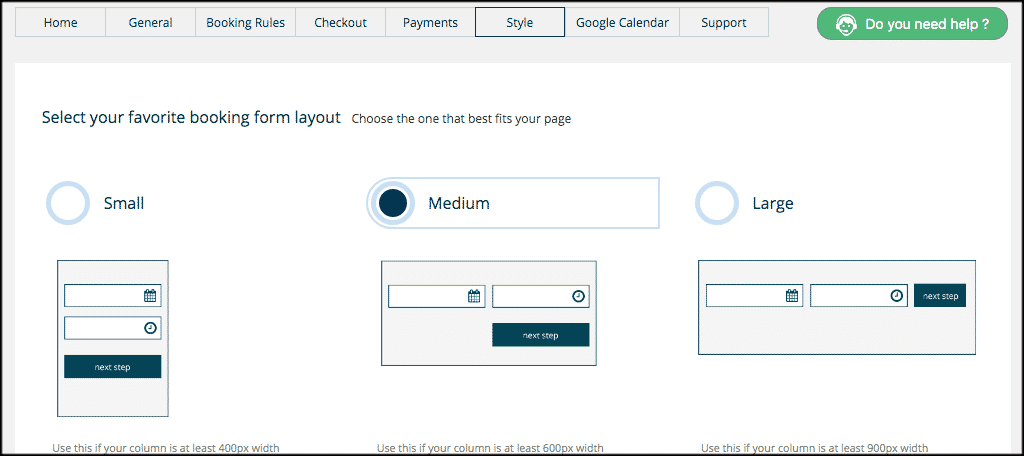 Google Calendar
Sync your Google calendar here. You can also publish payment and pending reservations, as well as add other Google Calendars you may have set up for the system.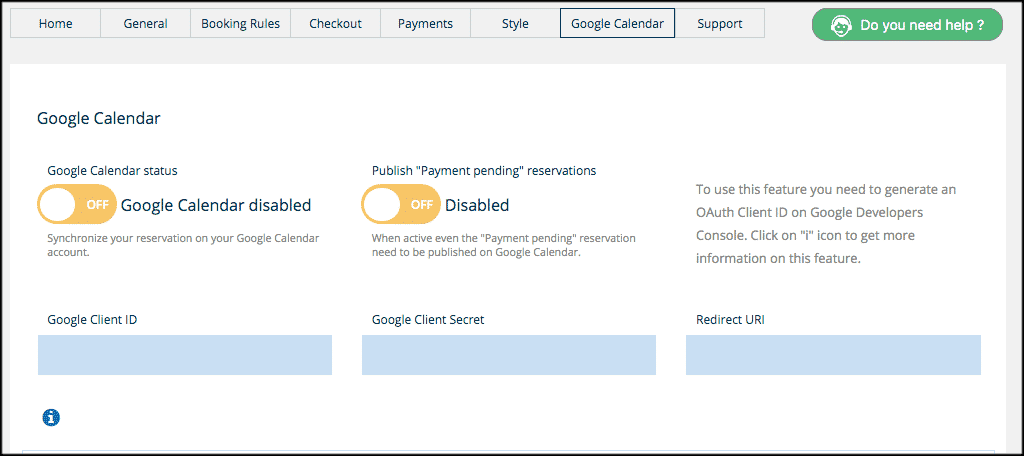 Support
The salon booking system support tab provides resources and links to troubleshooting problems. The developer provides documentation, video tutorials, and tips if you would like to check them out.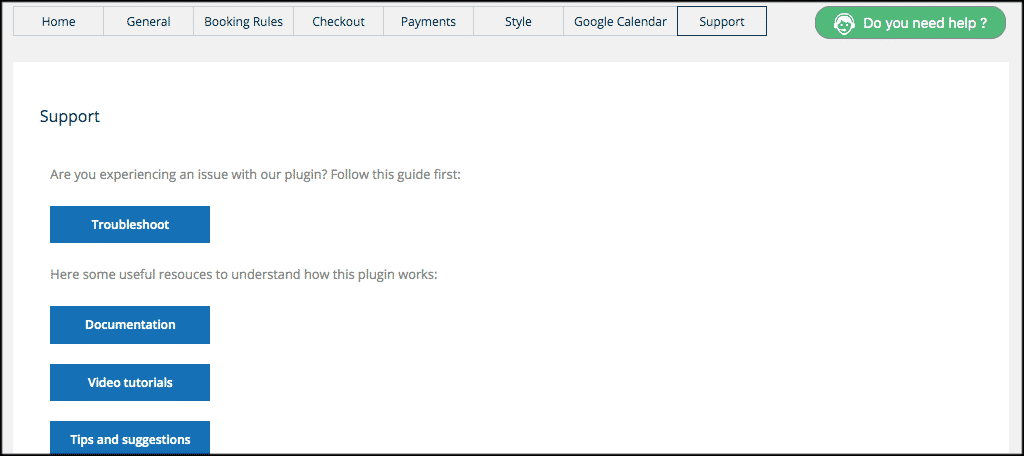 Note: There is also a green "Do you need help" button that you can use for further assistance if needed.
That's it! Now that you have gone through all the tabs and set the plugin up how you want, your salon booking system is ready to roll.
Other Plugin Tools
There are some other plugin tools available to you. That being said, these are more the options to view bookings, clients (when you start to get some), add services, and view reports.
All of these will start to self-populate once your booking system starts to get some traffic. If you want to access these data points, they are all located under the main "Salon" tab.
Final Thoughts
Setting up a salon booking system on your WordPress website is not difficult. You don't have to code from scratch and build from the ground up. All you need to do is install the plugin we just went over and set it up to your liking.
Allowing your clients and potential clients to book a hair appointment online is a great way to free up more of your time, and it makes booking an appointment fast and simple for your customers.
Have you ever used any type of online booking tool before? If you are using this salon booking plugin, how is it working for you?