Are you looking for the best WordPress popup plugin? Most websites utilize popups in some shape or form to point visitors where they want them to go.
For example, this may be towards checkout, an email subscription or for generating leads.
While this can be annoying as a visitor, and understandably so, they can be a great tool for developers to take advantage of.
One of the best parts of the WordPress platform is the vast amount of plugins available. And there is no shortage of awesome popup plugins.
Tips For Using Popups
Before you begin adding popups to your website, you need to understand what to watch. You don't want to simply install anything you come across.
User Experience
First and foremost is the user experience. I don't know about you, but I personally find popups to be extremely annoying when I click on a website.
In fact, I and many other visitors will leave a website if a popup is the first thing I see.
You do not want your popups to scare away traffic and long-time visitors. It completely defeats the purpose of using them.
Instead, you need to use them responsibly.
For example, imagine you just clicked on a website for the first time.
Within the first second of viewing the page, you are alerted with a popup asking you to subscribe to receive emails. However, this new visitor has no idea what your website is about or what kind of content you make.
Instead, there needs to be a delay so the visitor can actually see what your website is about. Give them time to get familiar with what you're offering.
Performance
Popup plugins slow down your website. This is intensified when a plugin uses WordPress to track the analytics of the popups.
Speed is one of the many factors that affect your search rankings, and this will definitely have an impact on that. Thus, you need to make sure that the plugin will have as little impact as possible on your website.
Compatibility
Not all plugins are coded equally and that is especially true when it comes to popup-related ones. It is quite common to find a plugin that is not supported by your web hosting plans.
In particular, they have an issue with the caching techniques that the majority of web hosts use. Thus, you need to make sure it is supported.
17 Awesome WordPress Popup Plugins
Here are 17 of the best WordPress popup plugins that you can use for free.
1. Popup Maker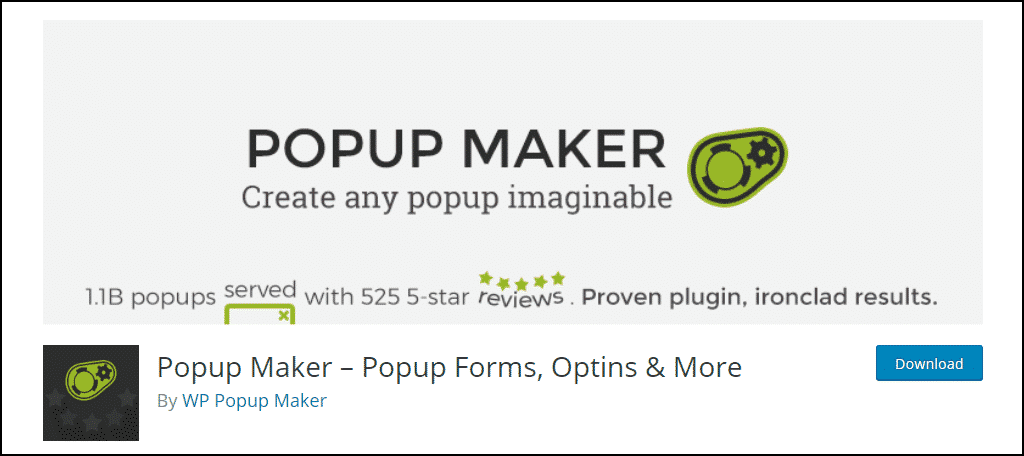 Popup Maker is the best WordPress popup plugin available for free. It has over 400,000 active installs and a very impressive 5-star rating. That is thanks to the incredible amount of features it offers.
This plugin supports a variety of layouts including slide-outs, floating sticky, notification, loading screen, and most importantly, opt-In form popups.
Other basic features include form and list building support (MailChimp),  customizable conditions and frequency control. You can also enable click triggers, auto open triggers, popup tracking and visual customization options.
The plugin page states:
This popup plugin has limitless potential with no restrictions.
If you are looking for the ultimate popup plugin in WordPress, look no further.
2. Popup Builder
Popup Builder is a terrific choice for those who want a simple popup plugin. It has over 100,000 active installs and a 4.5 out of 5-star rating.
It has a simple, yet powerful popup design interface.
You can fully customize the popup from appearance to the sound effect! On top of this, it has a host of other features including redirect confirmations, onClick popups, multiple animation effects, supports 3rd party plugins, and much more.
It is important to note that this plugin has a premium feature, which adds a host of features you will not find in the free version.
However, the free version has the basic features that most website owners will need.
3. HubSpot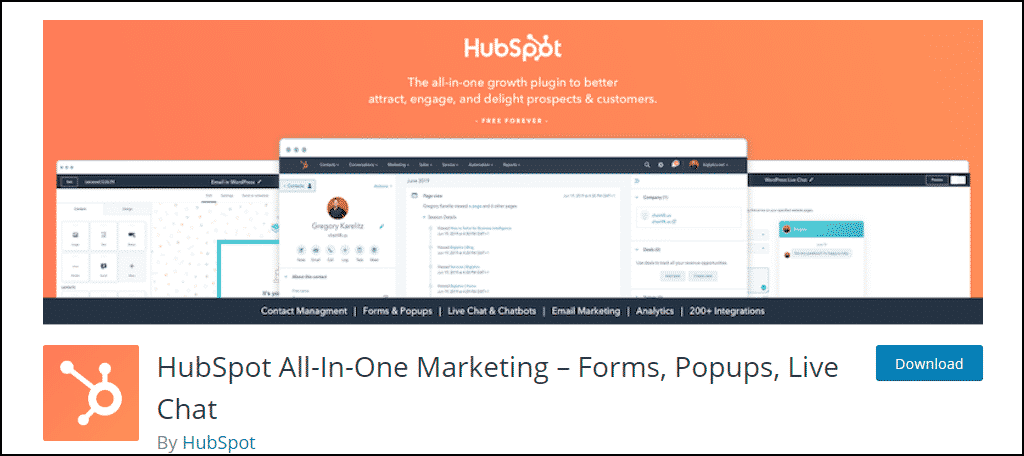 Do you want a plugin that can handle marketing, form building, and popups for free? Then the HubSpot All-In-One Marketing plugin is exactly what you are looking for.
A simple drag and drop popup builder trivializes the process of making popups in WordPress. In just a few simple clicks, you can build an awesome popup, but that's only the beginning.
This plugin also has form building tools, live chat integration, email notifications, WordPress CRM, and much more.
This is a great plugin for both beginners and experts.
4. Easy Facebook Like Box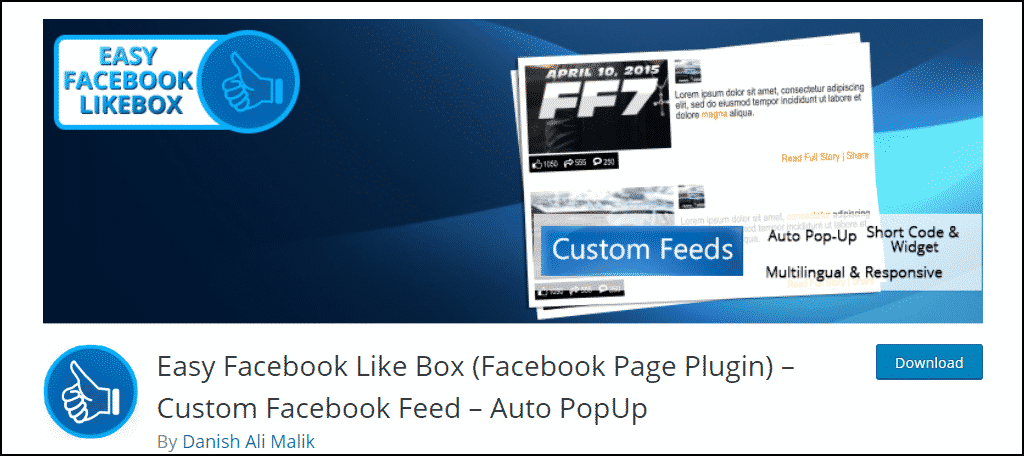 Are you looking to increase your likes on Facebook? Using the Easy Facebook Like Box plugin is a great choice to do so.
While I recommend using a versatile popup plugin, sometimes simple is better. This plugin exclusively focuses on using Facebook popups.
It has multiple customization options to help you find the perfect moment to display your like box screen.
If your goal is to boost your Facebook likes, this is a great choice.
5. Popups – WordPress Popup
Popups – WordPress Popup is a great choice if you are looking for a simple interface that gets results.
This plugin is designed to help you increase mailing subscriptions, display calls to action, increase social follows, alert visitors about cookies, and much more.
It is compatible with many of the major form and list building plugins like MailChimp, Gravity Forms, Jetpack and Contact Form 7.
It has the features you would expect in a popups plugin like specific targeting and timing options.
On top of this, there is a premium version that offers exclusive features and more visual customization options.
6. GDPR Cookie Consent
In 2018, the EU passed the General Data Protection Regulation (GDPR) privacy law. This law requires websites to make it clear when they are collecting data.
Since then, you have probably noticed that the vast majority of websites make you aware that they are using cookies. This is due to the GDPR.
Websites that do not comply with this law will be fined an appropriate amount, which for smaller websites, will be enough to bankrupt them.
Instead, the GDPR Cookie Consent plugin makes it easy to display the necessary warnings. However, it is important to realize that just installing this plugin does not make you fully GDPR compliant.
This website tool solely focuses on displaying cookie consent popups, and is quite successful at doing so,
If your looking to avoid fines from the EU, this plugin is for you. Just remember to add a privacy policy and terms of service page.
7. Video PopUp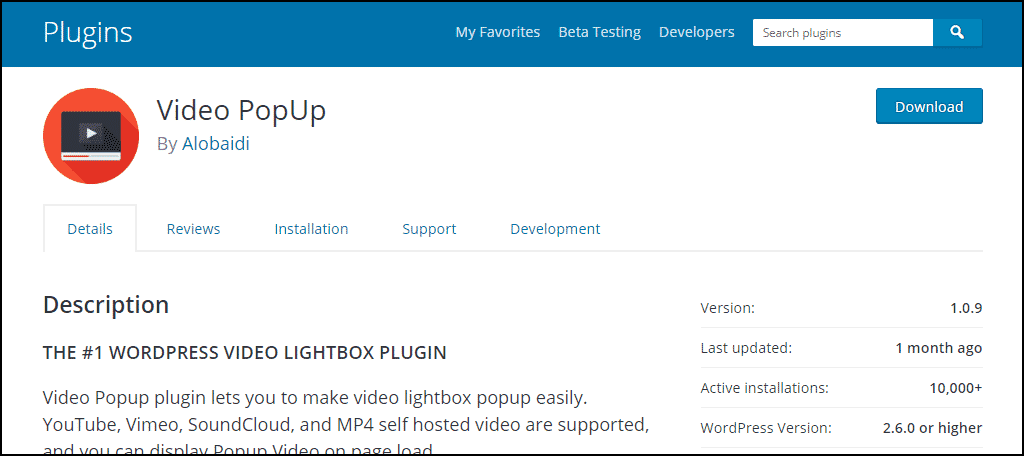 Do you create a lot of video content for your website? If so, you can put that into a popup.
The Video PopUp plugin does exactly what it sounds like; creates video popups. It supports YouTube, Vimeo, Soundcloud, and MP4 self-hosted videos.
It has a host of customization options including video lightboxes, unlimited popups, translation, customizable YouTube settings (start time, end time, disable related videos), and much more.
If you are looking to promote your video content, this plugin will certainly help.
8. Live Sales Notifications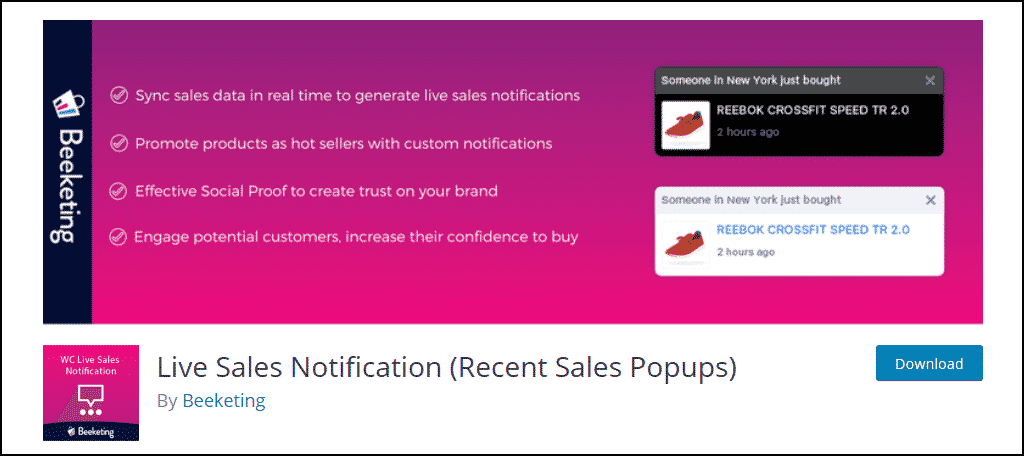 Are you looking for a way to boost sales? If so, you are not alone. Many websites rely heavily on sales revenue, but due to various factors, the majority of visitors will leave your website without making a purchase.
However, the Live Sales Notification plugin may help increase sales and it is completely free.
Alerting visitors that an item has just been sold is a great way to make them curious. The longer they remain on your website, the more likely they are to buy something.
You can customize exactly what items display a notification and how long that notification lasts.
Even if you just opened an online store, you can use this plugin to create "fake" notifications to give visitors the sense that your product is popular.
9. WP Terms Popup
If it's important that a visitor accepts the terms and conditions before viewing your website, a popup is a perfect option.
WP Terms Popup allows you to create a popup that requires visitors to agree to the terms and conditions, privacy policy, age, or any other type of verification.
The popup contains two buttons, I Agree and I Disagree. The I agree option takes them to your website.
However, if they disagree, they will be redirected to another page or website.
It's extremely intuitive to use and is perfect for websites that require these kinds of verifications.
10.  WP Post Popup
Do you find yourself referencing a lot of other pages? Why not show those references as a popup?
This ensures that the visitor remains on your page and can still view any additional information that is necessary. While opening an internal or external link on a new tab or window will have the same effect, some websites may prefer using a plugin.
WP Post Popups allows you to do just this with an extremely simple interface.
Turn any post or page into a popup in under a minute.
11. Modal Window
A modal dialogue box is a window that requires visitors to interact with it to continue. This is ideal for multiple situations.
The Modal Window plugin gives you a simple, yet fully customizable environment to create these windows and display them.
You can place any type of content in them, control the height and width of every individual block,  use cookies on the window, and much more.
It is an excellent tool to use.
12. Ad Blocker Notify Lite
Many websites rely on ad revenue to generate income, but Ad Blocker prevents visitors from seeing those advertisements. While it is understandable that visitors do not want to view ads, it is a necessity of a lot of businesses.
Let your visitors know that the content your website creates depends on the ad revenue with the Ad Blocker Notify Lite plugin.
This plugin will detect if a visitor is using AdBlocker and display a  custom popup message. In which you can ask them to whitelist you or leave a donation.
Note: This plugin does not prevent AdBlocker users from viewing the content.
13. Popup Anything On Click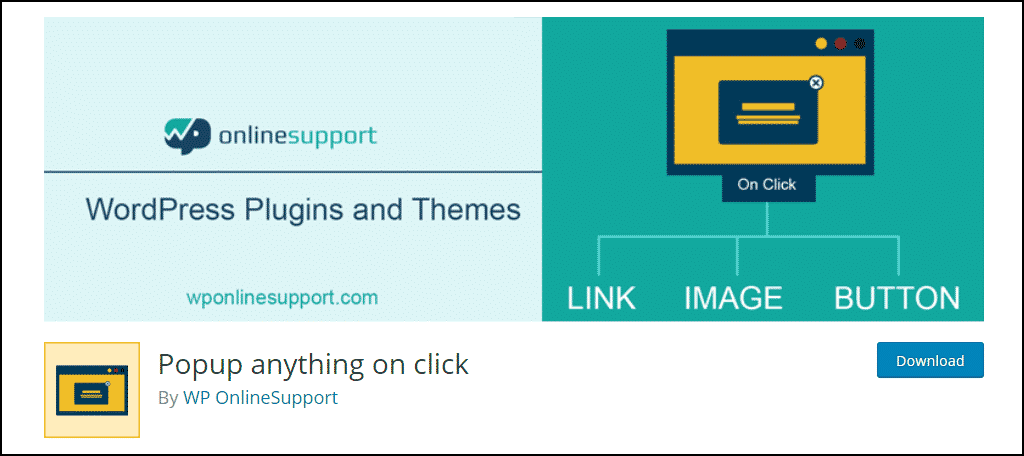 The Popup Anything On Click plugin makes anything on your website appear as a popup upon clicking.
While this could certainly get annoying for visitors if used too much, it does have a lot of potential.
For example, images are an important part of any website, but they can sometimes be hard to see. However, if the user clicks on it and it appears as its own popup, problem solved.
14. Slide Anything
Sometimes you may have a lot of information in your popups and it can be too much for visitors to digest. Even worse is breaking it up into multiple popups that can annoy the visitor.
What if you had a slideshow as a popup?
The Slide Anything plugin does just that. It allows you to create multiple modal windows that you can place any type of content into and display them as a slideshow.
It's perfect for tutorials or any other type of informative information.
15. ARI Fancy Lightbox
Sometimes a visitor may just want to enjoy looking at an image or video without having to see anything else.
That's where the ARI Fancy Lightbox plugin comes in. It allows you to add a lightbox of any color to your website.
For example, you have a video that highlights the services you offer and you really want them to focus on it. Adding a lightbox that blocks out any of the text or other images on the page is a great way to make them focus.
The best part is that it's made with mobile devices in mind.
16. Exit Popup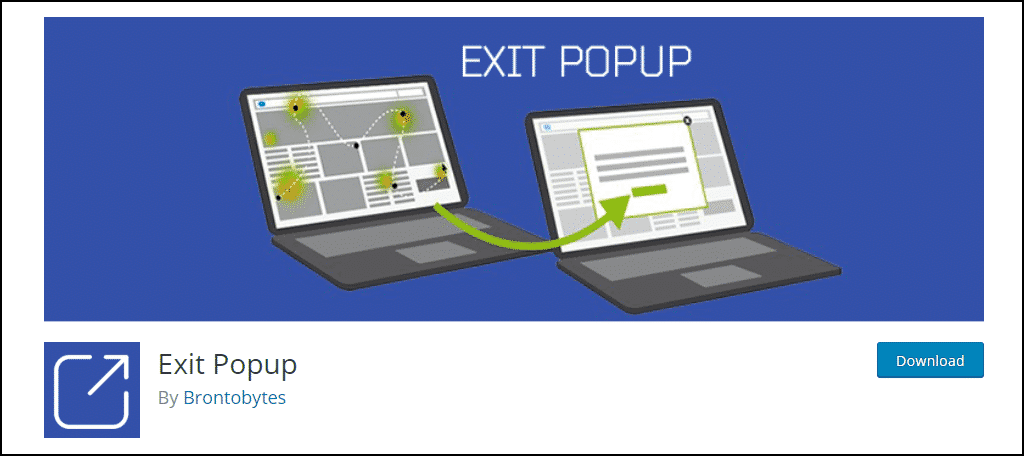 Do you want to stop or at least slow down visitors from leaving your website? If so, consider adding an exit popup.
This is a popup that triggers when a visitor is about to leave your content.
The Exit Popup plugin makes it a cinch to add exit messages that contain any type of content including text, images, and video material.
The plugin utilizes mouse patterns to detect when a visitor is about to leave the page. This might be your last chance to get them to subscribe to your email subscription, so make the most of it.
17. Icegram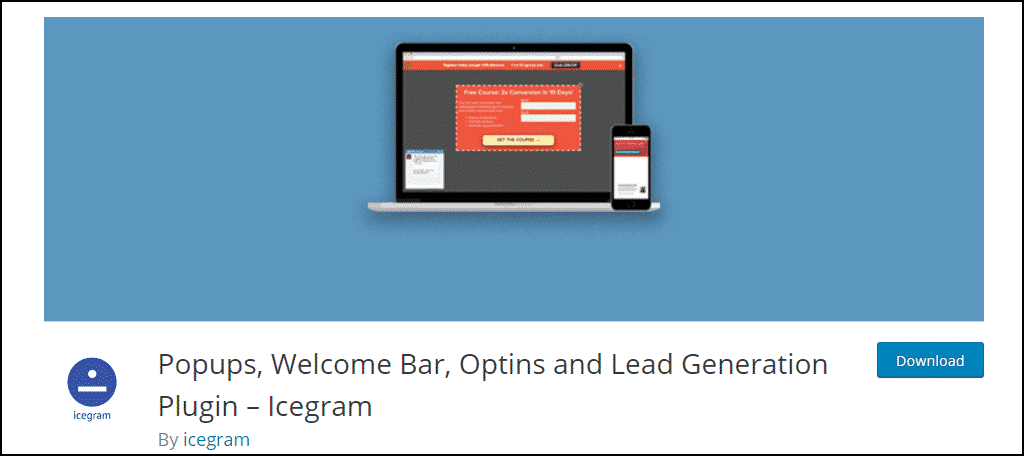 Icegram is an all in one popup plugin that has all of the features necessary for success, and it is completely free to use.
It allows for timed popups, action bars, notifications, a wide array of visual customization options, tracking and much more.
Unlike other plugins that may be too complicated, Icegram is simple to use but offers powerful results.
Build Your Subscribers
Popups are designed to help you grab the attention of a visitor and turn them into a subscriber. This makes popup platforms the perfect tool to boost engagement.
However, popups have gotten a terrible reputation from users. This is due to their intrusive behavior.
But because of their results, websites still use them.
The key is to strike a balance between user-friendliness and effectiveness.