Are you looking for the best WordPress popup plugin? Most websites utilize popups in some shape or form to point visitors where they want them to go.
For example, this may be towards checkout, an email subscription or for generating leads.
While this can be annoying as a visitor, and understandably so, they can be a great tool for developers to take advantage of.
One of the best parts of the WordPress platform is the vast amount of plugins available. And there is no shortage of awesome popup plugins.
1. Popup Maker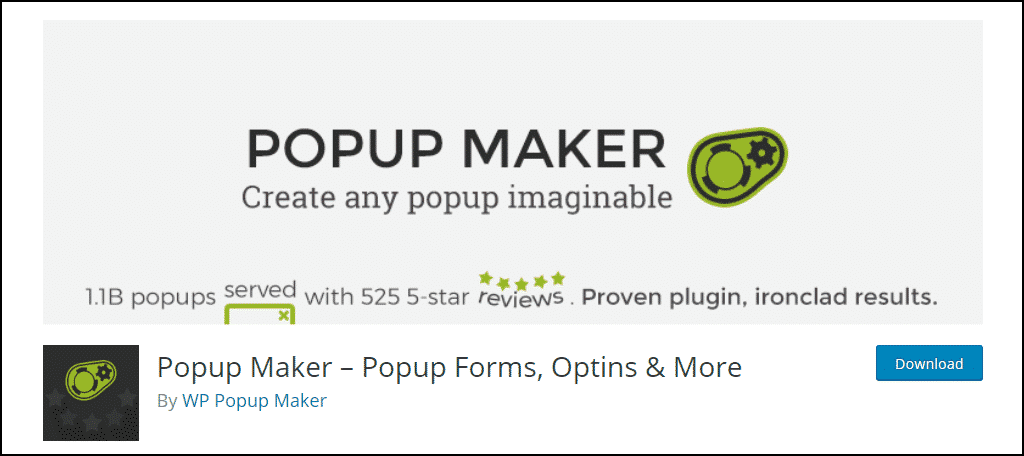 Popup Maker is the best WordPress popup plugin available for free. It has over 400,000 active installs and a very impressive 5-star rating. That is thanks to the incredible amount of features it offers.
This plugin supports a variety of layouts including slide-outs, floating sticky, notification, loading screen, and most importantly, opt-In form popups.
Other basic features include form and list building support (MailChimp), customizable conditions and frequency control. You can also enable click triggers, auto open triggers, popup tracking and visual customization options.
The plugin page states:
This popup plugin has limitless potential with no restrictions.
If you are looking for the ultimate popup plugin in WordPress, look no further.
Benefits of Using Popup Maker:
Get more email subscribers with email opt-in popups
Create cookie notice popups for the GDPR
Includes multiple ways to trigger the popups
Compatible with most major form builders
WooCommerce options available in the premium version
2. Popup Builder
Popup Builder is a terrific choice for those who want a simple popup plugin. It has over 100,000 active installs and a 4.5 out of 5-star rating.
It has a simple, yet powerful popup design interface.
You can fully customize the popup from appearance to the sound effect! On top of this, it has a host of other features including redirect confirmations, onClick popups, multiple animation effects, supports 3rd party plugins, and much more.
It is important to note that this plugin has a premium feature, which adds a host of features you will not find in the free version.
However, the free version has the basic features that most website owners will need.
Benefits of Using Popup Builder:
Integrates with popular form builders and email services
Choose from a selection of popup triggers
Remind users to share on social media
Compatible in a multisite environment
Create age restriction pop-ups
3. HubSpot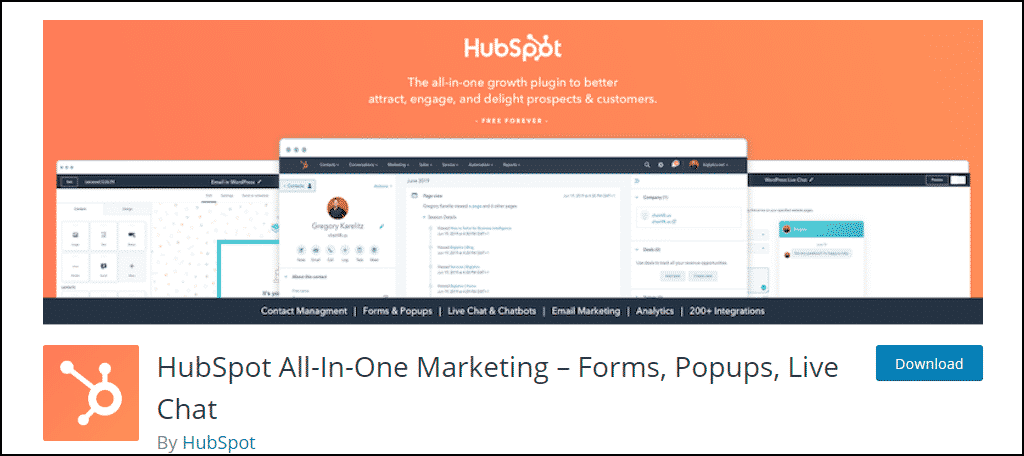 Do you want a plugin that can handle marketing, form building, and popups for free? Then the HubSpot All-In-One Marketing plugin is exactly what you are looking for.
A simple drag and drop popup builder trivializes the process of making popups in WordPress. In just a few simple clicks, you can build an awesome popup, but that's only the beginning.
This plugin also has form building tools, live chat integration, email notifications, WordPress CRM, and much more.
This is a great plugin for both beginners and experts.
Benefits of Using Hubspot:
It goes way beyond just popups
Analytics help track how successful popups perform
Popup builder is easy to use and style
Integrates with other popup builders for even more options
Compatible with over 1250 applications
4. Easy Social Feed
Are you looking to increase your likes on Facebook? Using the Easy Social Feed plugin is a great choice to do so.
While I recommend using a versatile popup plugin, sometimes simple is better. This plugin exclusively focuses on using Facebook and Instagram popups.
It has multiple customization options to help you find the perfect moment to display your like box screen.
If your goal is to boost your Facebook likes, this is a great choice.
Benefits of Using Easy Social Feed:
Display Instagram images as popups
Create a carousel popup
Create a Like popup for Facebook
Supports responsive design
Allows you to display Instagram and Facebook feeds via shortcodes
5. Hustle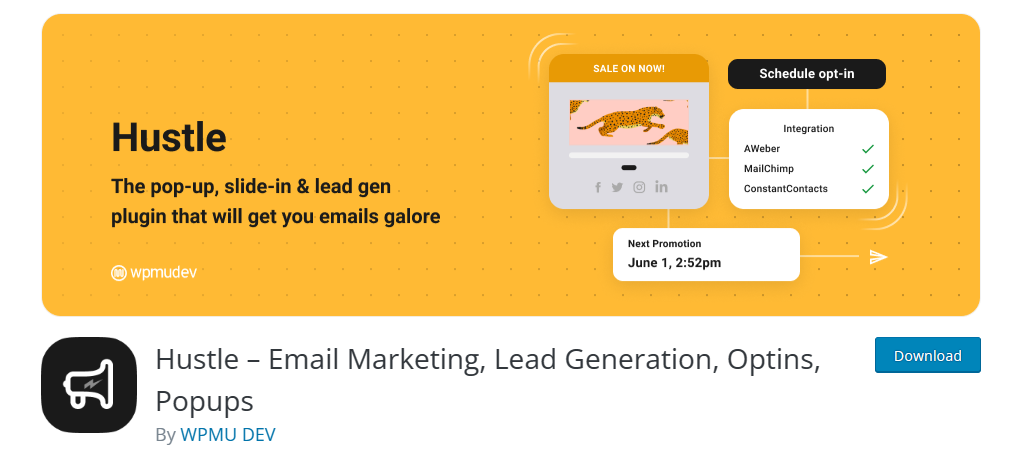 Looking for email marketing, popups, and lead generation? If so, look no further than Hustle, possibly the best popup plugin on WordPress. It excels at all thinks marketing in WordPress.
One of its strongest aspects is the popup builder. You'll gain access to a variety of templates that you can use to create your own popups. They are already made around certain topics like email opt-ins, cookie consent, covid notifications, and much more.
If you have a popup in mind, Hustle probably has a popup template you can use to save time.
All of the templates are customizable, so think of them as a building block. That said, in many cases, just changing the text is more than enough as these are all ready for use. And that's just scratching the surface of this tool.
Benefits of Using Hustle:
Customize how popups appear on different devices
Use a vast amount of targeting options to reach visitors
Integration options for most social media platforms
Integrates with most form builders
Display popups when users are about to leave your site
6. CookieYes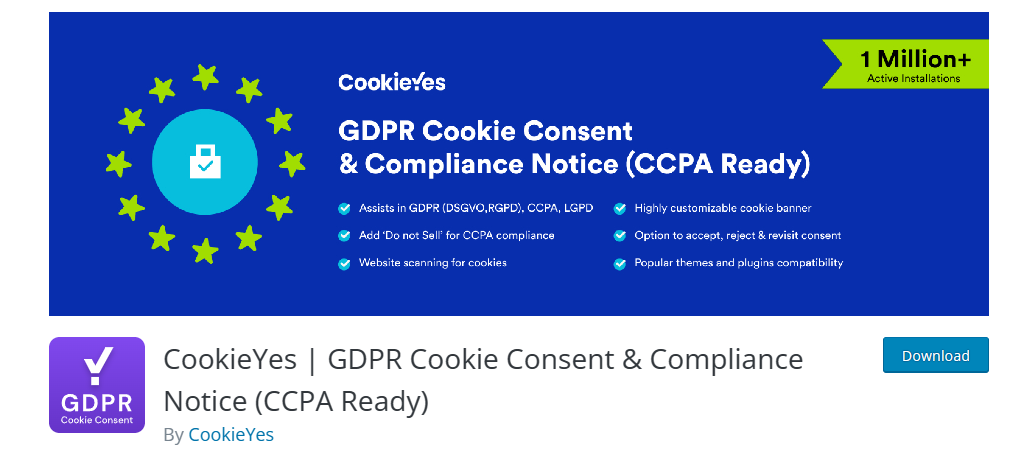 In 2018, the EU passed the General Data Protection Regulation (GDPR) privacy law. This law requires websites to make it clear when they are collecting data.
Since then, you have probably noticed that the vast majority of websites make you aware that they are using cookies. This is due to the GDPR.
Websites that do not comply with this law will be fined an appropriate amount, which for smaller websites, will be enough to bankrupt them.
Instead, the CookieYes plugin makes it easy to display the necessary warnings. However, it is important to realize that just installing this plugin does not make you fully GDPR compliant.
This website tool solely focuses on displaying cookie consent popups, and is quite successful at doing so,
If your looking to avoid fines from the EU, this plugin is for you. Just remember to add a privacy policy and terms of service page.
Benefits of Using CookieYes:
Cookie consent includes Accept and Reject buttons
Cookie list module displays all cookies
Customize the appearance to match your website
Log all user consent into a CSV file
Block cookies not necessary on your website
7. Video PopUp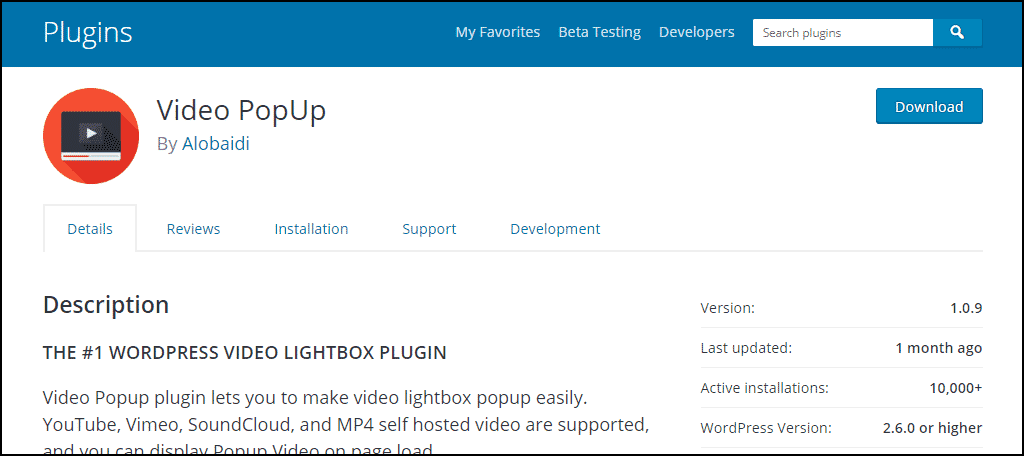 Do you create a lot of video content for your website? If so, you can put that into a popup.
The Video PopUp plugin does exactly what it sounds like; creates video popups. It supports YouTube, Vimeo, Soundcloud, and MP4 self-hosted videos.
It has a host of customization options including video lightboxes, unlimited popups, translation, customizable YouTube settings (start time, end time, disable related videos), and much more.
If you are looking to promote your video content, this plugin will certainly help.
Benefits of Using Video PopUp:
Customize the alignment of the video popups
Includes most YouTube options (related videos, start time, thumbnail display, etc.)
Customize the lightbox color to match your website
Includes autoplay support
Great plugin documentation explains everything
8. WP Popups
Do you want an easy and intuitive WordPress popup builder plugin? If so, look no further than the WP Popups plugin. You won't need any coding skill to master this plugin, instead, you'll be utilizing templates to get started.
These templates lay down the foundation so you can save a lot of time by using them.
Each template is fully customizable, so it can easily match the design of any website. The templates exist for a wide variety of needs, thus, you'll definitely find quite a few your site may need.
Of course, you are free to build your own popup from scratch. It's also compatible with most form building plugins and email services, which ensures it fits onto any WordPress website.
Benefits of Using WP Popups:
Set popups to trigger on specific pages
Configure certain popups to only appear if a user is/isn't logged in
Display popups in five different locations
Create timers so popups only appear for certain users again after X time has passed
Choose to not show popups to bots
9. WP Terms Popup
If it's important that a visitor accepts the terms and conditions before viewing your website, a popup is a perfect option.
WP Terms Popup allows you to create a popup that requires visitors to agree to the terms and conditions, privacy policy, age, or any other type of verification.
The popup contains two buttons, I Agree and I Disagree. The I agree option takes them to your website.
However, if they disagree, they will be redirected to another page or website.
It's extremely intuitive to use and is perfect for websites that require these kinds of verifications.
Benefits of Using WP Terms Popup:
Users must read the popup (must scroll to the bottom)
Users must agree, if not they are redirected
Popup won't appear again until the agreement expires, or it is updated
Assign the popups to dedicated pieces of content, or sitewide
Create age verification popups
10. WP Post Popup
Do you find yourself referencing a lot of other pages? Why not show those references as a popup?
This ensures that the visitor remains on your page and can still view any additional information that is necessary. While opening an internal or external link on a new tab or window will have the same effect, some websites may prefer using a plugin.
WP Post Popups allows you to do just this with an extremely simple interface.
Turn any post or page into a popup in under a minute.
Benefits of Using WP Post Popup:
Exclude the header/footer/sidebar areas from being covered
Add multiple popup links to a single page
Works with popular plugins like Contact Form 7, BuddyPress, and more
Choose to only display certain sections of a page as a popup
Supports custom fields and post types
11. Modal Window
A modal dialogue box is a window that requires visitors to interact with it to continue. This is ideal for multiple situations.
The Modal Window plugin gives you a simple, yet fully customizable environment to create these windows and display them.
You can place any type of content in them, control the height and width of every individual block, use cookies on the window, and much more.
It is an excellent tool to use.
Benefits of Using Modal Window:
Make any kind of content a popup
Customize popup settings for visitors on mobile devices
Use cookies to customize the popup
Control the height and width of any popup
Choose how the popup behaves when appearing and disappearing
12. Popup Box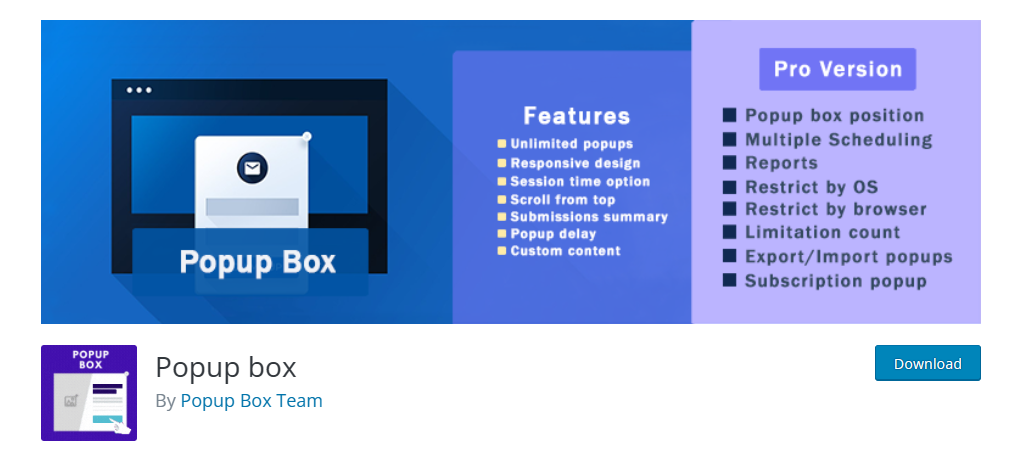 When it comes to picking the best popup plugin for WordPress, it's hard to do better than the Popup Box plugin. It is compatible with a wide variety of plugins, that you can incorporate into popups by using shortcodes.
Most importantly, it is very easy to learn, which makes it an excellent choice for beginners.
In terms of popups, you can make just about anything from age verification popups with Accept and Reject buttons to email opt-ins. There's really no limit on what you can make a popup with this plugin.
Benefits of Using Popup Box:
Display Google Maps as a popup
Generate coupons to help encourage sales
Add files that can be downloaded to the popups
Log into the website from the popup directly
Display video content in the popup
13. Popup Anything On Click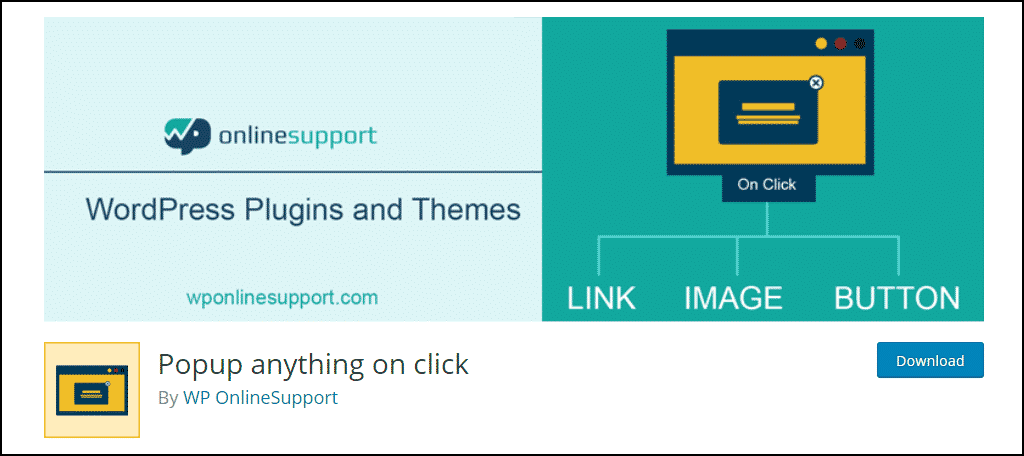 The Popup Anything On Click plugin makes anything on your website appear as a popup upon clicking.
While this could certainly get annoying for visitors if used too much, it does have a lot of potential.
For example, images are an important part of any website, but they can sometimes be hard to see. However, if the user clicks on it and it appears as its own popup, problem solved.
Benefits of Using Popup Anything On Click:
Choose from multiple popup trigger conditions
Create scrollable popups
Create Ad Blocker Blocker popups
Compatible with most form builders
Choose popups to appear in nine different positions
14. Slide Anything
Sometimes you may have a lot of information in your popups and it can be too much for visitors to digest. Even worse is breaking it up into multiple popups that can annoy the visitor.
What if you had a slideshow as a popup?
The Slide Anything plugin does just that. It allows you to create multiple modal windows that you can place any type of content into and display them as a slideshow.
It's perfect for tutorials or any other type of informative information.
Benefits of Using Slide Anything:
Create a showcase carousel popup
Add pagination to popups
Enable infinite looping in carousels
Sliders do not have to be popups, works on page and post content
Touch and drag support for mobile users
15. ARI Fancy Lightbox
Sometimes a visitor may just want to enjoy looking at an image or video without having to see anything else.
That's where the ARI Fancy Lightbox plugin comes in. It allows you to add a lightbox of any color to your website.
For example, you have a video that highlights the services you offer and you really want them to focus on it. Adding a lightbox that blocks out any of the text or other images on the page is a great way to make them focus.
The best part is that it's made with mobile devices in mind.
Benefits of Using ARI Fancy Lightbox:
Supports mobile options for zooming in and out
Create image grid popups
Share popups across social media platforms
Customize the appearance of the lightbox
Integration options for WooCommerce
16. Exit Popup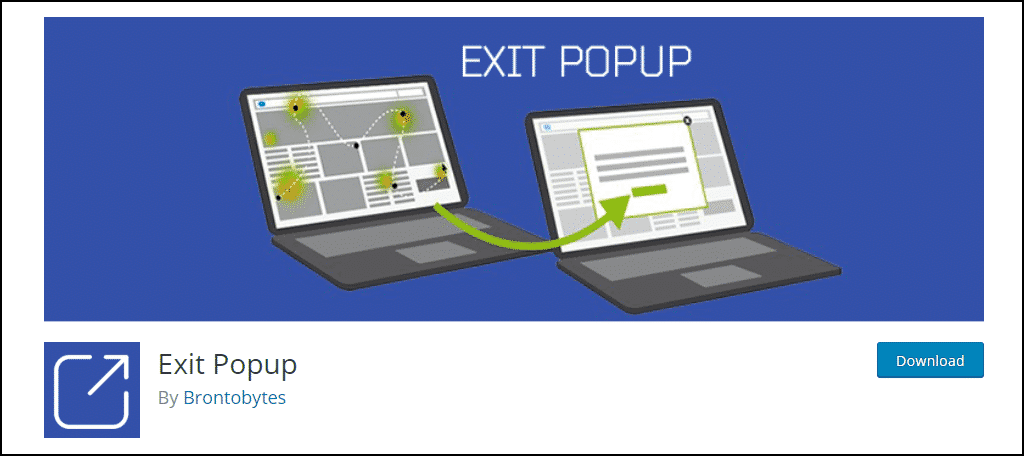 Do you want to stop or at least slow down visitors from leaving your website? If so, consider adding an exit popup.
This is a popup that triggers when a visitor is about to leave your content.
The Exit Popup plugin makes it a cinch to add exit messages that contain any type of content including text, images, and video material.
The plugin utilizes mouse patterns to detect when a visitor is about to leave the page. This might be your last chance to get them to subscribe to your email subscription, so make the most of it.
Benefits of Using Exit Popup:
Create any popup using HTML
Use shortcodes to disctate popup content
Control the size of any popup window
Control the frequency that popups appear
Improve conversion rates
17. Icegram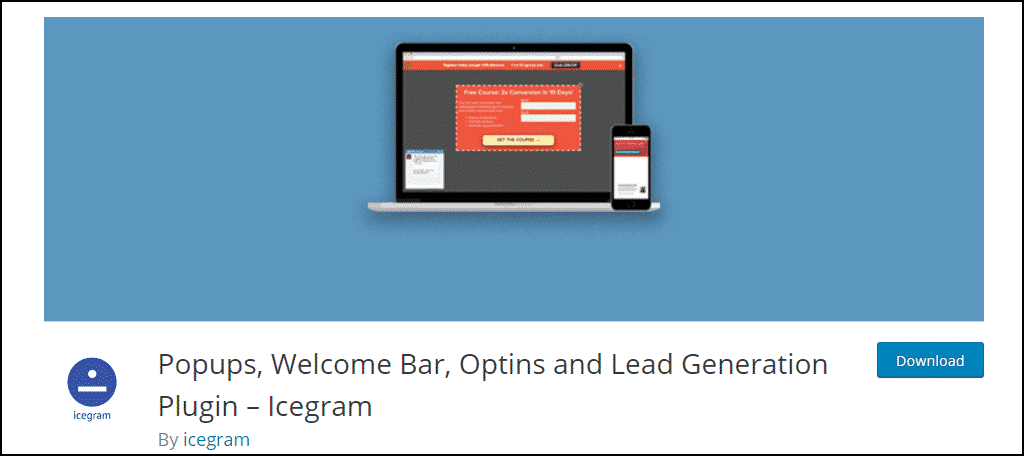 Icegram is an all-in-one popup plugin for WordPress that has all of the features necessary for success, and it is completely free to use.
It allows for timed popups, action bars, notifications, a wide array of visual customization options, tracking and much more.
Unlike other plugins that may be too complicated, Icegram is simple to use but offers powerful results.
Benefits of Using Icegram:
Helps gamify content creating achievement popups
Works great with FOMO marketing
Create sticky note popups to grab user attention
Create helpful popups that point users to help pages or FAQs
Strong CTA helps improve conversion rates
Tips For Using Popups
Before you begin adding popups to your website, you need to understand what to watch. You don't want to simply install anything you come across.
User Experience
First and foremost is the user experience. I don't know about you, but I personally find popups to be extremely annoying when I click on a website.
In fact, I and many other visitors will leave a website if a popup is the first thing I see.
You do not want your popups to scare away traffic and long-time visitors. It completely defeats the purpose of using them.
Instead, you need to use them responsibly.
For example, imagine you just clicked on a website for the first time.
Within the first second of viewing the page, you are alerted with a popup asking you to subscribe to receive emails. However, this new visitor has no idea what your website is about or what kind of content you make.
Instead, there needs to be a delay so the visitor can actually see what your website is about. Give them time to get familiar with what you're offering.
Performance
Popup plugins slow down your website. This is intensified when a plugin uses WordPress to track the analytics of the popups.
Speed is one of the many factors that affect your search rankings, and this will definitely have an impact on that. Thus, you need to make sure that the plugin will have as little impact as possible on your website.
Compatibility
Not all plugins are coded equally and that is especially true when it comes to popup-related ones. It is quite common to find a plugin that is not supported by your web hosting plans.
In particular, they have an issue with the caching techniques that the majority of web hosts use. Thus, you need to make sure it is supported.
Build Your Subscribers With A WordPress Popup Plugin
Popups are designed to help you grab the attention of a visitor and turn them into a subscriber. This makes popup platforms the perfect tool to boost engagement.
However, popups have gotten a terrible reputation from users. This is due to their intrusive behavior.
But because of their results, websites still use them.
The key is to strike a balance between user-friendliness and effectiveness.
What's your favorite WordPress popup plugin?