When it comes to creating content for your website, few systems are as versatile as WordPress. However, it takes more than just writing excellent posts to enhance the success of your site. Statistical information can be used to help you focus on everything from content to overall functionality. Here are five WordPress website stats you should be paying attention to and why they are important to your future success.
1. Page Views
Page views can be collected in a number of ways. Most commonly, people will use Google Analytics or Jetpack's Site Stats to monitor this site traffic. This information shows you how often your pages are viewed by others. Each time the page is accessed by a source, the visit is recorded. It's important to note that some systems will also record bot activity scanning your pages.
This data will show you if people think your content is worthwhile. A low count may signify that the material is less interesting to your target audience. It may be a waste of your time to continue developing content along the specific topic if people are avoiding the post. It could also mean you need to add more interesting content to the topic to increase visitor activity.
2. Bounce Rate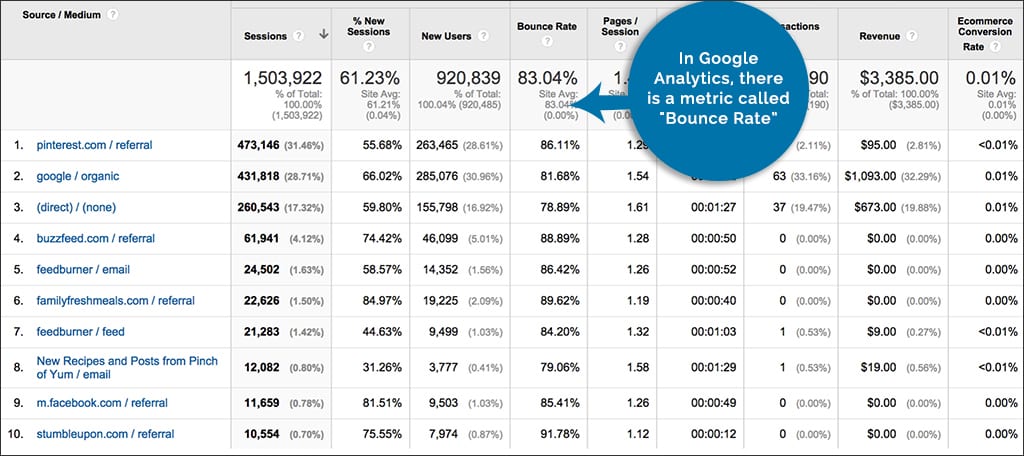 In Google Analytics, there is a metric called "Bounce Rate." This is when someone access your website, but then leaves it without exploring. A bounce happens quite often as many people are only interested in the information they are looking for at that moment.
An exceptionally high bounce rate of over 80 percent may demonstrate that your content isn't grasping the attention of the visitor and inspiring him or her to explore the site. You may need to make adjustments to the content or even the layout of your pages.
3. Text to HTML Ratio
The text to HTML ratio shows the amount of text you have against the characters within website programming. Free browser apps such as WooRank can show you this information from systems such as Google Chrome.
Some search engines will penalize a site if the ratio between text and HTML is too low. These are often seen as high-risk sites because it's easy to include malware within pages. This can be avoided by reducing the coding in your site or increasing the amount of text – such as writing more content.
4. Load Times
Each time a website is accessed, information is pulled from your web-hosting company. The faster a website loads for various users, the better. There are many things that can affect the load time ranging from HTML coding to the use of large images.
The load time can be greatly influential in search engine rankings as well as personal experience. In fact, users are more likely to abandon a website if pages take to long to load. Humans love instant gratification, which is why you need to make sure everything is quick and easy for the target audience.
5. Heat Mapping
Heat mapping plugins and apps are incredibly useful when developing WordPress website stats. These additions show you how visitors are interacting with your site by displaying a "heat" signature of what they are clicking on the screen. Plugins such as Mouseflow for WordPress can even record the actual visit showing you a video playback of everything the user did while visiting your pages.
Knowing how people interact with the site can give you ideas in how to change everything from content to layout. For example, if people aren't scrolling to the bottom of your site, the information there could be completely ignored.
You can use a wide array of tools ranging from WordPress plugins to browser apps that can help you discover many different things about your website. These tools are used to help you create the most alluring site possible. If you don't spend a bit of time pouring over the data, the competition could easily surpass you. Don't underestimate the importance of these five stats. Your success could rely on what you do with the data.
What statistics do you find to be the most informative for your website? What kinds of data collection apps or plugins do you use?