The holiday season is a great time to really engage your target audience from the website. With a few adjustments, you can make visitors feel warm and welcome by adding seasonal elements. And of course, WordPress can be customized to show your Christmas spirit to everyone who visits.
Luckily, it isn't very hard to add a holiday effect in 2020 for WordPress. And the good news is you can save the design for the next holiday season!
Of course, this raises the question, how do I add holiday spirit in WordPress?
And to put it very simply, it's done just like everything else in WordPress. Select a festive theme, or simply change the color scheme of your current one, and activate some plugins to add some holiday flare.
Why Add Some Christmas Spirit to WordPress?
If you go into any store this time of year, I'm sure you've noticed those holiday decorations. And just like a physical store decorates for the holiday, so can a digital site.
Of course, this doesn't really explain why they do it, but the answer is pretty simple, it drives sales.
Around this time of the year, everyone is buying gifts or supplies for the holiday season, and seeing these constant reminders sets the mood.
Things you would normally pass by in the store, now look like good gifts for a neighbor or family member. And that's true for online stores as well.
Adding Christmas Spirit in WordPress
I will share with you a combination of themes, plugins, and content ideas to help add that holiday flare to your website.
Keep in mind, that just like there's that one house on the block with way too many decorations, you can add too much to your website. Adding too many plugins and effects can lower your page speed or make it appear cluttered.
So make sure you are not impacting your website in this manner.
Note: Due to the nature of seasonal plugins, many are not updated regularly. All plugins listed in this list worked at the time of writing this post (Updated 11/16/2021).
Add A Christmas Countdown in WordPress
Clocks are a highly effective FOMO strategy because they let people know that time is running out. And adding a countdown to Christmas is the perfect use for one.
1. Christmas Countdown Widget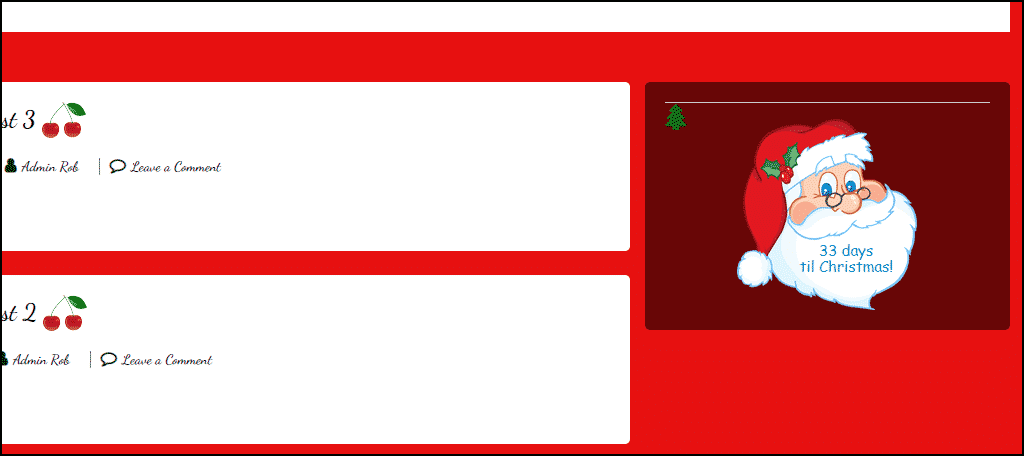 Now, you could set up a standard countdown for Christmas, but that doesn't really scream Christmas spirit. Instead, I recommend using the Christmas Countdown Widget plugin.
It shows how many days until Christmas inside of Santa's Beard, but the choice is yours.
2. Countdown Timer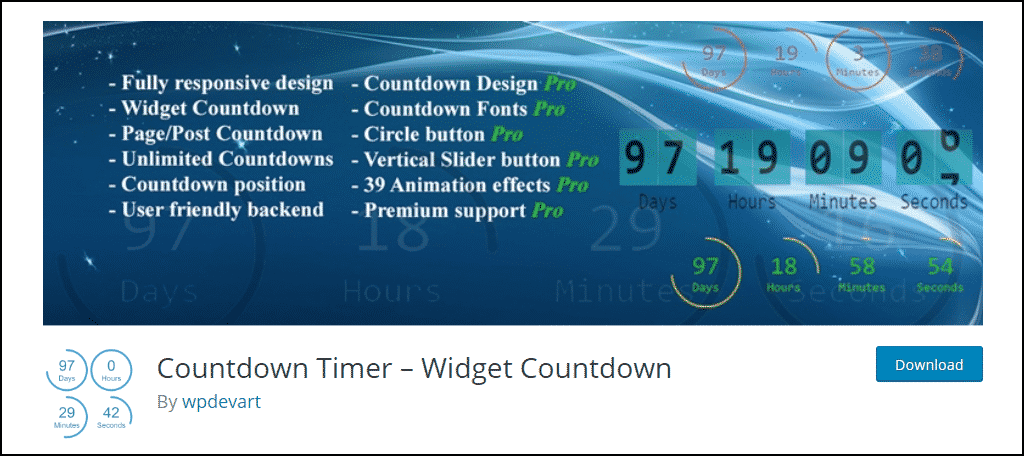 Of course, while a festive Santa decorated timer is more fitting, you may just want to add a standard clock countdown that can handle other needs as well.
Countdown Timer will show you how long you have left until the last second.
3. PCF Chrsitmas Countdown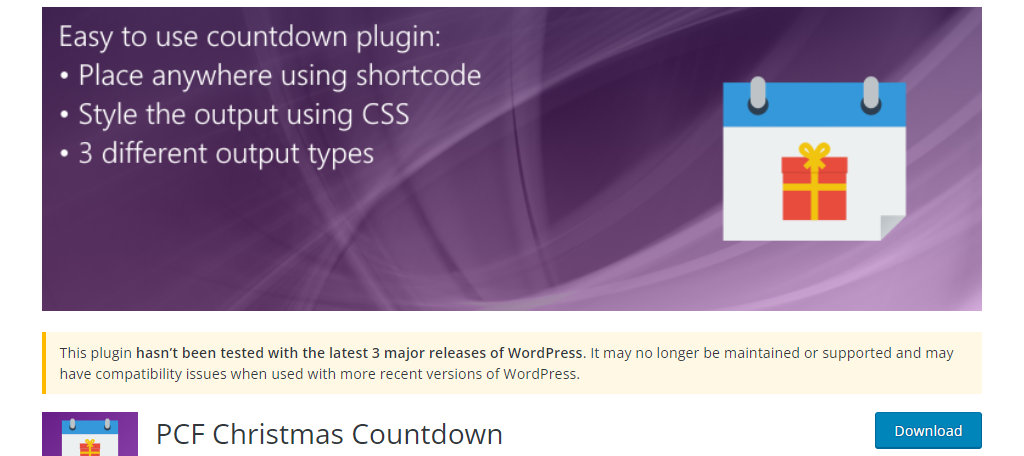 PCF Countdown adds a notepad countdown with multiple Christmas designs. It's a more subtle approach to a Christmas countdown that many websites can take advantage of.
Add Some Christmas Lights to WordPress
Lights are the most common Christmas decoration on storefronts, houses, and Christmas Trees. And of course, they are also a great decoration on your WordPress website.
Just remember to take them down!
4. XMAS Lights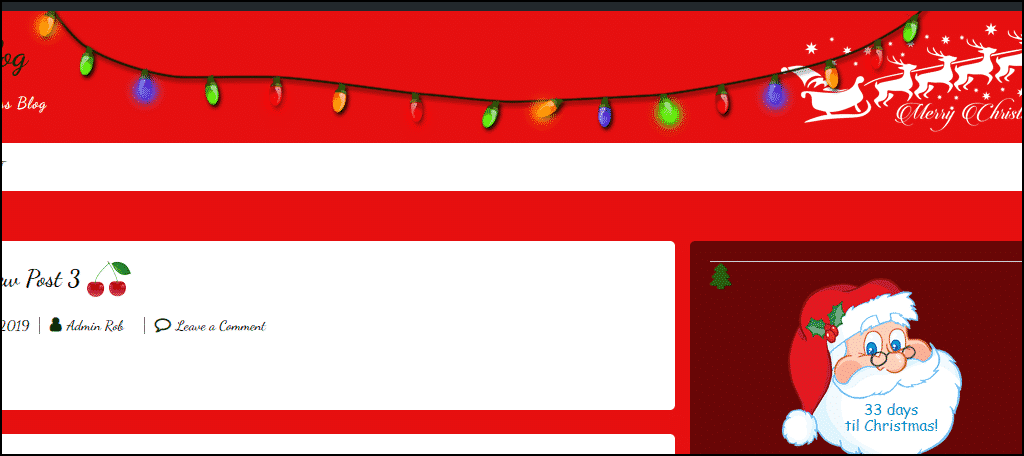 The XMAS Lights plugin is one of the easiest ways to add lights to your website. It simply adds some Christmas lights to the top of every page.
The lights will appear over any images of text, so be careful.
5. Christmas Lights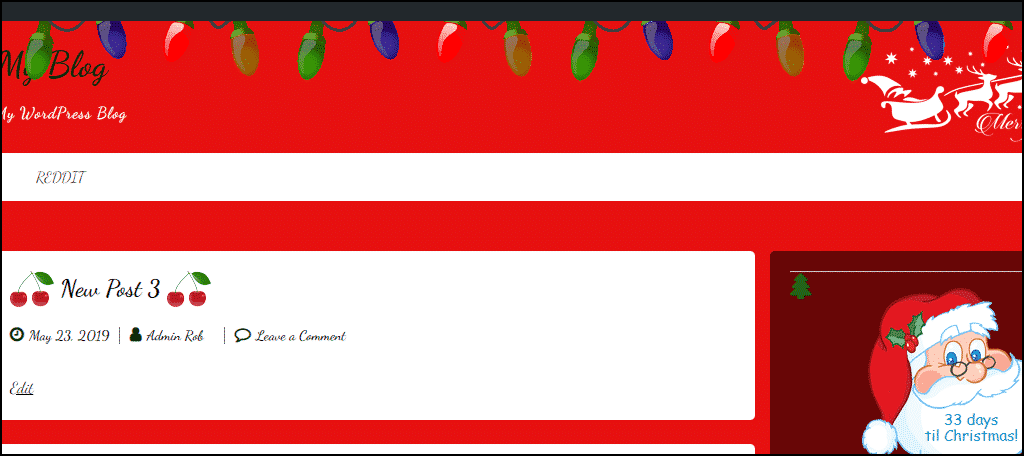 Christmas Lights is another great choice to add some decoration to your website. It is very similar to the last plugin but has a different set of light bulb images.
Add Some Christmas Decorations to WordPress
Of course, there's a lot more than lights involved when it comes to Christmas decorations. You have traditional ornaments, inflatable Santas, tinsel, and plenty of other things.
And you have plenty of options to choose from when it comes to your website as well.
6. Christmas Panda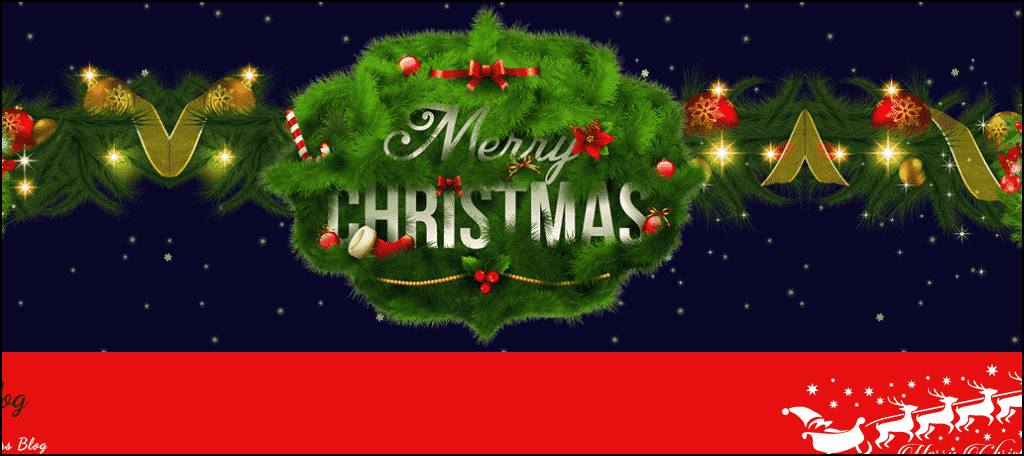 Christmas Panda is packed to the brim with customization options.
You can pick ornaments, ribbons, bells, presents, and more to display at the top of your website.
7. Xmas Decorations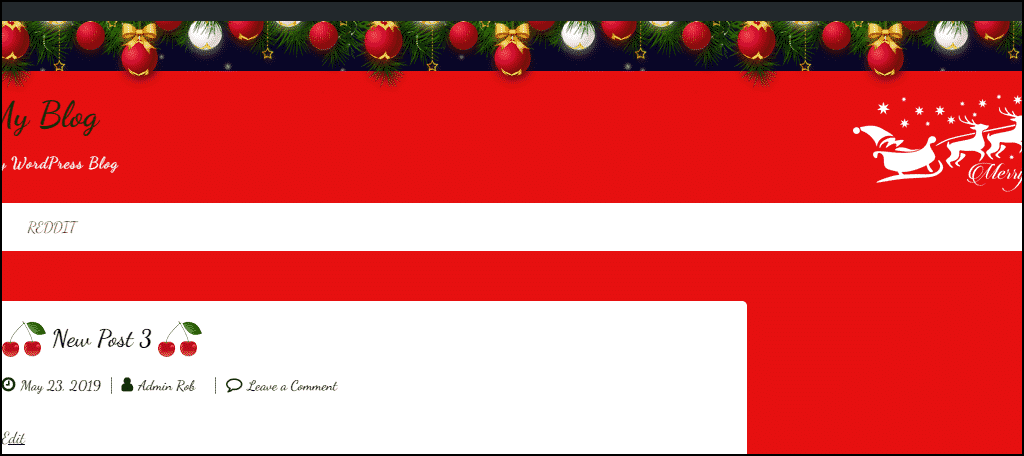 Xmas Decorations adds a little holiday flair to your website by adding some decorations at the top. It adds white and red Christmas ornaments with some Christmas trees along the top of the page.
8. Christmas Ball on Branch
The Christmas Ball on Branch plugin is a very straightforward plugin. It adds an animated Christmas ball on the top right corner of your website.
It's simple but very festive.
Add Some Snow
Snow is easily one of the most iconic parts of Christmas. Look no further than your favorite Christmas movie, most classics always have at least one snow scene.
Luckily, you can add some pretty cool WordPress snowfall effects to your website.
And the best part is you don't even have to shovel it.
9. Weather Effect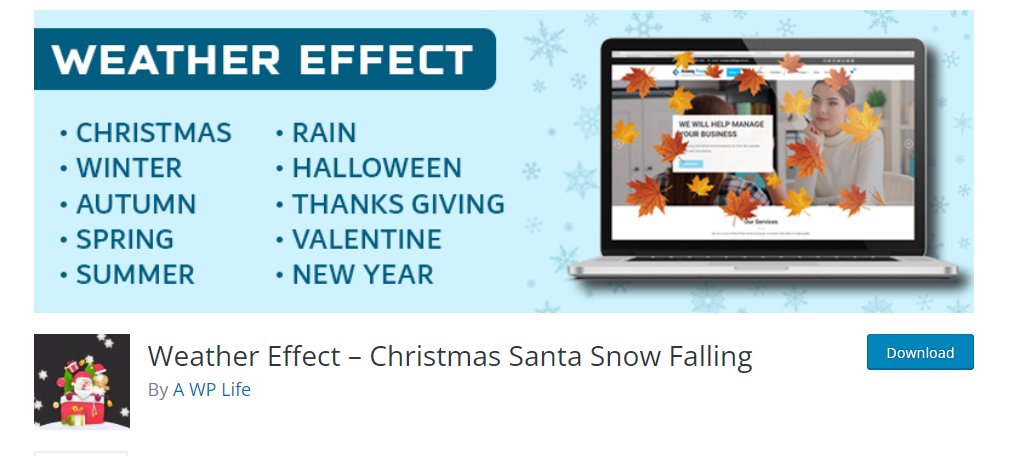 Weather Effects is a terrific plugin that can add holiday spirit to your website during any holiday. It covers Halloween, Valentine's Day, and of course, Christmas. For Christmas, the plugin you have the choice to make it rain snowflakes, candy canes, stars, sleighs, snowmen, ornaments, or bells.
10. WP Snow Effect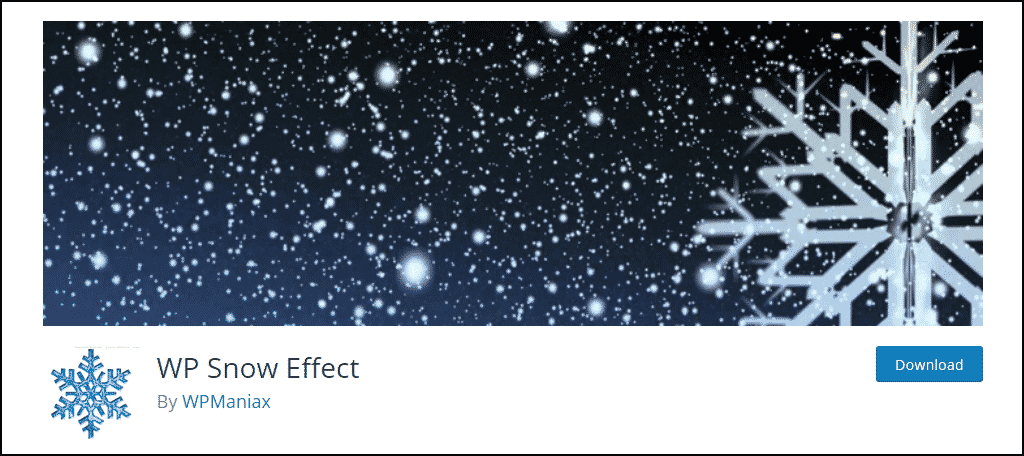 The WP Snow Effect plugin makes it simple to add an adjustable snow effect in WordPress. You can use the setting to determine how fast the snow is falling.
11. Snow
Do you want to customize the size, shadow, and color of the snowflakes on your website? You can with the Snow plugin. It's very easy to set up at any skill level.
12. XMAS Snow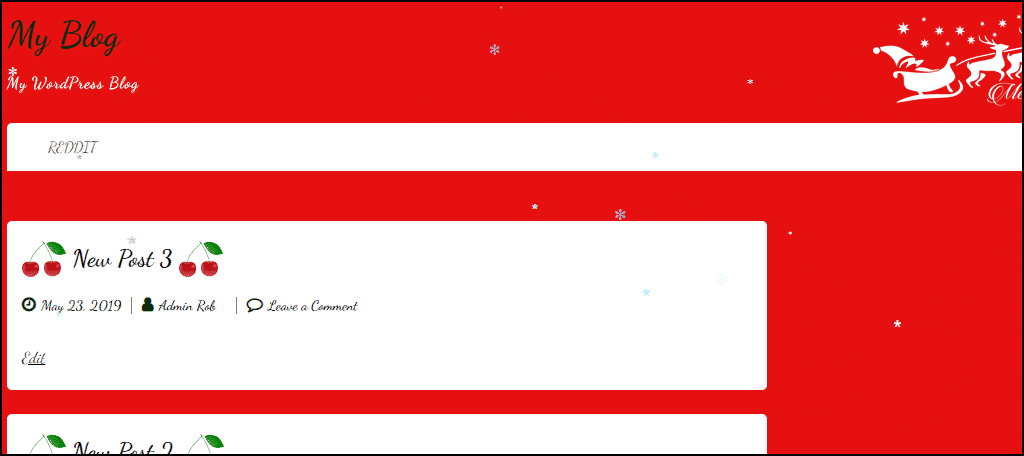 The easiest way to add a snowfall effect in WordPress is with the Xmas Snow plugin. The only step involved with this plugin is installing and activating it. Once done, the plugin is working.
13. Snow Storm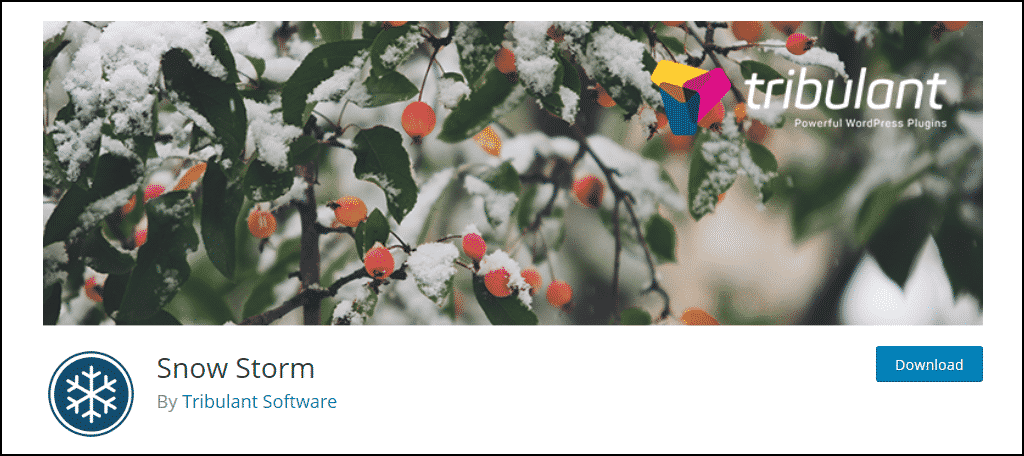 Snow Storm is another plugin that adds a snowfall effect to your website's pages. It doesn't get much easier than installing and activating a plugin, so this is definitely worth using for a simple effect.
Add Some Music
Jingle bells, jingle bells, jingle all the way…yeah now it's stuck in your head too.
It is quite common to hear Christmas-themed music like Jingle Bells this time of the year, but did you know you can easily add it to your website?
14. Christmas Music
An easy way to do this is with the Christmas Music plugin. It allows you to play the Jingle Bells song throughout your website's pages. And the best part is it has an obvious pause button at the bottom right of the page.
This ensures that the Grinch will be able to turn it off before he gets any funny ideas.
Give Some Facts
Christmas is an eventful time of the year. As such, you better believe there are a lot of interesting facts to share. And I just happen to have the perfect plugin to help you share them.
15. Random Christmas Fact Widget
The Random Christmas Fact Widget does exactly as the name implies. It displays a random Christmas fact every time the visitor reloads the page.
40 in fact!
All In One
I know what you're thinking, I want one plugin that can add decorations, Santa, music, and a neat Christmas font to my website.
Good news, they do exist!
16. Christmasify!
The Christmasify! plugin does all of this. However, there is one drawback worth mentioning. In an effort to keep the plugin lightweight, it is not compatible with either IE8 or IE9.
17. Christmas Decorations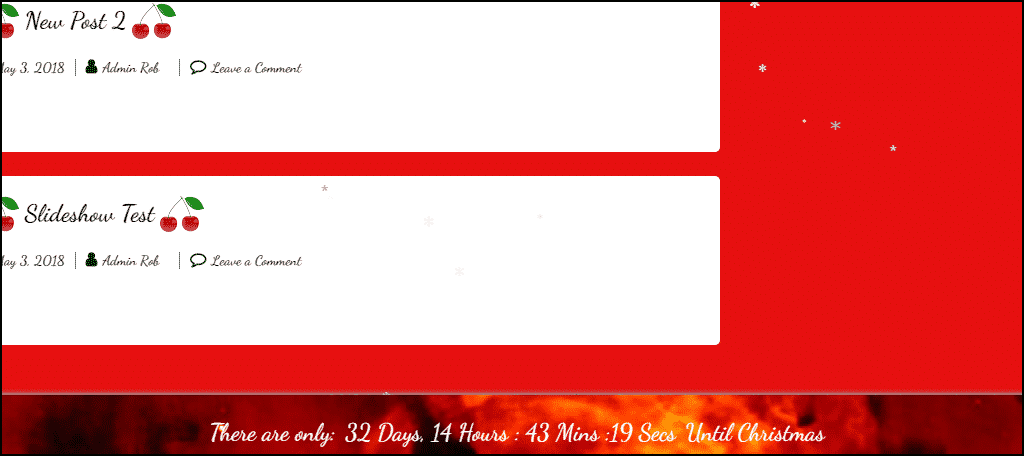 Christmas Decorations is a great plugin that allows you to add snowfall effects and a countdown to Christmas. it's simple but adds a lot.
Chhoose A Christmas Theme in WordPress
Your theme is the most important when it comes to how your website looks. And naturally, if you want your website to look festive, you need to either customize it to be or change your theme to something that already is.
18. Christmas Shop Theme
Looking for an all-in-one theme to meet your holiday needs? The Christmas Shop theme is a great choice for this time of the year. It offers snow effects on the side, shows posts as Christmas cards, and is fully customizable.
As the name implies, it is intended for stores to use and it does a pretty good job at it. It is also ready for social media integration, which is pretty much mandatory for any website.
Keep in mind that the theme can feel out of place if it isn't that time of the year, so make sure to switch it out.
19. Christmas Sweets
The Christmas Sweets theme is a real treat for the eyes. The theme utilizes a candy cane pattern and my all-time favorite cookie, gingerbread to create a festive environment.
It is meant for blogs and utilizes a grid view to display your latest posts. It has a great footer area that will allow you to add all of the widgets you need. It's simple but clearly festive.
20. White Xmas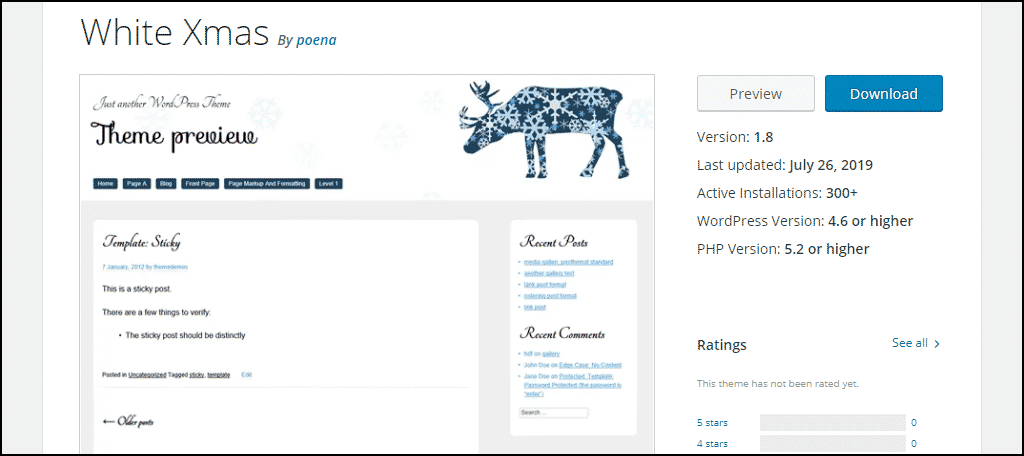 White Xmas is a stylish theme that focuses on a snowy atmosphere. The only two colors you will find on this theme are white and blue that create a reindeer, which looks great.
This is another theme intended for blogs. However, unlike other themes on this list, you can hide the reindeer and the theme is good all year round. It's extremely easy to decorate each year.
21. Chrisporate
As you may imagine from the name, Chrisporate, this is a more professional theme that adds a little holiday spirit. It was created with the idea of a business portfolio in mind.
It has a built-in snow effect, so it will save you from needing a plugin, which can be toggled off or on. Thus, you can easily switch between Christmas mode and Corporate mode.
22. Snowflakes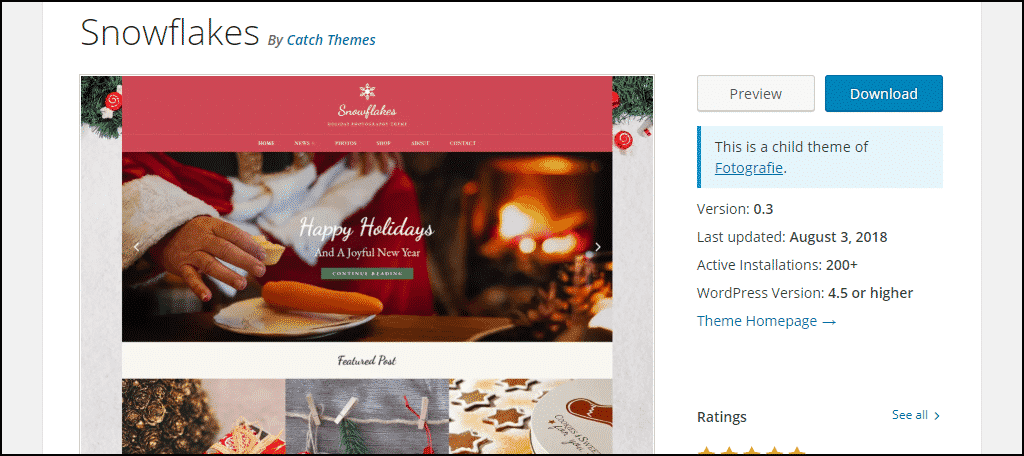 If you use the Fotografie theme, you should use its child theme Snowflakes during Christmas. As a child theme, it works in the same way as Fotografie, which was made to display photos.
Snowflakes is full of festive options such as using red as the primary color, visible Christmas tree on the sides, and more. It's a great theme to switch to during Christmas.
Create Christmas Content in WordPress
Not only does your website need to look the part, but it needs to give the same message. Luckily, it's easy to add Christmas content to your website.
23. Create A Blog About Your Christmas Plans
I guarantee your readers want to know more about you, and sharing your holiday stories is a great way to do so. If you already write blogs regularly for your website, this should be easy.
Remember a blog is about your experience and opinion on the matter, which makes that time you almost got trampled on Black Friday worth sharing with your readers.
24. Create Christmas Themed Blogs
Of course, you don't need to talk about yourself to keep it festive. Depending on the nature of your website, you may be more inclined to create other types of content.
A great idea is to create a gift guide for the year. Let's face it, every year there is more and more to buy, and it can be difficult to keep track of. Not only can this be fun to read, but you can also add some affiliate links to boost sales.
25. Give Out Gifts
Many stores rely heavily on the holiday season to earn money and that is no different for online ones. A common practice seen in stores is sharing that holiday spirit by offering something free to their customers.
Some great specials to offer for an online store may be free shipping during the holiday season, free gift-wrapping, or something else depending on your store. Just remember, if you can draw in more business, it's worth it.
26. Display Christmas Pictures of Your Store
If you own a physical location, you're not only going to need to decorate the online store but the brick-and-mortar locale too. The good news is that this can be great to share online.
Add a picture of your location with Christmas decorations. Another great one to add is a picture with your staff wearing something festive like Santa hats.
Perhaps you can make a log of your staff putting up the decorations from start to finish.
27. Run A Christmas Contest on Twitter
Social media is an integral part of any website, and you can use it to highlight the holiday spirit. A great thing to do from time to time is to run a contest on a platform of your choice.
A great time to do this is during the holidays. Have your visitors share a picture of themselves or their families doing something Christmas-related. Afterward, you can take the pictures and show them off on your blogs.
It's a win-win situation.
28. Send Out Christmas Cards
Christmas cards are still a popular holiday tradition that family and friends share, and if you have a physical location, you can take part in this tradition by sending cards to local customers.
And if you get any cards in return you can display them in your store to encourage other customers to send them in. Take a picture of the display and display it on your website.
Remember to Take Down Christmas Decorations in WordPress
Adding Christmas decorations and effects can be a lot of fun and help add the holiday spirit to your WordPress website, but remember it's only once a year.
This means you need to make sure they are not up year-round. At the very latest they should be gone by the New Year.