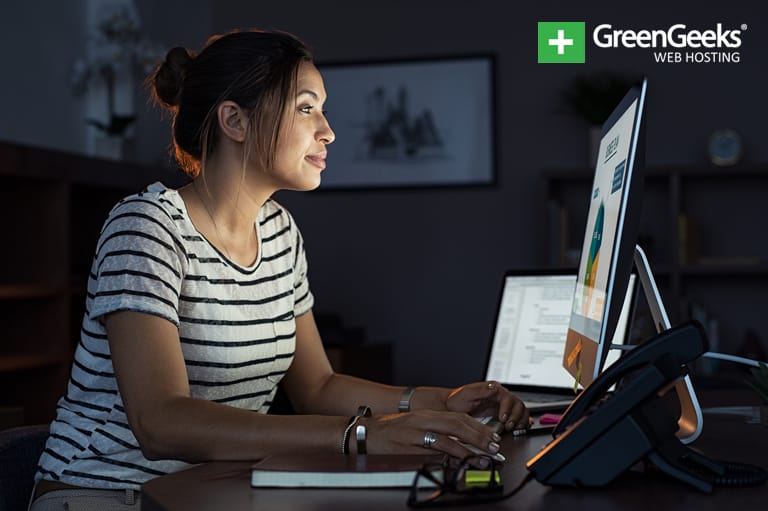 Google My Business is a free tool from Google that lets business owners manage and control the way their information is presented in search results.
When you set up Google My Business and verify the address in WordPress, your business will be featured when people search in Google Maps as well as traditional Google search.
Google My Business can benefit all establishments, but where it really shines is with the advantages it can provide to local businesses. When people talk about "local business," they just mean a business that's physically located in a particular community.
But even if your business is solely online and you serve an entire country (or the world), you can still benefit from your Google My Business profile ("service area business" can list cities or zip codes that they serve rather than a specific storefront address).
A local business with a physical storefront can't afford to ignore Google My Business. When someone does a search for a particular type of business in Google, the results will show a map and a list of the top (up to three) local listings nearby.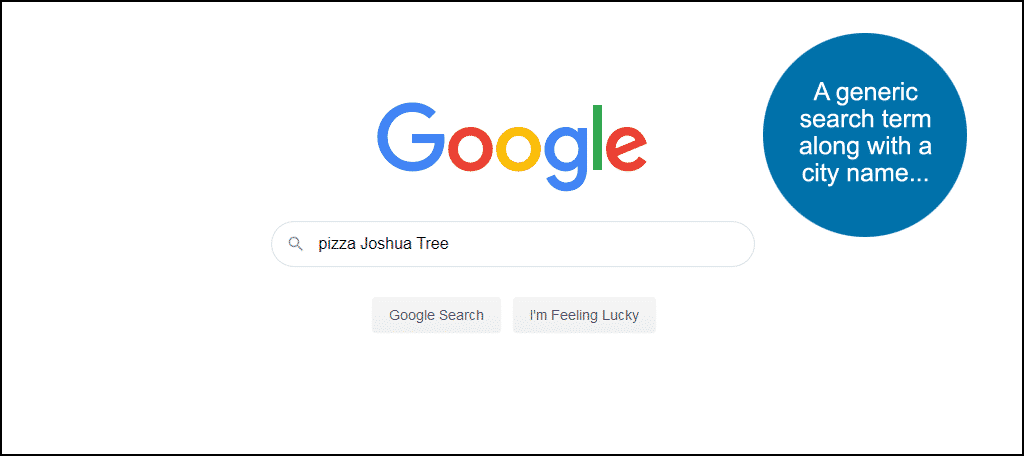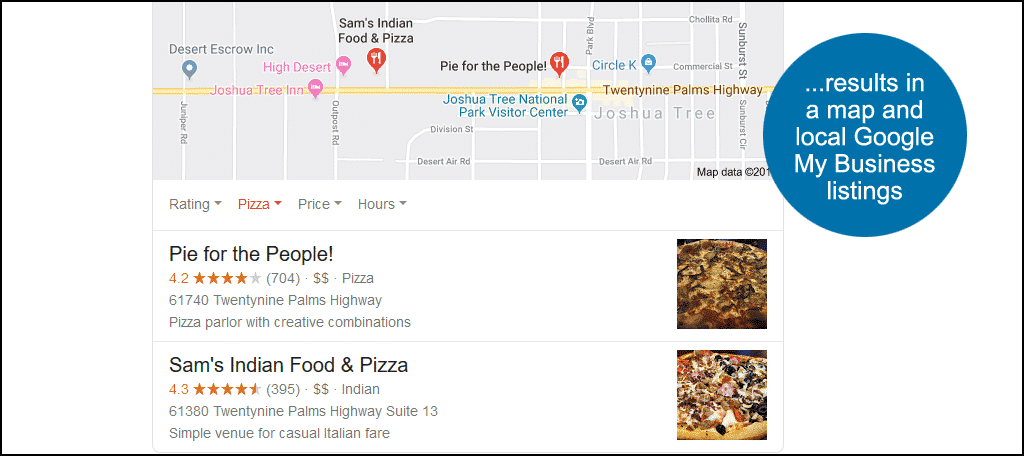 A pretty obvious advantage, isn't it?
And if someone searches for your business name, your My Business information takes over the right third of the screen. The section Google calls the "Knowledge Panel."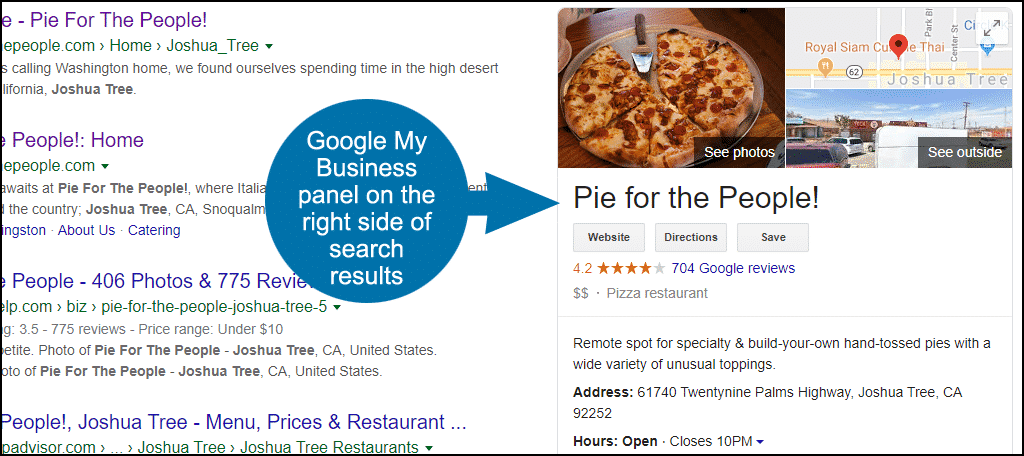 So the benefits of Google My Business should be clear.
Maybe you set up a Google My Business profile but never completed or updated it. I understand. Like a lot of Google products, My Business is powerful, but it can be overwhelming at first glance.
But you can manage it, and today we'll go over the basics to give you a great head start.
Google My Business, Where Do I Begin?
Let's start at the very beginning. A very good place to start. Since we're talking about optimizing your Google My Business listing, I'm going to assume that you're already up and running and skip the My Business account set up.
But if you haven't yet set up your Google My Business profile, there's no time like the present. Get yourself over to https://www.google.com/business/ and click one of the "Manage now" buttons.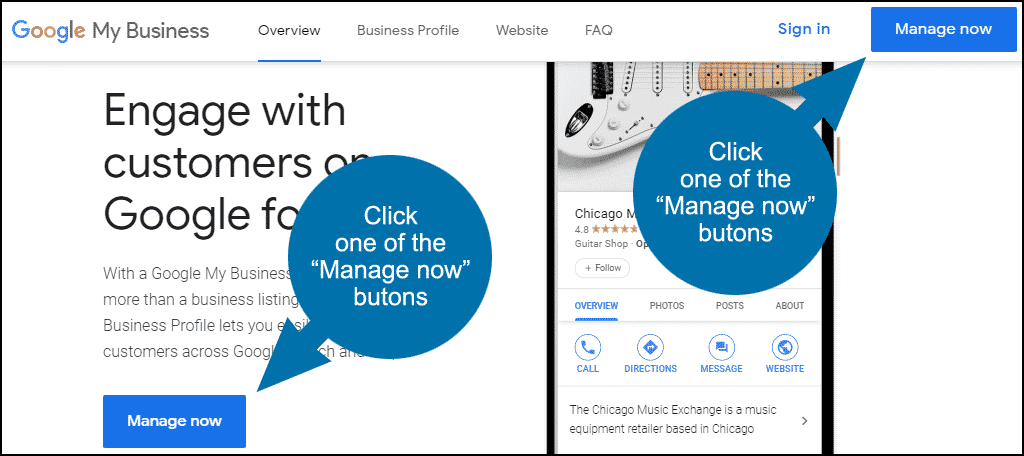 You can't establish a Google My Business profile without a Google account. I recommend using a Google account that's related to your business rather than a personal one. If you don't have a Google account for your business, set one up before you create your My Business profile.
Getting the Basics Right: Your Business Info
Your business name, address, and phone number should be correct and up-to-date. If you have a business website, the name, address, and phone number should be the same as what you have listed in your My Business profile.
When using Google for business, consistency is very important everywhere. That means if you have social media accounts that include name, address, and phone number information, the information in your Google business listing should match.
Be consistent all the way down to how you write your address. If you use "ST" instead of "Street" on your website, use "ST" everywhere.
To check your name, address, and phone number, log in to Google My Business and click the "Info" link or icon.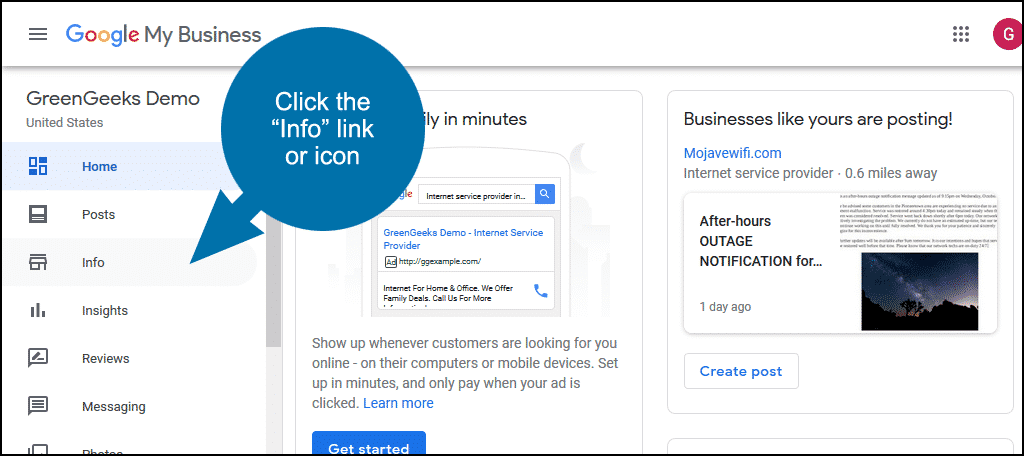 Verify that all of the basic information is correct and consistent with other locations on the web.
Your Business Description, 750 Important Characters
You would think describing your own business would be easy. But a lot of us have trouble distilling exactly why our business is great down into a bite-sized bit of information.
But that's what you have to do in your Google My Business description.
So tell the world why you're great, but be realistic and honest about it. Don't use your business description for a sales pitch. Google says promotional content and links in the description are a no-no.
Think about keywords here – what people might be searching for when you want your business to be in the results. Use those keywords in your description.
To add or update your business description, click the "Info" link or icon and scroll down toward the bottom to find "Add business description."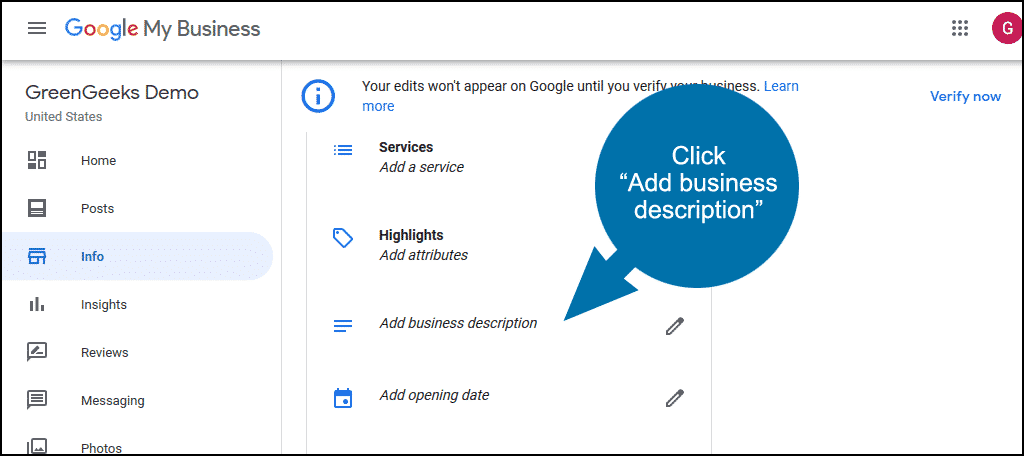 Choose an Appropriate Category (and Sub-Category)
The categories that you select in Google My Business tell Google which keyword searches are relevant to your business.
Remember the keywords from your description? Are there business categories that match up with your keywords?
You have to choose from Google's list of categories, you can't create your own, so get as close as you can.
Only choose a sub-category if it's relevant. Some businesses lend themselves to categorization under multiple terms, some don't. Don't force a sub-category if your business is very specialized.
To choose or edit your category and sub-category, click the "Info" link or icon then click the category name or pencil icon below your business name.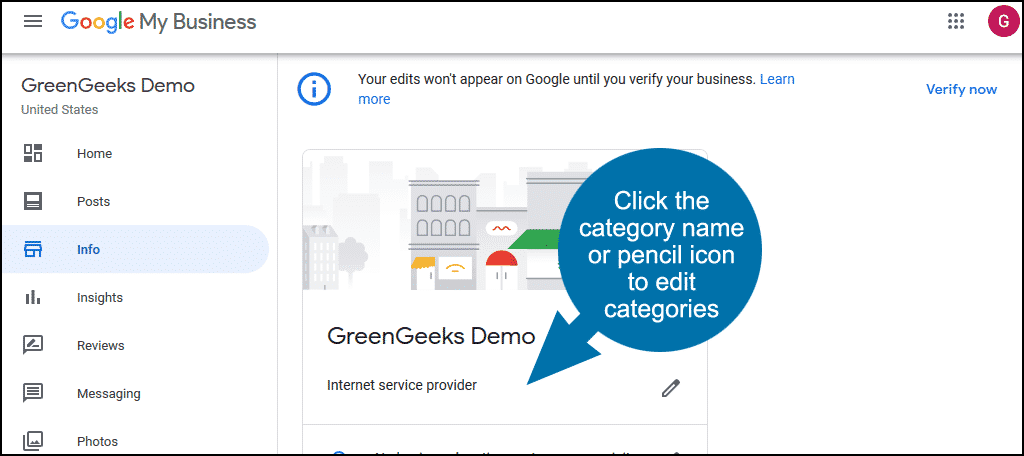 A Picture Is Worth a Thousand (Key)words
Pictures are a crucial element of your Google My Business profile. Not only do they allow you to take up more real estate in the Google business search results, but 60% of your potential customers give more consideration to local results that include images.
Google says you should upload at least three of all of these: exterior pictures of your business (taken from different directions and at different times of the day), interior pictures, your team providing service to customers, images of products that you sell, and pictures of your colleagues and team members.
As you can see, those image recommendations as tailored to local businesses with physical storefronts, but you can be imaginative and upload images that apply to your online business. This includes the team and the products – whatever you feel is relevant to what you do.
What you don't want to use are professional, staged-looking photos, or stock photography. You want people to get a genuine feel for your business, so you don't want to appear to be too slick. And as for stock photos, Google will delete those, so don't bother.
To upload images, click the "Info" link or icon.
You can't upload images until your My Business profile is verified.
Google Reviews and Star Ratings in Search Results
There are a couple of ways to get a star rating attached to your listing in Google search results based on ratings at third party sites. But the star ratings related to your Google My Business profile are tied specifically to Google reviews.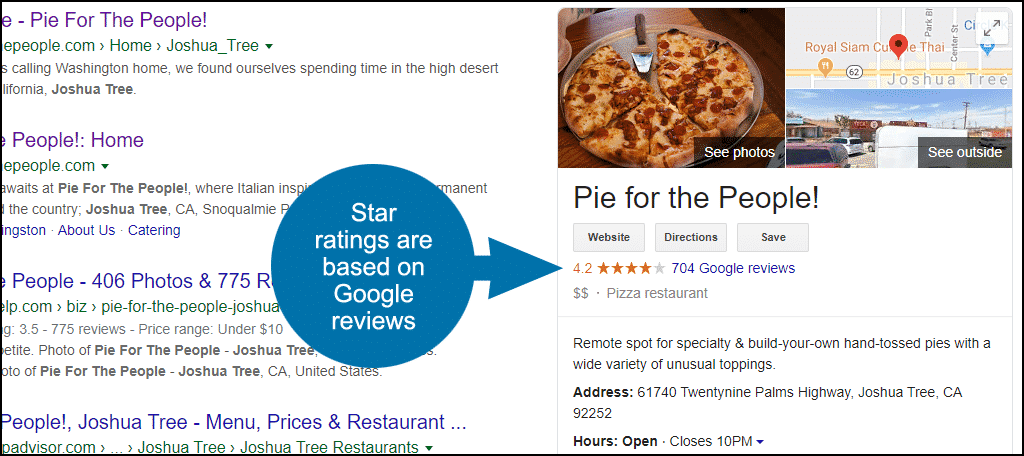 So if you have been accumulating reviews at another site (TrustPilot, etc.), they won't translate to your Google My Business profile. You'll have to start soliciting your customers to leave reviews on your My Business profile.
Asking for reviews can be a tricky business. But if you do it, and if you are successful in getting reviews, you have to interact with the reviewers.
This means engaging with both positive and negative comments. It should be someone's job (maybe yours!) to check for reviews every day and respond when a response is called for.
Having said that, if you do respond to reviews, do not ever engage in negativity. If someone is calling you or your business the worst names possible and accusing you of skullduggery, thievery, and election tampering, remain calm and respond in a positive way.
While you might admire the innkeeper who banned "influencers" from his business, people like him are the exception to the rule. That kind of reaction would likely backfire on you or me.
Respond sincerely to legitimate criticism, yes. But don't feed the trolls.
Posts, the Google My Business Secret Weapon
Posts appear in the Knowledge Panel for your My Business profile, and they are a tremendous opportunity to add links and additional information (news updates, offers, events, new products) to your profile. They can include text, photos, and GIFs.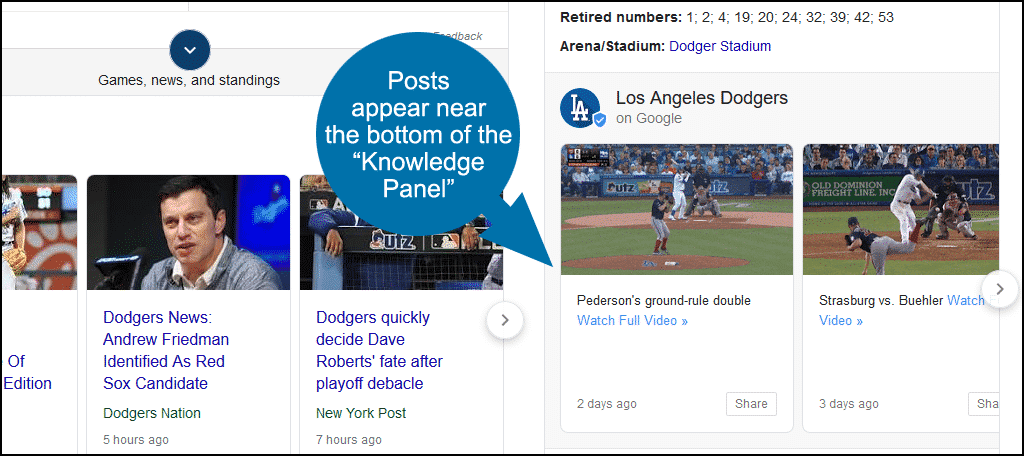 To say that posts are underutilized is an understatement. I use them, but when I tried to find an example to insert here that wasn't related to one of my sites, it took about a dozen tries (major companies that I thought for sure would be using posts are not).
Finally, I found the Dodgers taking advantage of the free real estate.
As I mentioned in the photos section, I'm a big believer in taking up as much space as possible on the Google search results page. And if you can fill your Knowledge Panel with images, links to your social media, posts, then all the better.
Add everything you can to your My Business profile and make a big splash.
To create a post, click the "Post" link or icon.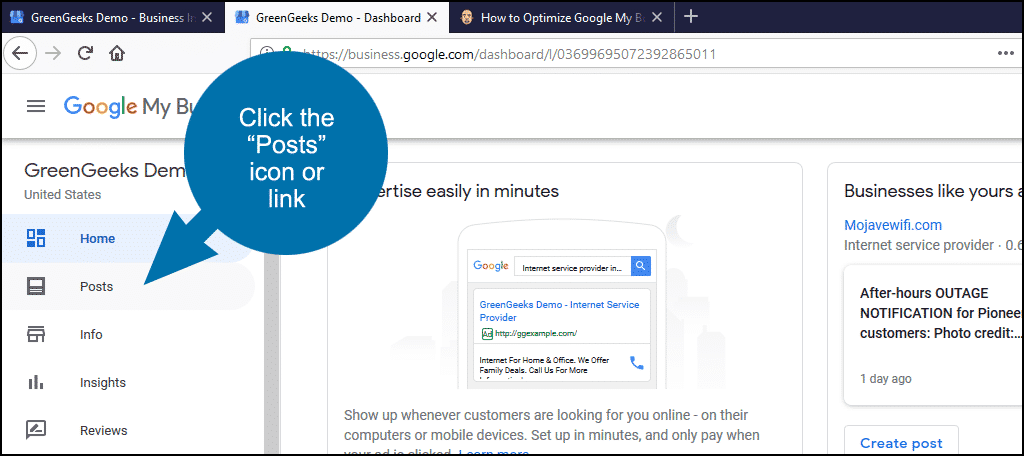 Add All of Your Social Media Accounts
In some search results, links to your social media profiles will appear in the Knowledge Panel.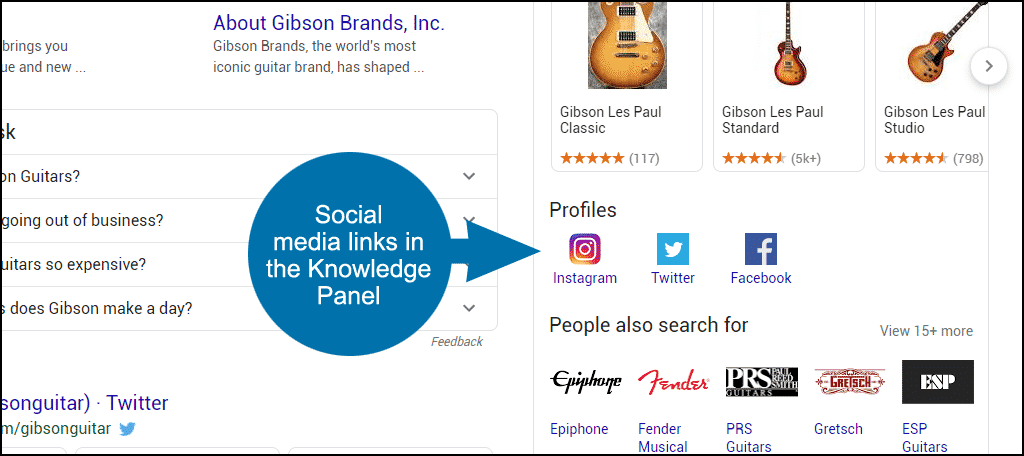 That's great, but you may have noticed that there's no way to add social media URLs to Google My Business.
So how are those other companies doing it?
The answer is structured data. You can use the property "sameAs" to associate your social media accounts with your website. When Google indexes the social media structured data, it connects the dots and shows the relationship in your My Business profile.
So if I wanted Google to associate ggexample.com with the GreenGeeks Facebook page, I would add this code to the homepage of the ggexample.com website:

To associate multiple social media sites, use this format:

As you can see, you have to escape the slashes when you use multiple "sameAs" values.
There's a Lot More Where That Came From
We've only scratched the surface of what you can do with Google My Business. But I think we've hit the most important, most effective points. The fact that you're trying to optimize your business listing on Google already puts you ahead of half of your competition, so scratching the surface can yield results.
The important thing to keep in mind is your My Business profile shouldn't be a "set it and forget it" kind of thing. You should keep it current, keep rotating new posts, images, news, and tweaking your description.
See what works and work it to your advantage.