A graphic design portfolio allows you to show off your expertise to customers. If they like what they see, they are sure to hire you. A great way to show off your skills is to build an entire graphic design portfolio website. This can help bring in new customers.
Today, I will cover the full process using WordPress.
How to Create A Graphic Design Portfolio
Building a website for your graphic design portfolio is no different than building a normal one. The process is identical, the difference is the content and tools you may use. For instance, in this case, the design of your website is more important than anything.
If your website looks terrible, good luck getting a customer to hire you.
Step 1: Assemble Your Graphic Design Projects
Let's just get this out of the way, your website will only work if you have graphic design portfolio examples to show off. This shouldn't come as a surprise, but customers want to have a rough idea of what they like. If you're brand new to the graphic design industry, it can be hard.
In these cases, you might not have any professional work to demonstrate, but it doesn't mean you don't have anything to show off. One of the biggest mistakes beginners forget is to use school and individual projects.
These can be a great way to show off your skill and get your first customer. In fact, many graphic designers have a fully functioning website ready to go after graduating. You could also spend some time creating some new projects to showcase your skills.
That said, make sure it's relevant to what you are looking for.
Graphic design is an extremely broad term that can include everything from logo designs to animations. If you're focusing on a specific type, show off the relevant work.
Step 2: Form A Vision
All great designers usually have a mental image in mind when they start creating graphics. Your website should not be different.
As a graphic designer, you might even want to consider creating some static images of your website. This way, you have something to aim for when you start building.
You should also use this time to research what other portfolios look like in your field. Remember, you're not in a vacuum. You are competing with other graphic designers. If their content looks better, well, you just lost a customer.
At least if they manage to find both of your portfolios.
Once you have your content ready and a plan in place, it's time to actually start building a website.
Step 3: Find a Webhost and Pick a Domain Name
The first step of building any type of website is to pick out a web hosting company and select a domain name. Many might consider this to be the biggest decision when creating a website, and I couldn't agree more.
A web hosting company directly affects the performance of your website. This includes the amount of server space you have available to the literal speed of your pages. A bad web host can cripple your website before it even begins.
Luckily, the web hosting industry is extremely competitive and there are a lot of choices available.
Here at GreenGeeks, we strive to deliver the best customer experience possible. And after receiving top-tier hosting accolades for 2021, we're positive we deliver on that promise. Everything from our speed to our support team is of the highest quality.
And our prices are competitive.
Yet, we really stand out from the other web hosting companies with our commitment to the environment. We carefully calculate how much energy we use and purchase three times that amount in clean energy.
And we recently started a program where we plant a tree every time a customer signs up.
You also need to pick out a domain name. This should reflect your business name and should be short. Many professionals will use their own names as their brand, but it's really up to what works best for you.
When you sign up with GreenGeeks, your domain name is free for the first year.
Step 4: Pick A CMS (WordPress)
The other major decision you need to make is what platform you will build your website with, but this is actually an easy choice to make. WordPress stands leagues above the competition when it comes to customization and design potential.
In fact, it currently powers nearly 40% of the internet.
Most importantly, it's really easy to use. Anyone can build a website using WordPress, and that is not an exaggeration. No coding is necessary for WordPress. Instead, developers rely on plugins and themes to do the heavy lifting.
On top of this, you are never alone in WordPress. There is a ridiculous amount of tutorials and guides available to help you get started and to help you master the platform. This only makes the platform easier to use.
Thus, it's the best platform choice for beginners.
WordPress is home to a ton of tools that focus on photo galleries, an image-related tool, which makes it easy to create a portfolio. In most cases, you just upload an image and configure a few settings and you have a stunning gallery at your disposal.
And as a graphic designer, getting great images should be a cinch.
Step 5: Pick the Best Plugins and Themes
I mentioned that plugins and themes do most of the heavy lifting in WordPress, thus it's important to pick out the best ones for a graphic portfolio. Yet, these terms might seem foreign if you've never used WordPress before, so let me explain.
A plugin is a small piece of software that adds a specific feature or tool to your website. They are basically the same as apps for your smartphone, but for WordPress. Without plugins, the only way to achieve the same results is with code, thus they are a beginner's best friend.
A theme is a series of templates that allows you to customize the appearance of your website. Yet nowadays, they include custom features as well, thus they are not purely cosmetic.
Without themes, website design in WordPress would be very different.
Plugins and themes have free and premium versions. In most cases, the free plugins will be more than enough for a graphic design portfolio, but there might be a few bells and whistles that are worth paying for, especially if they deal with the appearance of your content.
Here are a few great themes and plugins to consider for a graphic design portfolio:
Designbiz

Designbiz is a premium theme that focuses on displaying graphics of any type in a professional setting. As such, it actually has a built-in image gallery that works on any page. In fact, you can even build multiple galleries on a single page if you wish.
As a premium theme, there is also a support team standing by to answer questions and help you get started. It also has good blog functionality if you ever need it.
ePortfolio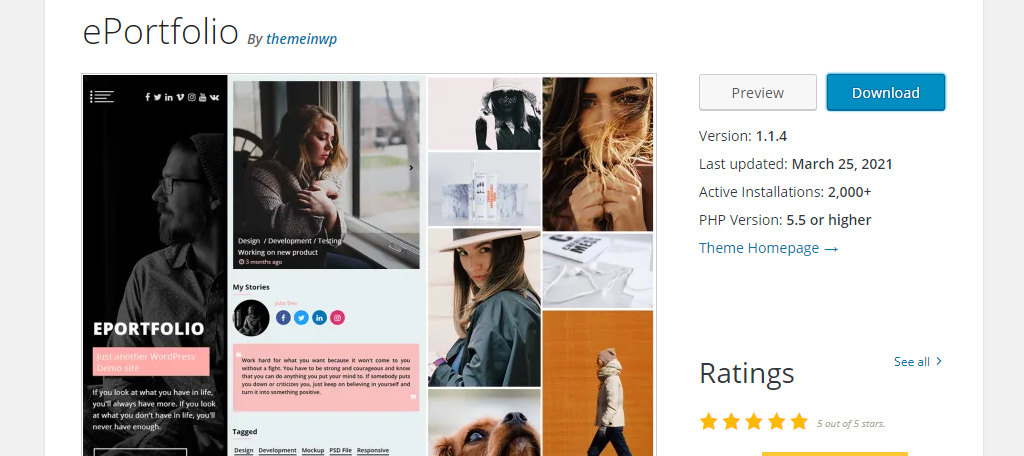 ePortfolio is a free theme sporting a minimalist design. This just means that the theme is pretty plain, which makes it easier for your content to stand out. And as you can imagine, this is pretty ideal for any visual designer building a portfolio.
It also supports page builder plugins like Elementor, therefore, you can use those tools to create custom layouts if necessary.
Envira Gallery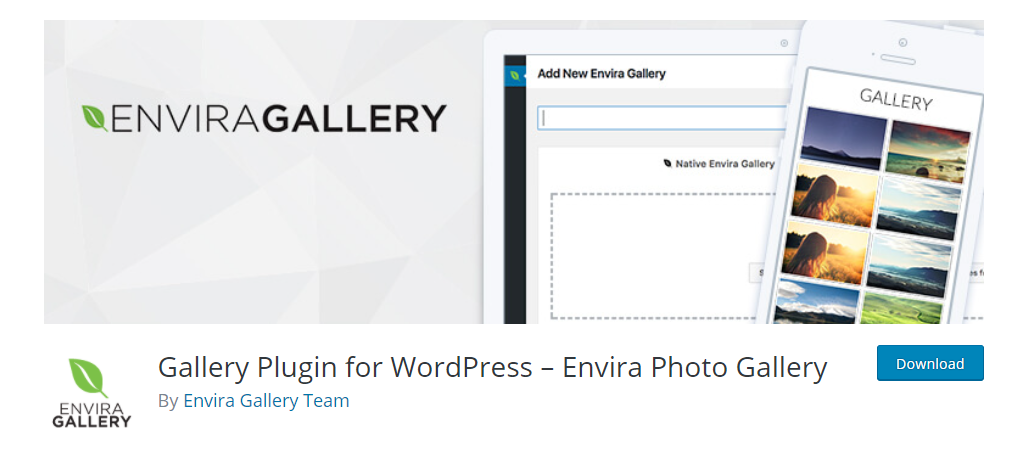 When it comes to WordPress galleries, Envira Gallery is one of the best gallery plugins available. It utilizes a drag-and-drop interface, which gives you full control of image placement, without making it difficult. Thus, it's perfect for beginners.
It also has a variety of other benefits like social media integration, Adobe Lightroom sync, and it's fully responsive. Thus, your portfolio will look good on any device.
Contact Form 7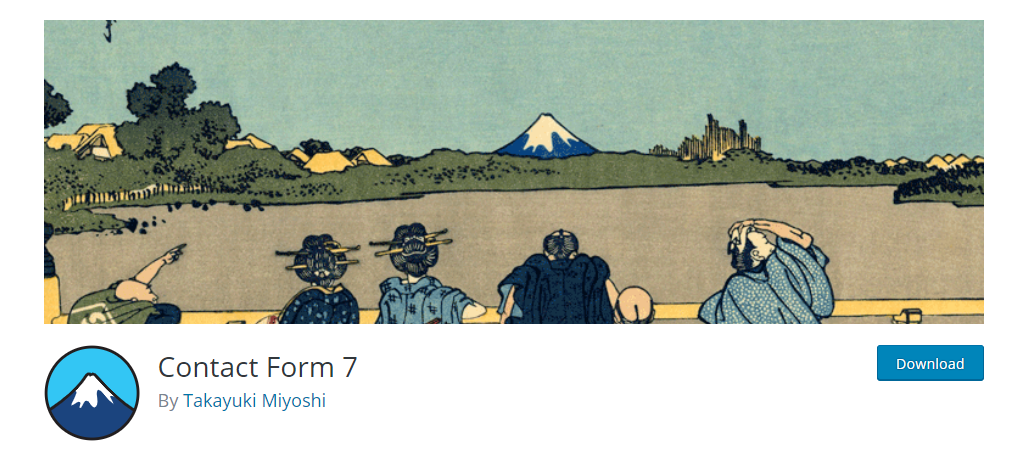 The entire point of building a graphic portfolio is to show off your work to impress potential customers. However, those customers need a way to contact you, and that's where Contact Form 7 comes into play. It's one of the best free form builders on WordPress.
Don't just take my word for it, as it is one of the most popular plugins in WordPress with over 5 million active installs. As such, it's compatible with just about everything.
Step 6: Share Your Graphic Design Portfolio
With your portfolio built, the next step is to actually show it off to customers, and this can be challenging for a pure portfolio. There's typically very little writing, which makes it hard to do well on search engines.
Instead, you need to take a different approach and focus on manually adding it to multiple sites. One of the first places you should add it is to your social media sites. Add it to the biography or status, but this won't be enough.
Instead, you should add it to actual websites that are dedicated to helping graphic designers find customers. For instance platforms like Behance, Dribble, Coroflot, and many others are dedicated to this purpose. Make sure your portfolio appears on sites that customers will use.
I know I said portfolios don't typically have a lot of written content, however, it's not a rule.
You could definitely add a blog to your portfolio. This will help you rank better on search engines. Just try to keep the focus on graphic design. You might even consider writing tutorials to help show off your expertise.
Just make sure to look up the basics of SEO. These are factors that search engines use to rank your website. Not following them will render your blog useless because it can not rank highly.
Luckily, there's plenty of guides available to help you follow the latest SEO trends.
Show Off Your Content, Draw In the Customers
As a graphic designer, a website portfolio is the best way to show off your skill. It's your resume!
That said, building a website from scratch isn't as easy as most make it out. Even when using a simple platform like WordPress, it still requires a good chunk of time to get it right. And afterward, you usually have to rotate the content and show off your latest projects.
This ensures that your work as a web developer will never end, but it is rewarding.