Have you ever forgotten to do something for your website? This can be avoided by setting up custom admin notices in WordPress. It is common practice to set up reminders using sticky notes, calendars, and the many methods of setting reminders on your mobile phones, but if you want a reminder for something WordPress related, why not be reminded in WordPress itself?
Luckily, it is extremely easy to set up custom admin notifications in WordPress. There are many plugins that will make it easy for you to do this. There are many advantages to setting up reminders within WordPress for admins, which may not even be for yourself. Today I will demonstrate how to add custom admin notices in WordPress using the KJM Admin Notices plugin.
Why Custom Admin Notices Can Help Your Website
You can set custom WordPress admin notices to remind your admins of anything. These are extremely beneficial in team environments. For example, you're going on vacation and your partner is in charge of the website. You could create notifications to remind him or her to make a page go live or update a plugin. The possibilities are endless and they can be very effective at reminding whoever has admin privileges.
WordPress admin notifications can be used to notify of many things including errors, warnings, updates, reminders, and much more. It really depends on what you want the message to be, but remember they can be very annoying if the notifications are received every hour. An abundant amount of notifications can definitely impact the experience of your staff and newer WordPress developers.
How to Install and Use the KJM Admin Notices Plugin to Add Custom Admin Notices in WordPress
Today I will demonstrate how to use the KJM Admin Notices plugin to add custom admin notices in WordPress. It is a very handy plugin when you want to add notifications, but don't want to manually code them into WordPress. Manually coding can lead to errors that can be easily avoided by using a plugin.
Let's start by going to the plugins area of WordPress and clicking on the "Add New" button.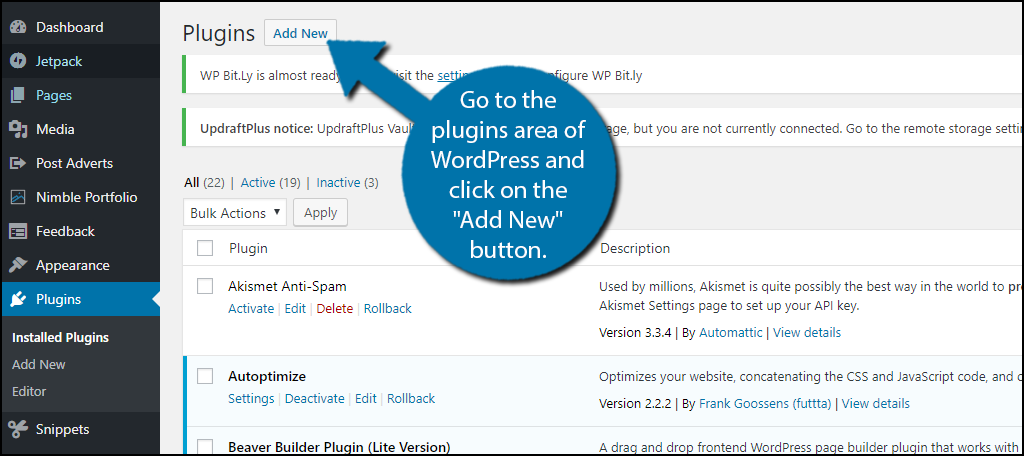 Search for KJM Admin Notices in the available search box. This will pull up similar plugins that you may find useful.
Scroll down until you find the KJM Admin Notices plugin and click on the "Install Now" button and activate the plugin for use.
On the left-hand admin panel click on Settings and select the KJM Admin Notices option to continue.
If this is your first time using KJM Admin Notice you must check the box to activate the notices on your website. You will also want to click on the first box for Notice Post Type. This will pull up the option to have emails sent as well. Feel free to set this section up, but depending on how many notifications you do set up, it could be extremely annoying for people to receive too many emails.
Once you have checked the box and filled out any additional information you wish, click on the "Save Changes" button. Doing so will add Notices on the left-hand admin panel.
Click on Notices and select the Add Notice option to start creating notices on your website.
This page is extremely similar to creating pages. You will need a title and a description for your notification. It is very helpful to make the name very clear to help you remember so you don't have to actually read the description of your notifications.
Once you have finished creating your notification, look on the right-hand side and select what type of notification it will be under the Notice Cats.
Now scroll down and select who will see this notification.
Once you have filled in all of the appropriate fields click on the "Publish" button to make your notification go live.
Congratulations, you have successfully added a custom admin notice that can be viewed by whoever you have chosen. This is very handy for teams and can help remind people what needs to be done. You can repeat these steps and create as many notifications as needed for your website.
Additional Plugins That You May Find Helpful
Notifications are widely used and WordPress has many plugins that can help your website. Here are some plugins that I can recommend trying when you want to add custom notices in WordPress.
WP Notification Center
WP Notification Center is a very handy plugin when you want custom notices. This plugin gives you the tools to manage all of your notifications and help you customize their appearance. It is extremely handy if you find your screen crowded with notifications. It's a great plugin and can certainly help you manage and add custom admin messages to your website.
Better Notifications For WordPress
Better Notifications for WordPress is another plugin that can help you create custom notifications. This will allow you to customize the existing notification messages on your website. For example, you can change what the new post notification looks like and who will receive it. It's very handy for making your site feel unique to visitors and is a great plugin to try.
Keep Your Staff and Subscribers Notified
Notifications can be a very handy tool for easily distributing specific information to certain people. This could be an error message for a person in charge of adding code to your website, or reminding a subscriber that a new piece of content or product is available when they log in.  These can be just as useful as other tools provided by WordPress like a floating footer bar or a custom widget to display key information.
Regardless of what form of distribution you use, it is essential that you find one that works and is not annoying. It may be fine for employers to send multiple notifications to employees, but no visitor wants to be bombarded with multiple notifications when logging in. Remember to always find a balance between annoying and effective whenever you are trying to distribute information.
Who are you notifying on your website? How often do you send notifications out for subscribers? Has creating notifications helped get work done on time?