Have you ever noticed how just about every website has a privacy policy? Well, that's because it is required by law. Thus, you need to create a privacy policy for your WordPress website.
And the good news is that it doesn't really take much time. In fact, WordPress will actually do most of the work for you.
Most websites collect data from their users in one form or another. This can be something trivial like an email address or it can be something very important like their credit card information.
In any event, you need to create one for your website that details what information you collect.
What is a Privacy Policy?
A privacy policy is a document that describes what data you are collecting from your users and what the intentions of collecting that data are.
For example, if you collect your visitor's email address and plan to sell it to a third party, you need to disclose that information.
Failure to do so will have legal ramifications. Not only that, but failure to not follow your own privacy policy can also lead to lawsuits.
So, what kind of rules does it need to follow?
Well, there's actually not much to go off of legally speaking. It simply needs to be easily accessible and easy to find. For this reason, most websites include it in the footer area so it appears on every webpage.
Contrary to popular belief, the privacy policy is not just for the country your website is from. Since it can be accessed around the world, there are international laws that may have different requirements.
For instance, the most well-known is the GDPR act from the European Union. This law not only affects Europe but includes every website around the world. Thus, you need to make sure your website is GDPR compliant as well.
Note: A Privacy Policy is not the same as a Terms of Service (ToS).
Create A Privacy Page With WordPress
The good news is that since a privacy policy is required by law, WordPress actually has a built-in privacy policy generator, but you will have to modify it to fit your needs.
Step 1: Understand What Data You Collect
The first step is to actually understand how your website collects data because truthfully, a lot of beginners don't actually know the full extent of it.
For example, let's say you have a contact form plugin installed and use it to collect mailing addresses for visitors that want to receive them. Well, that needs to be listed in the privacy policy.
You also need to explain what you are using that data for, even if it should be obvious.
Now websites collect a lot of data, so you need to be thorough and check every type of input that your site presents to the visitor. You'll need this information to properly build a privacy policy.
Step 2: Create a Privacy Policy Page in WordPress
This probably sounds like a lot of work, but WordPress can do this for you automatically and include most of what you need. All you actually need to do is click on Settings and select the Privacy option.
Once on this page, you will be able to read a short description of what the Privacy tool does in WordPress. I strongly encourage you to read it because it provides valuable information that every website owner should know.
Essentially, the tool will create a page with multiple headers already made for you. It will be your responsibility to fill in those sections with the appropriate information, which you should now know after doing a thourough search in step 1.
Click on the "Create" button to generate a privacy policy page.
Step 3: Modify the Privacy Page
This will bring you right to the newly created privacy page. As I said before, it's just a series of headers with some suggested text. You will need to go through each one and edit it as you see fit.
With that said, some of the text may be perfect for your website as is. If that is the case, simply remove the "Suggested Text" from in front of the section and it's ready for use.
Now, unfortunately, this is only the first step. Do you use Google Analytics?
If the answer to that is anything but a yes, you have done something wrong. All third-party services like Google Analytics also take the data you collect, which needs to be outlined in your privacy policy.
The good news is that most of these services also include guides on how you can word it. Sometimes, finding this information can be a little tricky, but it shouldn't be that bad.
If it is, that site has likely breached the privacy policy. Remember, these should be easy to find.
Once you have entered all of the information, click on the 'Publish" button to make the page go live on your website.
Step 4: Make Your Privacy Policy Accessible
Now, simply making the Privacy Policy page go live is not enough to make it easily accessible. It needs to be visible on just about every page of your website.
As I said earlier, most websites accomplish this with the footer area.
In fact, you'll generally find plenty of other important items in this section of your website like the Terms of Service, career options, and more. Luckily, it's pretty easy to add the privacy policy page to the footer, so let's begin.
There are quite a few ways to do this, but the easiest is just adding it via a widget.
Click on Appearance and select the Widget option.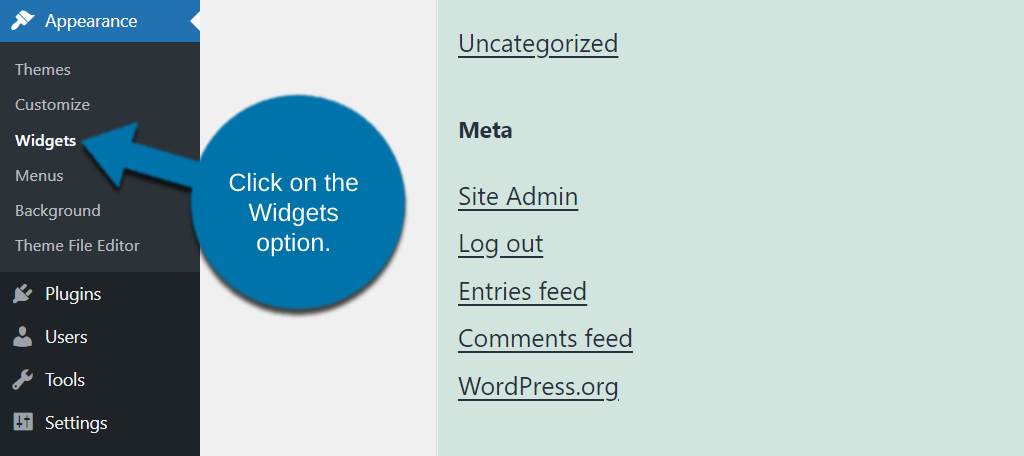 Locate the Footer widget area and add the Privacy Policy as a link. Visitors will be able to access it on any web page now.
If you don't have a footer widget area, consider using the sidebar or your top navigation menu. The point is to get the link to show on virtually every page.
Congratulations on adding an easy-to-access privacy policy page in WordPress.
Privacy Policy Plugins to Try in WordPress
The built-in tool WordPress provides is pretty handy, but some users may want less work. Luckily, WordPress has thousands of plugins you can take advantage of and there are multiple that specialize in privacy policies.
Auto Terms of Service and Privacy Policy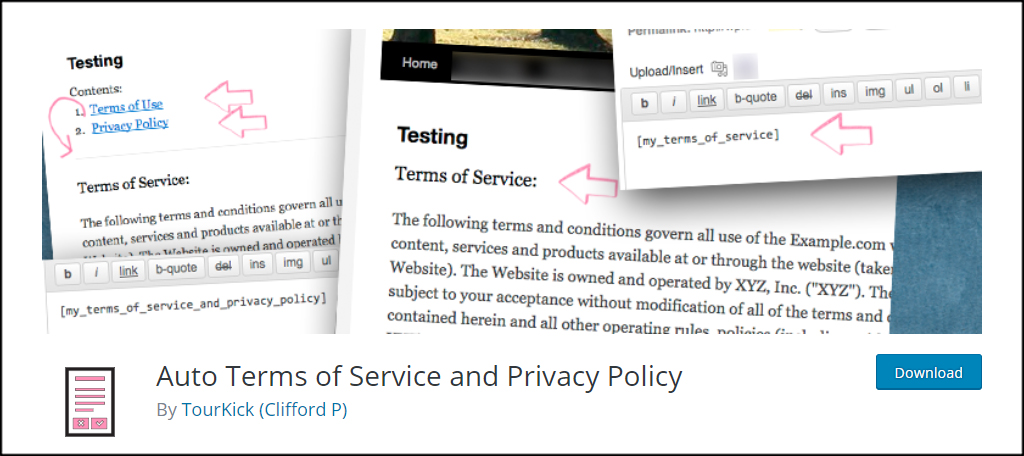 You can install plugins to take some of the work out of creating a privacy policy page. In fact, tools like Auto Terms of Service and Privacy Policy provide several shortcodes while creating the pages for you automatically.
This gives you a bit more flexibility when it comes to displaying your statements while keeping the content organized.
This particular plugin also includes an automatic privacy policy generator. It's a generic agreement, but you can modify it later. In the settings of the plugin, you simply add your name and other vital information.
The plugin then uses the data to create a statement based on common policies on the Internet.
In reality, it's a good place to start if you're unsure how to create a privacy policy page.
WPLegalPages
If you don't want to write a privacy policy yourself and risk making a mistake, don't worry, the WPLegalPages plugin has you covered. This tool just needs you to enter your business information and select what type of privacy policy you need.
After that, the plugin generates the policy for you.
The plugin also has compliance settings that help you add it to your footer and notify users whenever there is a change in the policy.
Legal Pages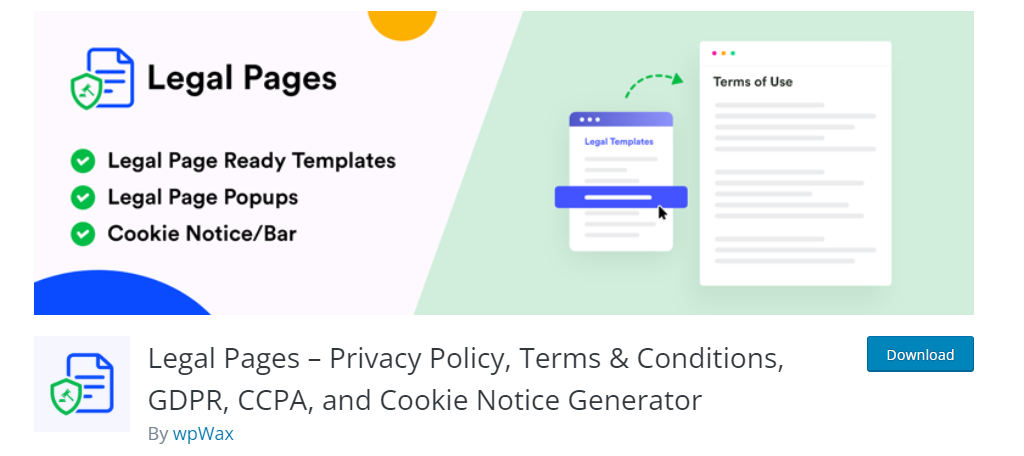 Legal Pages is another legal document generator for WordPress. It can generate a privacy policy, GDPR compliance document, CCPA, Cookie Notice Generator, Terms & Conditions, and much more.
Adding these templates to a page is simple thanks to the one-click legal template insertion tool. Just be sure that all of the information in your General Settings is up to date as the plugin will use that to customize the forms for your business.
Don't Misuse Your Visitor's Information
The entire reason a privacy policy is necessary is that websites have taken advantage of the data they collect and sold it to third parties. Further misuse of the data will inspire stronger legal responsibilities from websites, so don't do it.
In reality, your goal should be to be as transparent as possible. This helps build trust between your brand and the visitor. A trusted website is more likely to make a sale or retain visitors.
Eventually, if you are doing something wrong with the data, someone will find out. Having a source explain what you do with that data is far worse than explaining what you do with it in a privacy policy.
Did you find the privacy policy builder in WordPress useful? Did you use a plugin instead?