It's always a good idea to keep regular backups of your website. It helps keep the site safe from attacks and disasters by making it easier to recover. When dealing with financial information and products sales, a CubeCart backup offers peace of mind. For example, what if you accidentally deleted a needed PHP file for the website to work properly?
In this tutorial, I'm going to show you how to backup CubeCart and its database. It's a good idea to have a routine of doing this as often as you think is necessary. Many people will have systems to perform daily backups.
Creating a CubeCart Backup
There are two major components to backing up any website: files and database. If you want to have a good copy of the site, you'll need both. Otherwise, you'll miss out on changes to the site's layout and functionality or be without customer and product data.
Backing Up Site Files
A common method of backing up a website is by using File Transfer Protocol, or FTP. You can use free FTP applications like FileZilla to connect to your server and copy all your site files directly to your computer. The only real downside to this method is the time it takes to download all of your site's files. Of course this is also adjusted depending on the speed of your Internet connection.
However, having an FTP program on hand gives you direct access to the site in the event of a problem connecting to the admin panel. It's a very useful tool to have on hand if you're developing a website of any kind.
Another method you can use to download your site's content is through cPanel's File Manager. From here, you can archive your entire site into a ZIP file to download as a backup. This is often the quickest method for downloading, but it doesn't give you the flexibility of the FTP program.
You do this by going into File Manager, select all of your files and click, "Compress" from either right-clicking the files or the tool from the top tool bar. Mac users will hold the command button when clicking to bring up the file menu.
This will give you an option to save the contents as a ZIP file which you can then download.
Downloading the Database
The database is accessible from your cPanel dashboard. It's a quick and easy download and you'll want to do this the same day you grab your site's files. This will keep everything uniform.
From cPanel, click the "phpMyAdmin" tool.
Locate and click your database from the left panel. If you only have the one website, it will be the only one listed.
Click the "Export" tool from the top navigation bar.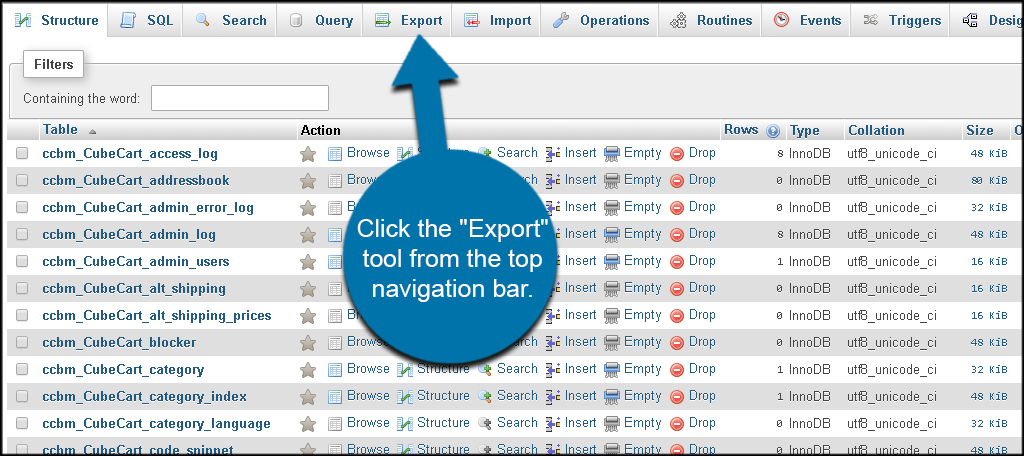 Keep the format as "SQL" and click, "Go."
Your computer may load up your download screen or simply save the file into your downloads folder. This will depend on how you have your browser set up for saving online files.
Keeping it Secure
When maintaining a website, especially eCommerce, you have a lot of options for implementing website security. There is no such thing as being "too secure" when dealing with private information and protecting your online investment.
While payment gateways offer their own security, keep in mind that you store private addresses as well as sales orders. This is vital information for the success of your website. Keep a regular CubeCart backup and rest easy knowing you can recover quickly in the event of an emergency.