Oftentimes when someone wants login access to your website, creating a full user account may not be the best option. For this reason, a WordPress temporary login without a password may be more ideal.
Why is a WordPress Temporary Login Ideal?
There are a few reasons why a site owner may allow someone a temporary login without a password. These situations often fall under a developer wanting access, but other reasons include:
Editor reviews
Authors who may need very short-term access
Allowing a client to access a site you're creating
Third-Party help resources
These are a few good reasons why a temporary login to WordPress is more ideal than creating a full user account. This way you can set login limits and set the amount of time someone has access to your website before their WordPress temporary login credentials expire.
Let's take a look at how you can easily enable WordPress temporary login for a user.
Temporary Login Without Password
There is a fantastic plugin called Temporary Login Without Password that will allow you to easily create self-expiring, automatic login links for your WordPress website.
Basically, the plugin allows you to create a temporary login link based on the rules you set. This includes the amount of time the link works, as well as the user role allowed to use the link.
You create the temporary login without a password link and send it to the user who wants access to your website. They can then access your site without being a user and without having a password. The link you create will automatically expire and stop working based on the configurations you choose during setup.
For instance, let's say you are creating a website for a client. You can then send him or her the link in an email which they can use to access the site. Once the time limit you set expires, the link no longer works and no one can access that specific credential.
It is a lightweight and very easy-to-use plugin that gets the job done. Let's take a look at how to use the Temporary Login Without Password plugin to create a link that requires no password to log into WordPress.
Install and Activate Plugin
In order to create WordPress temporary logins, you need to install and activate the plugin. You can do this from the plugin's page in your WordPress admin dashboard.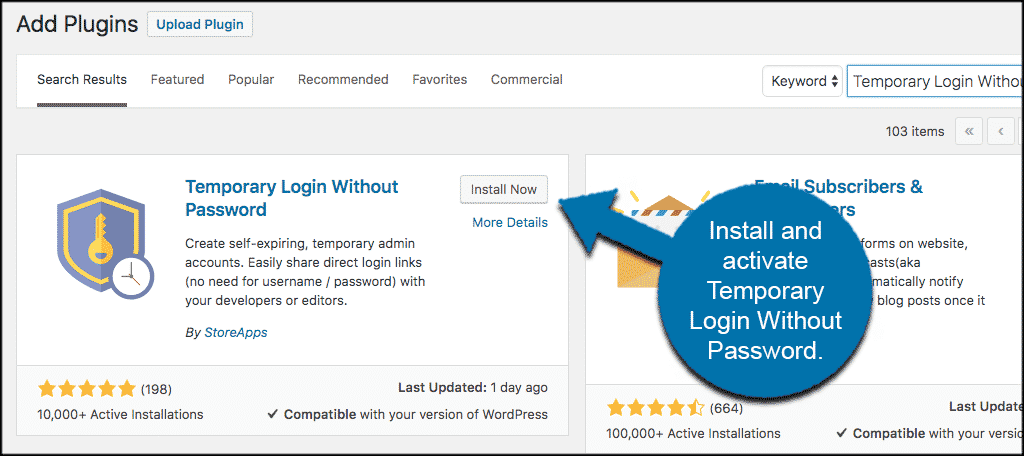 Once the plugin has been installed and activated, click on Users > Temporary Logins to access the settings and the page where you can create temporary logins for WordPress.
You will see this on the left side menu inside your WordPress admin dashboard.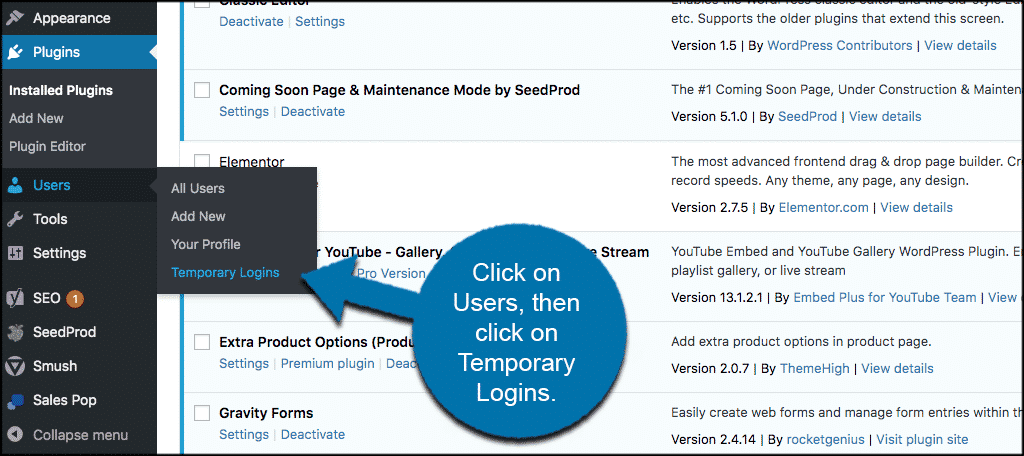 Create a WordPress Temporary Login
Once you are on the main configuration page for the plugin, go ahead and click on the setting's tab. Just to review what you can set by default before setting up any temporary logins for WordPress.
You will see that all the visible roles available for your particular website are displayed. You can select one of these or leave it and set the defaults. This is up to you.
Also, notice how the plugin will include custom user roles as well.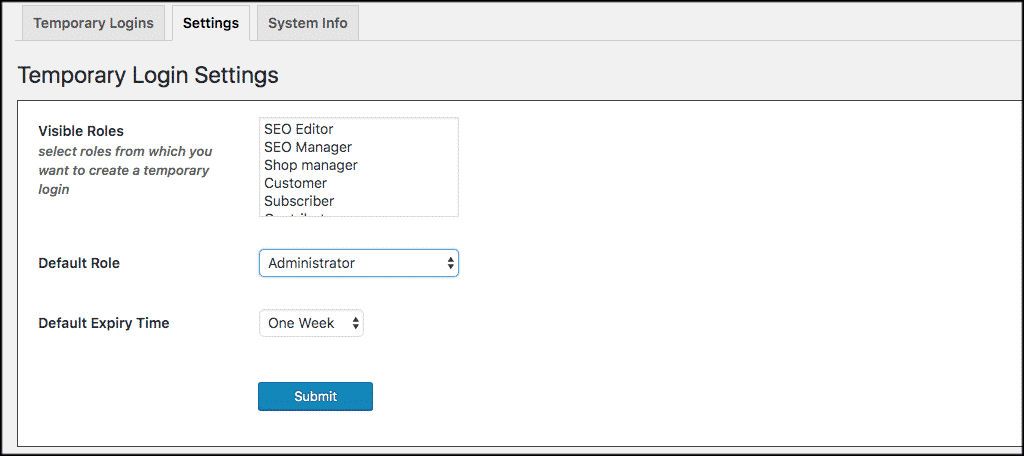 When you are done with that, click back on the Temporary Logins tab. You will see a "Create New" button located on the top of the page. Click on that to create a new WordPress temporary login.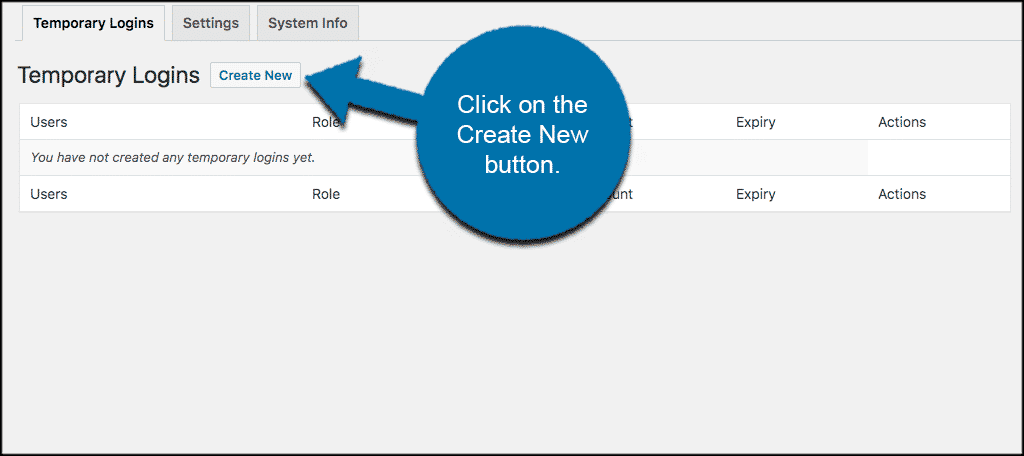 You will see a pretty simple box appear. Fill out the temporary login settings for the name and email of the person you want to have access to your site.
You can also choose their role, how long the temporary login for WordPress will be good for, and also choose a language. When you have made your selections, click on "Submit."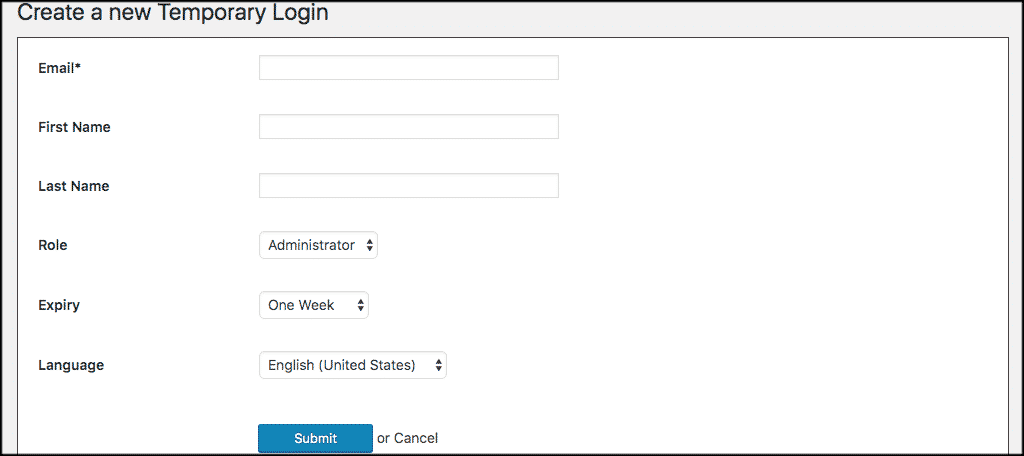 That's it. You will now see the new WordPress temporary login that you created displaying on the bottom of the page. All the information about all the temporary logins for WordPress you create will be displayed here.
You will also receive the auto-generated link that was created. Share this with the person you want to have temporary access and you are all set.
Final Thoughts
You no longer need to add a full user to a WordPress website to allow login access. You also don't need to give out your own username and password for developers.
By using this easy-to-understand method, you can create as many WordPress temporary logins as you need and extend the life of the login as long as you want.
Have you found an easier way to create temporary logins without a password? Did you find the Temporary Login Without Password plugin to be simple and easy to use?