Have you created a large website with hundreds or thousands of posts? Do you have thousands of products on sale? If so, visitors will have a difficult time finding exactly what they want, and that's where a WordPress search plugin can help.
The best part about WordPress is its customization and plugins make it easy to manage. While there are many premium plugins to choose from, there are plenty of free WordPress search plugins.
Of course, picking the best plugin for you is difficult as each will have varying features.
This blog will share 13 of the best free WordPress search plugins you can use.
Why Don't I Just Use The Default WordPress Search Function
You might be wondering exactly why you should install a WordPress search function plugin when the system has one built in. Well to put it simply, the default search function is terrible.
Yes, it works to a degree, but that's about all it has. It offers slow search results with almost zero flexibility. On top of that, it is the most basic-looking search bar you can get. Yes, not many people will talk about how great a search bar looks, but that doesn't mean you should ignore the fact.
Trust me when I say, you do not want to rely on the default search function in WordPress.
What Are The Benefits Of Search Systems
Search systems offer a plethora of benefits for every website. Regardless of how easy your site is to navigate, there will always have visitors who can't find what they are looking for.
Search bars make it easy for anyone to find specific information. Just look at the popularity of Google.
For example, let's say you sell video games on your website. Video games can be broken up into several different categories, and there can be hundreds of games in each. Having a visitor try to find what they are looking for manually is poor design.
On top of helping visitors find what they are looking for, you will also know what they are searching. Search logs allow you to see the terms and pages visitors are searching. This information allows you to create content or offer products best suited for those searches.
For these reasons, upgrading the default WordPress search option is important.
What Makes A Good Search Function
So far we have determined that the default WordPress search function is bad and that the benefits of having a a good search ability is great. However, we still need to go over what actually makes some WordPress search plugins so engaging.
Speed: No one likes a slow website. Not visitors and especially not search engines. A low search on your website is unacceptable. Thus, any good search system plugin must be fast.
Phrase Searching: Most visitors are not going to type the exact name of a blog or product on your website. No, instead, they are going to get a small part of it right and it's up to the search system to do the rest. Thus, your system needs to be able to utilize phrase searching to generate the best results.
Results: The results need to appear clearly and show relevant information. For example, if they are searching for products, an image of the product, description and rating should be visible.
Search Logs: Knowing what your visitors want is half the battle, and search logs help you find out. They keep track of what visitors are searching, which gives you the information needed to market content/products to them.
Search Bar Design: Website design looks at every single aspect of your website and yes, even a search bar should be considered. Most plugins offer multiple options to choose from for this reason.
13 WordPress Search Plugins for Free
1. Advanced Woo Search
WooCommerce is known for helping online shops set up and their search system is a great addition to any online store. The Advanced Woo Search is a must-have for any website powered by WooCommerce.
It's great for any eCommerce site you create with WordPress.
It's easy to use, offers customization options, supports multiple languages, smart ordering and best of all it's fast and free. This is the best search plugin available for any website that uses WooCommerce.
2. Ajax Search Lite
Ajax Search Lite is a great option for every website. It offers a fast search that will not only check posts and pages, but custom ones as well. One of the best features is that it is very mobile friendly, which is essential in 2019.
On top of all this, Ajax Search Lite is rocking one of the sleekest designs.
This plugin is free to use, but it is worth mentioning that there is a premium version that allows it to operate on websites with BuddyPress, WooCommerce and other popular plugins.
3. Relevanssi
Relevanssi is the most popular plugin on this list with over 100,000 active installs. It achieved this by being one of the best plugins on the market for free. The highlights of this plugin include its raw power. Relevanssi has one of the best phrase matching capabilities on this list.
However, it is worth noting that power does have a price, in this case, database space. If you do not have a lot of space available, this plugin may not work as intended.
4. ACF: Better Search
ACF: Better Search is the fastest plugin on this list. Speed is critical in searches. If it takes to long, visitors leave the page and this plugin understands that.
One of its key features is light mode.
This mode speeds up searches even faster. Although, it does come with a price of not checking field types. This is one of the simplest, yet effective, plugins on the list. ACF is great for websites of any size.
5. Ivory Search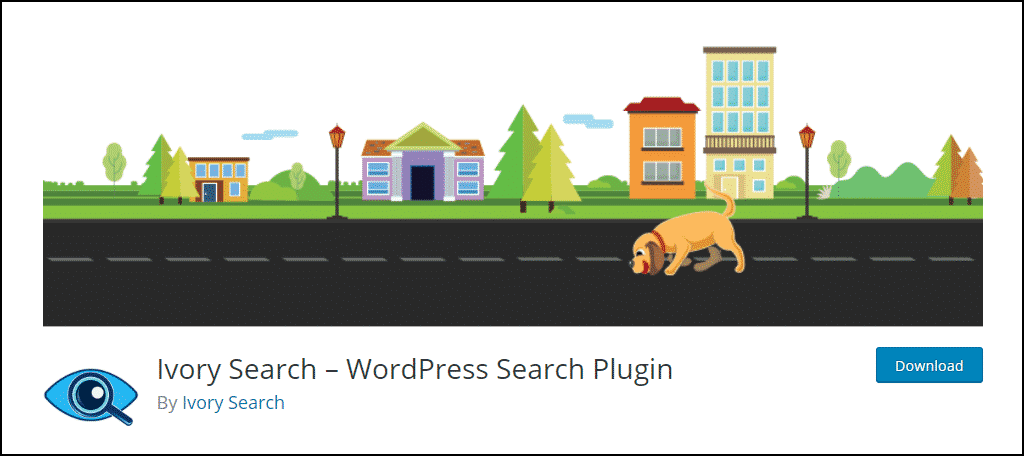 Ivory Search is one of the best custom search plugins for developers who like to customize every aspect of their website. This plugin allows developers to create their own custom search forms and an unlimited number of them.
A neat feature that other plugins on this list do not offer is the ability to search for password protected content. Overall, this is a great choice for developers that like to create everything themselves.
6. Better Search
Remember how I said the default WordPress search engine is kind of lacking? Well, the Better Search plugin replaces that method with one having better functionality.
Better Search improves every aspect of the default engine including its speed, results and offers actual design options.
On top of this, there are plenty of advanced options that experienced web developers can use to their advantage.
7. YITH WooCommerce Ajax Search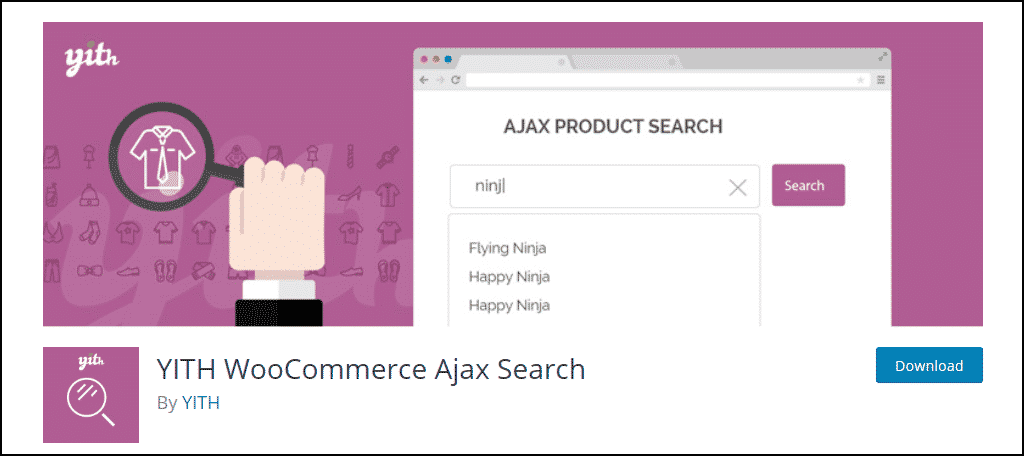 Millions of websites utilize WooCommerce, and you might have guessed that there is more than one plugin for the job. The YITH WooCommerce Ajax Search plugin utilizes the Ajax search engine on a website running WooCommerce. It is the second most popular plugin on this list with over 90,000 active installs.
YITH has WooCommerce WordPress search widgets and shortcodes that make adding the option easy. It's definitely a good choice for any websites that use WooCommerce.
8. Swiftype Site Search
The Swiftype Site Search plugin replaces the default WordPress search engine. It boasts faster load times, more relevant search results and more customization options in general.
If you looking for a more powerful, yet simple, search function for your WordPress website, this is it.
9. CurrySearch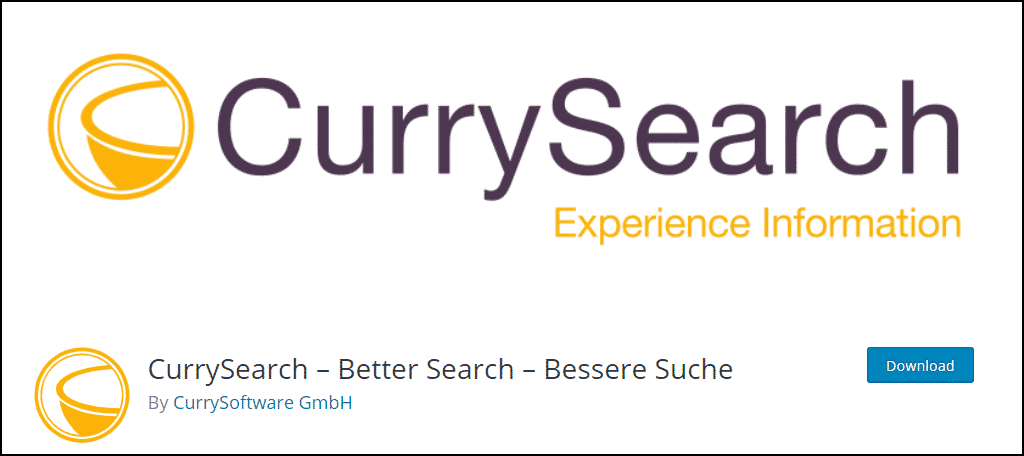 CurrySearch is a Cloud-based search function for WordPress. Unlike other powerful search functions that may end up slowing down your website, all of the heavy lifting is done on the cloud.
On top of this, it supports custom post types and has an autocomplete feature to help. This makes the plugin a great choice for websites with limited server resources.
10. SearchIQ – The Search Solution
SearchIQ is another WordPress search plugin that enhances the terrible default option. One of the better features this plugin offers is its analytical capabilities.
The real-time analytics help you find out what your visitors are looking for, which allows you to create content that matches those searches.
SearchIQ also provides thumbnails in the search results if you choose to enable the feature.
11. Site Search 360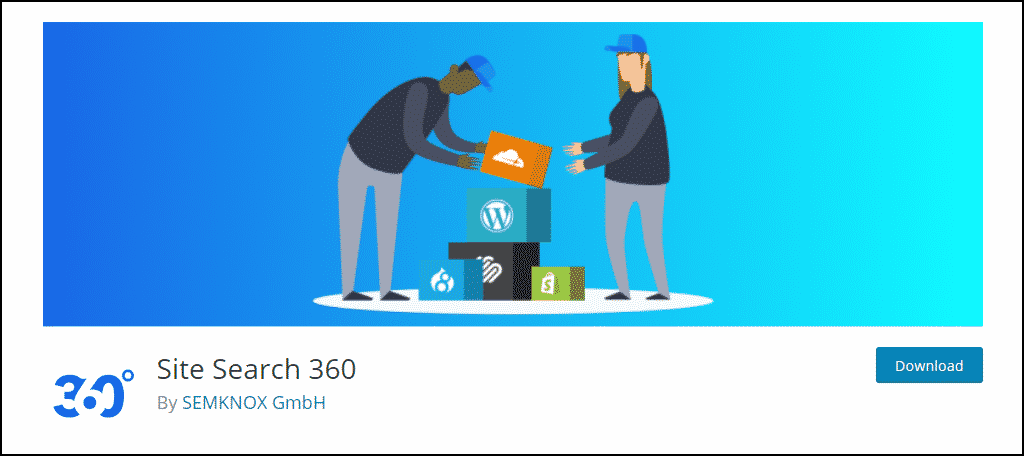 Site Search 360 is another plugin that replaces that standard WordPress search option with a more optimized version. It boasts faster search times, automatic updating and high levels of customization.
It is easy to set up, which makes it perfect for beginners.
12. WP Fastest Site Search
WP Fastest Site Search is a very fast search function plugin. It has multiple features that separate it from others on this list like PDF, voice, image and search term highlighting.
It is fully compatible with mobile devices including tablets. It's a great option to choose if these features sound useful on your website.
13. Relevant Search
Lastly, we have the Relevant Search plugin. It automatically replaces the default search option and essentially does it better.
If you are looking for a lightweight plugin that is better than the default option, Relevant Search has potential for helping you.
Consider Premium Plugins
When starting out, premium plugins get ignored and for a good reason. They cost money, but many of them are designed for larger websites that get thousands of views each day.
Money is less of an issue at that point.
As your website continues to grow, it is important to understand premium plugins are better equipped to handle higher amounts of traffic. Ignoring this can result in a very slow website in the future.
On top of being better equipped, most premium plugins offer support that can help you make the most out of your purchase. This can save you hours of tinkering with free plugins.
For this reason, you should consider premium plugins when looking for WordPress search plugins in the future.
Give Your Visitors The Tools They Need
Many beginners may undervalue something like a basic search function, but you shouldn't. It is an essential tool that helps visitors find the content they are looking for and helps keep them on your pages.
The larger your website gets, the more important the search feature and other navigational tools become. Remember to test your site regularly and make sure it is easy for anyone to find what they are looking for.
While this list only has 13 WordPress search plugins, there are plenty more to consider. We limited our selection to free ones, but the premium tools can certainly help improve your website as well.