WordPress has a great deal of versatility when it comes to things like overall appearance. While you can scan through the hundreds of themes and layouts that are available, you can also build your own.
This may be a better option if you're looking for a specific look and feel. This is only one reason why WordPress has a market share of nearly 60 percent.
I've come across a number of tools both online and off that make designing WordPress layouts easy. In fact, most don't require any knowledge of coding whatsoever. The last thing a lot of you want to do is learn HTML or PHP coding when all you need is a good page builder for WordPress.
Today, I've put together a list of 23 builders that you should try if you're interested in having your WordPress website hosted.
You don't have to be a graphic design major to appreciate them.
Whether you're getting into theme building professionally or simply want to add something nice to your blog, take a look at these awesome apps.
1. Themify
Themify Builder is a great tool for designing the layout of your pages and the overall appearance of the site. It supports full responsiveness, comes with a large number of pre-defined layouts and includes custom styling for things like Google Fonts.
One of the things I like most about Themify is that the builder comes included when you buy any one of the company's themes. You can also use the "Lite" version, which comes with some pretty nice tools.
2. Divi Builder
Elegant Themes makes a great WordPress page builder called, Divi Builder. This is a favorite of many because of the drag-and-drop features and the capacity to add just about anything to the layout. It comes with more than 40 modules to help you design and almost everything in the system is customizable.
The option for unlimited "undos" is a nice touch for those who design. Nothing is worse than trying to go back to fix something and you can't go back far enough.
3. Live Composer
If you're looking for a free page builder for WordPress, Live Composer may be a good option. It's an open source project, which means that it has contributors from all over adding functionality to the plugin. It has more than 30 modules available and is optimized for the latest SEO practices.
Perhaps the most notable feature of Live Composer is the fact that it's free. You'll get all of the plugin's functionality without paying for a premium service.
4. MiniMax
The MiniMax plugin is a page builder that is installed into the content editor of WordPress. It supports the use of widgets, comes with several key modules and is equipped with a front-end visual builder.
An attractive aspect of MiniMax is the ability to export and import page layouts. With a few clicks, you can save your page building for another site or as a backup.
5. Beaver Builder
Beaver Builder is a system that has great potential if you want a unique layout. It supports widgets, shortcodes and is capable of working with most available themes. Although the premium tool has far more capabilities, you can experiment with it using the basic version.
One of the things I like most about this plugin is that it will port your content back into the WordPress editor if you don't want to use it
6. Thrive Content Builder
Thrive Themes produces a nice Content Builder that is rich in functionality. Essentially, it puts the power of developing a layout while you're creating your content. So, you can see exactly what your visitors see while using the WYSIWYG editor.
Various features and modules for optimizing an online business is one of this builder's greatest assets. Part of this is driven by the fact that WordPress is more popular among online companies.
This tool gives you almost everything you need to market any kind of site imaginable. This is just one of more than 47,000 plugins available in WordPress.
7. Conductor
The Conductor page builder works in conjunction with the WordPress customizer for themes. This means it adds more functionality when you click the "customize" button of the theme you're using. Instead of a live front-end edit, you can use this feature to see exactly what the page will look like before committing.
The feature that I like the most about Conductor is that it will work with any theme. This is nice when you want to change a layout but really enjoy the overall appearance you currently have.
8. Elementor
Elementor is an incredible page builder with drag-and-drop functionality that can host a variety of themes, templates, and plugins. It's suitable for new users as it doesn't require much in terms of coding.
It keeps the process of website creating simple.
Elementor is also appropriate for launching an online store. For instance, it functions well with WooCommerce. Elementor can meet user needs because its elements are highly customizable. You can change layouts, background colors, typography and many other elements.
An amazing variety of stylish Elementor themes is available to satisfy different audiences and specific topics. Whatever niche or category drives your interest, there is a theme to meet your desires.
For example, you can use BuildWall as an all-in-one theme to design a powerful website for any construction company.
9. Tailor Page Builder
If you like free, Tailor Page Builder is a nice editor to consider. It's built with the latest WordPress coding standards in mind, such as REST API support. It uses a format like the WordPress customizer and allows you to grab sections of text and move them about the page.
Expanding Tailor Page Builder with its supported additional plugins for added use gives the platform a certain appeal. And that's aside from the fact that it's all free.
10. Visual Composer
Although Visual Composer is a premium plugin, it has a large number of tools that makes building WordPress pages easy. It comes with several useful modules, more than 60 pre-developed layouts and offers multisite support.
Another feature that I find intriguing is the front and back-end editing. You can make your changes from the admin panel or directly from the site itself. This doesn't include the multitudes of plugins developers have created to accompany Visual Composer.
11. MotoPress
MotoPress has a large number of features that make it truly worth the time to put into playing around with the demo. It gives you access to some of the most engaging elements for content while supporting quite a few add-ons to make your site stand out on the Internet.
I am drawn to the compatibility it has for those who operate, or wish to operate, eCommerce websites. MotoPress supports WooCommerce and can also help with pricing tables and the like.
12. Forge
If you need greater customization and a more flexible platform for building pages, Forge is one to consider. It has multiple APIs available so you can create your own modules, and it comes with some of the most common elements.
While the pro version offers a lot of elements that could be useful, I find the free version to be easy to use and engaging.
13. Kopa Page Builder
Kopa Page Builder is a bit different than some of the others in the list. It's a bit more technical, so you'll have to have an understanding about certain elements of WordPress. For instance, knowing pixel sizes, color schemes and more could be of use.
However, this page builder does have a simple and straightforward interface. While it may not be as customizable as others, it may prove to be of some use.
14. Make
Unlike many others in this list, Make by The Theme Foundry is a theme that is built with its own page builder. It comes with a layout engine and lets you make modifications from the WordPress customizer. While you can purchase the premium versions of this theme, its basic functionality is worth giving it a test drive.
Perhaps the most attractive feature of this theme is that is has a lot of customization available. Size, fonts, colors, layout and more can be done even from the free version.
15. Layers
Layers is another theme that has built-in functionality as a page builder from the customizer. It adds several components such as a drag-and-drop interface for widgets, image editing, layout alterations and a design bar unique to the system.
If you want to take the design to higher levels, you can also include extensions for the theme. These give it more functionality, much like a premium service does.
16. Frontend Builder
The Frontend Builder by Shindiri Studio is one of those plugins that make it seem more like a design application rather than an addition to WordPress. When you click on any element of your website, a new design window will appear and give you options for customization.
While this plugin doesn't have a free version that I can find, the tools and capabilities within it may be worth the purchase. However, I would suggest playing around in the demo before committing to buy it.
17. Page Builder Sandwich
Although the name of this builder is a bit odd, Page Builder Sandwich is one to consider. It provides a front-end editing system for your WordPress site allowing you to make changes instantly for visitors. It will also pool all of your shortcodes in one list, which will give you easy access to those elements.
The only thing I really don't like about Page Builder Sandwich is the colors of the Interface. However, it's a small price to pay for customizing a WordPress layout.
18. Page Builder by PaceThemes
The Page Builder plugin from PaceThemes is a simple editor that can help create custom layouts. Although not as feature-rich as some of the others in this list, it does come with the most common tools for customization.
This plugin comes with common modules and pre-built layouts. If you're a beginner, it may be a good place to start as it's less overwhelming than others.
19. WR Page Builder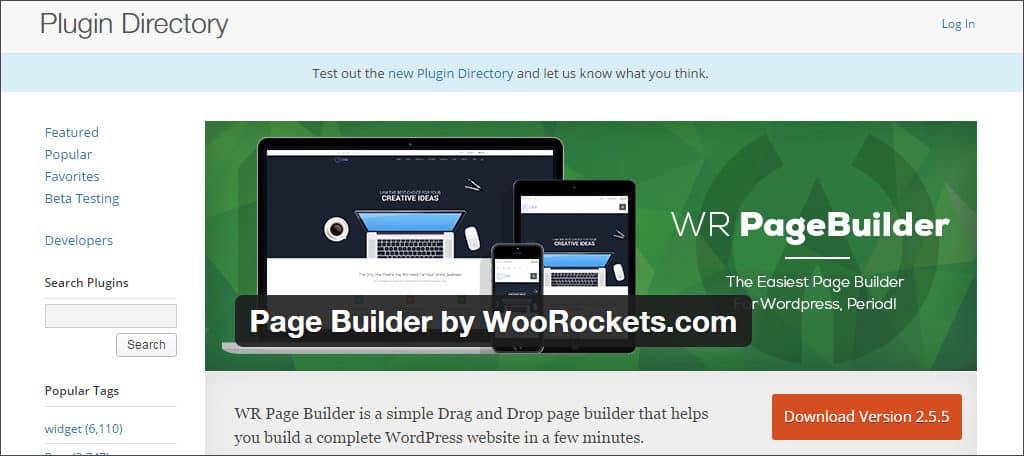 WooRockets has a competent plugin available called, WR Page Builder. Its drag-and-drop interface is easy to use and understand. It comes with the most common page elements to help you build and supports using widgets within the content.
This plugin offers even further customization of the website including colors and texts without figuring out CSS coding.
20. KingComposer
KingComposer has a lot of nice features that can make creating a custom page easy to handle. If offers a responsive back-end and everything you need to get started for free.
Unfortunately, all of KingComposer's most useful features are locked in the premium version. While there may be more practical page builders in this list, KingComposer may still be useful to those who just need something basic.
21. Simply Symphony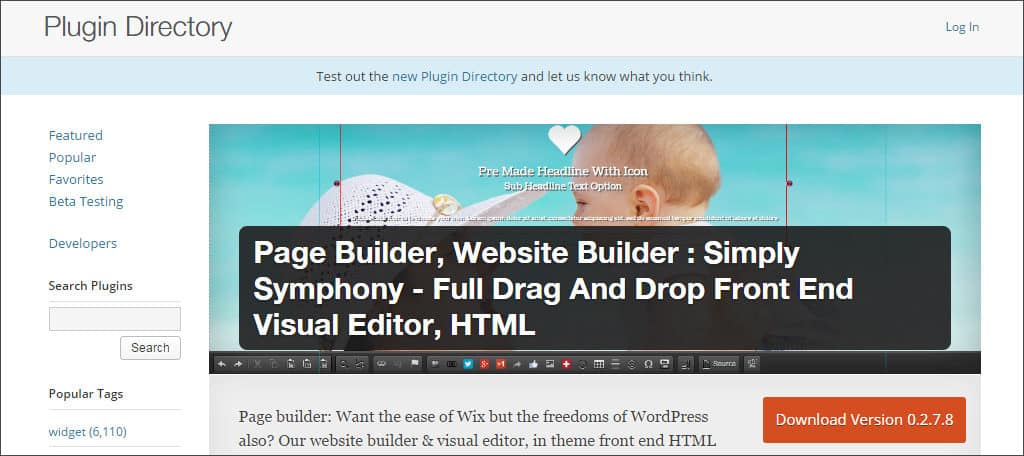 Simply Symphony is a relatively new plugin to edit WordPress pages. However, it has a lot of functionality for drag-and-drop and front-end editing. With an inline editor, adaptive pages and more than 50 Google Fonts included, the system may be a great investment.
The pro version has far more capability such as parallax scrolling, more than 600 fonts and timed CSS effects. From the front-end of the website, Simply Symphony looks more like a stand-alone visual application and not a WordPress plugin.
22. Artisteer
Artisteer isn't a plugin or a theme. It's a stand-alone application that lets you create themes and templates for many different kinds of content management systems including WordPress. It has an easy-to-use interface and shows you a live preview of what the site would look like as you're developing it.
One of my favorite features is the fact the software comes with stock images to use in your creations.
23. Page Builder by SiteOrigin
For those looking for a free but powerful tool, Page Builder by SiteOrigin is one of the most popular plugins to use on WordPress. Its drag-and-drop interface makes creating pages easy and it comes with more than 20 great ideas to help you get started.
This tool is great simply because it comes with a wide range of modules that come with it, even in the free version.
There are plenty of ways you can customize WordPress. This list is only a small fraction of what can be added to the CMS that has been downloaded more than 27 million times.
Building different layouts can be fun, especially for those who like to create. Before you stick with a theme that hundreds of other people are using, take a look at what these tools can do. The right WordPress page builder might just contribute to your online success from a visual perspective.