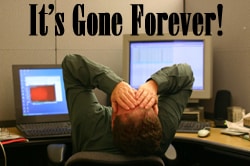 Security and backup for your website has always been a big deal for us here at GreenGeeks and we put a great amount of energy to ensure your website data is secure and backed up… we run on the principle of being safe than sorry — so as far as your website is concerned, you're covered.
But what about the files on your PC? With technology being a big part of our lives, you run the risk of losing everything just by clicking the wrong link in your e-mail! Regular PC backups are important and you shouldn't neglect it.
We're proud to announce that we've partnered with ZipCloud to offer GreenGeeks customers a FREE automated backup trial and unlimited storage space for your personal files from ZipCloud.
What are the risks of not regularly backing up your PC?
Without backing up your data regularly, you run the risk of losing valuable documents, music, videos, pictures, years of memories due to corruption by viruses, malware, hard drive failure or human error. Here are some quick facts to prove it:
Hard Drives fail 15 times more than manufacturers estimates.
46% of users lose their data due to drive failure every year.
50% of all hard drives fail within 5 years from purchase.
1/3 of IT pro's believe that data loss may lead to bankruptcy.
70% of small businesses consider just 1 data loss event risky.
50% of them have already experienced data loss to some degree.
Get Free Automated PC Backup in the Cloud Now!
The best way to prevent a disaster is to be pro-active, not re-active. Don't wait until all your data is gone before you start thinking about backing up your precious data. ZipCloud is the easiest way to keep your files safe and secure. It will automatically backup all of your computer files to the cloud, your data will be safely stored and you can access it anytime from any device in the world simply by logging into the ZipCloud control panel. Sign up now and protect your data!
100% Automated Backup of your files
Unlimited Storage
Encrypted & Secure Backup
Access Files from Anywhere in the World
FREE Trial for GreenGeeks customers.