You can't grow your business without a CRM. Research points out that $42 billion was spent on SaaS in 2019, with most of it going to CRM solutions. And if you're using WordPress, CRM plugins can help streamline the business.
But first, what does a CRM do?
A CRM—Customer Relationship Manager—is a piece of software that stores information about your business contacts all in one place. You can use the information from your CRM to build relationships with your contacts, market to them, and ultimately turn them into happy customers.
If you're not already using a CRM to store essential business data, you'll want to install a CRM plugin for your WordPress site today.
A CRM plugin makes it easy to operate your business within the backend of WordPress, so you're not switching between multiple tools all day long. In this post, we'll cover the five best WordPress CRM plugins for your WordPress site so you can choose the one that's best for you.
The Best WordPress CRM Plugins
HubSpot is a CRM, live chat, and marketing tool all rolled into one.
With the free HubSpot WordPress plugin, HubSpot works seamlessly within the WordPress interface. The plugin gives you the ability to manage contacts, send emails, oversee form completions and access business analytics without losing sleep over having to track everything manually.
The free plugin essentially kills the need for logging into a dozen different services to measure your business growth.
Benefits
Can use HubSpot within the WordPress environment.
HubSpot has many powerful integrations. With access to 300 plus integrations, you have a powerful piece of software that extends many times over from a simple CRM.
With built-in live chat options, you can engage site visitors in real-time. Live chat is a proven way to improve conversions.
Pricing
Both HubSpot CRM and HubSpot's WordPress plugin are free.
2. vCita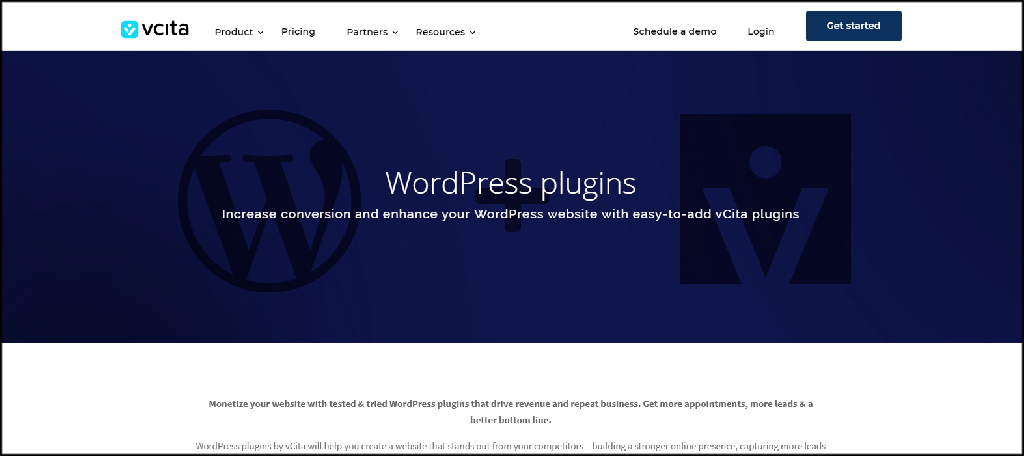 vCita is a powerful integrated CRM and leads management solution. Track new sales, integrations, get insights into what's working and collect payments all from a single point.
There's a lot you can do with vCita's plugin. Send messages, set appointments, and upload documents. Even payment services are integrated letting you pay for services from your WordPress dashboard.
With iOS and Android apps, you can view customer messages, manage and reply to them all from the convenience of an app.
Benefits
It's a handy extension to the vCita platform.
Native iOS and Android apps.
Offers integrated SMS and email solutions.
It's an advanced solution that integrates a boatload of features.
Pricing
There's no free version of vCita. There's a limited free trial, though. And the paid plan starts at $15 per month.
3. WP ERP
WP ERP is an enterprise-level CRM most suited for medium to large size businesses that work with WordPress. The suite of tools doesn't end with a CRM but includes recruitment, accounting, and CRM relationship tools.
You're able to go beyond the basic functionalities of a CRM and extend to integrating HR functionalities, accounting, and CRM systems into WordPress. The HR module helps the HR team communicate with employees from a single dashboard.
The CRM gives you access to plenty of features and manages them all from a single dashboard.
The CRM essentially enables personalizing customer lifecycles for clients. That means automatically keeping track of insights from customer interactions, logs of communications and tracking the conversion paths of leads.
With the integrated CRM, you can assign different sets of tasks to different team members in the organization.
Benefits
The CRM is a great tool because it helps you manage multiple ends of the business from a single point.
An all-in-one solution that focuses on end to end interactions.
The list of functions ranges from recruitment to document handling, human resources management, and accounting.
Manage interactions with clients from your WordPress dashboard.
The plugin is free to use.
Hundreds of integrations make the plugin even more powerful. It easily integrates with Mailchimp, Salesforce, Woocommerce to name a few.
Pricing
WP ERP starts at $149 per user per year. They also offer a completely free option as well.
With the premium plan, you get access to WP ERP's cloud-based solution.
4. Agile CRM
Agile CRM provides access to sales features, marketing automation, and CRM solutions all of which are integrated into a single tool.
Another exciting feature is popups. Popups are a proven way to generate more leads. Communicate with clients in a much more personalized manner. Convert visiting traffic into leads and contacts.
Other features include sales tracking, deep analytics into lead behavior and email automation.
Benefits
There are a number of features. With Agile, automate your marketing processes by tying sales and customer retention into a single process flow.
Track your leads from a single place and assign scores to them.
From within your dashboard call up prospects, message them on social media or send an email.
See a record of communication history on a single page with data collected from other apps.
Free for 10 team members.
Pricing
With the free plan you can manage up to 5000 contacts. You get access to features like lead scoring, unlimited tasks and documents. Schedule appointments and track emails. It supports 2-way email integration. Custom deal tracking and telephony.
The software is free for up to 10 users. The basic plan starts at $8.99 per month.
5. Zoho CRM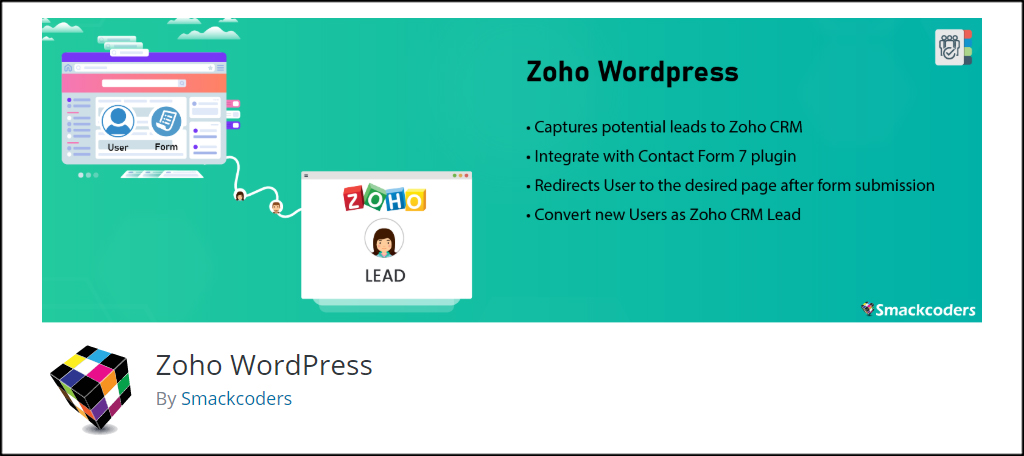 Zoho's star feature is compartmentalizing your lead's sales cycle. You see ongoing deals and closed sales in one place.
Lead scoring is automated. Engage with new leads to grow business. There are tons of useful additions that help. The mobile app, CRM analytics, mass email feature, and document library to name a few.
The document library is an especially useful feature that you will find referencing back and forth several times.
Integrate Zoho CRM to your WordPress site with a one-click addon.
Benefits
AI-based automation tool that packs in automated alerts, reminders, suggestions for automating contact based on the best time to reach out to customers, while also providing ready access to past interactions.
Automate a number of things like lead nurturing.
Built-in lead performance reporting module, a list of trends and predictions for the future.
Pricing
There's a free tier that allows up to 3 members. Zoho CRM paid plans start at $8 per month per user and go up to $12 per month per user.
Find What Works Best for You
There are several great WordPress CRM plugins to choose from. The trick is to find the one that works for your business. At any rate, it's worth the time exploring your options as it could easily improve efficiency.
Do you have any favorites in our list of the top CRMs? Let us know in the comments below.