When Google launched Google Maps in 2005, the Internet was changed forever. Instead of just listing an address for where to find your store, visitors could see an interactive map of the location. And you can add the same to your site with a WordPress map plugin.
Doing so can be a huge boost in foot traffic to your actual storefront, which is great. It's also worth mentioning that since most people today have a smartphone, they can find the best route to your store even when they are not home.
As such, online interactive maps have changed how visitors find locations, especially when it comes to carrying out local searches. Adding a map to your website is a simple process with the right plugin, and luckily, WordPress has a ton to choose from.
Today, I will share the best map plugins for WordPress.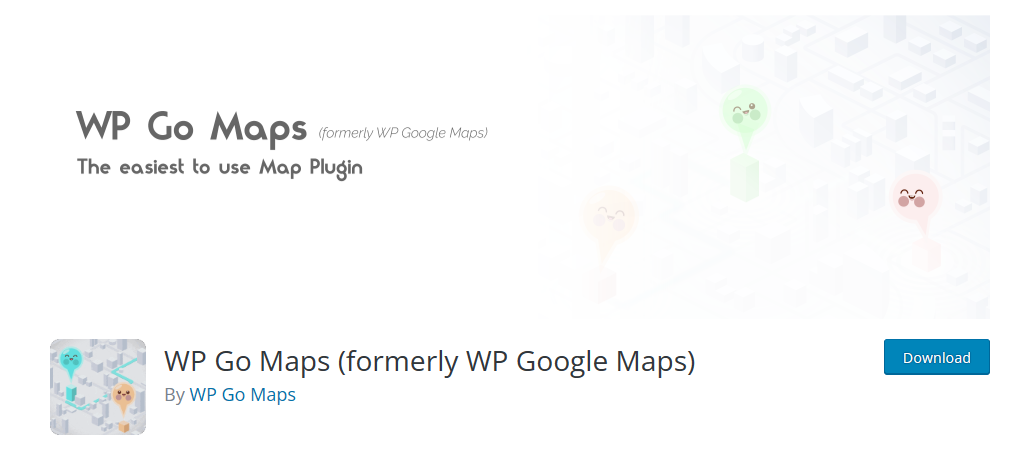 WP Go Maps is by far the most popular map plugin for WordPress with over 400,000 active installs. Its popularity is all thanks to how easy the plugin is to use combined with the fact that it is also free.
Unlike most plugins, this one actually has a dedicated block to add your map to any post, page, or widget area.
In this free version, you can create a Google Map with an unlimited number of map markers. This makes it ideal for showing off multiple store locations on a single map to help customers find the closest to them.
If you are looking for more robust options, the Pro version of this plugin has you covered. This version allows you to customize your map markers with descriptions, images, categories, links, and directions for the user to follow.
Benefits of Using WP Go Maps:
Includes support for a full-screen view to help customers get a better view of the map
Includes access to four different Google Map styles (roadmap, terrain, satellite, and hybrid)
Supports over 20 languages to help you reach tourists from other nations
Compatible with Elementor, and even includes a dedicated map block for it
All maps are responsive by default, so any device can view them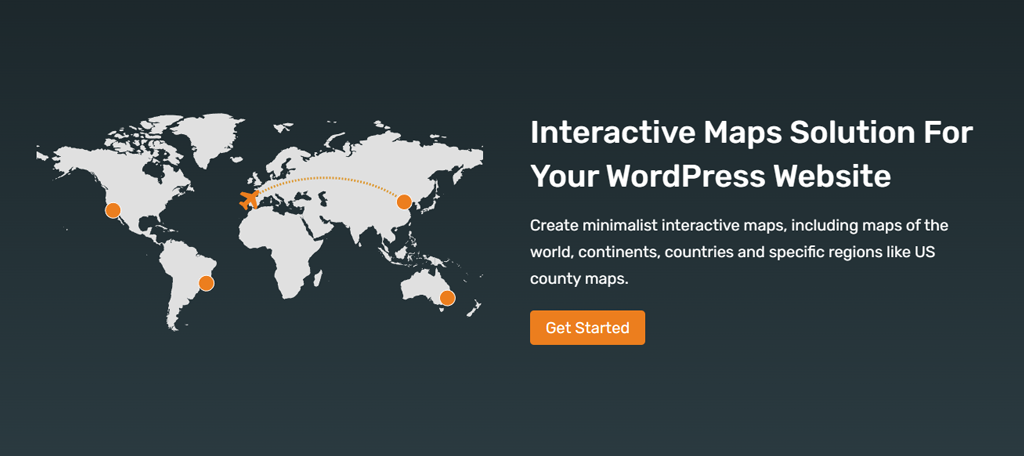 If you operate on an international level, you might want to show off different branches of your company in each region. Or perhaps you run a travel agency and want to show off what travel packages you offer around the world.
In either case, the Interactive Geo Map is the best plugin for the job with its incredible customization options.
Simply put, this plugin allows you to add markers on a world map that users can interact with to see what the marker represents. You can also create a travel path so users can see how they will be getting around via plane, boat, or car.
You can also focus on specific countries like the United States. This will give you a map that contains all 50 states and add markers wherever you want.
If you want to create interactive maps, this plugin is certainly the best.
Benefits of Using Interactive Geo Maps:
Add numbers to markers to show the order users should click on them
Color code countries to identify them as regions you do business in, or for any other reason
Gain access to more than 200 maps that you can customize
Add images and descriptions to each map marker
Make it so certain countries are not interactable to showcase that you do not do business there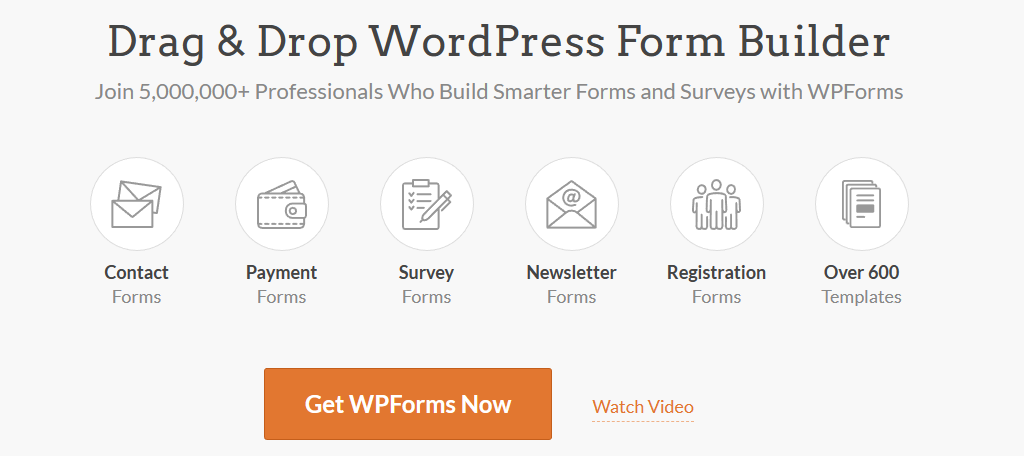 WPForms is one of the most popular form builder plugins available, and it has an amazing Geolocation add-on that you can use to add Google Maps to your contact forms. This has a ton of versatility and can help prevent simple mistakes.
For example, when entering an address, they will be able to see the location represented by a pin on a map.
This also has another key advantage, you can get see the geolocation of the person filling out your form, which is a powerful piece of analytical data.
In terms of map design, you can choose between the default Google Map, or the satellite view.
This can help businesses ensure that job applicants are applying for the correct location by having them select the location and display it on a map. Overall, it's the best way to add Google Maps to your forms.
Benefits of Using WPForms:
Includes auto-complete when entering an address
Users can drag a pin to their exact location on a map
Includes access to a great selection of templates that you can place a Google Map in
Compatible with Google Places and Mapbox
Store geolocation data alongside their submitted forms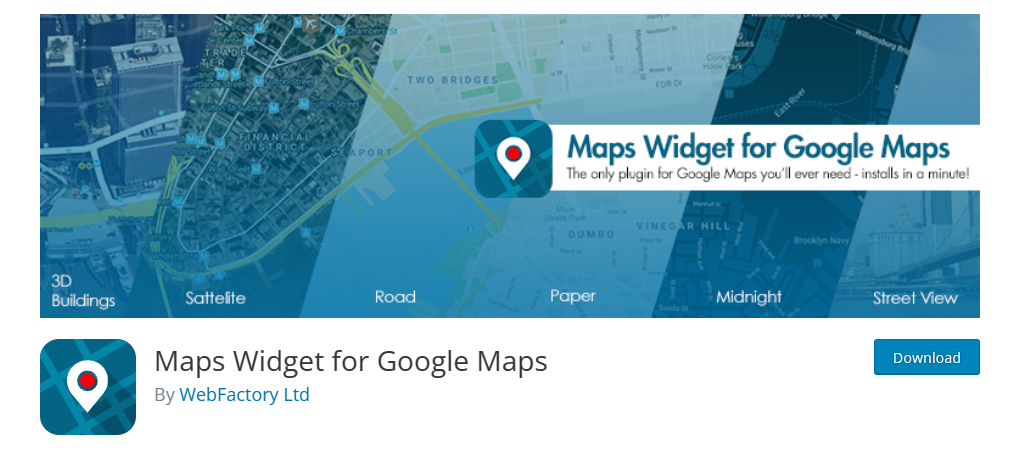 Some plugins can be difficult to set up and limited in their placement, but the Maps Widget for Google Maps corrects both of these problems. You can set up a Google Map in minutes and place it in any of your widget areas.
You can place the map by either using the dedicated widget block or alternatively by using a customizable shortcode.
One of the biggest advantages of this plugin would be its raw speed. The plugin boasts of being able to load a single map in one request, which typically takes other tools over 20 requests to do. The end result is a quick map for users.
When it comes to customizing your map, you can add a pin of your choice to a location.
If you purchase the Pro version of this plugin, you'll have over 15,000 pins to choose from. If a user clicks on the map, it will appear in a lightbox for a better view.
Benefits of Using Maps Widget for Google Maps:
Choose what language your Google Map will appear in
Place multiple pins on a single map (great for stores with multiple locations)
Configure the height and width of the lightbox size
Choose between a road or satellite view of the map
Set custom pin images to take customization to the next level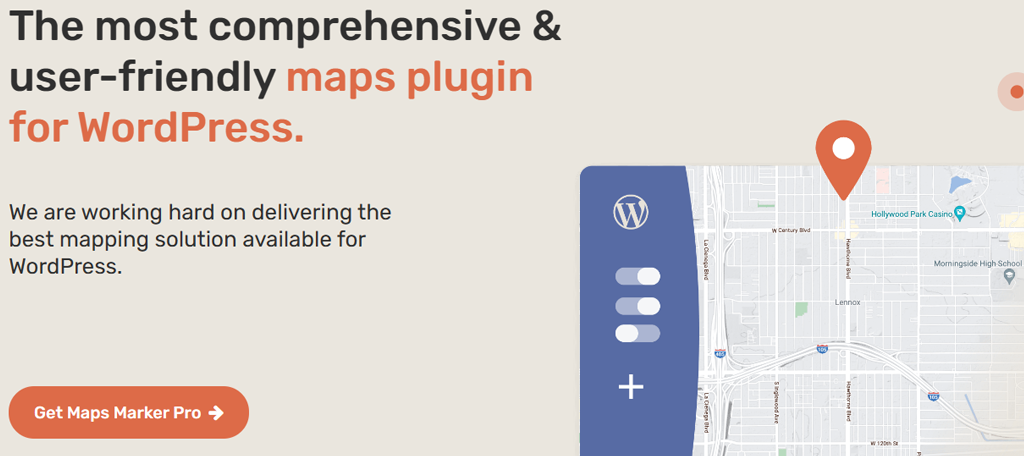 MapMarker Pro may just be the best map plugin for WordPress when it comes to sheer customization. Have you ever wanted to customize a map with descriptions, routes, highlight areas, or just about anything else you can imagine?
If so, this premium plugin is easily the best option available for WordPress with an impressive amount of options at your disposal.
Let's talk about what you can do to a map. You can create a map that highlights the full route someone should take, and you can pin destinations they may want to visit. You can also create circled regions to highlight events, parks, or anything else.
One of the key features of this plugin is the integration options with the Polylang translation plugin. With it, you can make your map readable in just about any language, which is a must if this is aimed at international tourists.
Benefits of Using MapMarker Pro:
Choose from multiple Geocoding Providers (Google, MapQuest, etc.)
Provide filters that users can use to quickly find what they are looking for
Display the metadata of your routes to include the total distance
Add your own custom images for pins
Add zones in the shapes of circles, triangles, and squares
Adding interactive maps to your website used to be a difficult task, but with a plugin like WP Maps, that isn't the case. Adding a map to your website just requires you to add a shortcode to any post, page, or widget area.
This makes it one of the easiest plugins to use, which makes it a great choice for beginners adding a map for the first time.
You can do a lot of things with the map. You can place pins on locations and categorize each pin to help users find what they are looking for.
For instance, you could create a category for food to show nearby restaurants on a route.
You can even assign unique marker icons to help differentiate the locations at a glance. You'll also be able to select between map views including Roadmap, Satellite, Hybrid, and Terrain.
It's a great plugin that is intuitive to use with a robust selection of options.
Benefits of Using WP Maps:
Choose from over 500 marker variations
Draw zones in the shapes of circles, triangles, and squares with the Pro version
Supports multiple languages to help you serve international customers
Users can use search options to search for specific locations by name or address
Predefine the Google Maps zoom level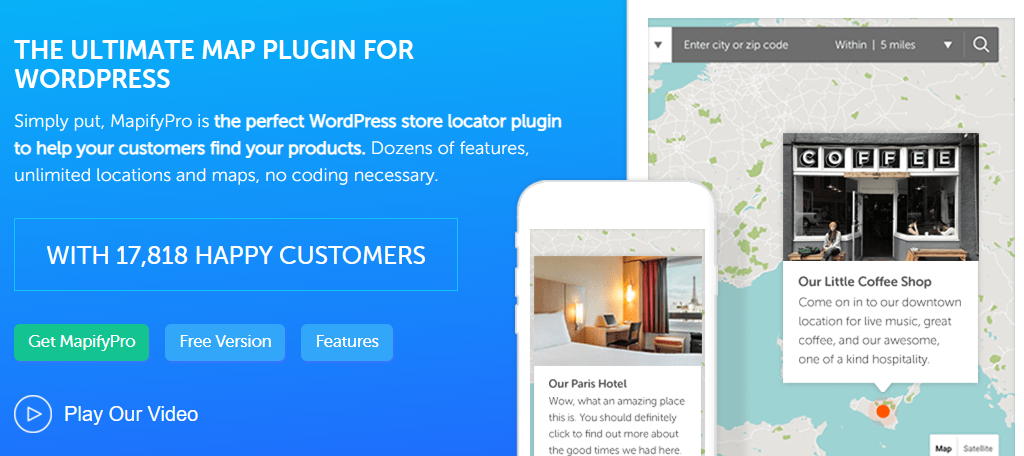 Getting customers is the number one priority of any store owner, and while getting the word out about your business has never been easier thanks to social media, making sure they know where to find you is still a challenge.
Luckily, you can add a map to your website to show visitors your exact location, and the Mapify Pro plugin is one of the best to do so.
This can dramatically boost your foot traffic to your location, which has become an essential feature for restaurants. This plugin can be used in a number of ways to help you.
If you have an actual physical location, you can create a store locator for your business. If you sell products online, you can also display physical stores that also carry your products in your area.
You can also customize world maps to highlight travel destinations that your agency might be offering. This plugin offers something for everyone, so give it a try.
Benefits of Using Mapify Pro:
Choose from a variety of marker icons including numbers, signposts, flags, and more
Add descriptions to each marker to help describe its importance
Add photo galleries to markers to show off multiple views of the location
Share your maps and all of the details across social media
Supports both PNG and JPEG images within your markers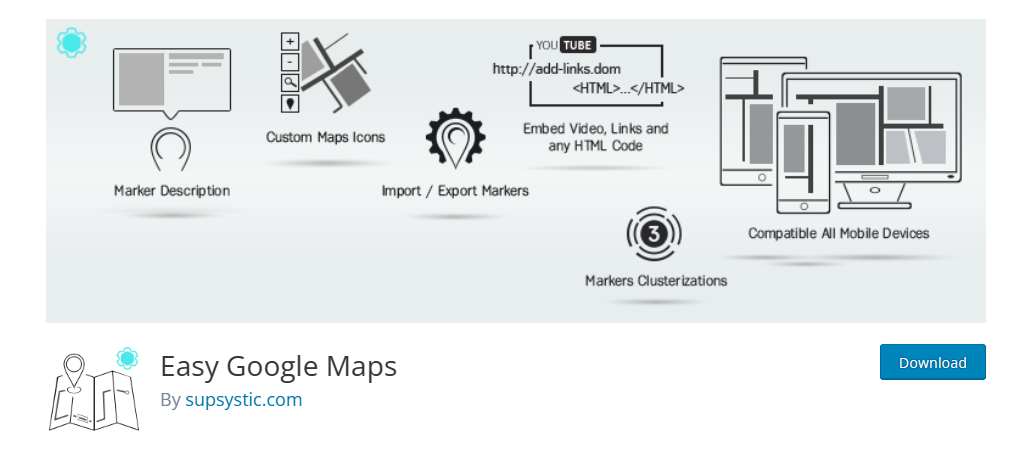 Closing out this list of the best map plugins for WordPress is the Easy Google Maps plugin. As the name suggests, this plugin allows you to easily place Google Maps in WordPress using shortcodes, or you can use a widget.
Due to the wide range of customization, it is easily one of the best interactive map plugins for WordPress.
When it comes to the map markers, you have a ton of options. You can choose from a variety of icons and customize each one to include a description, image, video, or even include contact information such as a phone or email address.
It's also possible to add both vertical and horizontal sliders to your maps for more creative freedom.
If you are looking for more options beyond just Google Maps, there is a premium version of this plugin that works with other Geolocation providers.
Benefits of Using Easy Google Maps:
You can include a heatmap layer to show the most popular destinations on a map
You can make it clear if a transit route is for a vehicle, bicycle, or walking
Display alternate routes in case visitors run into traffic
Draw figures on your maps to show supported areas (like maximum delivery distance)
Include social share buttons on maps to encourage visitors to share them with friends & family
Why Add A Map to Your WordPress Website?
There are several reasons why you may want to add a map to your site.
First and foremost, if you have a physical storefront such as a restaurant, store, or office space, helping clientele find your location is essential. Adding a map allows visitors to find your exact location and plot out a route if the map has such a feature.
In fact, even if you do not add the map directly to your website, sign up to be on Google My Business to appear on local searches. This will add you to Google Maps and can significantly boost not only your physical visitors but also website traffic.
Of course, there are more specialized uses of maps when it comes to website design.
For example, imagine a travel agency that offers tour bus rides. You could create a map that showcases the journey of the bus to give travelers an idea of what to expect and how long the route should take to complete.
There are plenty of other examples, I could give, but the bottom line is that a map is a versatile tool that can help make your website more informative, while at the same time also being an interactive form of content that visitors can enjoy.
Add A Map Today Using the Best WordPress Plugin
As you can see, WordPress has an impressive lineup of plugins that can add a map to your website. In most cases, adding a map is quick, easy, and, free to do. As such, there's no downside to adding one.
In the majority of cases, doing so can help you dramatically boost your foot traffic, and it is highly recommended for restaurants to do so, especially those that offer delivery services.
Obviously, not all websites will need a map, so be sure that it actually fits the goals of your site. Otherwise, it's just a waste of resources.
Why did you install a map plugin in WordPress? Has adding a map boosted foot traffic?