One of the most important aspects of any website is collecting information from visitors. While there are many ways to do this, one of the best ways is to engage your audience by using a survey plugin in WordPress.
As the name suggests, a survey plugin allows you to build surveys and polls within WordPress that visitors can interact with. These can range from simple things like creating a poll to finding out who is your visitor's favorite Avenger.
You might think this is a throwaway poll, but the results tell you that content around the winner would perform well with your audience. It's a simple example, but it can be applied to just about anything.
Today, I will share the 11 best survey plugins to use in WordPress.
WPForms has made a name for itself as one of the best contact form plugins in WordPress, but with its survey and poll addon, it doubles down as the best WordPress survey plugin by a mile. With it, you can build just about anything.
And when compared to other survey tools, WPForms provides more types of engagement than its contact form tools.
Like most things, surveys and polls have gotten more complex over the years, which is why this plugin supports conditional logic. This allows for different questions to appear based on previous responses, which can help you zero in on certain information.
Surveys and polls are useless if you can't see the results. WPForms has excellent reporting options that help you see a breakdown of every response to the survey. And the results are not just for you as you can even display them publicly.
Benefits of Using WPForms
Conversation form mode can help make surveys feel more human
Easily create any kind of survey, poll, or quiz field entry
View results in real-time
Choose from different field options like multiple choice, radio buttons, star ratings, checkboxes, and more
Protect your surveys and polls with powerful spam protection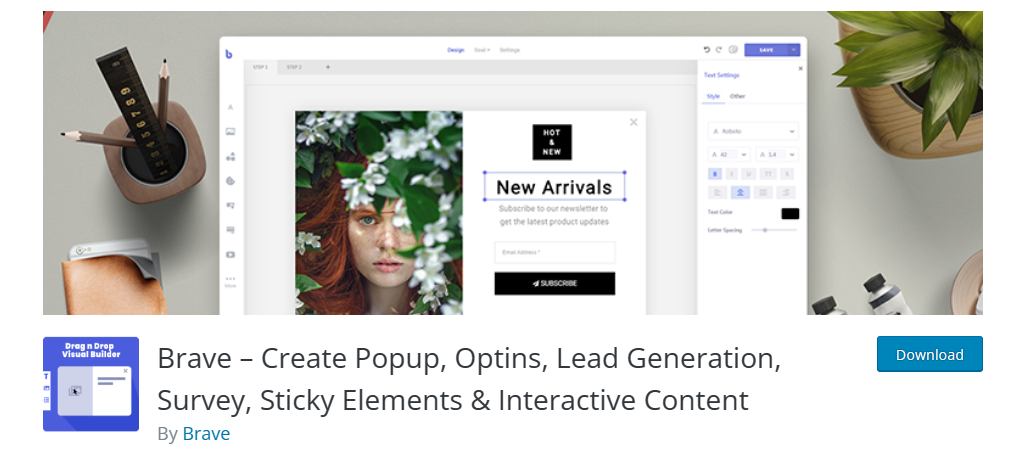 Brave specializes in creating interactive content like surveys, polls, and quizzes. It has several features that make it a contender for the best WordPress survey plugin. Perhaps its popup surveys are one of its best features.
Popups are powerful marketing tools that can instantly grab a visitor's attention. Thus, combining them with a survey makes sense.
Of course, building popups is a bit more involved than creating a poll or survey. But don't worry, Brave utilizes a drag-and-drop popup builder that you can use to build these and easily insert your survey or poll.
More importantly, you can dictate how this plugin behaves by targeting users that perform certain actions with certain popups. For instance, if they click on your gaming news section, you could deliver a popup poll asking them to pick their favorite console.
Benefits of Using Brave
Choose from 15 preset popup designs
Easily create feedback survey popups rating an article or transaction
Add animations to your popups to make them grab attention
Examine powerful analytics to see what surveys get the most responses
Get notifications when surveys or polls are completed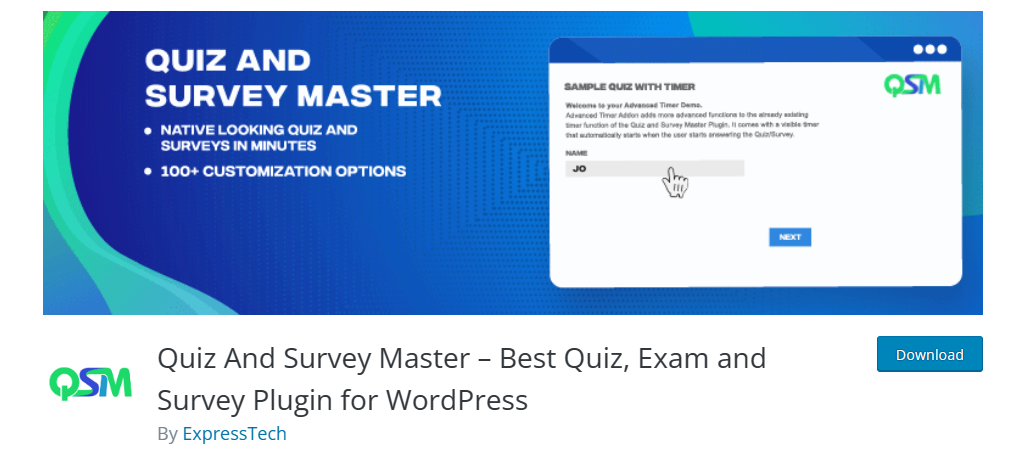 The Quiz And Survey Master lives up to its name as the best WordPress survey plugin that you can use for free. It enables users to easily add quizzes and surveys throughout their website with over 100 customization options to choose from.
It integrates with other lead-generating tools such as Mailchimp, Zapier, and more.
When creating quizzes, you have the option to customize the results screen based on the user score. For example, you can create a results screen congratulating a perfect score or telling them to do better next time if they fail.
You can also break up large surveys by utilizing pagination. Many users are quick to exit out of survey that looks long, which is why many companies choose to break up their surveys into smaller bits to get more participants.
Benefits of Using Quiz And Survey Master
Choose from multiple types of questions like multiple choice, true/false, open answer, and more
After a quiz has been completed, you can send the results to the user's email
Add countdown timers to your quizzes
Add a comment section to the end of a quiz to receive feedback
Make your quizzes and surveys translation ready with WPML support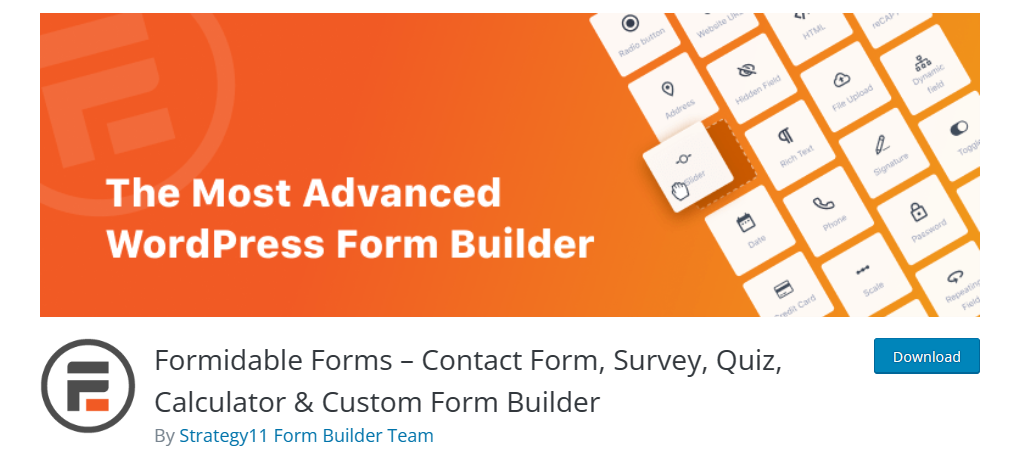 Formidable Forms is another contact form plugin that has an amazing selection of tools that are well-suited for constructing quizzes, polls, and surveys in WordPress. It also has a robust selection of design options to choose from.
This is all thanks to its drag-and-drop form builder that you can use to build any kind of form from a contact form to a survey form.
This versatility makes it a strong choice for any website to install. In terms of options, you can create just about any kind of form with a great selection of field entries like multiple choice, true/false, short answer, and much more.
It also has a host of other features you can take advantage of like a calculator. Yes, you can actually set up calculations based on what users enter into fields, which can help you create unique polls and surveys.
Benefits of Using Formidable Forms
Easily view the results within a powerful analytics section
Allow users to leave star ratings behind
Decorate your surveys with an advanced form styler
View results in a variety of charts and graphs
All content created is mobile responsive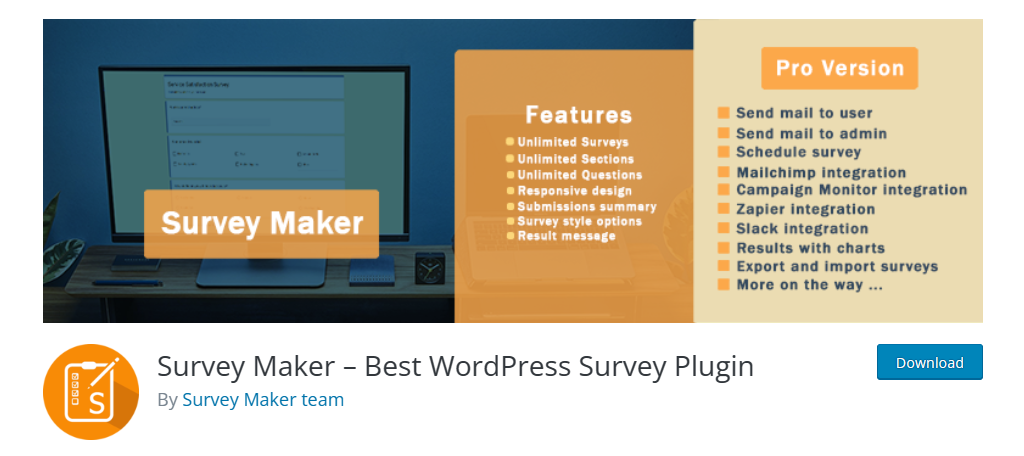 Survey Maker is another excellent tool if you are looking to build stylish surveys that can ask just about any kind of question. And you're not just limited to a single survey as you can break one up into multiple pieces to make it more approachable.
After all, most users would not bother if a survey looks like it takes a lot of time to fill out.
In terms of the questions you can ask, you have 14 question types to choose from. These include multiple choice, star ratings, true/false, file submission, data entry, and much more. And rest easy knowing that this tool is beginner friendly.
When it comes to design, Survey Master offers a lot of options. You can choose from 6 templates with unique designs, or customize the design yourself. Not to mention you can change the font to match your website.
Benefits of Using Survey Master
Prevent spam by making surveys only available to logged-in visitors
Utilize Jump Logic to avoid asking visitors unnecessary questions
Create anonymous surveys so users can answer more honestly
Integrates with Mailchimp for email support
Create popup surveys to quickly engage users
Modal Survey is a premium plugin for WordPress that is feature rich. It can make any type of survey thanks to its robust offering of question types and styling options. Not to mention that it is easy to use.
Perhaps its strongest aspect would be on the analytical side.
You can view detailed reports to help you understand the results of surveys. This can come in the form of a variety of charts and graphs that help you visualize the data you collect.
The real bread and butter of this tool is social media integration. You can add share buttons to the result screen so users can invite their friends to take the same quiz. This is a highly effective way to boost the engagement level of your quizzes.
A good example of this are the questionnaires you might see on Facebook that are shared on a timeline.
Benefits of Using Modal Survey
Utilizes conditional logic to avoid unnecessary questions
Includes templates for quicker survey designs
Customize the star rating from 5 to 12 stars
Survey setup is incredibly simple
No limit on the number of answer choices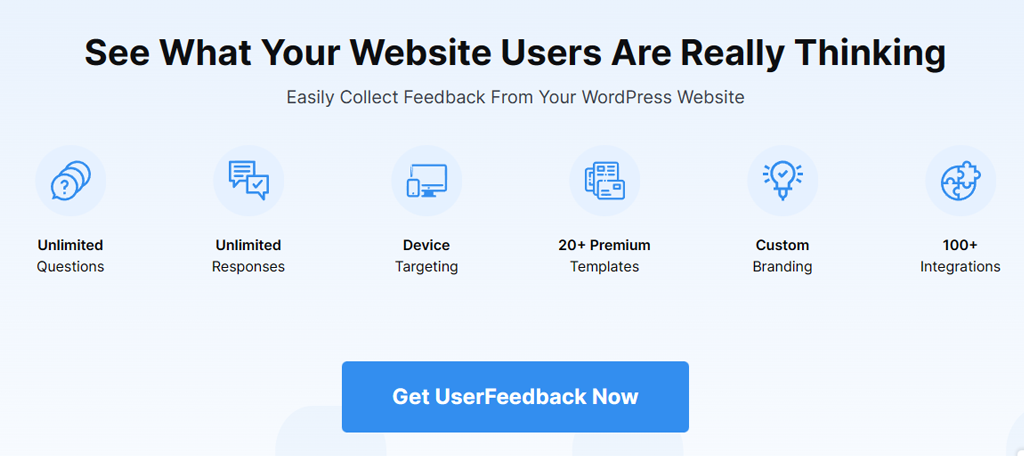 MonsterInsights has a knack for making incredibly useful WordPress plugins, and UserFeedback is another one of those. This plugin specializes in creating surveys and has over one hundred integration options.
It even comes with shortcode options to make it easy to add surveys anywhere on your website.
It has a robust library of pre-built templates that can be used to speed up the design process. You can also take advantage of smart targeting to ensure that the correct surveys reach the right audience.
And as you might expect from the long list of integrations, it is fully compatible with MonsterInsights and Google Analytics. This gives you powerful analytical tools to analyze the data you collect and make the best use of it.
Benefits of Using UserFeedback
The eCommerce template works well for online stores
Control the notifications you receive when surveys are completed
Create popup surveys within minutes
Choose from several question types including short answer
Export responses to CSV files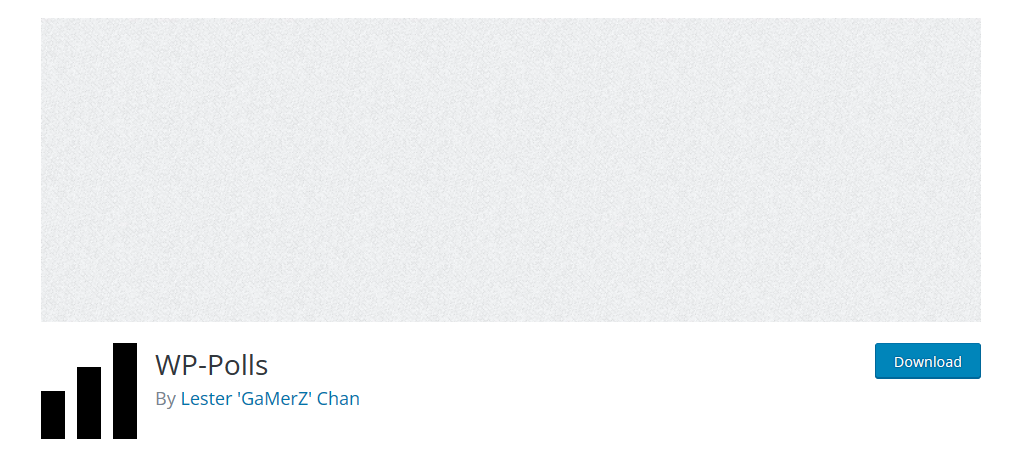 WP-Polls is another incredible free option to explore within WordPress. As the name suggests, it focuses on building polls. And when compared to some of the other entries on this list, might appear a bit limited, but it is a free option for surveys.
You'll only have access to radio buttons and/or checkboxes, which limits how complex the polls can be.
The poll results are shown directly to users after their submissions. This makes them very interactive and can help increase the number of participants.
After all, we live in a world of instant gratification.
Users do have the option to select multiple answers, thus you can build questions like "Select which vegetables you like" or something along those lines.
Overall, the tool is simple, but it does a great job which is why it has over 70,000 active installs.
Benefits of Using WP-Polls
Create start and end dates for each poll
Create polls that do not have expiration dates
Configure the number of answers a visitor can select
You can use IP addresses to filter out duplicate submissions
Customize the CSS to change the poll result's colors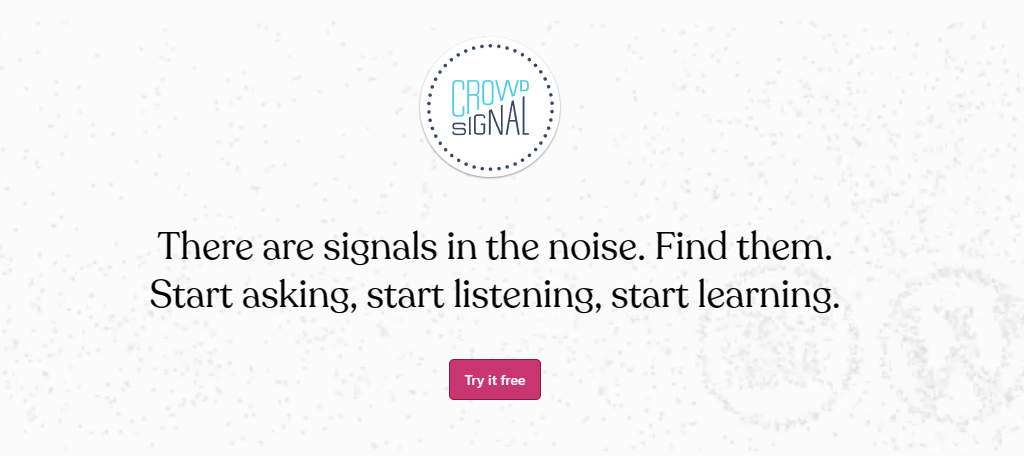 CrowdSignal (formerly known as PollDaddy) is a very powerful poll and survey generator that you can use for free. That said, paid plans are available for this tool, but for many sites, the free options are more than adequate.
All you'll actually need is the API key to use this plugin, which is as easy as creating an account and copying the API key into the plugin.
The surveys and polls are built using a drag-and-drop interface. This makes the tool very accessible for beginners.
Everything about the poll or survey is completely customizable from the way the results screen appears to the types of questions being asked.
Most importantly, this tool comes equipped with ways of fighting off spam entries. This is thanks to its CAPTCHA integration as well as IP filtering options to block out duplicate submissions.
Benefits of Using Crowd Signal
Style your surveys and polls with an easy-to-use customizer
Polls are not just compatible with WordPress, but also with Facebook and Twitter
Powerful analytics give you all of the information
Include surveys and polls within emails
Responsive design helps them look great on any device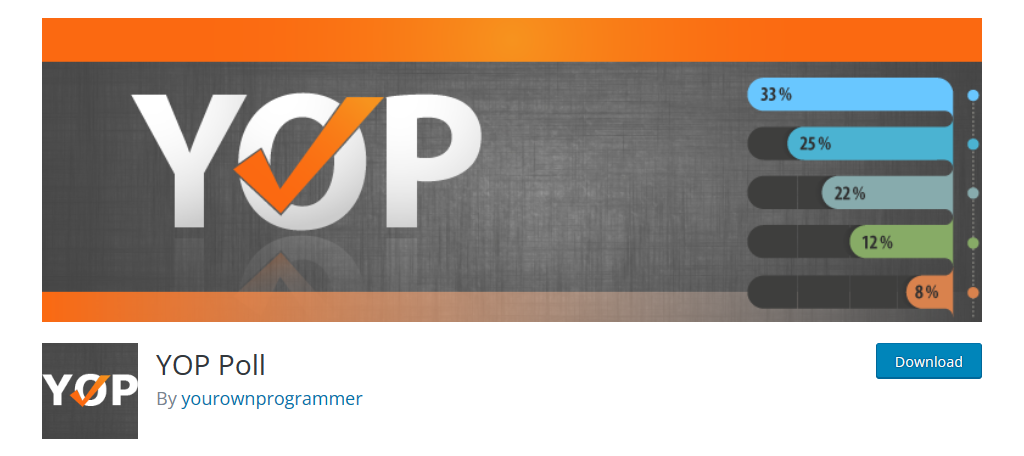 YOP Poll is another simple, but effective free option for creating polls in WordPress. It offers a simple design that gives you full control over the color options from the background color to the results page.
Due to the limited feature this plugin offers, it is very simple to use, which makes it ideal for beginners.
While the polls will typically just be a checkbox or radio button, you do have the option to create custom fields. These are a great way to allow visitors to enter additional information or to give short answer replies to the poll.
Keeping your polls fresh is important. Luckily, you can schedule polls to expire and begin by taking advantage of the automated tools this plugin provides.
It's simple but definitely gets the job done if you're looking for a free poll or survey maker.
Benefits of Using YOP Poll
Clone your polls to use the design as a template
Sort polls by the number of participants or the date
Choose to show the results before or after answering the poll
Quickly restart a poll if you need to adjust the question or answers
Limit participation if the user is not logged in
Closing out our list is yet another free option, the Poll, Survey, & Quiz Maker plugin. This is a robust tool that can be used to make any kind of survey, poll, or quiz in WordPress.
It has a solid amount of design options to ensure it can fit into any WordPress environment.
You even gain access to ready-to-use templates that you can use to build with. Each one is customizable, but you'll need to add your own info and it will be ready to go. It even supports adding your own custom CSS code.
You can utilize the branch question logic to determine what questions should be asked as a follow-up.
For instance, if the question was "Are you a smoker?" and a user replies "Yes," then the follow-up question may be "How long have you been smoking?"
Benefits of Using Poll, Survey, & Quiz Maker
Receive notifications when polls are completed
Display your surveys, polls, and quizzes as popups
Add social sharing options for Facebook and Twitter
Easily insert images and video content into your polls
View results as graphs and charts for better visualization
Install the Best WordPress Survey Plugin Today
As you can see, there is an incredible selection of WordPress survey plugins to choose from. And it even has a great balance between free and premium plugins, so there really is an option for everyone.
Most have great customization options that you can utilize to ensure that forms match the design of your website with some even having options for custom CSS. If you're looking to build surveys, polls, or quizzes, any one of these plugins is a great choice.
What kind of surveys do you plan on building? How has the information collected from surveys improved your business?