Los Angeles, CA, February 9, 2010 – GreenGeeks.com, a leading eco-friendly web hosting company today announced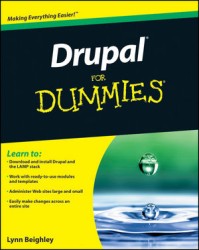 that it has been chosen as the official web hosting company for the Drupal for Dummies book.
Drupal For Dummies, is one of the latest in the series of For Dummies books by Wiley Publishing Inc. The For Dummies trademark "Making Everything Easier" speaks volumes about their ability to help ordinary people learn and understand in a simple and straightforward manner how to accomplish tasks for a variety of interests including; Computers and Electronics, Home and Garden, the Internet, Personal Finance and so much more.
The release of the Drupal For Dummies help book by Lynn Beighley is expected to help thousands of people learn how to use the widely popular Drupal content management system to build out their sites.
"I chose GreenGeeks.com to be the home of my Drupal For Dummies Web site because of their great customer support and excellent control panel. The hardest part of creating a Drupal site is getting Drupal installed. As a GreenGeeks customer, you can have your first Drupal site running in less than five minutes!" said Lynn Beighley, author of Drupal For Dummies.
"We are very excited to have worked with Lynn as she wrote the book and we are excited to be a part of the Drupal community" says Trey Gardner CEO of GreenGeeks "Drupal is an ever growing part of our customer base as more and more people learn the merits of the Drupal program. We expect Lynn's book to become a huge success in enabling many thousands of people learn Drupal and create terrific CMS driven web sites."
GreenGeeks hosts the DrupalForDummies.com web site and is featured in the Drupal For Dummies help guide.
"We greatly appreciate Lynn's choice of GreenGeeks for her web site host and we look forward to the continued success of the Drupal For Dummies book." added Gardner.
To learn more about Drupal For Dummies please visit: http://www.drupalfordummies.com/
To learn more about GreenGeeks please visit: http://www.greengeeks.com/