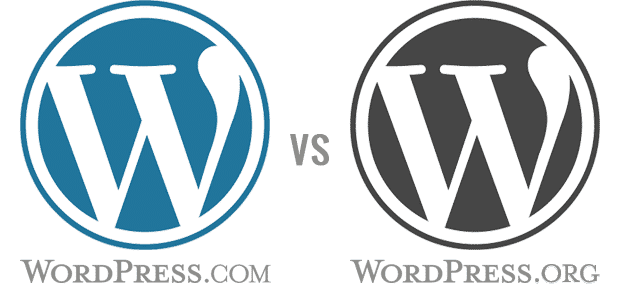 We often get asked the question about what exactly the difference is between WordPress.com and WordPress.org. Readers want to know whether they should use a self-hosted WordPress website or get a free WordPress.com blog. In this article, we'll tell you all of the differences and nuances between the different options WordPress offers.
What is WordPress.com?
WordPress.com is the home of the free blogging software, and where most people get their introduction to the service. As part of the original release in 2003, written by Matt Mullenweg and Mike Little, WordPress.com hosts a template-based system for individuals and businesses to publish websites for free.
Blogs and websites using WordPress.com are storing their files, documents and web content on WordPress.com's servers. This means that WordPress.com is responsible for site maintenance, repairing errors, installing upgrades and overall site security.
The tradeoff is that WordPress.com keeps all website design and control limited to a small variety of choices of the free, open-source WordPress standard software. This means you have little access in the way of customizing the experience.
What is self-hosted WordPress.org?
Even though they share the same name, there are some huge differences in WordPress.com vs WordPress.org. Most importantly, WordPress.org is the source for the powerful hosting software as well as tens of thousands of customizable plugins.
However, it does not provide any actual hosting of websites that use the software. That's where web hosting providers like GreenGeeks come in to offer WordPress-specific web hosting.
WordPress.org is a company that offers users free use of the WordPress software while providing upgrades, options and customizable third-party additions called plugins. In fact, many of these essential tools can vastly improve your chances of success.
WordPress.org is also home to a vibrant community of programmers and WordPress software users, many of whom offer plugins at little or no cost to fellow WordPress users.
Perhaps the strongest point behind using self-hosted WordPress is customization. When you have your own piece of Internet real estate with WordPress as support, you can customize as much or as little as you like.
You don't have the same flexibility in the free version offered from WordPress.com.
How are WordPress.com and WordPress.org Related?
Actually, despite the similarity in name, they are not directly related. Neither organization owns the trademark, which belongs to the WordPress Foundation, a third entity.
WordPress.com is a proprietary product of a for-profit corporation called Automattic, founded by Matt Mullenweg, one of the co-founders of the non-profit WordPress Foundation. This foundation operates WordPress.org and controls the rights to the WordPress software.
Initially designed for simple blogging, WordPress.org has expanded to become a powerful publishing platform. Individuals and businesses creating content rely on the system to get online quickly, easily and for little or no cost.
Users who are comfortable with a URL ending in WordPress.com can host their content for absolutely no cost while users preferring a custom URL (such as a .com address) pay only a small fee to have their free hosting site redirected to a new name.
For example, you could see a URL like "BobsChickenRecipes.wordpress.com." That's because the free version of WordPress hosting uses subdomains for its users. The domain of your site will be your site plus the "wordpress.com" suffix.
What is the WordPress Foundation?
The WordPress Foundation is a non-profit organization that owns the trademark to the WordPress software. The WordPress Foundation then licenses the software to WordPress.com and WordPress.org.
The Foundation's goal is to make sure that the WordPress software is freely available, regularly developed and continually maintained.
Which One is Right for You?
Both options offer a wide variety in function, design and customer experience. But we recommend starting with WordPress.org, also known as the self-hosting WordPress. With a bit of effort, you can enjoy the many customizations available.
This includes thousands of themes, plugins and styles to make your site a money-making machine that powerfully serves your business.
See our detailed comparison between WordPress.org and WordPress.com.
We hope this article helped you understand the somewhat subtle, and confusing, relationships between different usages of the name WordPress.