WordPress is an amazing tool when you need to build a website fast. It provides form, function and ease of use whether you're new to web design or a seasoned professional.
However, you still need to put effort into search engine optimization if you want to drive traffic.
Just over 59% of the market share of content management systems belong to WordPress. This is partly because of how easy the system is to use in terms of managing content and tools.
Today, I'm going to share a few WordPress SEO tips for using those tools as well as other elements to drive traffic. If you're serious about building a website for the purpose of engaging the audience, pay close attention.
1. Structure the Content Well
First, and foremost, your site will need to have good and well-developed content. After all, no one is going to visit if there is nothing to really read. However, it takes more than writing a few lines of text to really affect SEO.
Length
Experts suggest posts 1,000 words long or greater often perform better. However, this is also influenced by industry and the amount of information provided in each piece.
Keywords and Phrases
Keywords and phrases, although still important, are not as influential as they used to be. Today, search engines look more for relevance than actual word use. It's all about search intent and what people are actually looking for.
Headers
Headers are effective at helping readers as well as the potential for being used as a Featured Snippet. This is where an answer is provided in the search results at the top of search results in Google. This is possible even if the post isn't in the top 10 of the search result.
If you have a good topic, you might even create viral content that is seen by millions. Of course, this depends on your skill and the ability to grab an audience.
2. Correctly Linking Content
Links are an important part of building a good WordPress post or page. Essentially, they tell search engines about other information that is related to the content. This shares what some experts call, "link juice."
This link juice in essence shares a page's SEO power with other pieces. For instance, using an internal link in your post will tell engines like Google that the link is important to the validity of the content.
External links also affect search engine rankings as they are used to cite other relevant information online. In a way, they kind of act like reputation builders for SEO as they show engines like Google that you're quoting another viable source.
This is one of the reasons why authoritative backlinks are so coveted. In reality, it's another company giving your content a "vote" for quality.
Just try to refrain from using too many. Sharing too much link juice can have a negative effect on your content.
3. Optimize Images for Speed
The speed of your site is vastly important to success. Engines like Google rank faster sites higher on the results pages. This is aside from the fact that approximately 53 percent of mobile users abandon a site that takes longer than three seconds to load.
This means search engines are not the only ones who value speed. So, what can you do to hasten things up with your images?
Use correct image sizes on page.
Use compression tools like WP Smush.
Install lazy loading plugins such as a3 Lazy Load.
Activate features in content delivery networks such as those in Cloudflare.
4. Install Yoast SEO
Yoast SEO is an incredible tool when it comes to optimization. While it focuses on content creation, it has additional components to help your site score well.
One of the most effective components to Yoast is the addition of an analyzer on posts and pages. This system will gauge how well your content stacks up against the most recent trends and algorithms for optimization. It will show readability, the frequency of headers and even if you're using passive tone too often.
Yoast also allows the ability to edit .htaccess files, meta data information, sitemaps and more. It's a solid platform that has more than three million active installs worldwide.
5. Use Caching Plugins
Caching is a process which saves certain elements of a site to be loaded when someone visits. This cache makes the site appear faster as those elements do not need to be loaded directly from the website.
These caches can reside on the server or within a visitor's browser.
Caching plugins are in plentiful supply for WordPress. One of the most common is that of W3 Total Cache. This tool gives you a variety of customizable options depending on how you need the system to behave.
One of the highlights of W3 Total Cache is how well it works with content delivery networks.
I know, it sounds a bit convoluted. However, it does make a difference in site speed.
6. Pretty Permalinks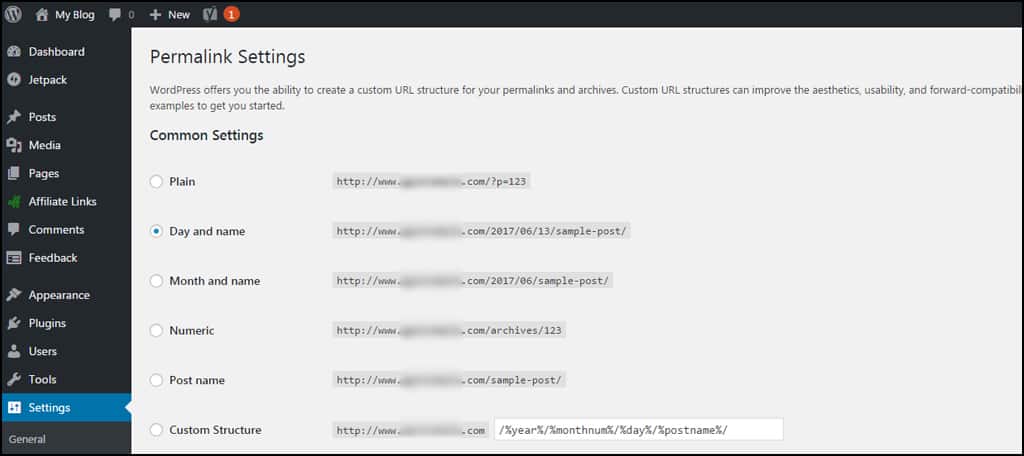 Permalinks are the URLs WordPress hands out each time a page or post is published. These URLs perform better for SEO as well as visitor readability if they identify the content.
For instance, permalinks are often created based on the title of the post or page.
Here is an example. URL #1 is a default WordPress URL while URL #2 is a "pretty permalink."
URL #1: http://www.yourwebsite.com/?p=123
URL #2: http://www.yourwebsite.com/2017/06/13/this-is-a-sample-title/
Both technically go to the same published content, but do you see the difference in URL #2? It tells you what the post is about by using its title.
Permalinks are easy to change in WordPress by accessing the Settings area and clicking on "Permalinks." You'll see several options available for the links including the ability to customize the structure.
7. Using Optimized Themes
Not all WordPress themes are alike. In fact, a lot of developers don't use the best practices when it comes to SEO. If you want to score well in search engines, a good way is to make sure your theme has been developed to do so.
Sometimes this means using themes that don't have the flashy graphics or the fun sliders attached. In reality, a lot of those elements actually hinder the performance of a website.
Perhaps a good way to judge a theme's performance is to install it and test the website against tools like Pingdom.com. This web-based app will test the website for speed issues, which gives you a point of reference when comparing how themes behave.
8. Use Social Sharing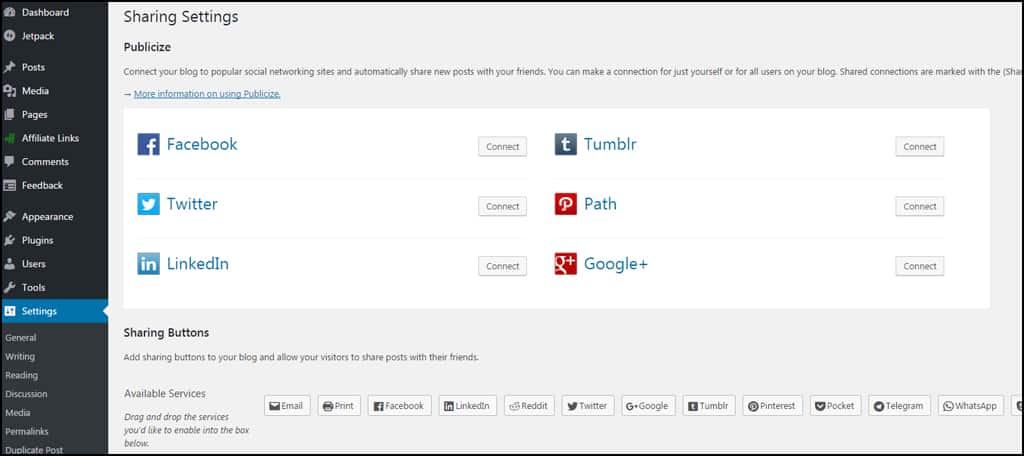 Social sharing isn't necessarily a part of search engine optimization, but it does have potential to greatly drive your traffic. In some instances, search engines crawl certain social sites to show information to potential visitors as well.
You see this often with Google+ and YouTube.
You can easily add social engagement by including social sharing buttons on your content as well as using apps like Buffer or SproutSocial. Because close to 80% of the population in the United States uses  social media, adding this aspect to the site is helpful in driving and engaging traffic.
You can start by using the social sharing ability in the WordPress Jetpack plugin. However, there are many to choose from.
9. Keep Plugins Cleaned Up
One thing I see a lot of people doing is keeping plugins installed even though they're not using them. This costs your site resources such as space, processing activity and memory.
I would even suggest removing them completely if you no longer need certain tools.
This is quite a common occurrence. It's easy to find new plugins to replace old ones but keep the old tool activated. It's easy to forget to disable or remove them. However, they will weigh in on how well the site functions overall.
It's probably not a bad idea to go through your list of plugins periodically and see if there are tools you no longer need.
10. Keep the Files Updated
Keeping the WordPress core, plugins and themes updated can be quite helpful in terms of SEO. For example, perhaps a developer implemented a new piece of code that improves performance.
This happens quite often, especially in plugins and themes that keep current with trends.
I know you might have plugins or themes that you don't want to get rid of because they fit perfectly on the site. The problem is that those old tools may not conform to new SEO standards. Holding on to them may actually hurt your chances of appearing on the first result page.
It's always best to stick with plugins and themes that are regularly updated to keep up with WordPress development.
11. Limit External Scripts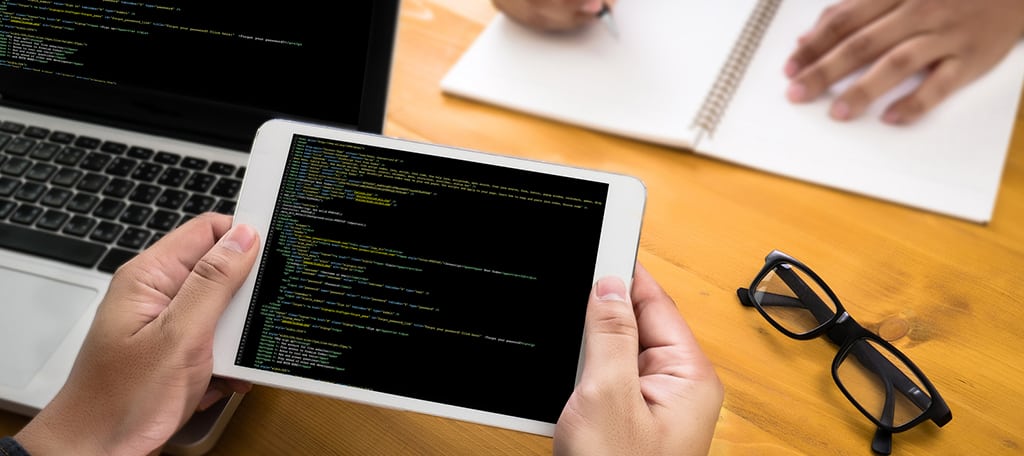 If you want to make money from your website, you need to do so in a logical fashion. Things like Adsense and affiliate marketing use what's called an "external script." This happens when the code on your site calls for action from another.
For instance, most affiliates will pull images from a different server on the Internet. This means your site has to wait for those images to process before showing it to the visitor. In essence, it doubles the loading speed of imagery.
Too many of these can greatly affect site speed and performance.
I'm not saying that you shouldn't use these methods to make money from the site. However, you should limit the number of those you use.
12. Install SSL Certificates
Safety first. Search engines are focusing more on sites that use Secured Sockets Layers than those that don't. This means having an SSL may improve your traffic in a very short amount of time.
The SSL certificate encodes data from your website to the visitor. It greatly reduces the effectiveness of many hacking techniques and gives visitors a sense of safety. This is good for both search engines and people looking at your content.
The certificate itself is usually inexpensive, and the end result may be far worth the investment. This is true considering how a simple "https://" prefix on your domain name can affect your online reputation.
Luckily, the SSL is easy to install in WordPress when using plugins like Really Simple SSL.
13. Use Meta Descriptions
Meta descriptions are the snippets of information you see under the link of a site in Google search and Bing. This is an important piece of text as it lets people know if the content is what they are looking for. By default, WordPress may simply be using a random part of the post or page.
The meta description should be a brief synopsis of what the page or post is about. This is usually one to two sentences, but it can be extremely influential in showing your content in search results.
As I mentioned before, plugins like Yoast SEO give you easy access to edit the meta description.
14. Create Your Sitemaps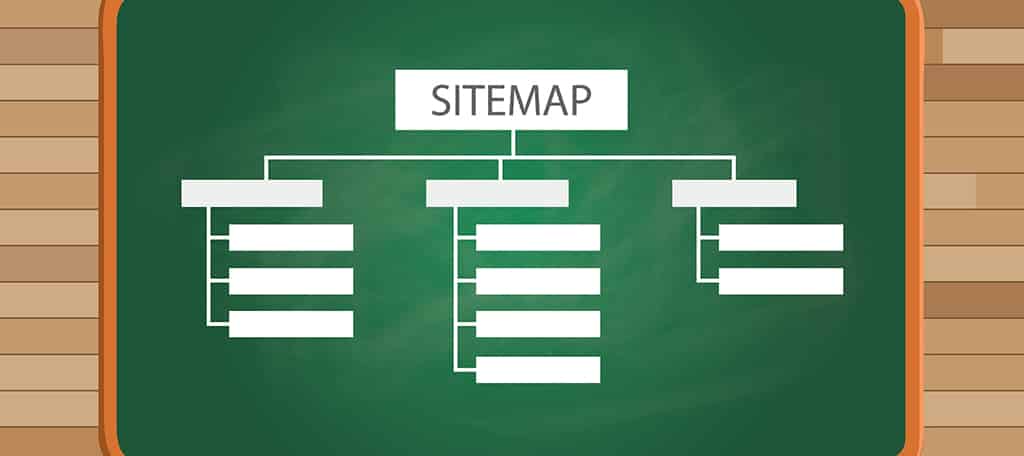 Sitemaps are incredibly important. These files tell search engines exactly where your content is located. Without them, it will take a very long time before you can see your website in search results.
At the risk of sounding like a broken record, Yoast SEO gives you the ability to create the sitemap.xml file. You can add that file to Google and Bing for free. In fact, Yoast will update it regularly so these search engines always know about new content.
See why I like this plugin so much?
There are a number of sitemap plugins you can choose from. I only mention Yoast because it's easy to use and regularly updated. At any rate, it's imperative you submit the sitemap if you want any growth on your website.
15. Use Google Analytics
Google Analytics is more than just a tool to see how many visitors your website accumulates over time. It's a tool that can show how your site is stacking up in terms of search engine optimization. This is achieved by examining the results of how your pages perform.
The time spent on your pages as well as the bounce rate show which posts or pages need work and which ones are a success. The benchmarking tools display how your site compares to others in your industry, and the speed insight tools are greatly beneficial when looking at ways to make the site faster.
Try to make it a periodic routine to see how visitors are behaving on your site and interacting with your content.
Never Underestimate the Power of Effort
You can't set up a WordPress website with two or three posts and expect the traffic to come pouring in. It takes effort if you want to be successful, and that starts with good SEO practices for your web hosted content. These WordPress SEO tips can only do so much for the site.
You are the primary factor when it comes to the success of your WordPress website.