Fort Worth is the second city I visited in the United States that was having a WordCamp this year. It was a last-minute thing as I was planning to go to WordCamp Panama. But after a quick meeting with the GreenGeeks crew, we decided I had to go to Dallas instead.
I had a lot of misconceptions prior to going to this Camp. But my biggest one was to assume that Fort Worth is the same as Dallas.
It is not.
Fort Worth is part of the Dallas-Fort Worth Metroplex. This includes both Dallas and Fort Worth (well yeah kind of obvious with the name there) as well as Arlington.
Getting There
WordCamp Dallas was a direct flight from San Jose Costa Rica. But since I like to complicate things, I decided not to take the direct flight and flew via Houston instead.
I got in very late and well, Dallas-Forth Worth International Airport is quite the hike away. Almost double from what it usually is distance-wise.
I came in very late at night into downtown Fort Worth and the next day I had to get ready.
When I got there, the stars of GreenGeeks WordCamps were awaiting (the boxes full of swag). The following morning, it was time to unpack and get the logistics ready.
This job requires preparation because you need to be as efficient as you can to carry all the swag in as few trips as possible. So I took out all the boxes and placed them inside my suitcases. I then carried the displays by hand.
As I unpacked things, I noticed the new pins we made. I know I work for GreenGeeks, so my opinion might be biased. But man, they were good looking.
This year we made a few tweaks to Spex, which is our mascot. And we have introduced the new design slowly but surely in our swag.
Lovely stuff.
The Speaker Party
The speaker party was held on Friday at the Modern Art Museum of Fort Worth where they had a restaurant.
What is there to say? It was fantastic and by far the fanciest dinner I've had this year. This WordCamp was VERY good when it came to food.
I was once again greeted by some familiar faces, specifically Nathan, who I have met in Alabama. He also came all the way down to Costa Rica to speak. And I was also greeted by Sandy, who I had met and worked with at WordCamp Birmingham, Alabama.
But after speaking to the known faces, it was time to meet new people. I met James Bullis and his lovely wife and we spoke a lot about entrepreneurship, code, WordPress and organizing communities.
I met some of the organizers, who (as expected) were all over the place and extremely busy. They quickly told us to go and take a picture, which we did at the stair of the museum.
After the picture, the speaker party was officially over. But nevertheless, there was still time to hit the museum as it was free on that day. So I hooked up with Nathan…and…Nathan, one out of Birmingham and the other out of Houston.
Houston Nathan told us that the community up there is going to go with a WordCamp next year. So, perhaps I'll see you there at WordCamp Houston 2020!
After seeing the museum's modern art, which is a bit hard to grasp in all honesty, Nathan (from Alabama) gave me a ride home. At this point, I got some GOOD sleep and was ready for the big day.
First Day of WordCamp Dallas 2019
So, it was day one and I was on to the venue carrying a ton of swag. The venue for this WordCamp was the University of North Texas Health Science Center. The organizers have used this venue since 2010.
It was really close to where the speaker party was held so, I had *some* idea where I was.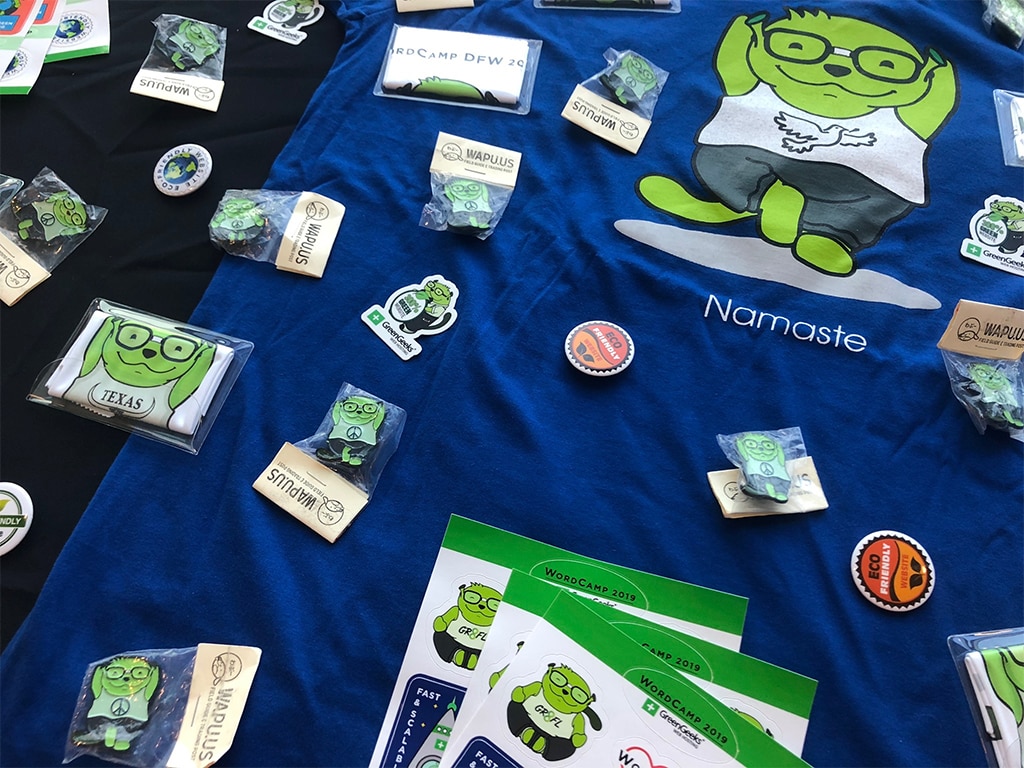 We were seated next to the guys from Termageddon, who are kind of new to the WordPress world. Donata and Hans were really cool people, and it was a blast chatting with them and having them as our neighbors.
We were seated right next to the Bluebonnet room, which is where all the techie stuff was given. Yay! Of course, I attended a talk (or two).
Take Command with WP-CLI
This talk was given by Dave Ryan, who works for BlueHost and a fellow organizer, out of Phoenix, Arizona. I have heard of WP-CLI before but didn't know about its power.
It's really a time-saver thing to use as it can execute commands and operations in seconds as opposed to doing the whole stuff out over the Dashboard in WordPress click-by-click and waiting for the server to respond.
Up until recently, I never had the need to use it. But after Dave's talk, this is something I would like to integrate into my daily workflow. This is especially when it comes to setting up a WordPress project from scratch.
Little did I know that we also have it installed here at GreenGeeks using our WordPress hosting.
The tricky part here is going to be how to make custom commands, which is what makes saving tasks even better. So, this is something I am going to have to check back with as I move along.
Great stuff.
Lots of Nice, Long Talks
This was the only talk I attended on the first day. This room (Bluebonnet) had 6 talks for the entire day, which were about an hour long. I appreciated this as talks that are 30 minutes are difficult sometimes to say the stuff you would like to say.
After speaking with people and handing out the once again lovely swag, before you even blinked, the first day was over. On the back of the majority of attendees was the prospect of going to WordCamp US, which was 2 weeks ahead.
The lunch was fantastic. It was meat and with a gazillion BBQ sauces to choose from. This WordCamp was definitely one of my favorites when it came to food.
As the day wrapped up, I headed back to the hotel and got ready for the after-party.
WordCamp Dallas 2019 After-Party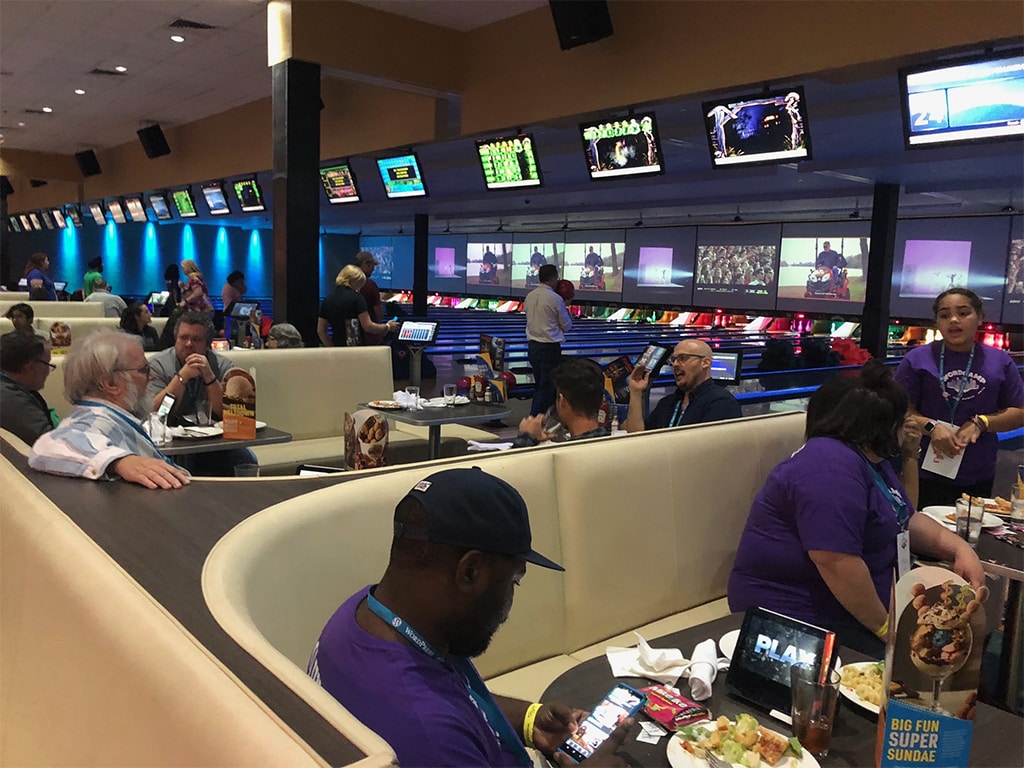 This after-party was quite unique. It was at a place called the Main Event, which is a bit south of Fort Worth. The place is pretty much an adult version of Chuck E Cheese. Bowling, video games, arcades, basketball, pool tables…you name it, you were able to play it there.
We had a free pass to everything for a few hours, which was awesome. I for one, after a huge and very hard party at Word Camp Sao Paulo, welcomed a nice, relaxing party.
I would say this differs greatly if you compare after parties between Latin America and the United States. The after-parties are somewhat less…wild.
I met some friends there that I had seen at the Camp. And after some bowling, hoops and video games, we were done. At 8:30 PM the party was pretty much over, so I decided to go back to the hotel.
On the Second Day…
On the second day, fewer people showed up, which is a normal thing during a WordCamp.
After setting up the booth, I was able to speak to a few more organizers where I met the lovely Kay Kinser, who was Lead Organizer. She was all over the place, and you could tell she enjoyed the rush of organizing.
So much in fact that she had a wedding (her daughters) in like two weeks after WordCamp Dallas – Fort Worth. I mean, yikes. I would be losing my head in between organizing those two events.
Nevertheless, Kay was absolutely fantastic and I promised I would help her out with WordCamp Dallas Fort Worth next year with the Spanish part. They are interested in having a more Spanish speaking presence.
Being this a slow day, I met more and more people. For example, I met the lovely Sandi Batik out of Austin, TX. I noticed a lot of people came from Austin, too. It's too bad they aren't having WordCamps there because size-wise, they definitely have what it takes to host one.
Later on the day, I met with Tiffany Miller, who did a great job with volunteers during the Camp. I also met Kimberly Lipari, who out of Louisiana, came with her three lovely girls. I got to see both of these gals once again at WordCamp US.
And last, but not least, I met the Houston crew who I also promised I would help out with the Spanish-speaking part of the Camp. Hats off to Baljinder Singh (or just Mike) and Stevica (Steve-O) Golosin who I hope to see next year in Houston!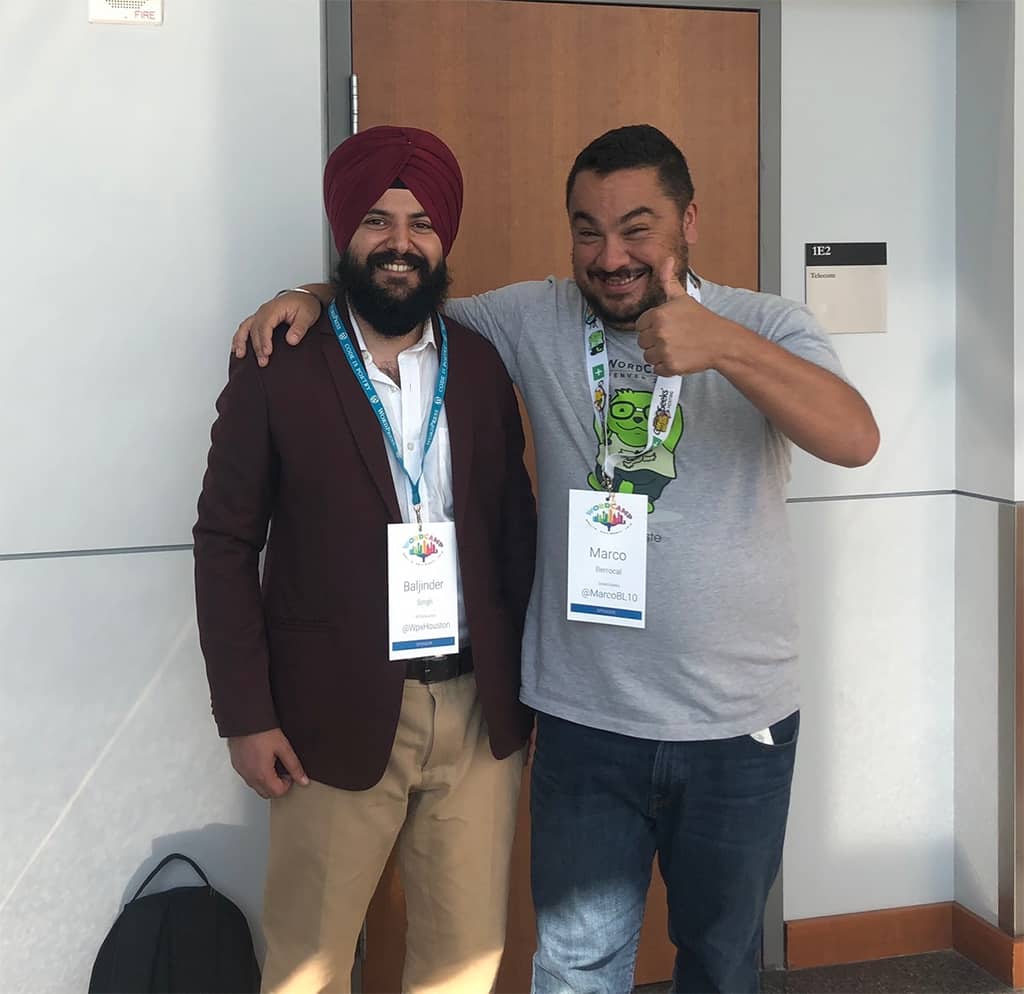 Meeting Up with WP&UP
Another Houston guy I met was Adrian Juchniewicz (I can't spell this name) with his lovely and supporting wife. This guy was nervous before his talk. Speaking to him a bit more, I found out he works at WP&UP, which is a non-profit organization that we sponsor at GreenGeeks.
So what does WP&UP do? They help support and promote positive mental health within the WordPress community. So his talk had to do with this, and I told Adrian I would be there to support him.
Mirror, Mirror, On the Wall – Ways On Debunking Impostor Syndrome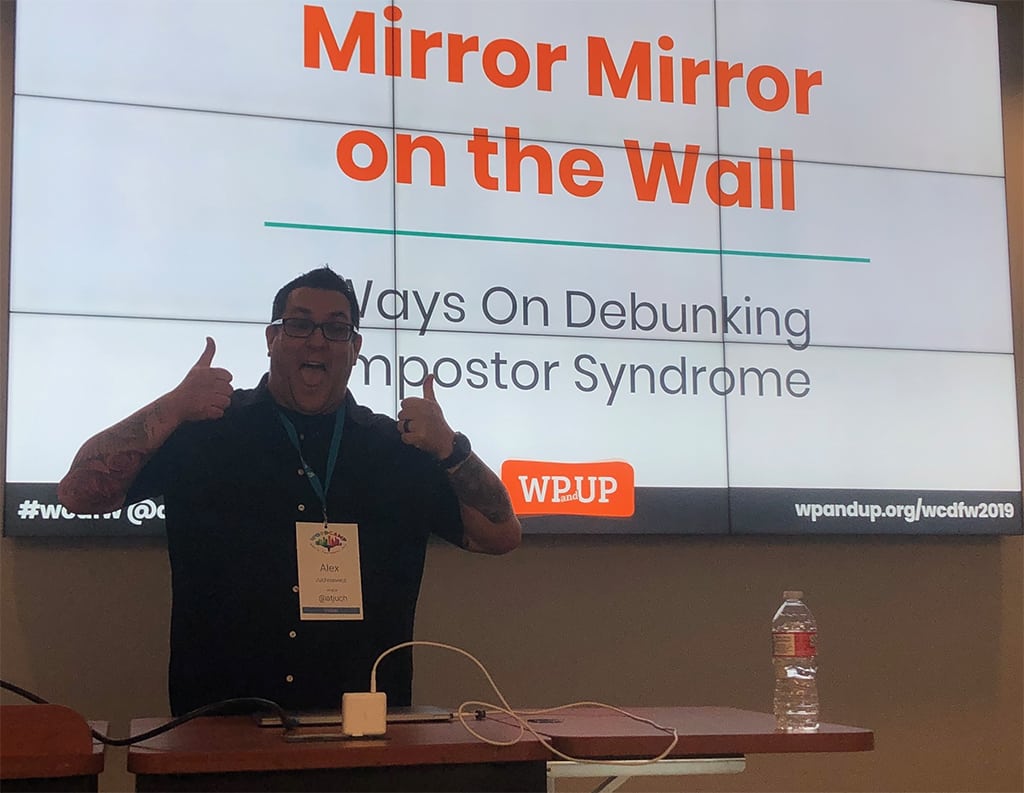 Personally, I loved this talk. Why? Because we speak a lot about WordPress, business, marketing, code, design, etc. But this was about the human side of us. The one we sometimes hide from others as appearances need to be kept.
But we are humans, and we are people of suffering.
As I grow older and share my tales and hear people's stories, suffering is inevitable no matter how much we try to avoid or not divulging it. We all have stories of adversity, pains and troubled times.
So Adrian's talk is a journey of self-improvements over the years of dealing with lots of issues and setbacks to speak about them openly.
In the end, and this is how you know a talk is great, people shared their stories and asked questions. Eventually, time ran out because so many things were said back and forth.
So Adrian, its ok! You are a great guy, and I will also see you in WordCamp Houston!
Closing Remarks of WordCamp Dallas 2019
So in another blink of an eye, day two, and thus WordCamp Dallas, was over! The following day, it was time to head back…but not before some drama.
There was a tornado that hit Dallas (I was walking when it happened, talk about not knowing where you are) so the weather was a bit iffy. The next day, my first flight was delayed to the point where I missed my return flight to Costa Rica.
I was a bit sad about this because I also longed to be back home. The following morning, I made my flight, and with that, WordCamp Dallas came to an end for me.
A huge thank you to organizers, volunteers, speakers and of course, attendees. See you all next year in the lovely Panther City!