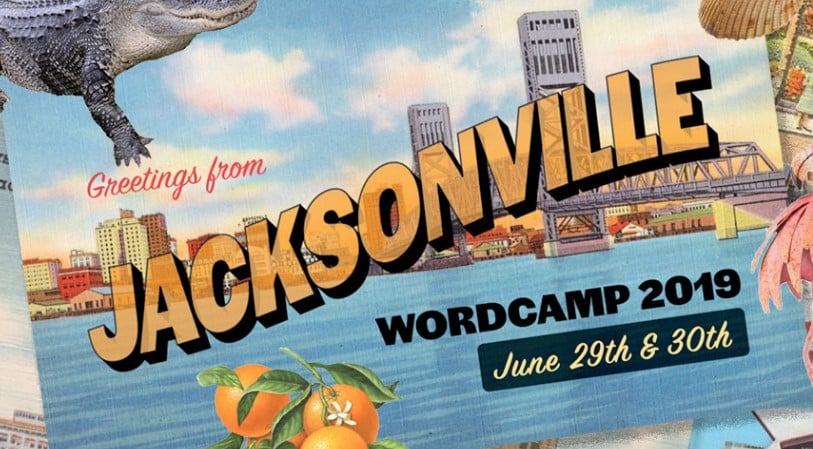 WordCamp Jacksonville 2019 kicks off Saturday, June 29th. It will run until 1:00pm Sunday, the 30th, with the after party at 1:30pm. And to top it all off, GreenGeeks is going to be there to hand out some awesome swag and information!
If you'd like to pick up your tickets, you can do so by visiting the WordCamp Jacksonville official site.
Although I won't be attending personally, I'm sure it'll be a fun event. After all, I'll be at WordCamp Kansas City at the same time…and there is only one of me.
What to Expect at WordCamp Jacksonville 2019
While having a great weekend in sunny Florida is reason enough to go to WordCamp, there are quite a few great talks happening as well.
At this WordCamp, some of the sessions include:
And don't forget about the catered lunch! This year, it's catered by Forks on the Left Catering and will feature some awesome tacos. It's been a while since I've had a good seven-layer dip, and I'm a bit sad to miss it.
Fun Facts About Jacksonville
While attending WordCamp Jacksonville 2019, don't forget where you're visiting. This area of Florida has a lot to offer even the casual WordPress user.
For instance:
Did you know that Jacksonville was named after General Andrew Jackson? He was the first military governor of Florida. However, General Jackson never actually visited the city.
Jacksonville's City Hall was originally a department store designed by Henry John Klutho in 1912.
The first-ever college football game in Florida was hosted in Jacksonville back in 1901. It included about 2,000 fans watching the game between the Florida Agricultural College and Stetson University. Coincidentally, Stetson University won that game, 6-0.
Don't forget, Jacksonville also faces the Atlantic Ocean. The beach areas themselves are something to consider after the party at WordCamp Jacksonville 2019.
Thoughts on WordCamp Jacksonville
There's no doubt; this year's WordCamp in Jacksonville has a lot of very intriguing talks. From WordPress development to brand enhancement, there is something for everyone looking to grow online.
I would like to take a moment to thank everyone who makes these WordCamps possible. This includes the organizers, speakers and patrons who make up an awesome community.
Have an awesome weekend, and don't forget to stop by our booth to pick up some GreenGeeks swag!