This WordCamp was a tad unusual for me! I went as a speaker/attendee because our representative at GreenGeeks was my co-worker Ericka and she got the call to go on our behalf.
I got accepted to speak and well, I was very eager to attend WordCamp Miami after hearing so many things about it. So I decided to go on my own.
People raved about this event ever since I started to attend WordCamps, and Miami is a city that is like no other in the US. Going to a WordCamp as a speaker/attendee is to me, the BEST mode to go to.
So I decided to go and speak about my experience outside of the booth.
Getting There
My previous WordCamp in Phoenix was a nightmare getting back. I spent 30 hours from Phoenix to San Jose, Costa Rica, including a night sleeping on the floor at LAX.
Yikes!
So I decided this time to take another airline. Copa; Good times.
At noon, I was in Miami and texted my dear friend and fellow WordCamp Organizer, Speaker, Volunteer, Celebrity, Entrepreneur, Vegan, Mother of two, Jessi Gurr. I had met Jessi at WordCamp Birmingham last year and we really kicked it off.
I can't explain it, but she is amongst those who just click and can speak for hours about anything and everything. She came to our WordCamp in San Jose Costa Rica, and we went to the beach with other fellow WordPress maniacs.
We keep in touch to discuss life, WordPress, and I treasure her friendship tremendously. So, we had lunch together and caught up with so many things we hadn't spoken about since WordCamp US.
Beer here, beer there, hours passed by whilst we chatted and walked and it was time to go to the speaker party.
Speaker-Sponsor Party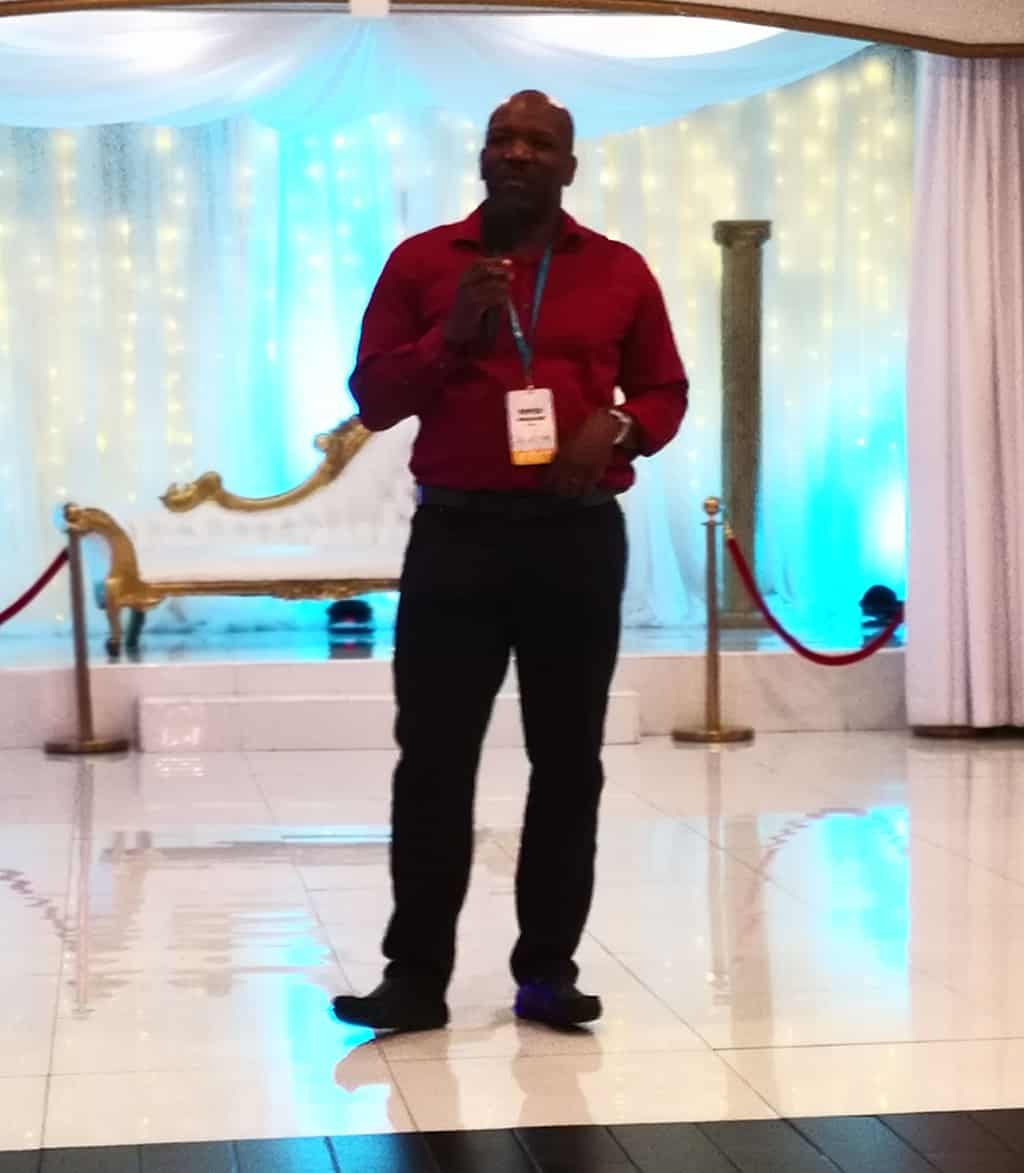 The party was held close to the venue at the Royal Ballrooms. This place was quite something; I mean this place was like no other place I've seen before. It's a mixture of Scarface/80's/Miami Vice decoration with all the flashy furniture and lightning.
It was great to see some familiar faces and meet new people and everything went very well. There was a Dutch speaker present, Sebastiaan van Der Lans, so it was great to polish my dutch a bit and just let it out! He invited me to go to WordCamp Netherlands which is this upcoming November.
Oh yes, I am gonna go for it! No talking in Dutch, though!
But before you knew it, the party was over. Someone said everybody was going to a cigar party somewhere else, so in a matter of minutes, people left. What to do?
I reunited with Ericka, who I see regularly in Costa Rica at our MeetUps and working for GreenGeeks. I went with her, Ericka's husband, Roxana and Merary Alvarado (Costa Rican speaker wooohoo!) to the hotel I was staying at, for a few beers before calling it a night.
It was great to be in a calm place, talk stuff and being there in Miami. I hadn't spoken much to Merary, and she hadn't seen THE REAL me before, so it was all good. Pretty sure I left my mark there, hahaha!!
I went upstairs, and like a GOOD speaker that I am, I didn't have my slides ready. So, my plan was to work on those babies all night long. But, I fell asleep and woke up late the next day, which is now a funny thing but right then, I was worried and stressed out about it.
First Day of the Camp. Running for My Life.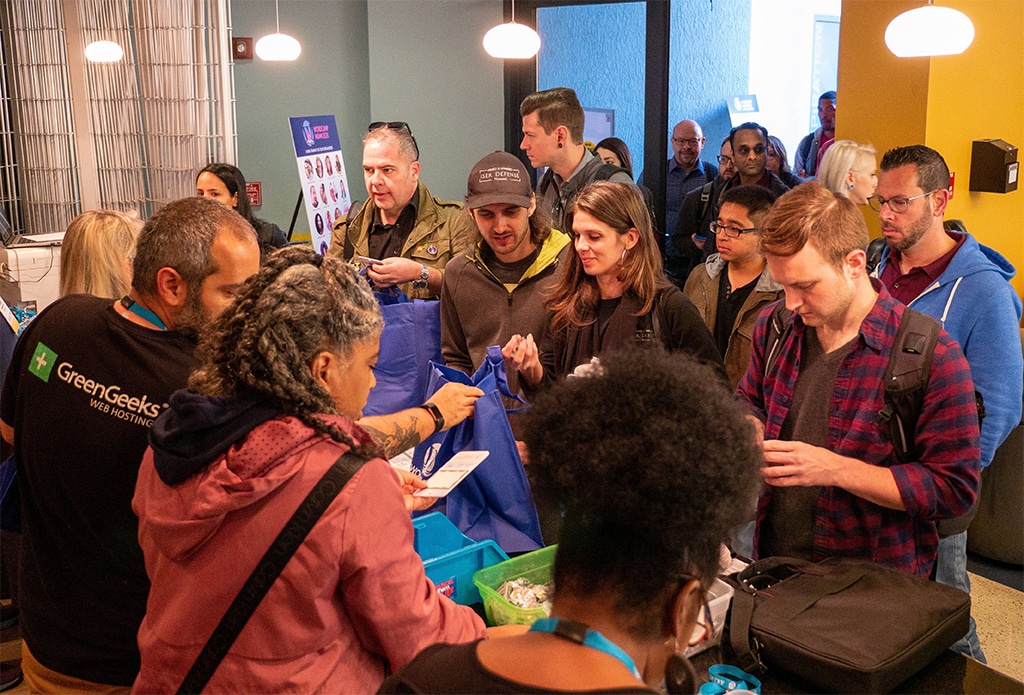 I have been speaking regularly at WordCamps for about two years now. If there is one thing that I really dislike about it is that I am so busy sometimes. This means having the slides as ready as I WANT THEM to be can lead up all the way down to the night before the conference.
Since I was selected on the first day, I had to be ready with the slides to speak and couldn't take the following day to finish them off. At least my talk was at 3 PM, so that gave me some time to do it.
So as I freaked out having breakfast, my plan was to finish them as soon as I got to the event. PRESSURE MODE ON.
Usually, organizers will give you a deadline to submit slides so they can review them. This is to make sure I don't speak about how awesome our web hosting is, and just flat out advertise in it.
This is a big no-no.
So, they review the materials to make sure it's not salesy. I rarely advertise and just say "if you want to speak further, I will be at the table" and when I speak.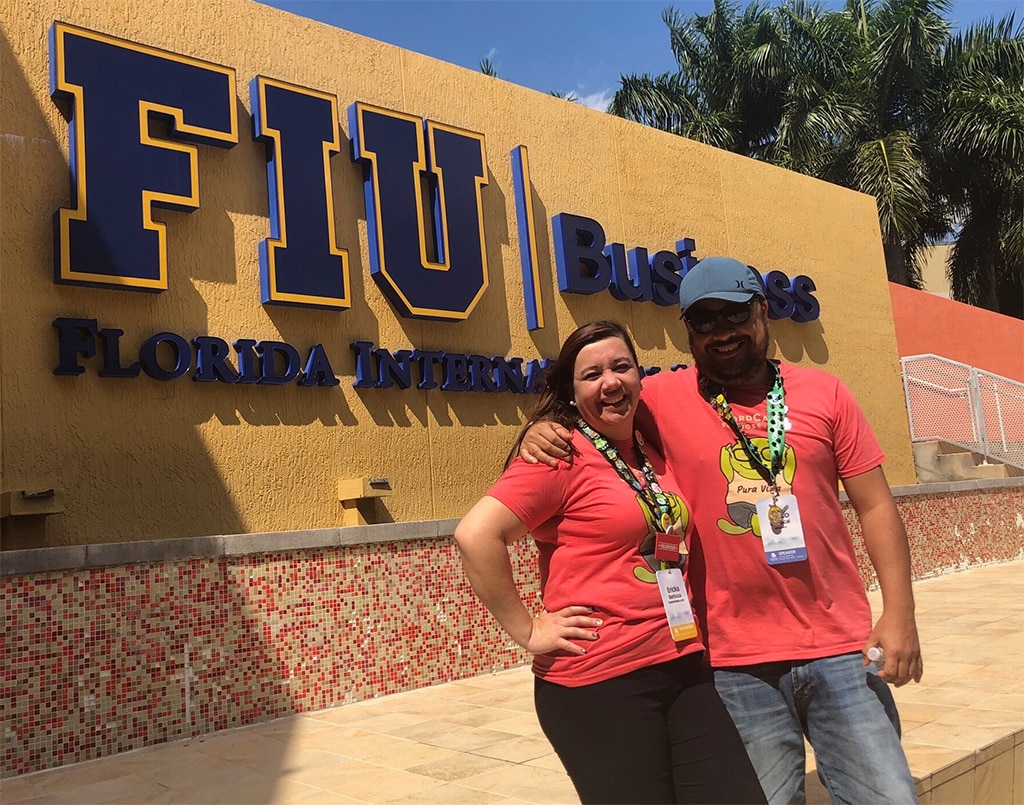 I carry the colors of GreenGeeks when I am on stage as always. And I might be biased, but that SHIRT IS NICE. so I love to speak wearing our swag. So, no need to advertise.
I had sent the organizers the slides, but incomplete, specifically with the code samples I wanted to have.
Being Late and Rushing
That first day, I was rushing. I came into the WordCamp (late btw) and saw a few familiar faces and told them I had to rush because my slides were not ready. I was mad because I usually stay up the night before preparing.
But I fell asleep, I was exhausted, or maybe I am getting old (Thank you Tracy Apps).
At WordCamp Miami, they gave us a speaker lounge to chill (some Camps do this and it's an awesome thing really). So, I went in and started to edit the slides and polish them up.
Next thing I knew, two hours had passed and the slides were ready, but my code wasn't. I then said "ok, we go without code, the hell with this". So I decided to put the code scenarios in the slides and use my topic to explain.
I felt way more relaxed about doing it this way…I would talk a lot still but I just have no code.
Having Lunch
I went to have lunch with my slides ready and nervous as the moment was drawing closer. I was nervous because it was WordCamp Miami.
You gotta be nervous about a Camp that is quite big and the topic is new to me. I had never spoken about it and I was anxious about the unknown. Just like I did in WordCamp Phoenix (new talk).
It's both a good and a bad idea to do two different topics so short. It's good because it gives you versatility and its exciting to speak about new things. But it's bad because you are busy and well, you put this aside until Michael Jordan mode is on (pressure to make the winning shot).
But I decided that these are the talks I will do at different WordCamps this year plus one I have in reserve. And so far, it has been really working out. I am getting accepted because the topics are good (I think, anyway).
After I had lunch, I went to see my first talk that was in my track room. I wanted to be there on time and get my stuff ready before the talk started.
The Transient API – Caching with WordPress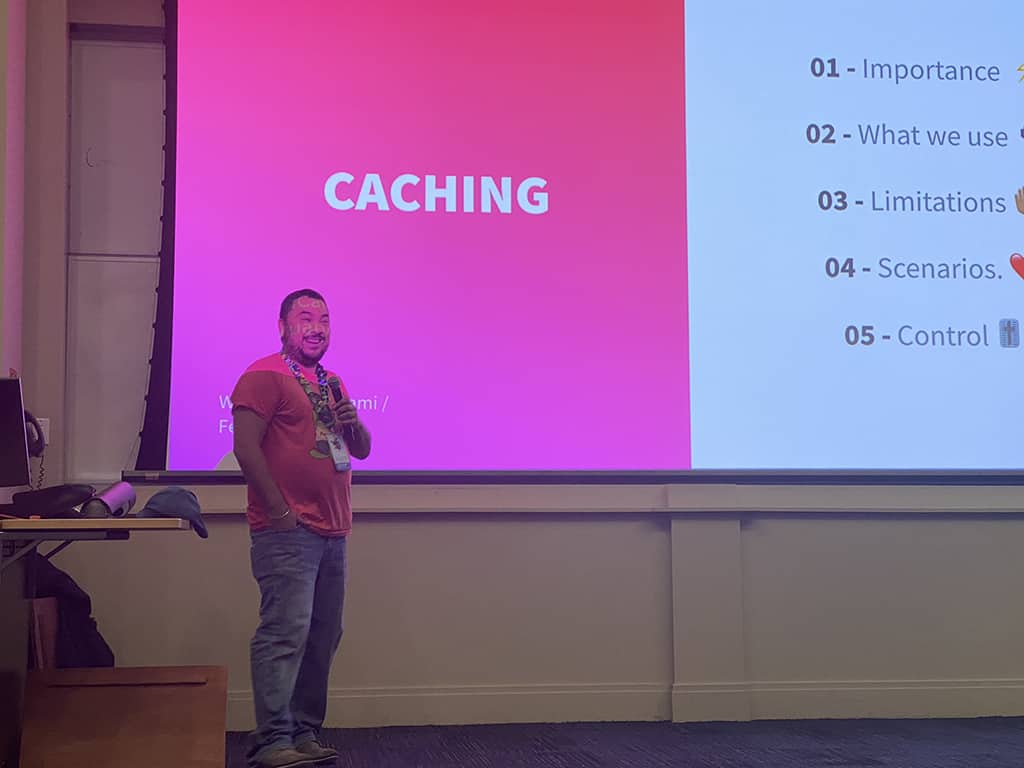 This was my subject talk! It was basically to speak about a very unused and powerful component that WordPress has: the transient API.
What this API does is that it stores information in the wp_options table (where you store WordPress settings) but with a twist: it expires after a set amount of time that you as a developer will define.
This is very handy if you cannot cache your WordPress site entirely but need to cache certain parts of it. For example, social media posts; instead of fetching this on every page load, you get the data once every X amount of time.
Data is then stored in the wp_options table with an expiration date/timer. Every time someone visits the site, it gets that piece of information instead of doing another request to a third-party server.
This definitely improves load time if used wisely. So, the talk was about how, why, and what should you store.
Wrapping Up the Talk
I was nervous as usual. But as the talk began, my confidence rocketed. Before I knew it, the talk was over! My first thought was like, really? It's Over?
You don't realize time as you talk and you just go on and on and on about it. And no, I usually don't measure how long. You just speak until you have nothing more to say.
When the talk finished, the verdict came in: was the talk good or not? People ask me this, especially newcomers or people who would like to speak.
How do I know my talk was good? I think out of politeness people will tell you its good. But the signs are there, and to me, if any of the these happen, the talk was good:
People ask questions: when they ask you questions, they wanna know. They were interested in what you had to say and well, the discussion comes up.
People go to you after the talk is over to comment further: they wanna know more. They are intrigued, curious, excited with what you just said.
They share on social media about it: pretty obvious. If people love it, they post it on social media.
They bump into you during the WordCamp and thank you for the talk: You'd be surprised at how many people thank you for this. They will tell you they loved it and thank you for it.
After I was done, I was glad, relieved and happy it went well. Now that I had the talk behind me, I could go to sessions and enjoy them without pressure.
And thus I went to the sponsor's lounge, spoke to a few people here and there, and before I knew it, day 1 was over!
The After-party and Ticos at WordCamp Miami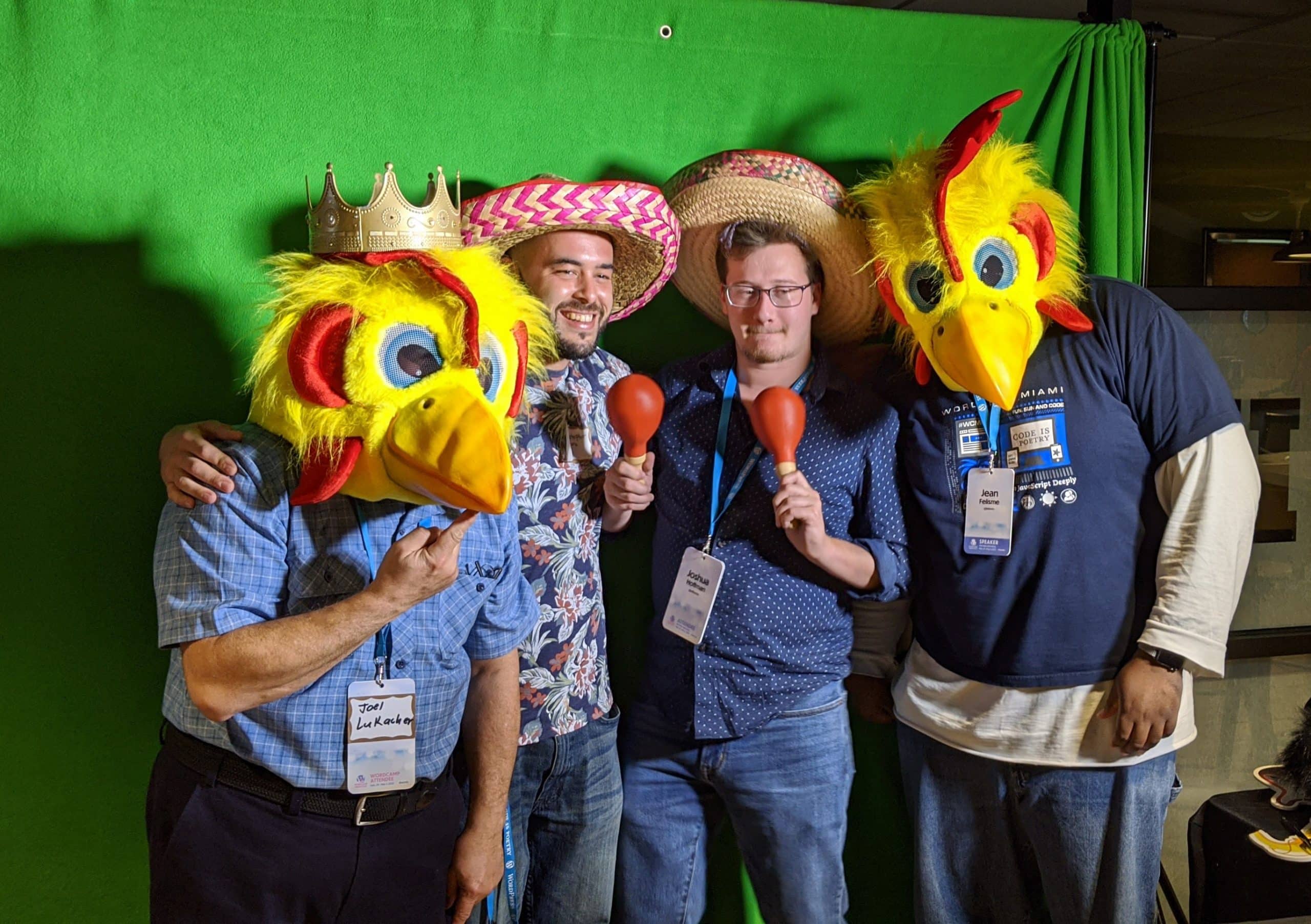 The after-party was at Chili's (wasn't expecting that one) and well, the place was packed and we got the party going. As I had noticed previously, the organizers hired photographers for everyone to take crazy pictures that are just flat out hilarious.
I met tons of new people, made tons of new contacts and spoke to pretty much everybody.
I just love WordCamps.
After a few hours, people started to leave and tickets for free beers started to land at my hands. And before you knew it (not very coincidental) only the ticos were left.
After a few more beers, we were kicked out of the place because the party was over! Everybody had left and we didn't notice. So it was me, Ericka, Merary and Francisco, and we decided to have a few more beers before calling it a night.
Second Day of Camp – Relax and Enjoy
With the pressure of speaking gone, and a bit hungover, I was able to enjoy a full day of talks. I attended the following session:
Rethinking Themes: Embracing Atomic Design with Gutenberg
I truly enjoyed this talk because my next career path, as far as developing, is to make some patterns and components for Gutenberg and re-using them on my custom designs. WordPress is changing and thus, so should my coding skills and services offered.
Michelle Schulp spoke a lot about the concept of using blocks that will accommodate different scenarios.
Lunch on Day 2
After her talk ended, I went to have lunch. I had promised my WordCamp friends I would give them some coffee, which is something I enjoy, really. At every WordCamp I attend, I buy some bags of coffee and just hand them out.
I give them to speakers, organizers, attendees, you name it. It can be people I knew before, people I just met there, etc. I do it because one, coffee is something we are known for and two, I think it's a very nice thing to do.
I enjoy it tremendously. So, I gave out a lot of bags to a lot of people during lunch.
Understanding Cash Flow to Make Better Decisions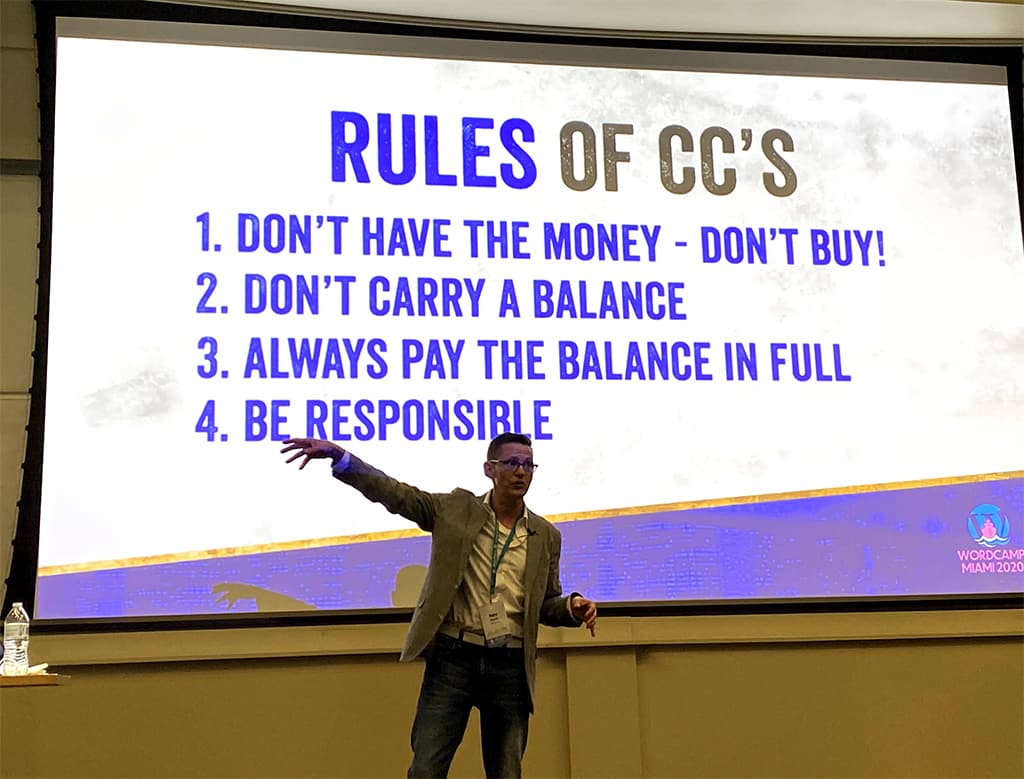 This is talk was about money and making decisions based on how well (or not) your business is doing. Everybody wants to know this. I met Nev Harris during the speaker dinner. When I met him, I thought he was a shy guy and this was his first time speaking at a WordCamp.
I wished him well and figured he was going to be nervous. So when I sat there at his talk and the track was full, I thought this was going to be the defining moment. But boy do first impressions sometimes take you down the wrong path.
This guy was hilarious and had the stage under complete control. He is a great speaker.
Nev spoke very vividly about controlling your cash flow both in and out when it comes to spending within your business. To make a budget, to feed it with information in order to make accurate business decisions with the cash you got.
I think this talk is also solid from a personal point of view for you to maintain your balances tight. So my takeaway from this talk was to get this going, be more consistent with this in order to make better decisions.
Growing Pains: Staying Strong Through Business Expansion
I was finally able to see Jessi speak. I have missed the chance in Alabama and Costa Rica, so I was so happy to see her speak and listen to what she had to say.
She is amazing. Her vibe is amazing and how she encourages you to make your business grow slowly but steadily was a tremendous and inspiring talk. Once again, the crowd was there, the questions were there and I felt so proud of Jessi!
Her talk was about the decisions that can cost you a lot or make you gain a lot as a business owner. Great stuff Jess!
The Three Things All Web Professionals Need to Know About Privacy
The last talk I attended was about privacy on the Web. I had met Donata Skillrud and Hans Skillrud at WordCamp Fort Worth last year as they were right next to me at the sponsor's hall. They were phenomenal people, and I had a great time getting to know them.
Since then, I have seen them in quite a few camps, but I was never able to attend their talk. So this time, I made sure I would.
Privacy is a thing that is shifting in the online world, and their business model is fantastic. Basically what they do is have a plugin that updates privacy laws whenever they change.
Donata spoke about what privacy laws are, why is it important to have them and why should agencies act on it.
To me, it's a bit hard to grasp the importance from a legal point of view since I am from Costa Rica. Laws and the internet don't really go well together. But in the US, it can be quite a thing.
So naturally, people asked a lot of questions about what is and isn't allowed.
Wrapping Up WordCamp Miami 2020
And with that, my WordCamp adventure ended. I had to go early to the hotel, as my flight was leaving. I said my goodbyes to those there and knew I was gonna be back next year in Miami.
As to what I think of the Camp? I thought it was going to be higher in terms of crowd. I also thought it was going to be crazier in partying compared to other US camps. Perhaps that's one of the big differences between US vs. Latin American Camps…partying is way harder.
I also loved Miami as a city (and not because of the weather). What a vibrant city. There is a lot going on and it's just a great place to be in. I was surprised at how many people speak Spanish (almost everybody).
All in all, I had a great time. A huge thank you to the organizers, volunteers and of course, the Miami community. Until next year!