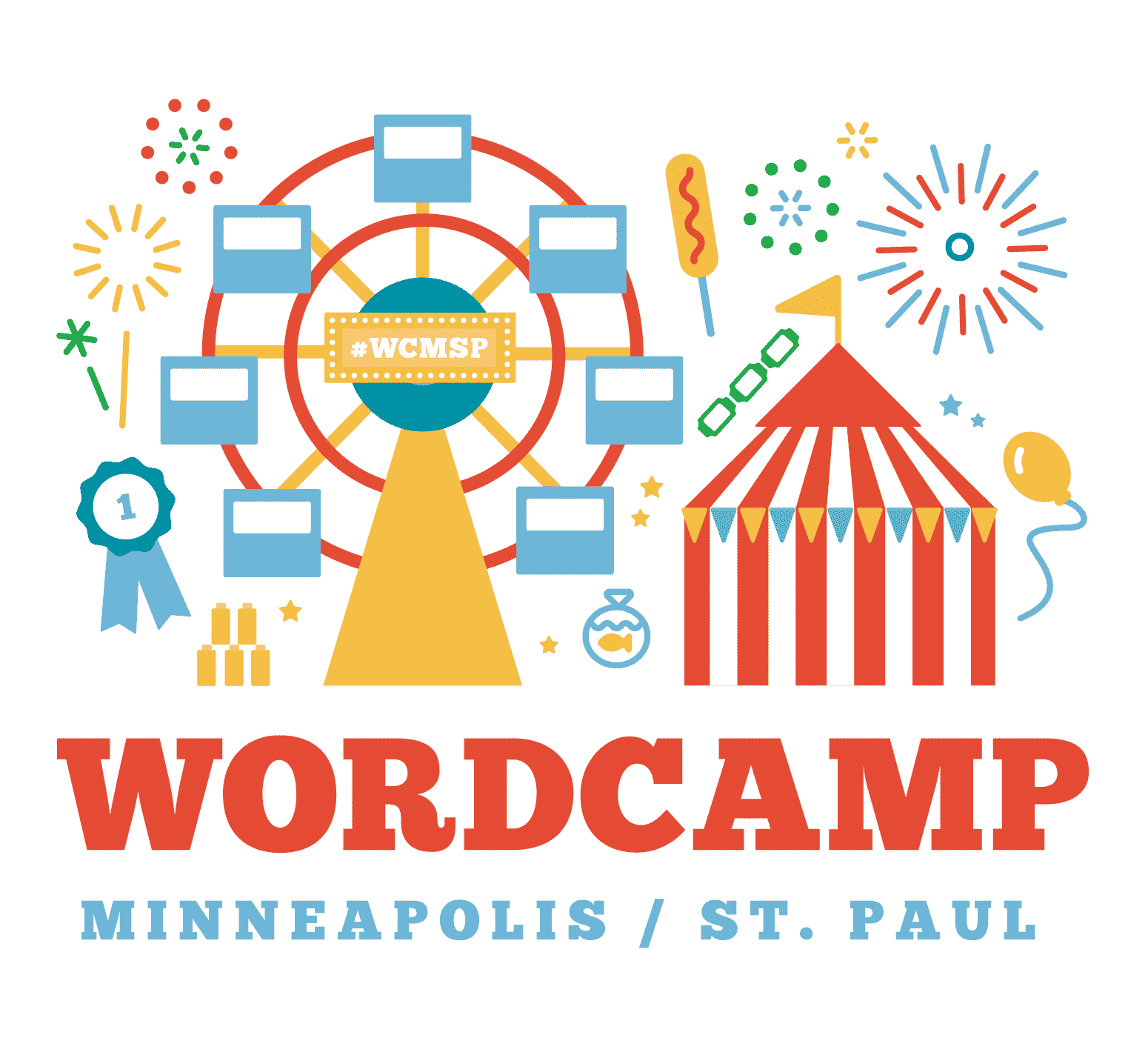 Will you be in Minneapolis/St. Paul August 23rd – 25th? If so, you better check out the local WordCamp! Tickets can be purchased, but hurry! They may run out.
Thursday from 12pm – 2pm, six classes will be held by Jennifer Bourn, Rachel Cherry, Scott DeLuzio, Dawn Watkins and Patrick Rauland. The topics will range from onboarding new clients, design, intro to programming, building a plugin and an intro to WooCommerce. You'll be able to find these classes being held in rooms Johnson, Minnesota and Ski-U-Mah.
The following are a few topics of the sessions being held at this Camp:
HOW TO BE THE ACTION HERO OF YOUR OWN LIFE
In this fun, fast-moving presentation we look at how to become the Action Hero of Your Own Life by overcoming procrastination and distractions, building stronger habits, developing self-control, and employing laser focus. All so you can be more efficient with your time and energy.
MODERNIZING YOUR DEVELOPMENT WORKFLOW USING COMPOSER
We've been hearing for years about WordPress's famous 5-minute install. The plugin ecosystem makes sites infinitely extensible, and WP-CLI provides additional flexibility for the platform. What if we introduced another modern tool to the mix? In this session, I will discuss Composer, a command-line utility used to easily pull in code that your project needs, including WordPress itself.
PROJECT MANAGEMENT FOR DEVELOPERS
Got Customers? Part of your job likely includes project management.
As developers, we want to make websites. But in order for a project to be successful, we need to apply some project management. We will cover some tools to help, discuss scope creep, and explore ways to keep your projects on track.
SO, YOU WANT TO UX?
Anyone can UX. Come learn some UX tips & tricks curated from years of user experience design projects, large and small!
BUILD PROCESS AUTOMATION
Automated build tools like Webpack, Gulp and Grunt speed up development time, catch bugs before they become a problem, and are important for an easy workflow. This talk will focus on using these tools in WordPress themes or plugins to make your process and code easier to work with and maintain.
And even more!
The bulk of the camp will be held Friday 24th and Saturday 25th at the McNamara Alumni Center in Minneapolis, MN, Opening remarks will begin 8:45 AM kicking off talks/sessions that will run until 4:00 PM Friday and 1:00 PM Saturday.
Here are a few reasons you should join this fantastic community!
"I have been traveling the country this year speaking at WordCamps, primarily because I love the community. I've met valuable connections and formed strong relationships with others in the community, which is why I keep coming back." – Jessi Gurr @jessigurr

"I like WordCamps. Like, a lot. But I do not just like WordCamps. I love them. Why? One word. Community. Our WordPress community is one of the most inclusive, loving, kind, and friendly communities. It's contagious. Ever been around a group of peeps that made you feel amazing and thought, "Give me more of that!"? Well, this is what you'll most likely experience at a WordCamp. Not only do you learn. And, learn you will. But the experience of learning alongside amazing humans will blow your mind." – Raquel Landefeld @raqueLandefeld