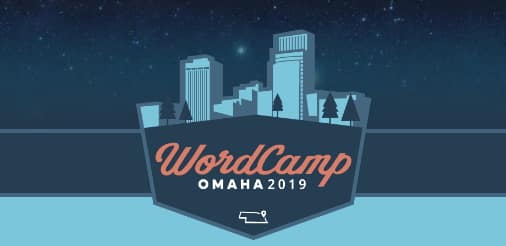 On August 24th and 25th, Mammel Hall at the University of Nebraska is hosting WordCamp Omaha 2019. And I will be there in person on behalf of GreenGeeks to hand out some awesome swag! In fact, I am still excited about the glow-in-the-dark frisbees.
Although I will be a lone wolf this time around, I do hope I can get in some great conversation with attendees. So if you're heading out to Nebraska for the WordCamp, stop by and say, "hi."
What to Expect at WordCamp Omaha
The majority of the talks at this camp are on Saturday the 24th. However, there are some great sessions and workshops available on Sunday morning. This year, you can experience talks such as:
The hardest part about attending this WordCamp is not being able to sit in on all of the talks. After all, someone needs to hand out the GreenGeeks swag and talk with the attendees…a position I am happy to hold.
Besides, I'm sure I can watch the sessions later when they are uploaded to the Internet.
Does WordCamp have a YouTube channel?
Fun Facts About Omaha
As I looked up Omaha to see what sights I can take in while I'm there, I came across a few things I didn't know. Being from the midwest myself, I am shocked that I didn't realize how much the city had to offer.
So, join me in discovering Omaha and take in some sights. For instance, did you know:
The Henry Doorly Zoo & Aquarium hosts North America's largest indoor rainforest. That is something I would love to see if I have the time.
For baseball fans, Omaha has been the location for the NCAA Men's College World Series for more than 60 years.
Connecting Nebraska and Iowa is the 3,000-foot bridge over the Missouri River called, "Bob." And if I have time, I want to take a photo on the bridge just so I can say I was "Bobbing."
It's my hope to get some pictures up on my Twitter feed while exploring some of the awesomeness of Omaha. So, let's cross our fingers.
I'll Be There, Soon, Omaha!
There are a lot of great sessions available at WordCamp Omaha 2019. And if you're not able to attend, keep an eye on my Twitter account. I'll link to the videos if and when they are listed. Because I am sure I'll want to watch them myself.
But if you're at the event, stop by and speak with me. I have some awesome frisbees and a few other goodies to hand out.
I'd like to thank the volunteers, sponsors, organizers and attendees who make WordCamps possible. It's amazing to be part of a community who goes to great lengths to help one another and share what it means to use WordPress.
Can't wait to see you all there in Omaha!