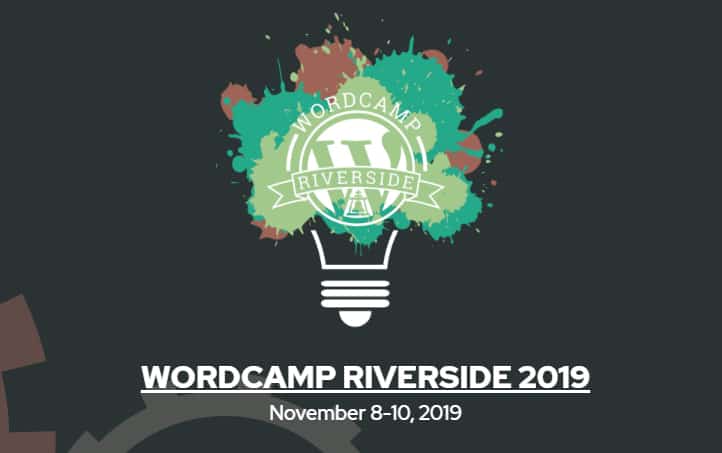 I really enjoyed my time at WordCamp Riverside. As it always happens at camps, I had the opportunity to see many people who I had not seen in a long time (since WordCamp Orange County). And I also met a lot of interesting new friends along the way!
WordCamp Riverside was held in a truly unique location, SolarMax Tech, a California's leading residential and commercial renewable energy provider which offers solar energy systems.
This was a perfect connection for GreenGeeks since we are a 300% green web host.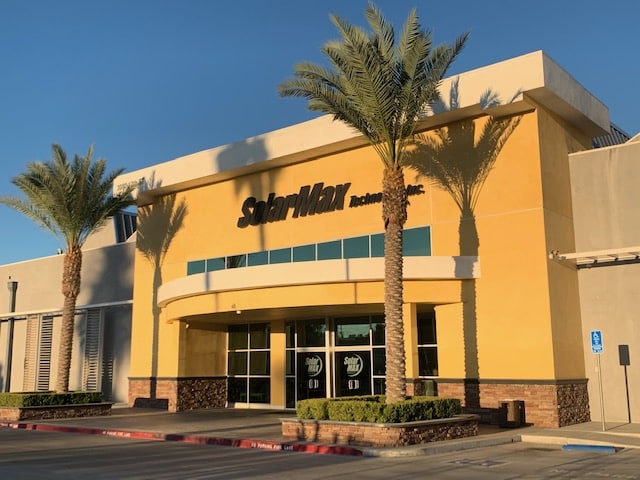 The camp was from Friday, November 8 to Sunday, November 10, with Friday being a beginner's day to help new WordPress users learn the basics of WordPress.
Since I left LA early to beat the traffic, I arrived in Riverside around 12 pm. I decided to go check out the venue and say hi to some of the organizers.
After the visit, I decided to check out the Mission Inn Hotel & Spa, which is a historic landmark in Riverside and an incredible example of Spanish Mission-style architecture.
Did you know that the hotel is home to the Presidential Lounge where 10 US Presidents have been? I thought that was really cool, so I decided to stop by and sit at the bar.
It felt very…"presidential."
Speaker, Sponsor & Volunteer Dinner
The Speaker, Sponsor and Volunteer Dinner was held on Friday, November 8 at Storytellers Meathouse & Brewery. It's a small nano-brewery located in Corona, California that produces traditional and experimental beers.
The moment I walked in, I spotted Verious Smith talking to some people and I went to say hi again (I had seen Verious in the afternoon at SolarMax).
While I was in line to get some delicious dinner, I met one of the speakers, Sabrina Liao with whom I had a really interesting conversation. Sabrina told me she was speaking the next day about WordPress automation and integration.
Verious thanked all the speakers, sponsors and volunteers for making WordCamp Riverside happen.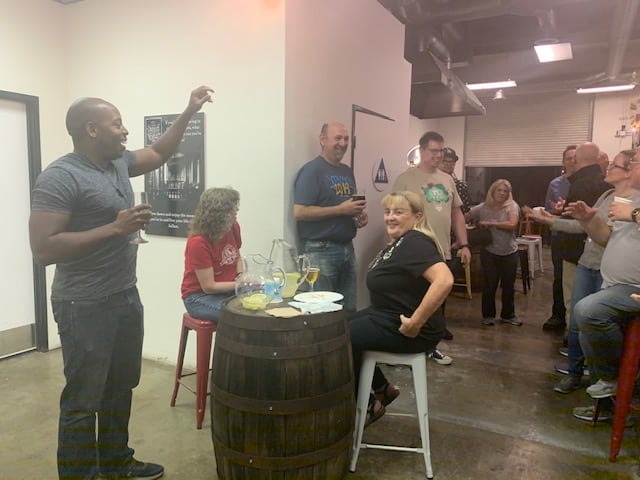 As the evening continued, I had the chance to meet more of the organizers with whom I had been emailing, such as Joshua Knapp and Peter Surowski. I also met up with some of the camp attendees, such a Alberto Roca, Executive Director at DiverseScholar.org.
Day 2 of WordCamp Riverside
Day 2 of WordCamp Riverside (which was day 1 for me) started bright and early.  I was outside the venue at 7 am and met up with our Ambassador, Michael James.  We were the first ones on-scene and started bringing our boxes of swag inside.
At around 7:30 am, we started setting up our table. And by 8:00 am, we were ready to talk about GreenGeeks with all the attendees.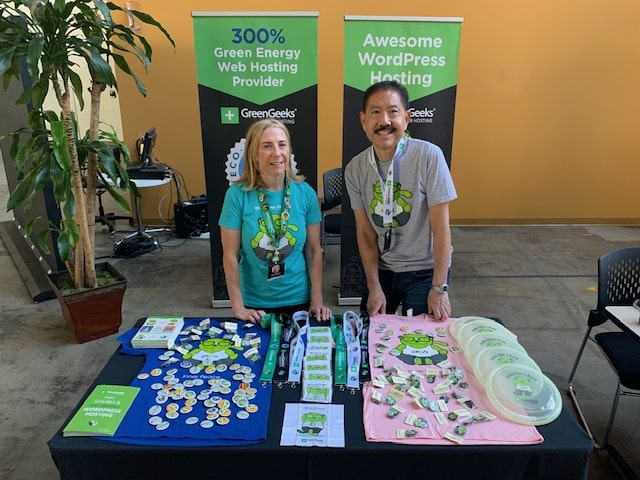 People started coming by, and as always, I cannot stop talking to people about why we are green. It's such an important thing and a core belief of mine.
Here and there, I went to say hi to some of the volunteers without whom these camps would not happen (thank you!).
I also made sure I had tons of interesting conversations with other organizers, such as Joe Simpson, Stephen Harvey, and Joseph Dickson.  I love camp organizers, and I think they are so wonderful for doing all this incredible amount of work!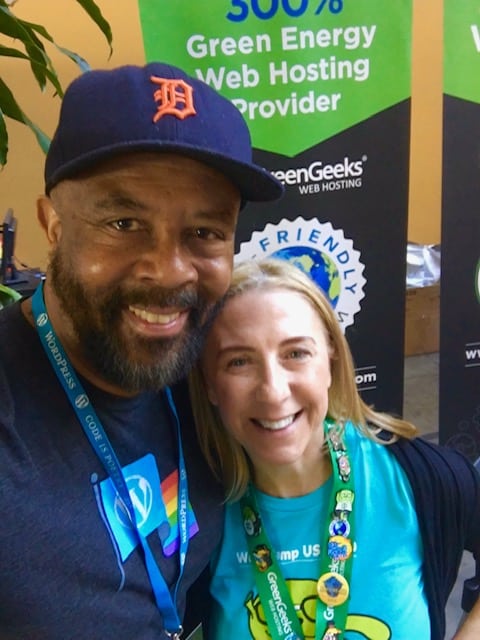 Amy Hall, whom I met at WordCamp Orange County, came by the table and we talked about an exciting camp she will be working on, WordCamp San Diego!
That's really good news for us. Sorry for the spoiler alert.
Unfortunately, I did not have time to listen to all the wonderful sessions of WordCamp Riverside, but I heard a lot of good comments about the speakers during the lunch break.
Taco Lunch
It was time to have lunch, and the Food Wrangler, Gregg Franklin, had arranged for freshly prepared tacos for us! The tacos were delicious, not to mention I was really hungry by lunchtime that I went for it twice.
During lunch, I sat with some of the attendees. The general sentiment was that the camp turned out to be really useful for them to learn a lot of things they need to run their online businesses.
We even chatted a little about blogging and SEO.
After lunch, I was planning to drive back to LA so I went around and said my goodbyes.  As it is always the case when I leave a camp, I feel sad and I want to run back in.
However, I did have to go, so I got to my car and started driving home.
Going Home
WordCamp Riverside was a lot of fun. Seeing old friends, as well as meeting new ones, is always great for me and leaves me energized.
WordCamp Riverside will be my last camp this year.  I will treasure every memory I have of this camp and every other I was lucky enough to attend. It has been an incredible camp year.
I cannot wait for everything to start again in  2020!