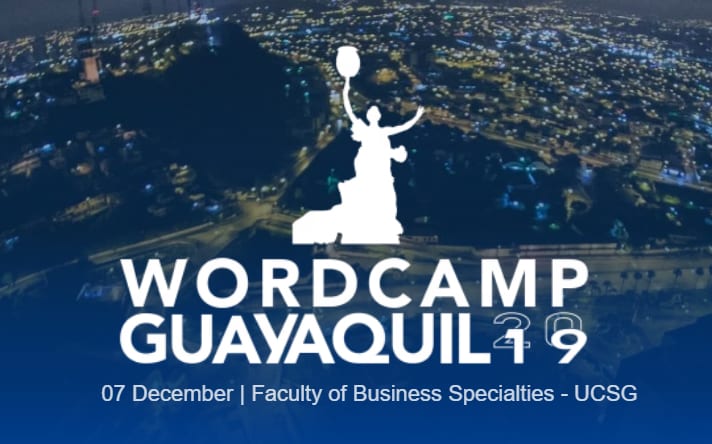 On December 7th, come visit WordCamp Guayaquil 2019 in Ecuador! It's held at the Catholic University of Santiago de Guayaquil, Faculty of Business Specialties. While you're there, stop by and speak with Marco Berrocal, our GreenGeek on site.
He is ready to hand out some fun swag and answer any questions you might have. Or you can simply stop by and say, "Hello." There's nothing wrong with a friendly meet-and-greet.
What to Expect at WordCamp Guayaquil 2019
This one-day event has a lot of great talks lined up. If you're interested in WordPress or are a seasoned veteran, you'll surely find something of value this year.
For instance, you can attend sessions like:
These are just a few of the sessions that caught my eye. However, there is a ton available that sound intriguing ranging from boosting your brand to creating online website businesses.
Fun Facts About Guayaquil, Ecuador
Ecuador is quite an amazing locale. It has a long and rich history and abundant with diverse life. And although it's smaller than many other countries, it is larger in many regards.
So, while you're at WordCamp Guayaquil 2019, stop and take in the location. And keep in mind that:
Ecuador is among 17 megadiverse countries on Earth. This means you'll find a wide range of life forms as it has the highest level of biodiversity per square mile.
If you're traveling to Guayaquil from abroad, pack your swimming gear. Even though it's a cold winter in many parts of the world, Ecuador is actually quite warm this time of year and is perfect for swimming.
No need for exchange rates if you're going to WordCamp from a US state. Ecuador's currency is the US Dollar. Which is convenient should I decide to travel.
Make sure you explore and take in the beauty. Guayaquil has been working hard over the years to improve tourism, and you're sure to experience some cultural goodness while out and about.
Have a Safe and Fun WordCamp, Guayaquil!
All of these mentions of climate and camp sessions make me wish I was going. But since I'm not there, be sure to meet up with Marco. He'll be the one with the big smile on his face, as I don't think I've ever seen him without one.
Thank you to all of the organizers, sponsors, volunteers and attendees for putting WordCamp Guayaquil together. It's your support that helps this incredible community grow.
Enjoy your weekend, everyone!